Holiday baking, it's what I do.  It's who I am.  As soon as Halloween is out of the way I get started making cookies, cakes, pies and all the other special sweets of Thanksgiving and Christmas.  There is no magazine that I won't buy, no TV cooking show I won't watch and no blog or e-newsletter I won't read.
And the recipes start today.
This particular recipe for a bourbon and brown sugar cake topped with a maple pecan glaze had two different sources of inspiration: last year's Food Network Halloween Baking Championship and a gift of special baking pan from my daughters.
On the Halloween Baking Championship they were making mini Bundt cakes and I thought that I never made a Bundt cake.  Aside from the pan, I didn't even know what made it a "Bundt" cake. The answer is that any cake can be a Bundt cake.  It is all about the pan.
As to the baking pan , a fairly long time ago I received a mini cake pan made by Nordic Ware, the company who created the Bundt Pan in the early 1950's.   A pan, which I am ashamed to admit, I had never used. Clearly the moment had come and, being the crazy baker that I am, I decided that it would also be fun to make Mini Bundt cakes.  (Please note, before you turn away and say you can't make this because you don't have a mini cake tin, the recipe works equally well as a cupcake!)
Enter the Southern Living Fall Baking Magazine . Southern Living publishes cake recipes like nobody's business and sure enough, towards the end of the magazine was a recipe for a Brown Sugar Bourbon Bundt Cake.  A few accommodations were needed to adjust the recipe to my pans and I needed to come up with a glaze for it and then I was ready.
Brown Sugar and butter are beaten until creamy, eggs are added one at a time, then flour and baking soda are added alternatively with evaporated milk and bourbon.  Finally, vanilla bean paste is stirred into the mixture. You can use vanilla extract if you don't have vanilla bean paste.  The only real difference between the two is the addition of vanilla beans seeds to the paste.
If you use a Bundt pan make sure you grease your pan well and dust it with flour so that the cake won't stick in all the little crevasses and cracks in the pan.
Fill the pans almost full and bake the cakes until the tops spring back when touched.
Let them cool for 10 minutes before turning them out to finish cooling on a rack.
The cake is delicious by itself.  You can taste the bourbon and the vanilla but they are not overpowering.  I finished the one-bite cakes with a little dusting of powdered sugar.
The Mini Bundt cakes were begging for a glaze of some sort.  I was thinking Fall and Thanksgiving which meant maple and pecan.
So I melted some butter in a pan, added maple syrup and some cream and let it boil for a minute to thicken.
Then I added some powdered sugar and let it cool and thicken some more.
Finally I added chopped pecans and spooned it over the cakes.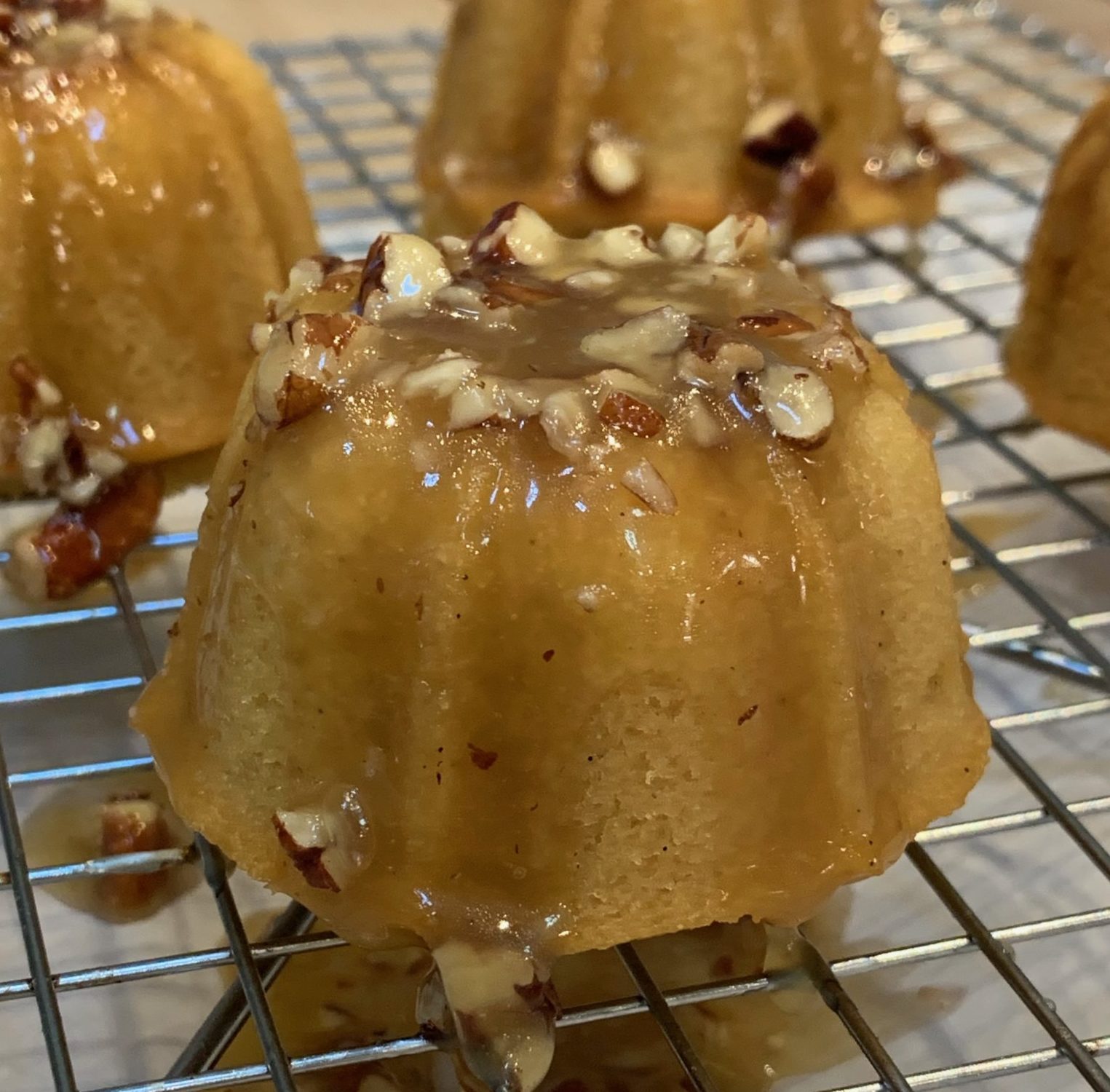 So good!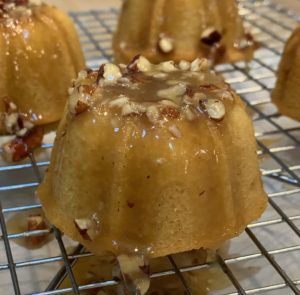 BOURBON AND BROWN SUGAR CAKE WITH MAPLE PECAN GLAZE
Ingredients
For the Cake
1

cup

butter

½

cup

Crisco shortening

1

box

16 oz light brown sugar

5

eggs

1 5

oz

can evaporated milk

½

cup

bourbon

3

cups

flour

½

tsp

baking powder

½

tsp

salt

1

tbsp

vanilla paste or extract
For the Glaze
4

tbsp

butter

3

tbs

maple syrup

3

tbsp

cream

½

cup

powdered sugar

3

tbsp

chopped pecans
Instructions
To make the cake
Preheat the oven to 350. Grease and flour two mini Bundt cake or mini cupcake tins

Beat together the butter and shortening then add in the brown sugar and beat until light and creamy.

Add the eggs one at a time, beating until blended before adding each egg.

Mix together the evaporated milk and bourbon in a bowl. In another bowl whisk together the flour, baking soda and salt. Add the liquids and dry ingredients in turns to the butter and sugar, ending with the flour mixture.

Beat until just blended and stir in the vanilla paste.

Filled mini cupcake or mini bund cake tins to almost full. Tap the pans lightly on the counter to spread the cake batter in the tins.

Bake the cakes until the top springs bake when touched, about 15 minutes for the mini cakes and 20-25 minutes for mini Bundt cakes or cupcakes.

Cool in the pan for 10 minutes then turn out onto a wire rack to finish cooling.
To make the glaze
Melt 4 tablespoons of butter in a small saucepan.

Add 3 tablespoons each of maple syrup and cream.

Bring to a full boil and boil for one minute.

Remove from the heat and whisk in ½ cup of powdered sugar. Pour the glaze through a sieve into a bowl. Do not skip this step. It removes any undissolved sugar and creates a smooth glaze.

Allow to cool 15-20 minutes until slightly thickened.

Stir in 3 tablespoons of chopped pecans.

Spoon the glaze over the mini Bundt cakes.
Recipe Notes
If you using a full Bundt Cake mold, reduce the heat to 375 degrees and cook for 65-70 minutes until done