I don't know about you but I am sweeping the remains of this January out!  Cold, snowy, disease ridden, oh-my-god-will-covid-never-be done-with-us-January is history. And in celebration I went through my cupboard and made some cookies out of every remnant I could find of the previous month.
They started with my Murray cookie recipe and ended up somewhere in the next stratosphere. I dumped January into a bowl and sweetened it up.
Two fats: butter for flavor and Crisco (vegetable shortening) for texture.
Two sugars: brown sugar gives depth and cane sugar gives a little extra sweetness.
Beat them together for 8 minutes until they are light, very light, in color and super creamy.
Add two eggs one at a time, beating for a solid minute between each one so the mixture doesn't break. And then some vanilla.
Stir in flour and rising agents.
Then dump in January
Two textures: chewy oatmeal, and little pops of Rice Krispy.
Two confections: Chocolate M&Ms and sweet coconut
Use a cookie scoop or tablespoon to drop them on a parchment lined cookie sheet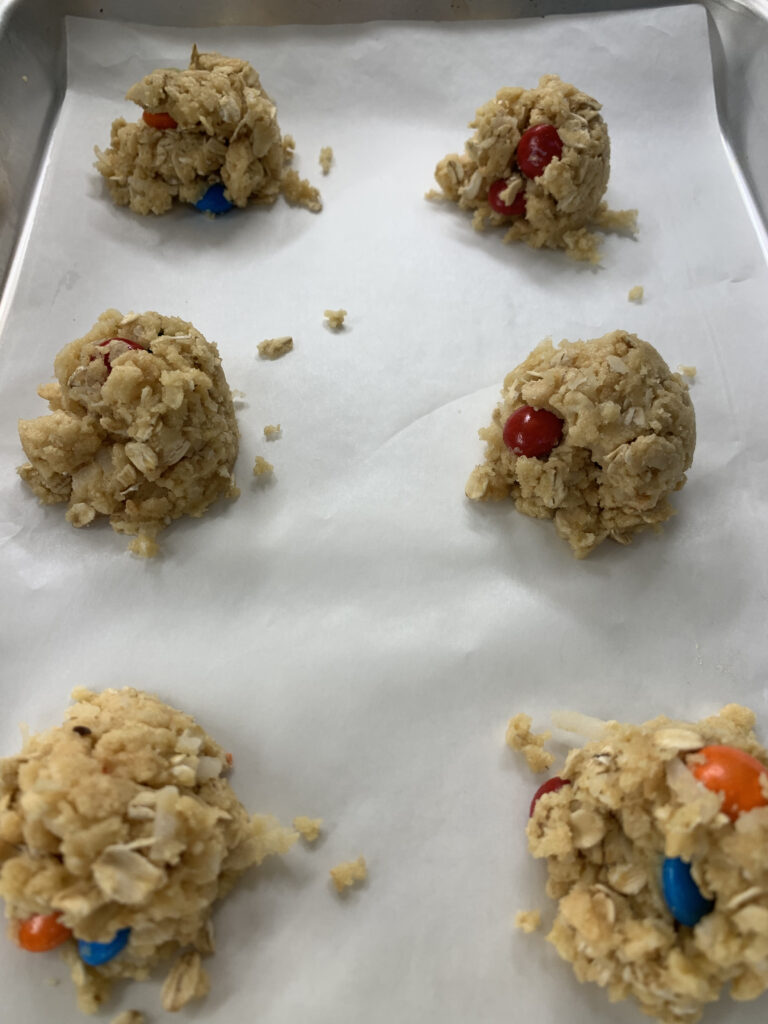 And bake yourself right into a delicious February!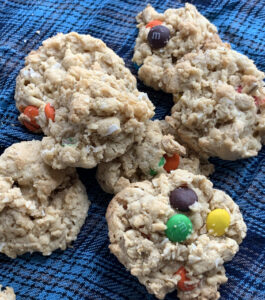 JANUARY DUMP COOKIES
Ingredients
½

c

unsalted butter

room temperature

½

c

vegetable shortening

Crisco

½

c

brown sugar

packed

½

c

cane sugar

2

eggs

room temperature

1

tsp

vanilla

2

c

flour

1

tsp

baking soda

½

tsp

baking powder

½

tsp

salt

2

c

oatmeal

2

c

Rice Krispies

1

c

sweet shredded coconut

1

cup

M&Ms
Instructions
Preheat the oven to 350 degrees. Line your baking sheets with parchment paper.

In the bowl of a stand mixer, beat together the sugars and fats for 8 minutes, stopping the scrape the beaters, sides and bottom of the bowl once or twice. The mixture will become very light in color and creamy.

Add the eggs, one at a time, beating for a full minute after each addition. Scrape the bowl and beaters. Add the vanilla and beat for another full minute.

On low, stir in the flour, baking soda, baking powder and salt.

Stir in the oatmeal and Rice Krispies. Then stir in the coconut and M&M's.

Drop about 2 tablespoons of batter, 2" apart, onto the prepared cookie sheets.

Bake 9-11 minutes until browning on the edges and set.

Remove and cool on a wire rack.