Mushrooms, carrots and onions come together in a delicious vegetarian Mushroom Bolognese Sauce which proves the saying that "Brown food tastes good." It just doesn't photograph well!
I watch a lot of cooking shows and one of my favorites is "The Worst Cooks In America".  In this show Chef Anne Burrell takes a group of people, who hide their feelings about not being able to cook behind jokes and ridiculous (sometimes outrageous) behavior, and she turns them into decent home chefs.  As their cooking gets better, they drop a lot of the façade and become increasing involved in learning a craft. I love watching this transformation.  It makes me happy.
One of Chef Burrell's truest teachings is "Brown food tastes good!"  She's right.  We go to great lengths to sear meats and caramelize vegetables.  It's a cornerstone to flavor development.
For a food photographer, however, brown food is a disaster.  It just doesn't look good on a plate. Sprinkle all the parsley you want on top.  Strew edible flowers around it.  It's still a drab, unexciting brown.
So, I lingered a long time over sharing this recipe.  Not because it isn't filled with flavor and an easy dish to make, but because it just doesn't visually appeal.
Then I watched my grandson repeatedly open his mouth like a little bird asking for more as he chowed down a big bowl of Mushroom Bolognese and I thought I'm going there.
Start with carrots and onions. You want to end up with small dices.  You can do this by hand or, if you are in a rush, in a food processor.  The food processor won't give you the consistency of size that hand chopping will.  So, if you use a processor, you will get the best results if the pieces you start with are of equal size.
Sauté the vegetables with a little garlic until they are soft and the onions are translucent.
While the vegetables are cooking prepare the mushrooms.
I like to use a variety of mushrooms: some shitake, portobello, and oyster mushrooms along with brown or white button mushrooms.  If I am feeling extravagant, I may add some reconstituted morels or chanterelle for a deep earthy hit of umami. If you can't locate anything more than button mushrooms, it will still be good.
Mince the mushrooms in the food processor until they are quite small.
Add the mushrooms to the vegetables and let them cook over medium-high heat until they have rendered their liquid and start to brown.
Stir in tomato paste.
Then add milk and let it simmer.  Once it has thickened and the flavors have developed, finish it with parmesan cheese.
Bingo.  Brown food tastes good.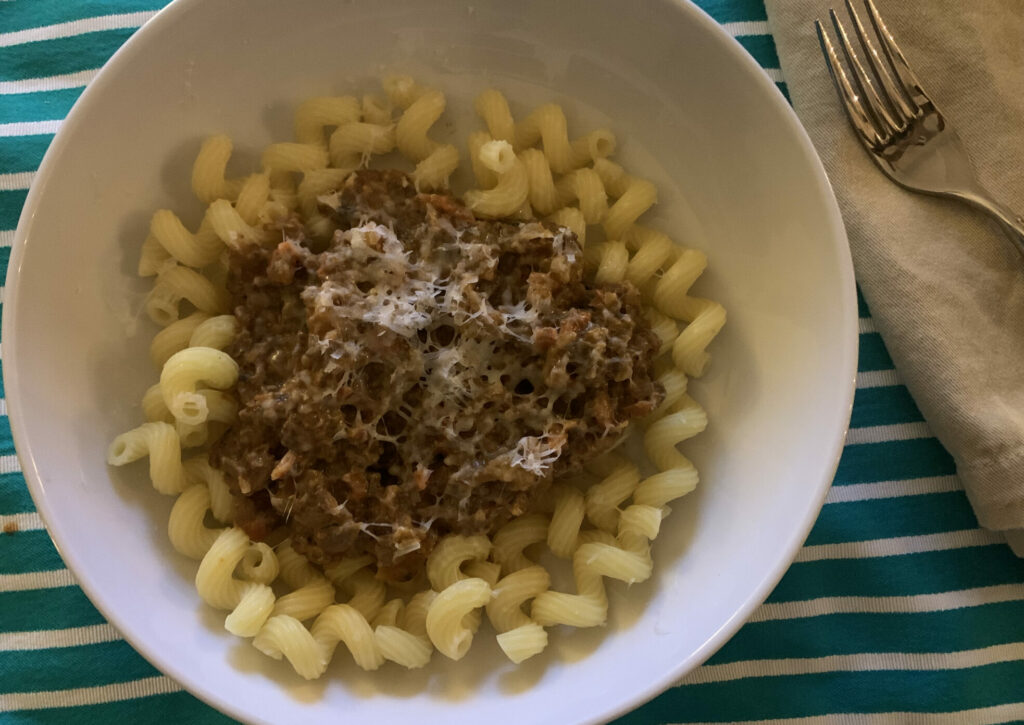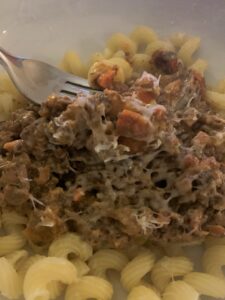 MUSHROOM BOLOGNESE SAUCE
Ingredients
3

medium carrots

1

large onion

3

cloves

garlic

sliced thin

¼

c.

vegetable oil

1 ½

lbs

mushrooms

Bouquet garni

fresh thyme, oregano, and parsley

3

tbsp

tomato paste

1

c.

milk

1

c.

freshly grated parmesan cheese
Instructions
Chop the carrots and onions to small dice (1/4").

Heat the oil to shimmering over medium high heat in a large sauté pan.

Add the carrots, onions and garlic and cook, stirring occasionally, until the vegetables are soft and the onions are translucent.

Put the mushrooms in a food processor and pulse 8-9 times until they are well minced.

Make a bouquet garni by tying together sprigs of fresh thyme, oregano, and parsley in a small bunch.

Add the mushrooms and bouquet garni to the vegetables in pan and cooking, stirring occasionally until the mushrooms have given up their water and are starting to brown.

Add the tomato paste and stir constantly for a minute or so. Season with salt and pepper.

Add the milk and bring to a simmer. Simmer for 5-10 minutes until slightly thickened. Take the pan off the heat, remove the bouquet garni and stir in the parmesan cheese.