Way up north, In Alaska, there is a very popular cheese dip known as Kenai Cheese Dip, or Jalapeno Cheese Dip.   But I didn't actually find it when I was there, I found it later in The Alaska from Scratch Cookbook  by Maya Wilson which I brought home as a reminder of my trip.  The recipe caught my eye because it looked a lot like that Southern favorite, Pimento Cheese, altered to fit the tastes and available produce of the north.
It also caught my eye because I have three pounds of jalapenos needing to be eaten or preserved in some form.
The cookbook version calls for store-bought canned or jarred jalapenos, but I thought I could do one better with my candied jalapenos.
Made with fresh jalapenos,  candied jalapenos are at once hotter than commercial peppers and yet less biting.  The sweetness from the sugar syrup tempers the heat, bringing out the flavor of the jalapeno.
Now I am going out on a limb here and saying that some of you may not want to go to the trouble of making your own candied jalapenos.  You can buy them from specialty shops and online.   Or you can use the previously mentioned canned variety.  I would not suggest using fresh jalapenos! You will find the recipe for my candied jalapenos right after the Jalapeno Cheese.
Jalapeno Cheese:
It doesn't take much to make Jalapeno Cheese!
Stir together everything except the cheese in a large bowl.  Liquid smoke has a strong flavor so I would start with a little and then add more to your taste.  I also skipped the red pepper flakes as my jalapenos were pretty hot.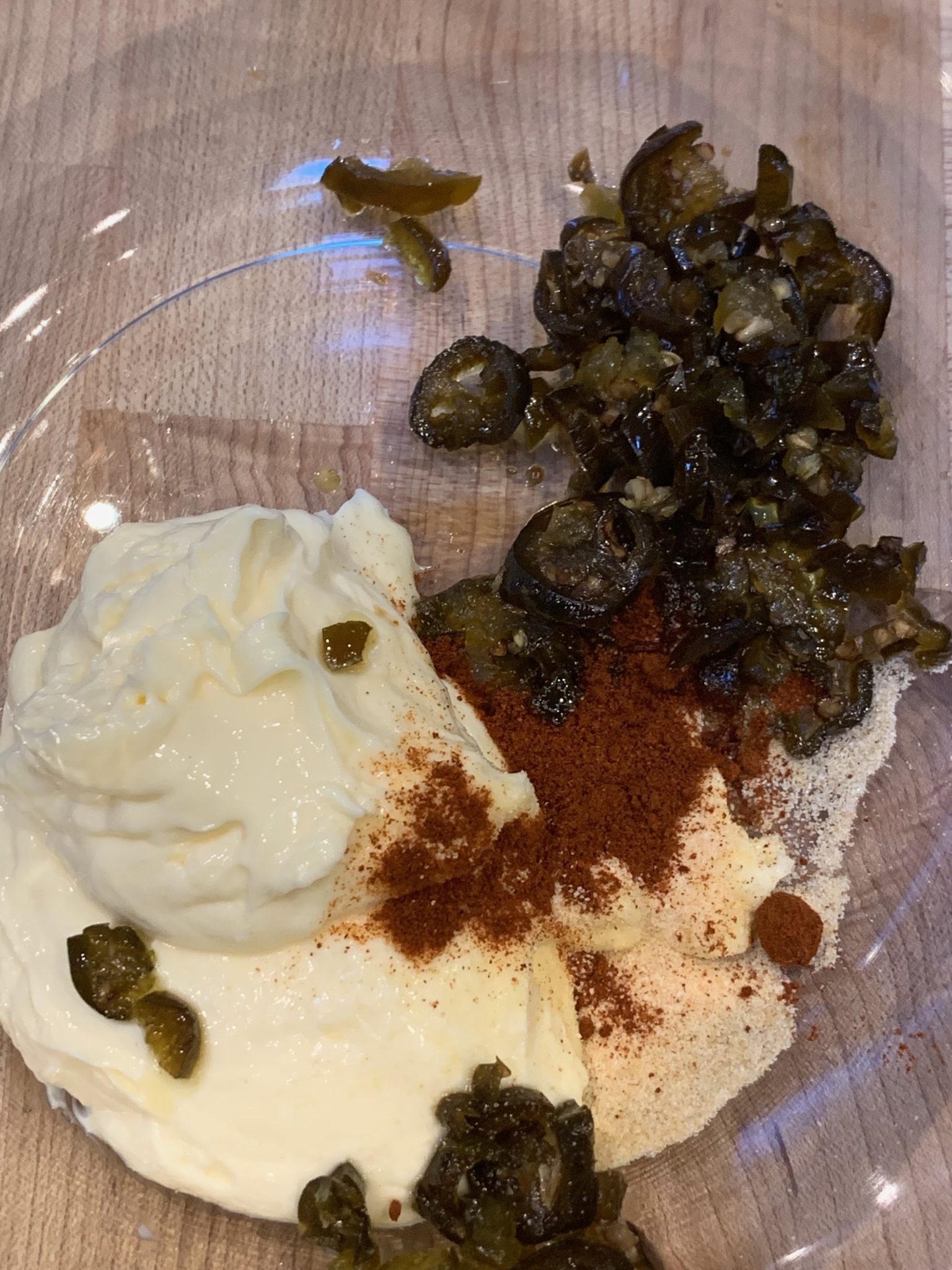 Grate half of the cheese thickly and the other half finely, so you have a blend of textures.
Add the cheese to the mayonnaise mixture in the bowl, give it a good stir and there are you are.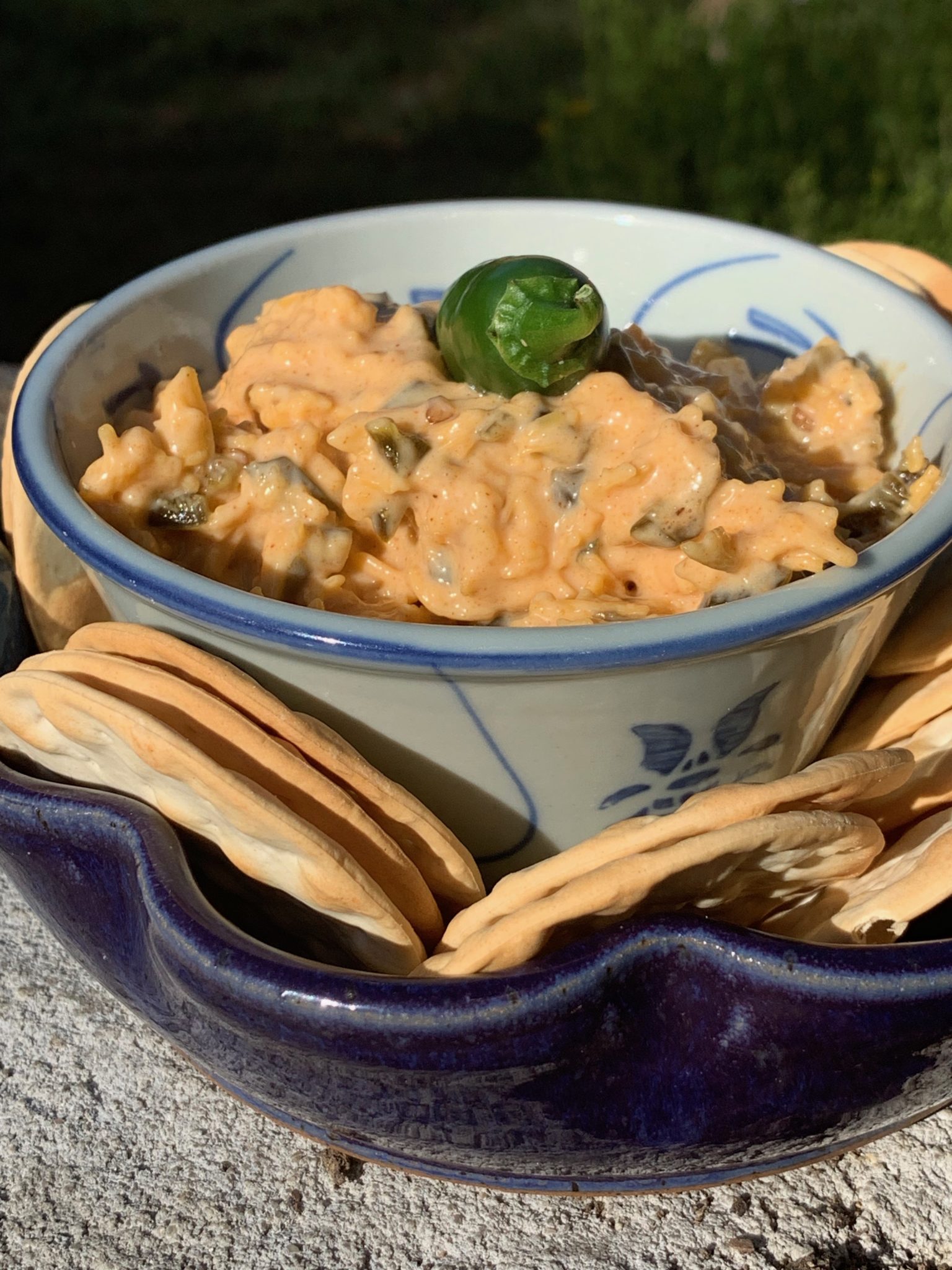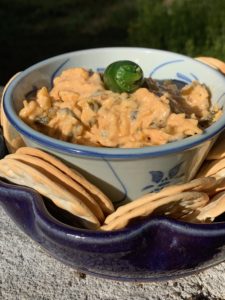 JALAPENO CHEESE
Jalapeno Cheese makes a great dip but also can be used as a topping for burgers, in grilled cheese sandwiches (with bacon!) and anywhere else you use cheese!
Ingredients
½

cup

mayonnaise

¼

cup

candied jalapenos

coarsely chopped

1

tsp

syrup from candied jalapenos

½

tsp

garlic powder

½

tsp

smoked paprika

½

tsp

red pepper flakes

optional

1-2

drops to ¼ tsp liquid smoke

Salt to taste

1

cup

finely grated cheddar cheese

1

cup

coarsely grated cheddar cheese
Instructions
In a medium bowl stir together the mayonnaise, jalapenos and spices.

Grate the cheese and fold into the mayonnaise mixture.

Refrigerate until ready to use.
Recipe Notes
Notes: If you don't have candied jalapenos you can use canned or bottled ones. Add up to two tablespoons of liquid from the can or bottle to taste. Start with a small amount of liquid smoke and add more to taste. The best crackers to serve with Jalapeno Cheese are Saltines.
Candied Jalapenos
This recipe is for one pound of Jalapenos.  You can increase it proportionally as needed.
Before you start preparing the jalapenos, I strongly recommend wearing gloves for food prepping!
Slice the jalapenos thinly.  You can do this by hand or with a mandoline.  You can also use a food processor if you don't mind if your finished jalapenos are not nice round slices.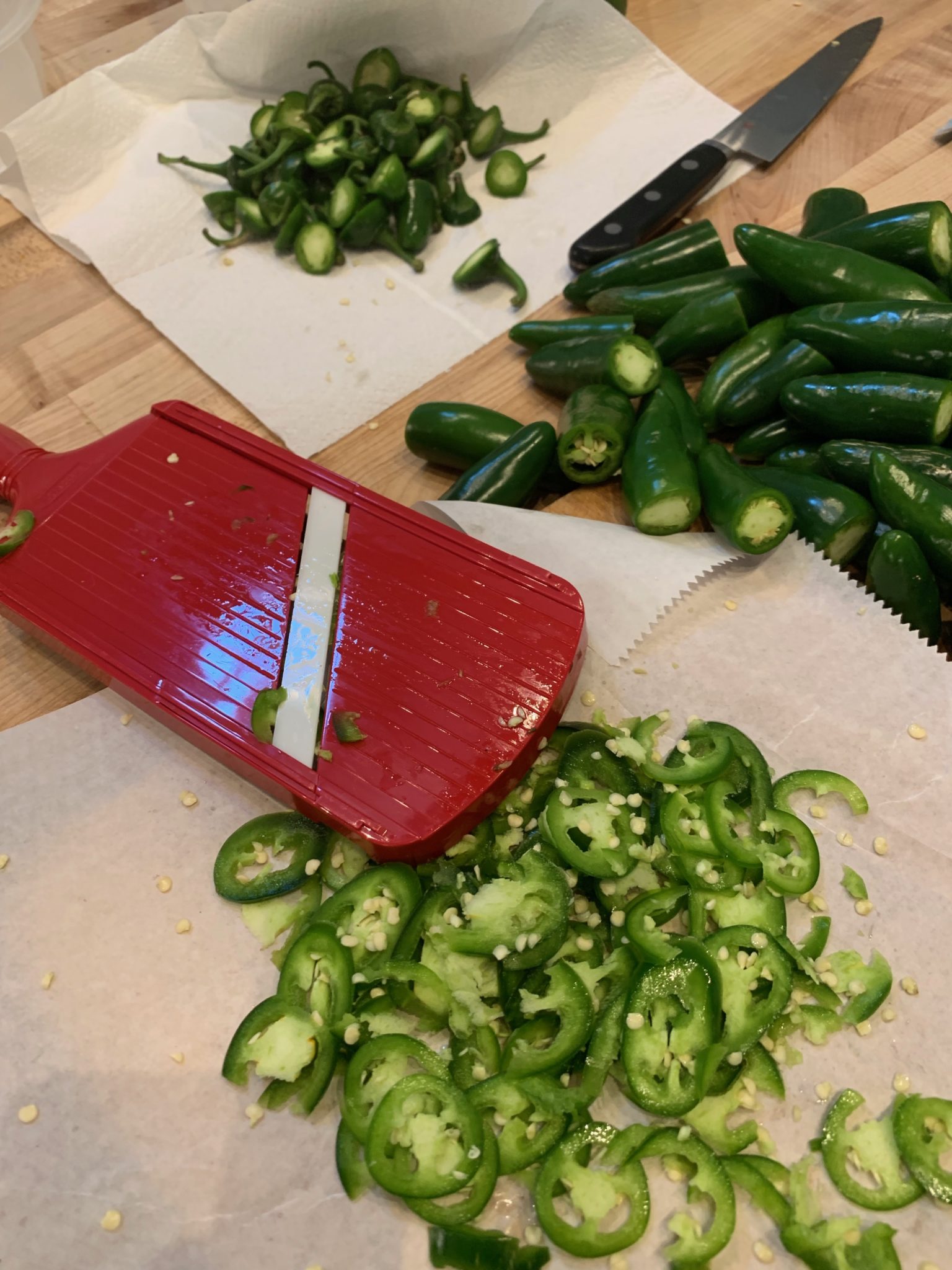 Use a microplane to grate the zest off the limes and add to the jalapenos.
Put everything except the jalapenos and lime zest in a large saucepan and bring it to a boil, stirring until the sugar dissolves.
Let it simmer until it is a thick syrup.  It will start by boiling up and looking foamy but will clear as the liquid reduces.  This takes about five minutes.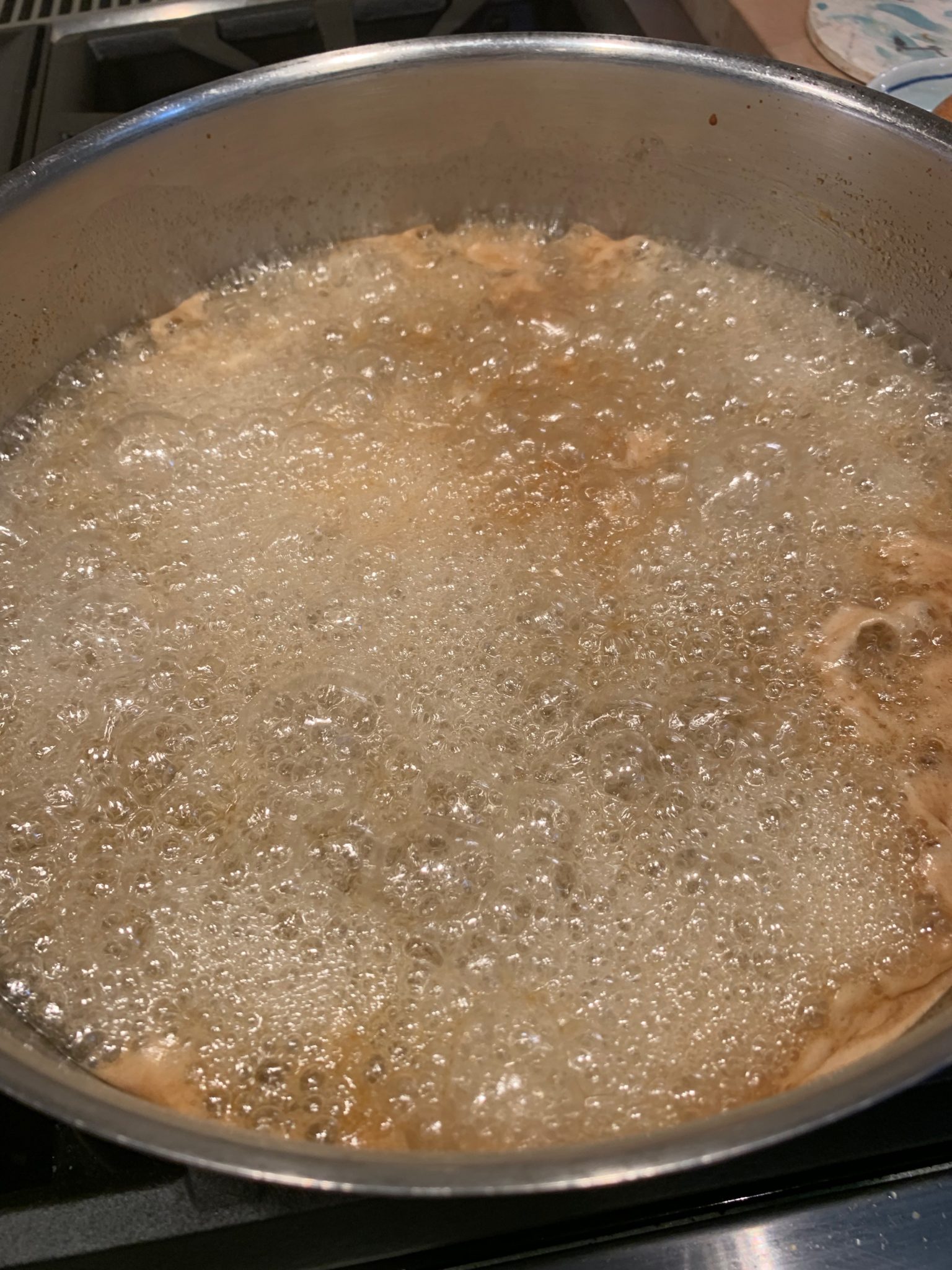 Add the jalapenos and limes and continue simmering until the jalapenos are cooked.  They will go from bright green to dark green.
Put the jalapenos in the prepared mason jar.
Strain the syrup and return it to the pan.  Continue boiling until the syrup has thickened.  If you dip a metal spoon in the syrup and hold it  over the pan the liquid will run together and come off the spoon in a sheet.   This can take up fifteen minutes depending on the quantity of jalapenos you are preparing.
Add the hot syrup to the jalapenos in the jar, cover and refrigerate.  They will keep for up to year and can be used in almost any application where you would use canned or bottled jalapenos.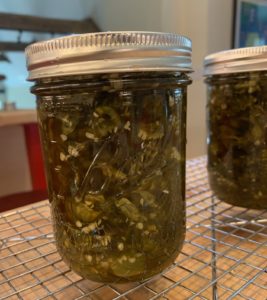 CANDIED JALAPENOS
Ingredients
1

lb

jalapeno peppers

2

limes

2/3

cup

apple cider vinegar

2

cups

sugar

½

tsp

ground cumin
Instructions
Preheat the oven to 300 degrees

Wash a 1 pint canning jar (Mason jar) and the lid in hot, soapy water. Rinse the jar and place it on a baking sheet in the oven. Pour boiling water over the lid and ring to cover. Leave them in the water until needed

Wearing gloves, slice the jalapenos into ¼" rings.

Use a microplane to zest the limes. Reserve the zest and juice the limes.

Bring the vinegar, sugar, lime juice and cumin to a boil in a large saucepan or sauté pan. Stir until the sugar dissolves. Reduce the heat slightly and simmer for 5 minutes until it reduces to a thin syrup.

Add the jalapeno and lime zest. Bring back to a boil. Reduce the heat and simmer for 4-5 minutes until the jalapenos have darkened.

Remove the jar from the oven and use a slotted spoon to remove the jalapenos from the syrup and put them into the jar.

Strain the syrup and return to a boil. Boil for a further 5-10 minutes until it is a thick syrup.

Pour the syrup over the jalapenos in the jar covering them well and filling the jar to the top.

Remove the lid and ring from the jar. Dry them and seal the jar. Let cool completely and store in the refrigerator