Those of you who follow me on Instagram and/or Facebook know that I just spent a week at Miraval, a Wellness Resort in the Sonora Desert outside Tucson. For those of you who don't follow me, you should!  Click Here for Instagram and Here for Facebook.  (And for more on the Miraval experience, check my post under Adventures of an Asheville Cook)
Anyway, it is a beautiful resort with food which manages to be mindful and delicious at the same time. They aren't dictatorial about it.  We weren't prohibited from things we liked.  You could get bacon and Diet Coke but the alternatives were so good that you didn't want to.
Which brings me to this, a vegan recipe for Chocolate Pot de Crème which is so good and easy to make that you will choose to do so.  And it's just in time for Valentine's Day!
The recipe is from Ema Peterson.  Ema teaches "Conscious Baking" at Miraval.
The first thing I liked about her was that she said straight up front she didn't know what "Conscious Baking" was. So she chose to make it about the ingredients one uses: to make a conscious choice in picking them.
The second thing I liked about her was her friendly and breezy manner which made the class fun and the cooking easy.  Ema is proof that one does not need to go to culinary school in order to become a chef.  She started with no knowledge at all and was embarrassingly delighted the first time she whipped cream in a restaurant kitchen and was so pleased she tried to show it to her boyfriend who was working the line at the time!
The Pot de Crème starts with raw cashews which have been soaked overnight.   However, if you are like Ema (and me) you don't remember to do this,  you can also soak them in boiling water for about 45 minutes.  And if you don't like cashews, use pistachio nuts, or pecans, or whatever you do like.  Just soak them so they are soft and will blend in easily.
Everything except the coconut oil goes in a blender (or food processor).  If you are lucky you will have a Vitamix and this will be superfast.  If you are like me and you don't, you will need to keep blending and scraping the sides.  Try to get the dry ingredients as smooth as possible and then pour in the melted coconut oil.  When the oil hits the cold ingredients it may seize a bit, don't worry just keep blending.  The trick to this is to get it as smooth as possible.  Once the nuts are well incorporated it will lose the grittiness.
Pour the chocolate evenly into ramekins and refrigerate for at least two hours to set.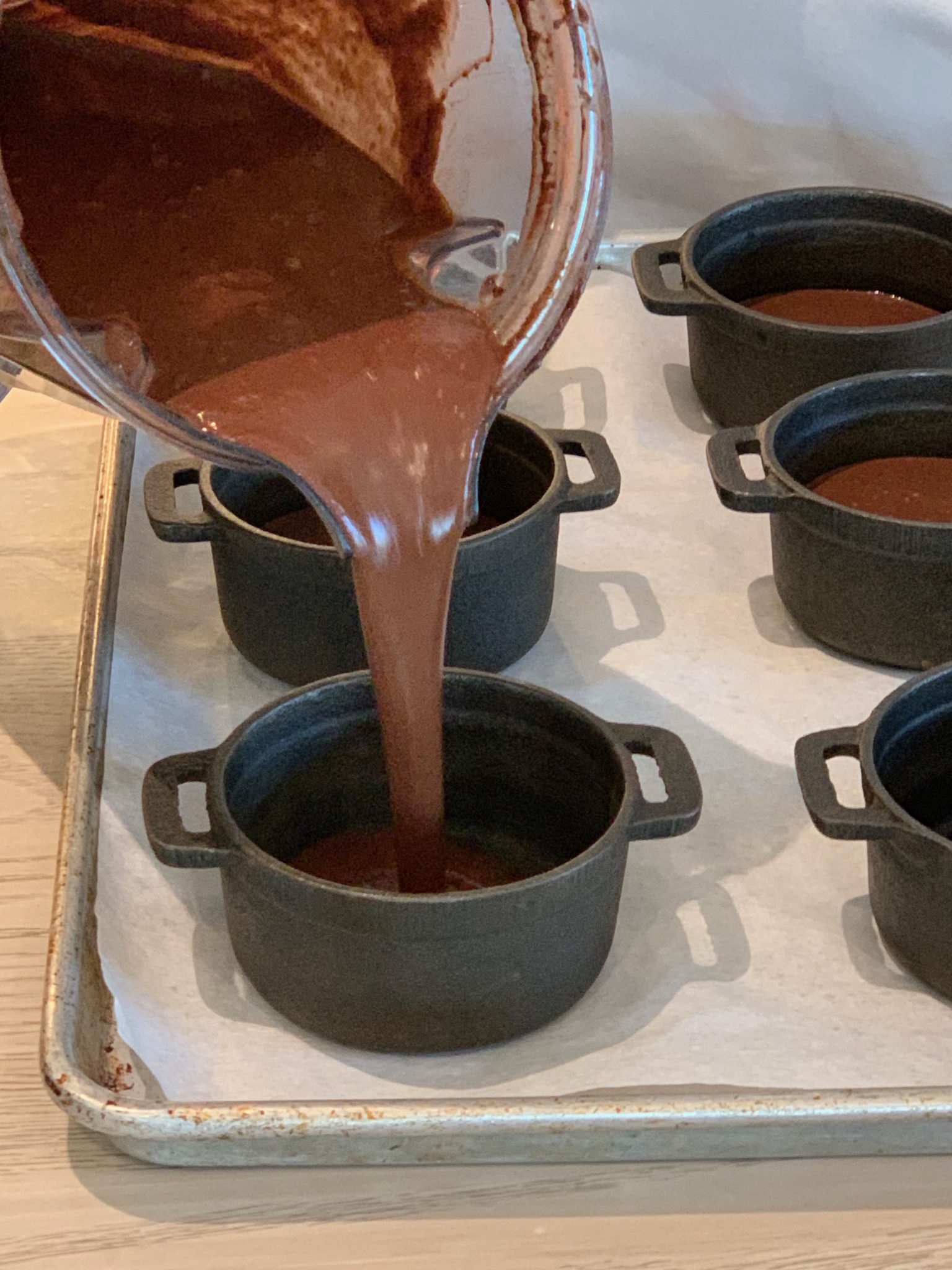 You can make this recipe using other flavor profiles than chocolate. Ema suggests Lemon-Thyme, Cinnamon-Raisin, or a blend of turmeric, cinnamon and ginger. Just be aware that it may not set up as hard without the chocolate.
On to the garnishes.
This is where I learned some new tricks.  There is always something to learn!
The garnishes in this recipe are important for the flavor  but you can change them out and use easier alternatives if you like.  Just try to get something fruity and something with some texture. Although I have to say that the garnishes Ema showed us are pretty easy to do.
Candied Apricots were made using a simple syrup of water and sugar, and apricots. I have made candied fruits before but always through the method of cooking them in the syrup and they never dry well.  Ema made a simple syrup of water and sugar then added the apricots for just one minute before she strained them and let them sit for a least an hour (four hours is better) before she tossed them in the sugar.
Cashews were tossed in a little maple syrup then tossed in a spice mixture and finally in some sugar.  But instead of cooking them until the sugar melts and hardens, she barely cooked them at all.  There was no visible change but they were just as delicious as hard sugar variety.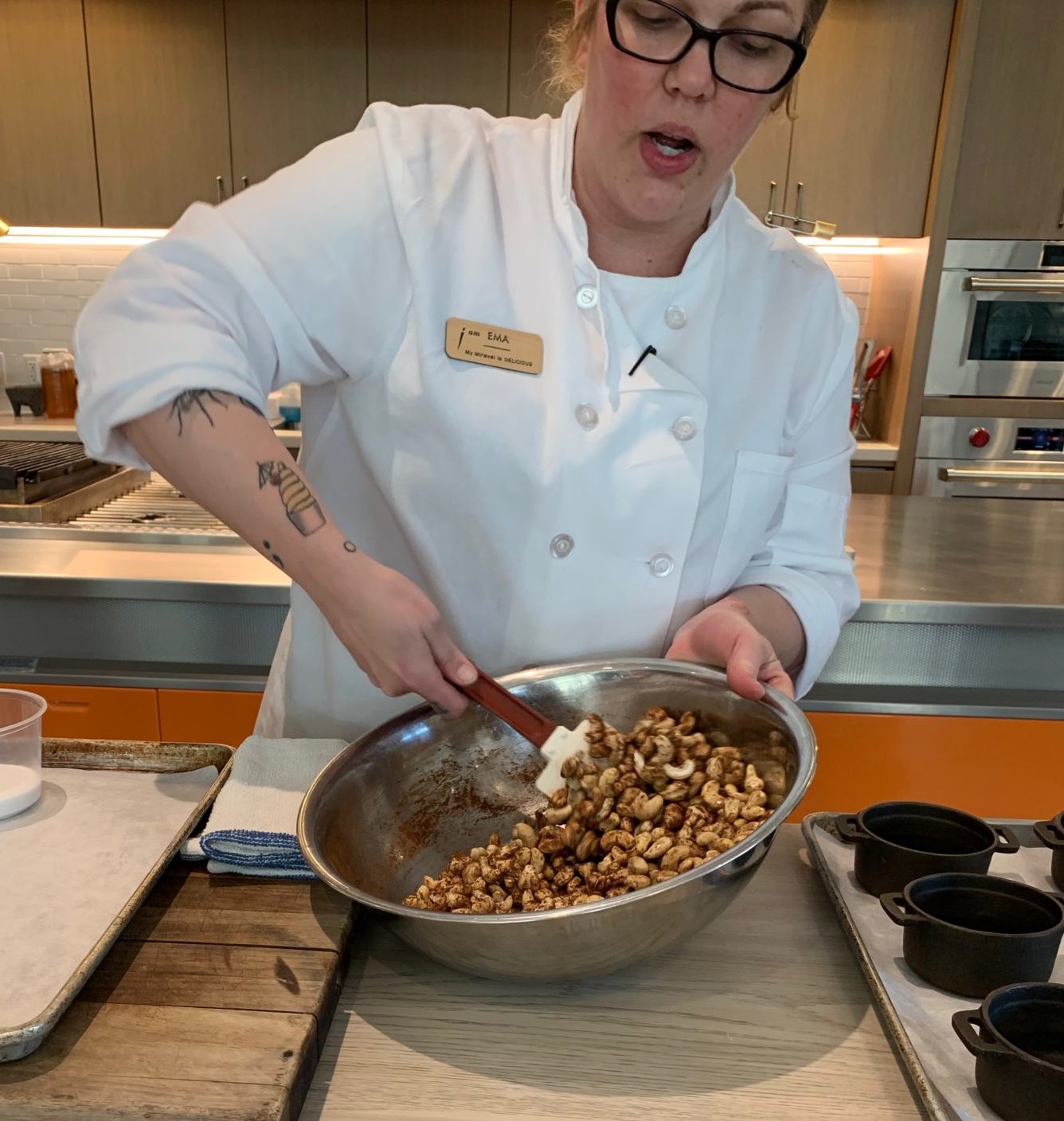 And finally, a little fresh fruit.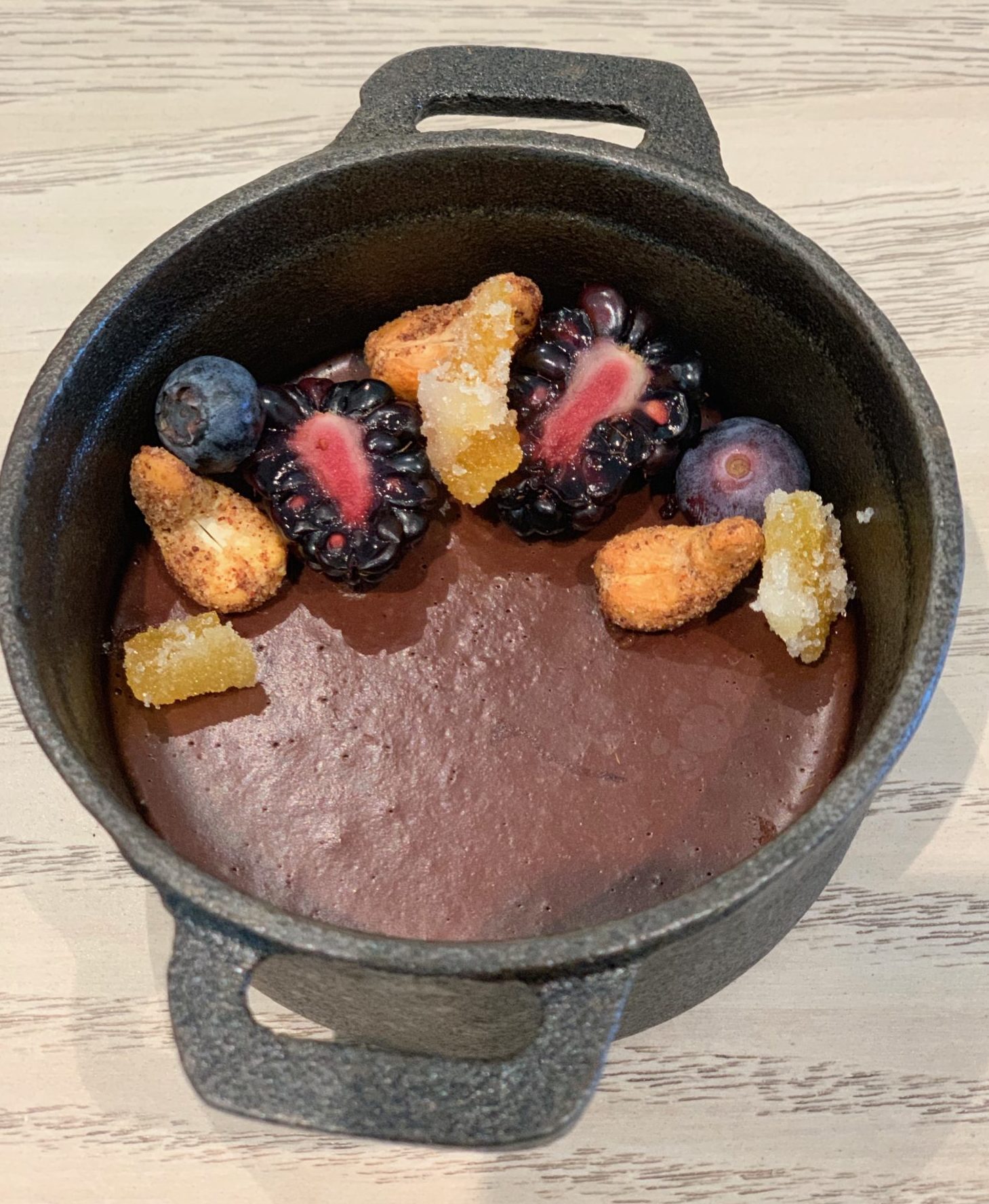 Happy Valentines Day!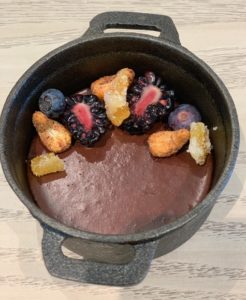 PINK PEPPERCORN AND CHOCOLATE VEGAN POT DE CRÈME
Ingredients
For the Pot De Crème
2

cups

raw cashews

2

cups

almond milk

1

cup

coconut oil

melted

1

cup

extra brut cocoa powder

1

cup

maple syrup

1

tbsp

vanilla

2

tsp

pink peppercorns

crushed

1

tsp

salt
For the Candied Apricots
1

cup

sulfured apricots

diced

1

cup

water

2

cups

sugar

divided
For the Spiced Cashews
6

cups

raw cashews

3

tbsp

maple syrup

I tbsp cinnamon

2

tbsp

chili powder

½

cup

sugar
Instructions
For the Pot De Crème
Soak the cashews overnight in cold water or for 45 minutes in boiling water.

Put all of the ingredients in a food processor or blender. Process until smooth.

Add the melted coconut oil and process again until all of the grittiness is gone.

Pour into ramekins and let set in the refrigerator for 2-3 hours.

Garnish with Candied Apricots, Spiced Cashews and fresh fruit
For the Spiced Cashews
Preheat oven to 325

Toss the nuts in the maple syrup until evenly covered.

Add the spices and toss again.

Finally add the sugar and toss the nuts until coated

Spread the nuts evenly on a baking sheet and cook in a 325 degree oven for ten minutes.

Nuts will be just warm to the touch when they are done.
For the Candied Apricots
Bring one cup of water and 1 cup of sugar to a rapid boil.

Remove from the heat and add 1 cup diced apricots. Let sit for 1 minute then drain the apricots. Leave the apricots to dry for at least one hour.

Toss the apricots in the remaining sugar then shake them off and set them aside to dry for four hours or more.
Recipe Notes
Note: nuts and candied fruit can be stored for two weeks or more in air tight containers. Alternative flavor options for the Pot De Crème include Lemon Thyme (1 tbsp fresh thyme, 1 tbsp lemon zest, 1 tbsp lemon juice) Cinnamon Raisin (1 tbsp cinnamon, 1 cup raisins) and Golden Blend (1 tbsp turmeric, 1.2 tsp cinnamon, 1 tsp ground ginger)