Valentine's Day.  Hearts and flowers and chocolates, and cards filled with sentimental and silly thoughts.  This is great fun when your love life is going well but can be downright painful when it is not.
What Valentine's Day needs is a drink.  Not champagne with its celebratory edge. Something with a punch: a little sweet, a little heat and a lot of flavor.  Good for the lovers, the between-relationships, the lookers and the hurters alike.
It just so happens that I know of such a drink: a Valentine's Day Margarita.
This concoction was created by Chef Adrian Ortega at Miraval Wellness Resort & Spa in Tucson Arizona.  Like the best of love affairs it combines different tastes and ingredients in a new and delicious way.
My Valentine's Day Margarita starts with a fire roasted red pepper.  You can do this over a flame or under the grill.  Roast the pepper until it is charred and blackened.  Then let it cool for ten minutes or so.  It should be easy to peel. Cut it in half and remove the seeds.   You will need ½  pepper per drink.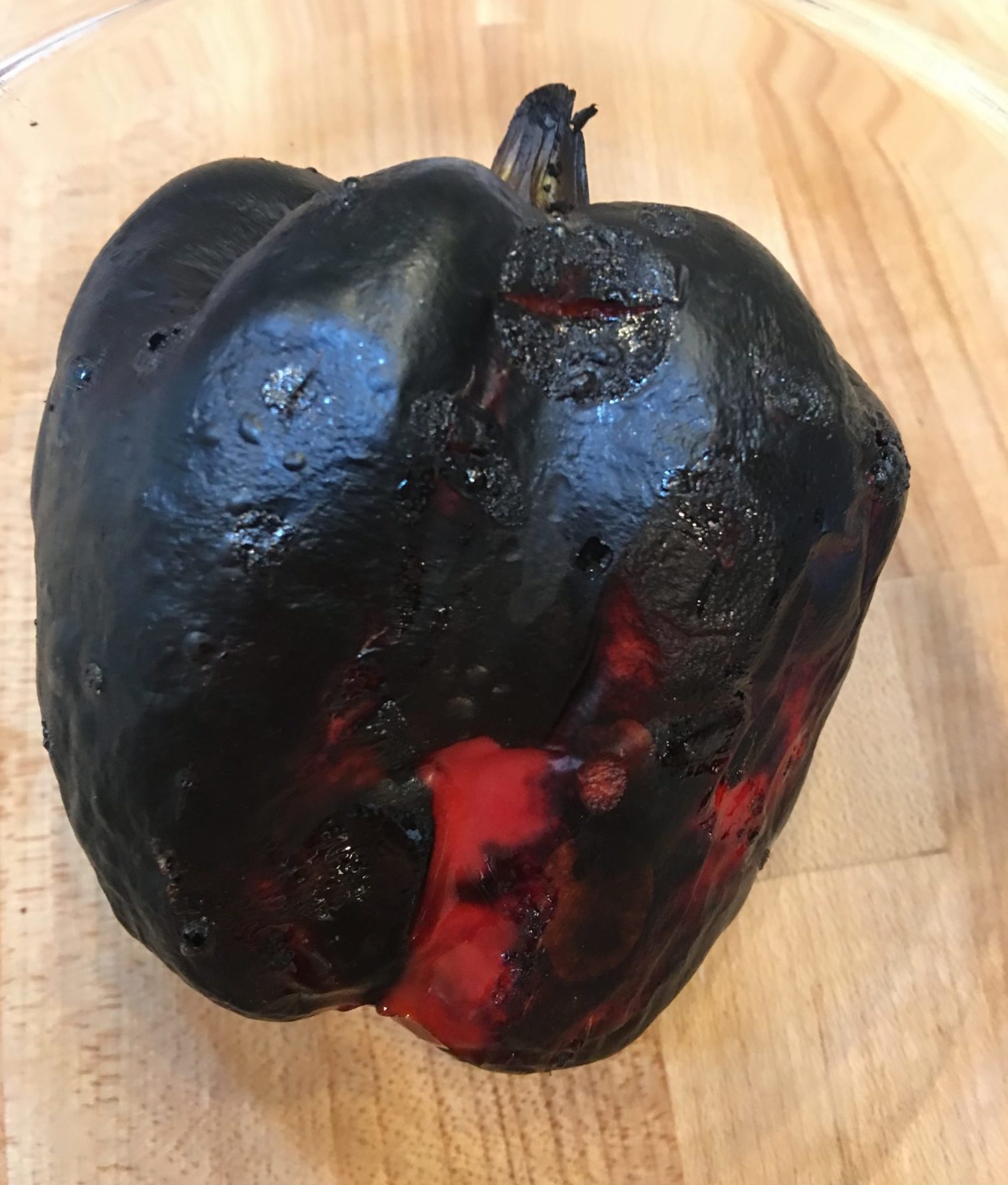 Take a small to medium sized fresh pineapple, peel it, core it and slice it.  Each drink requires 1/8 of a pineapple.
If you have a cocktail shaker and muddler, put the red pepper and pineapple in the base and muddle them (mash them) together until it is nice and juicy.  You can even add some of the extra juice from the red pepper if you like. (If you don't have a shaker, do this in a wide mouthed jar with a lid).
If you are really feeling extra feisty, pissed off, or amorous, you can add a few slices of jalapeno for an extra kick.  Just watch out for the seeds.
In goes the juice from half a lemon, and ½ oz (a generous tablespoon) of simple syrup (1:1 water and sugar heated to a boil and cooled).
And finally, the good stuff: 1 1/2 ounces of vodka and ½ ounce of tequila.
Prepare your glass by dipping it in a little fresh pineapple juice and then in a spice mixture.  Chef Adrian used Tajin, a Mexican spice mixture.  If you don't live in the Southwest, you can generally find it at specialty stores. Other options are to make it yourself  or to substitute any Chili-lime spice mixture.  The objective here is to add a little heat and salt to the drink when you sip it.
Put two good scoops of ice into the shaker or jar, cover it up and give it a vigorous shake until the outside of the shaker is frosted. Strain the drink into the prepared glass, add ice, or drink it straight up.
Happy Valentine's Day.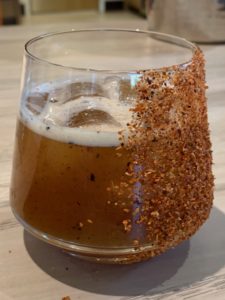 VALENTINE'S DAY MARGARITA
Ingredients
1

red bell pepper

½

fresh pineapple

1

jalapeno

optional

1

lemon

1

oz

simple syrup

3

oz

vodka

1

oz

tequila

Tajin spice mix
Instructions
Roast the red pepper over a flame or under the grill until the skin is charred and blackened. Allow to cool. Peel, seed and cut the pepper in half. You will use ½ a pepper for each drink.

Cut off the skin of the pineapple. Slice off the top and the bottom. Cut the pineapple in half and cut out the tough core. Cut into eight spears. Use 1 spear for each drink. (See note).

In a cocktail shaker or wide mouthed jar with a lid muddle (mash) together the red pepper and pineapple until it is nice and juicy.

Chop and seed the jalapeno, if using. According to taste, add 1/8-1/4 of the diced jalapeno to the shaker and muddle some more.

Add the juice of ½ a lemon, ½ oz simple syrup, 1 ½ oz vodka and ½ oz tequila to the drink.

Prepare your glass by rubbing the side or rim of the glass with some of the remaining pineapple. Then dip the glass in Tajin spice mmix to coat.

Put two scoops of ice in the shaker, cover it and shake vigorously until the shaker is chilled.

Strain the mixture into your prepared glass. Serve over ice or straight up.

Repeat for the second drink.
Recipe Notes
Note: 2 oz of pineapple juice per drink can be substituted for the fresh pineapple. If you can't find Tajin Spice Mix you can use any chili-lime spice mixture.