Up to now, we've been making bread the easy way—as a quick bread.  But it's time to step up our game and make a yeasty bun filled with a lovely herb, feta and cream cheese filling.
Hey, come back here!  There's no reason to run away from baking bread with yeast!
There used to be, back in the day before stand mixers with dough hooks and instant-read thermometers.  But life is a lot easier now.
The only thing that hasn't changed is the time it takes to make it.  These lovely cheese-stuffed rolls take about two to two and a half hours to make.  Most of that time is devoted to letting the dough rest and rise, giving you time to do something else as well.
This recipe is another paid advertisement which I found in Bake From Scratch Magazine (#thebakefeed).  I wonder, do they vet these recipes?  Because so far the ads are two for two for easy recipes which look difficult.  (Check out my blog from last week for Cheddar-Pecan Bread to see the first one!)  This recipe is brought to you by Red Star Platinum Yeast
Put about half of the flour, the yeast and sugar in the bowl of your mixer (fitted with the paddle blade) and give it a whir to mix it together.
Melt the butter over low heat in the water and milk.  You want it to be about 120 degrees when you add it to the flour and yeast, so use your instant read thermometer to test it.  If it's too hot, stir it until it has cooled off.
Slowly pour in the milk mixture with the mixer on low.  Once it is incorporated let it  mix for a minute more to further cool it. The add the egg and beat to combine it.
Add the remaining flour on low and beat it together until you have a "shaggy" dough.  A shaggy dough is just what it sounds like—it looks like the fur of a shaggy dog.
Now change out the paddle blade for the dough hook and run it at low speed for 12 minutes.  The dough should be elastic and smooth.  If it is too wet add a tablespoon more flour.
Take the dough out of the mixer and form it into a ball by stretching it around itself.
Put the ball of dough in a lightly oiled bowl and roll it around to give a coating of oil to the dough as well.  Cover it and put it somewhere warm to rise.
Warm means around 75 degrees.  I heated my oven to 100 degrees and turned it off when I put the dough in.  This worked fine.
In about 45 minutes the dough should be risen to double its size.  If you are in any doubt about it use your (clean) finger to poke an indentation about a half-inch deep.  If the indentation stays, you are good to go. If it disappears, let your dough have another 5-10 minutes to rise.
Take the dough out of the oven (if you are using it to rise the dough)  and increase the oven temperature to 375 degree.
Punch the dough down. Literally make a fist and whack it.  It will deflate. And leave it to recover from your violent act for five minutes while you prepare the baking trays.
Line two baking sheets with parchment paper.
If you have a scale, this is a good time to use it.  If you don't, you can eyeball the next step.
Separate the dough into 12 equal portions.  If you have a scale, they should each be about 2.5 ounces (70 grams).  If you are going to eyeball it, roll the dough into a log about 12 inches long and cut it in half.  Take one half and roll it out, cut it in half again.  Continue until you have 6 portions then repeat with the other half of the dough.
Roll each portion into a small ball and flatten it out to a three inch pancake.  If you have a cookie cutter for this, great.  If not, draw a circle on a piece of parchment paper the size of a 3" circle and roll each ball out to fit it.
Place six rolls on each of your prepared baking sheets, spacing them well.  Cover them and let them rise again for 15 to 25 minutes until they have puffed up.
This is a good time to prepare the filling which is super easy.  Everything goes in your stand mixer and whipped together until it's smooth.  I was unable to find any fresh tarragon at this time of year so I substituted dried (1 tablespoon fresh = 1 teaspoon dried).
Use a glass or small mason jar to make a well in the center of each roll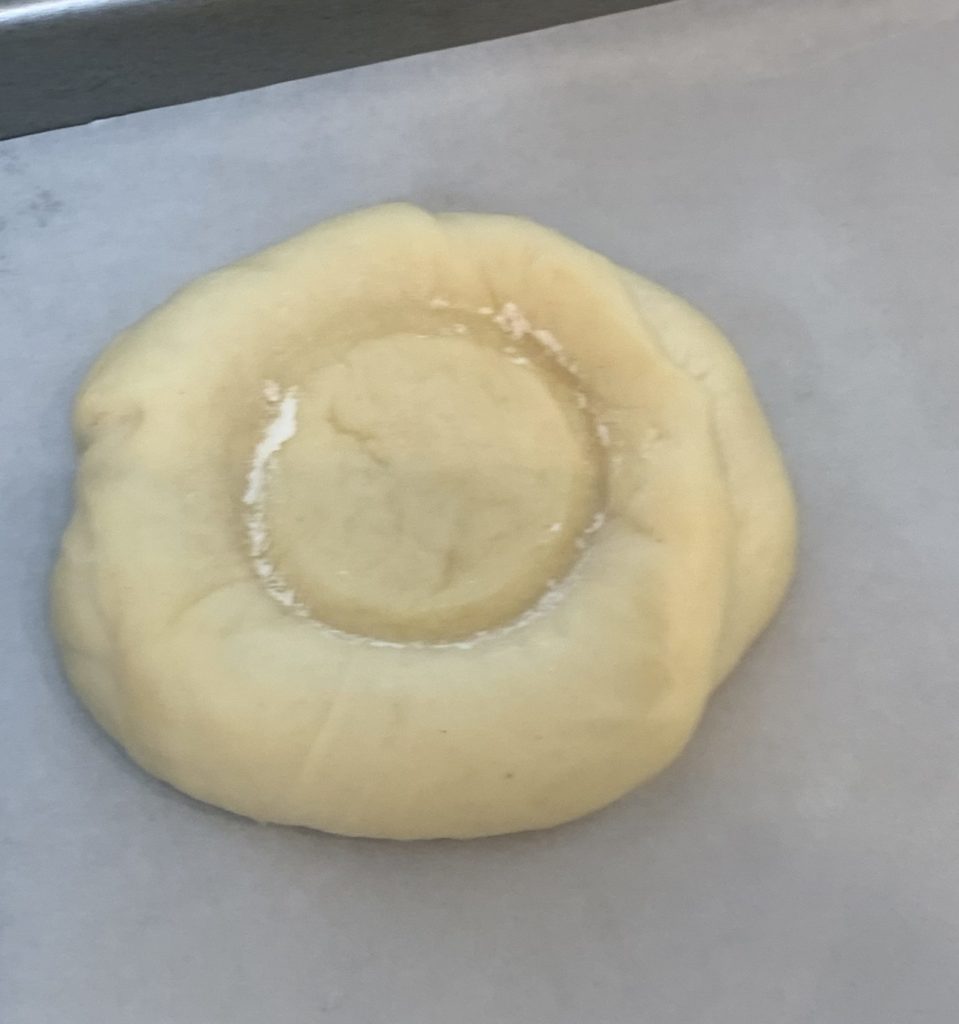 and fill it with some of the cheese filling.
Brush the roll with an egg wash and bake it!
The rolls are done when they are lightly browned on top and an instant read thermometer registers 200 degrees when inserted into the bread.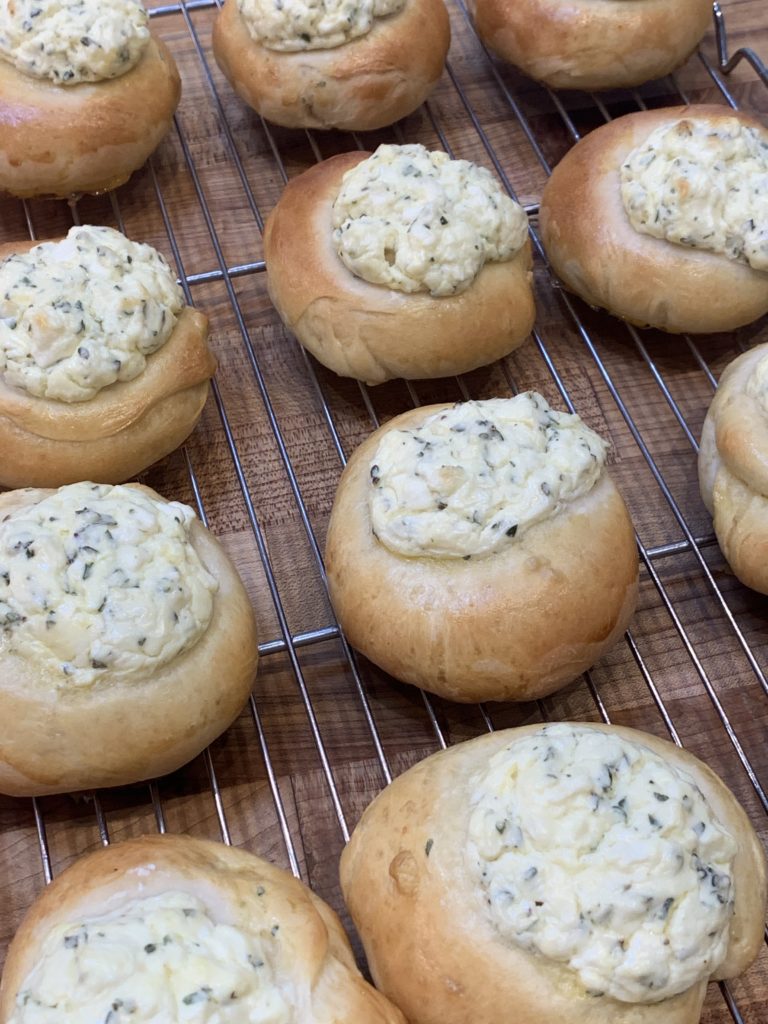 Serve them warm or at room temperature.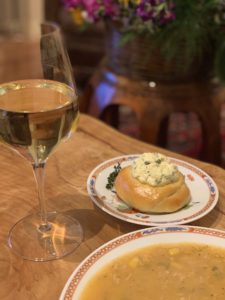 FETA CHEESE ROLLS
Ingredients
For the Dough
3 ¾

cups

flour

2

tbsp

sugar

2

tsp

yeast

2

tsp

salt

½

cup

water

½

cup

milk

1/3

cup

butter

room temperature

1

egg mixed with 1 tbsp water
For the Filling
1 ½

cup

feta cheese crumbled

6

ounces

cream cheese

1

egg

1 ½

tbsp

butter

room temperature

4

tsp

fresh chopped tarragon

1 tsp dried

4

tsp

fresh chopped thyme

1 tsp dried

½

tsp

salt
Instructions
To make the dough
Put 2 cups of the flour, the sugar, yeast and salt in the bowl of a stand mixer fitted with the paddle blade. Stir it once or twice to mix it.

Heat the milk, water and butter over medium-low heat until the butter is melted. Do not let it get hotter than 120 degrees. Cool if needed.

With the mixer on medium speed, slowly pour in the butter and milk mixture. Beat for one minute to mix fully. Add the egg and beat to combine.

On low speed, add the remaining 1 ¾ cups of flour. Beat this until it forms a shaggy dough.

Change the paddle blade out for the dough hook and beat the dough at low to medium low speed for 12-15 minutes. The dough should be smooth and elastic. Add up to one tablespoon more flour if it is too sticky.

Remove the dough and shape into a ball.

Grease large bowl and place the dough in the bowl, turning the dough to make it greasy too. Cover and let rise in a warm place (75-90 degrees) for about 45 minutes until doubled in size.

When risen, punch down the dough and let sit for 5 minutes while you preheat the oven to 375 degrees and prepare the baking sheets by lining them with parchment paper.

Turn the dough out onto a lightly floured board and separate it into 12 equal segments.

Shape each segment in a ball and then flatten the ball to make a 3" circle. Place the circles of dough on the prepared baking sheets, cover and let rise for 15-25 minutes until they have puffed up.
Prepare the Filling
Put all of the filling ingredients together in one bowl and beat until smooth and creamy
Assemble the rolls
Use a small mason jar or glass to press a well in the center of each roll. Fill the well with 2 tablespoons of the feta cheese mixture.

Brush the roll with the egg and water wash.

Bake at 375 degrees for 12 to 13 minutes until the rolls are golden brown and the center of the roll reaches 200 degrees on an instant read thermometer.

Cool on a wire rack.