What do you love about your neighborhood?  What is it that makes it home? And what would you do if something threatened that?
My neighborhood consists of wide quiet streets, lined with gardens and flowers.  The houses reflect both the history of our town and the personalities of the owners. Children play in the backyards of large, restored Victorian homes, next to small bungalows aching for a little care.  Poetry pops up on the sidewalks, porches are festooned with art. Dogs are walked, exercise is undertaken, and rocking chairs are occupied.
But my favorite thing of all is just down the road and over the hill.
It's an amphitheater, home to the Montford Park Players, where every weekend from May to September the chairs and lawns around it are filled with people as the stage resounds with the thunder of Shakespeare (with an occasional foray into Robinhood and other classics).
The performances are free. Sponsors like myself donate some of the money needed to keep our theater running but fully 92% of the more than $185,000 annual budget comes from donations, big and small, collected in the hats and hands of the actors during the intermission.  Think about that.  That's a lot of love from our neighborhood and visitors to our town!
This year there are no performances but the costs of keeping the theater maintained and supported are no less.  The staff has all been furloughed, although they continue to work as volunteers, but even with this, there are bills to be paid and repairs which are needed.
It's time for us to pay it forward.  I am passing a metaphorical hat to all of you.
I am asking you to dig into your pocket and donate $5, $10, $20 dollars or more to help our neighborhood theater survive.  So that next summer we can once again sit together under the stars, laughing, crying and cheering on our actors!
Please donate by following this link:  SOS—Save our Shakespeare.  You can donate online, send a check or even make a phone call.  But do it now, please!
To get you in the mood, here are two recipes along with the relevant quotes from Shakespeare's plays.
LEMON AND LIME POSSETS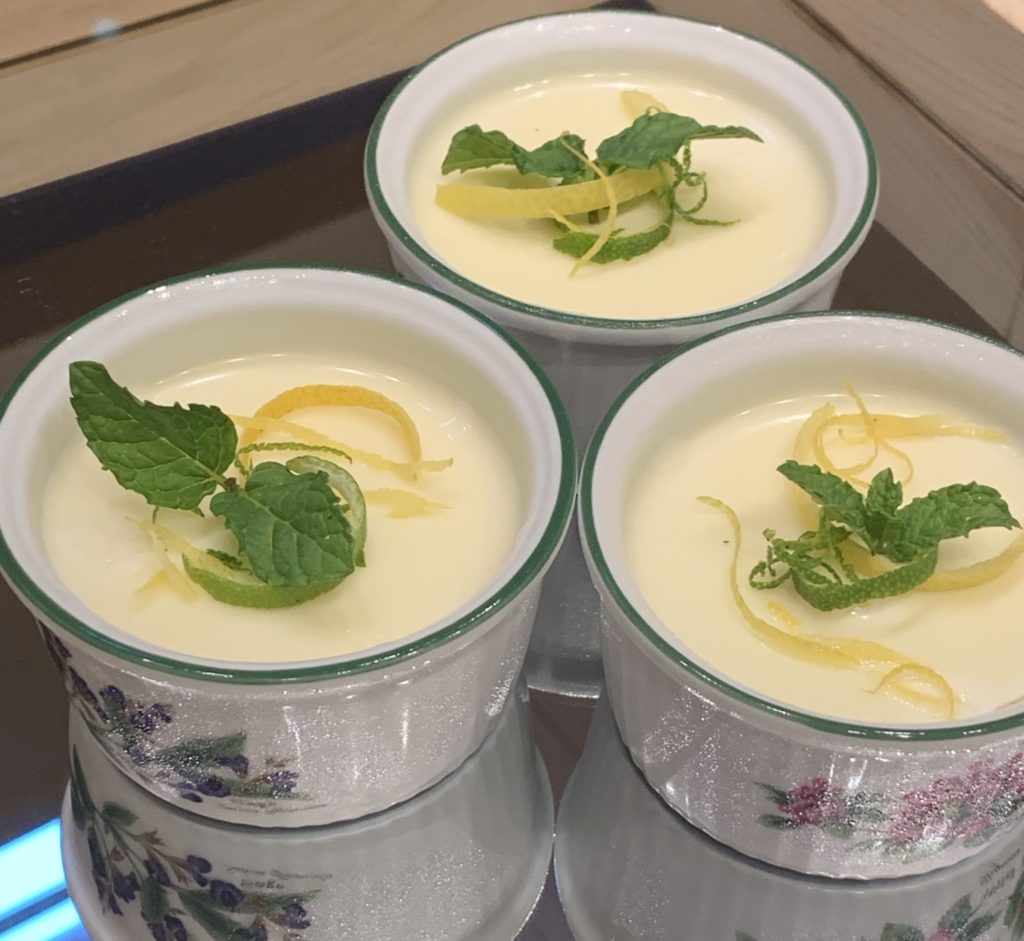 The doors are open, and the surfeited grooms
Do mock their charge with snores. I have drugg'd their possets
That death and nature do contend about them,
Whether they live or die. –Lady MacBeth (Act II, scene ii)
These possets are neither poisoned nor drinks.  The modern posset is similar to panna cotta although creamier in texture.  It uses the acid in citrus fruits to thicken and set the dessert.
It really could not be any easier to make.
Heat cream and sugar over a medium high heat until the sugar is dissolved.  Boil vigorously for three minutes while stirring constantly.
Remove it from the heat and add citrus juice (in this case, lemon and lime juice).
Then pour it into a ramekin (or wine glass) and let it set in the refrigerator.
SHREWSBURY CAKES
Dost thou think, because thou art virtuous,
There shall be no more cakes and ale?–Sir Toby Belch in Twelfth Night (Act II, scene iii)
While the play does not specify Shrewsbury Cakes,  researchers believe that this is what Shakepeare was refering to. It is really a shortbread cookie.  The Elizabethans would have flavored them with rose water.  I have chosen instead to make a lightly lavender scented version with lemon overtones.
Cream together the butter and sugar, beat in an egg and then the flour and salt. Add lemon peel and then  add lavendar extract to taste.  I used a teaspoonful and the lavender flavor is very subtle.
This makes a very soft dough.  Remove it from the mixer bowl and shape it into ball.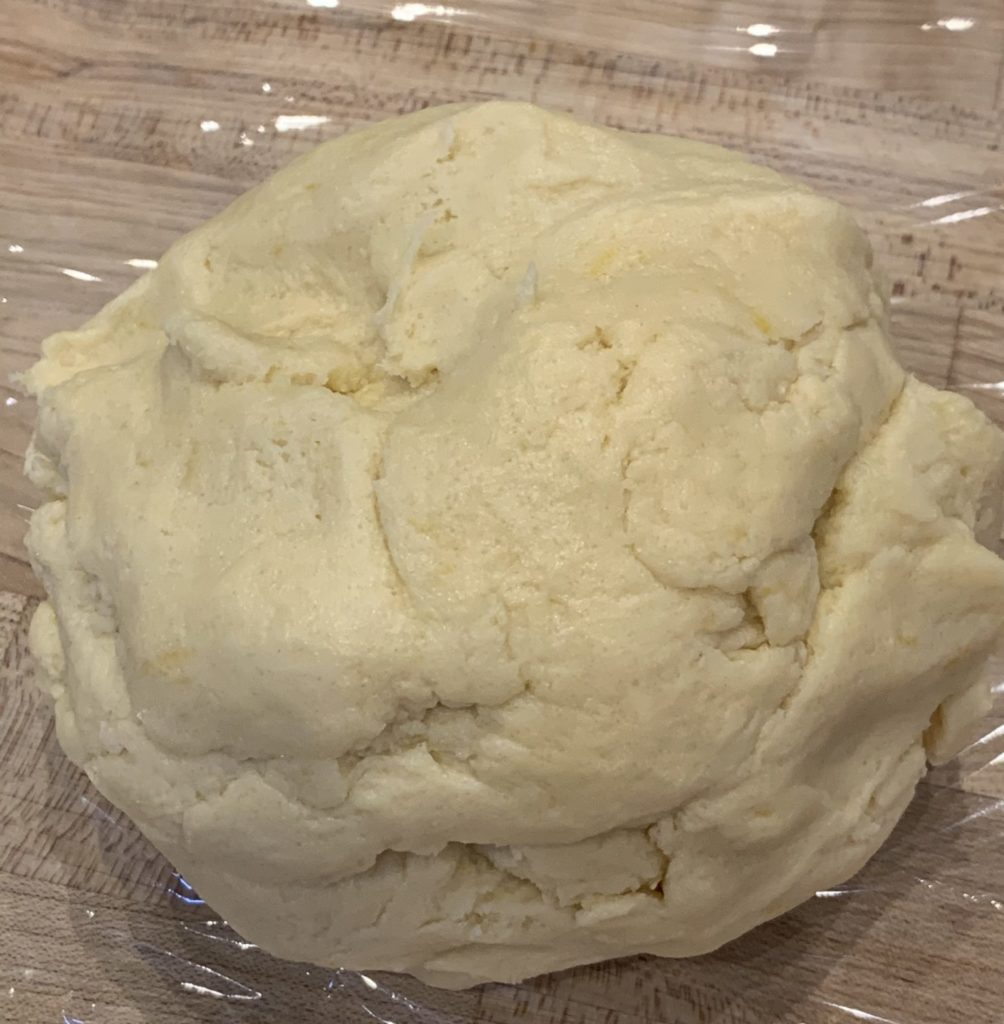 Refrigerate it for a least an hour before rolling it out on a well floured board.  Move the dough frequently while you are rolling it out so that it does not stick.
Cut small cookies and bake them on a parchment lined sheet until they are lightly browned around the edges.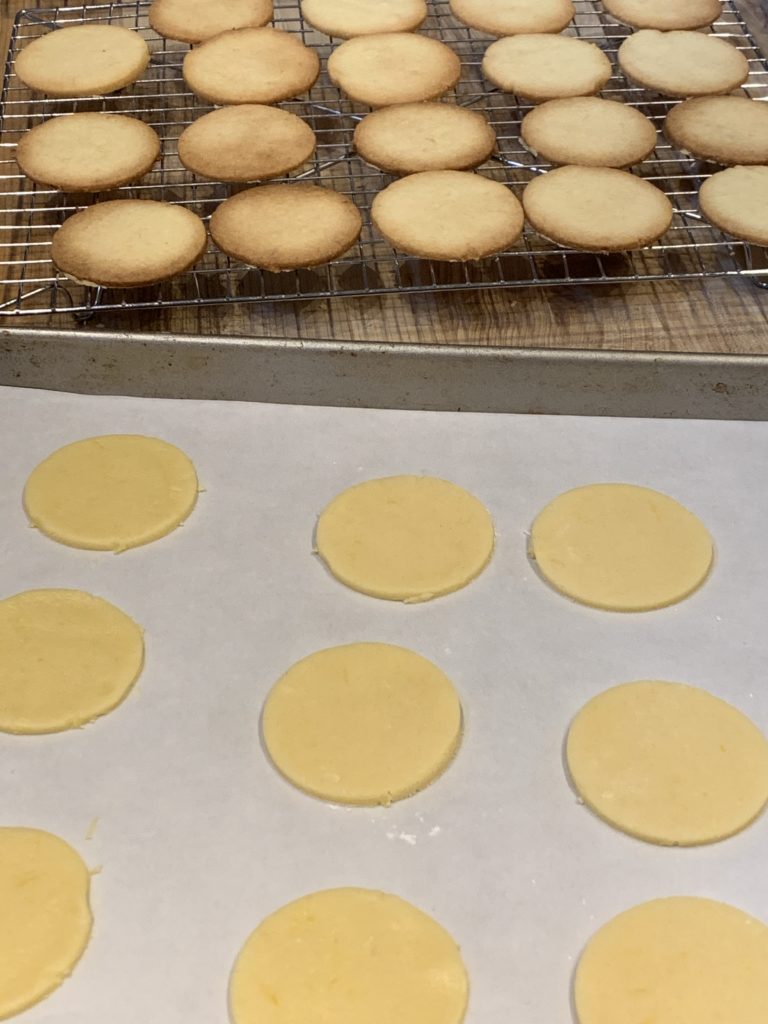 Serve the Shrewsbury Cakes with the Lemon-Lime Posset and please DONATE to the Montford Park Players and help us keep the lights on in the Hazel Robinson Amphitheater!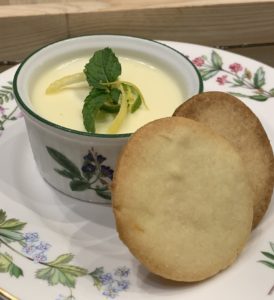 LEMON LIME POSSET (PANNA COTTA)
Servings
6
1/2 cup servings
Ingredients
¾

c

sugar

2 ¼

c

heavy cream

2

tbsp

lime juice

3

tbsp

lemon juice

Lemon and lime zest and fresh mint leaves

optional
Instructions
Heat the cream and sugar in a medium saucepan to a boil, stirring until the sugar dissolves.

Boil for 3 minutes, stirring constantly.

Remove the pan from the heat and stir in the lime and lemon juice.

Cool in the pan for ten minutes.

Stir the mixture and then pour it into ramekins or glasses.

Cover and chill until set.

Garnish with fresh mint leaves and lemon and lime zest if desired.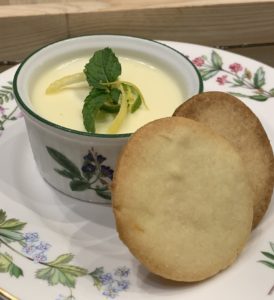 SHREWSBURY CAKES (ELIZABETHAN SHORTBREAD COOKIES)
Prep Time
1
hour
20
minutes
Ingredients
1

c

butter

softened

1

c

plus 1 tbsp sugar

1

egg

2 ¾

c

flour

½

tsp

salt

1

tsp

lavender extract

Zest of one large lemon
Instructions
Cream together the butter and sugar for 4 minutes or until light and fluffy.

Beat in the egg, lavender extract and lemon zest.

Add the flour and salt to the butter mixture. Beat it together until it is binding then gather it into a ball.

Wrap in plastic wrap and chill for one hour.

Preheat the oven to 350 degree. Line your cookie sheets with parchment paper.

Lightly flour your board and rolling pin and roll out the dough to ¼ " to ½" thickness. The dough will be slightly sticky. Turn the dough and lift it often to keep it from sticking to the board.

Cut out the cookies using a circular cookie cutter. Place on the lined baking sheets.

Bake until the edges are just starting to brown 12-14 minutes.

Cool on the baking sheet and then transfer to a wire rack to finish cooling.
Recipe Notes
Note: Vanilla can be substituted for the lavender.