This year my oldest daughter, Sarah, came over to help me trim my tree. I am lucky to have her live nearby and to have her help and support.  We sorted through the boxes of ornaments, removing those which had been given to her so that she could take them home and laughing over memories of who picked which ornament at our yearly summer outing to the beach-side Christmas store.
And I told her the story of this little fairy, who appeared on the tree when Sarah was just a year old.  She had a rolled up note in her hand with the gift of a weekend's babysitting from my mother and a trip to an upstate bed and breakfast from my husband.  It would be the first time in over a year when I could go for a walk, take a bath and read a book in front of a fire all on the same day.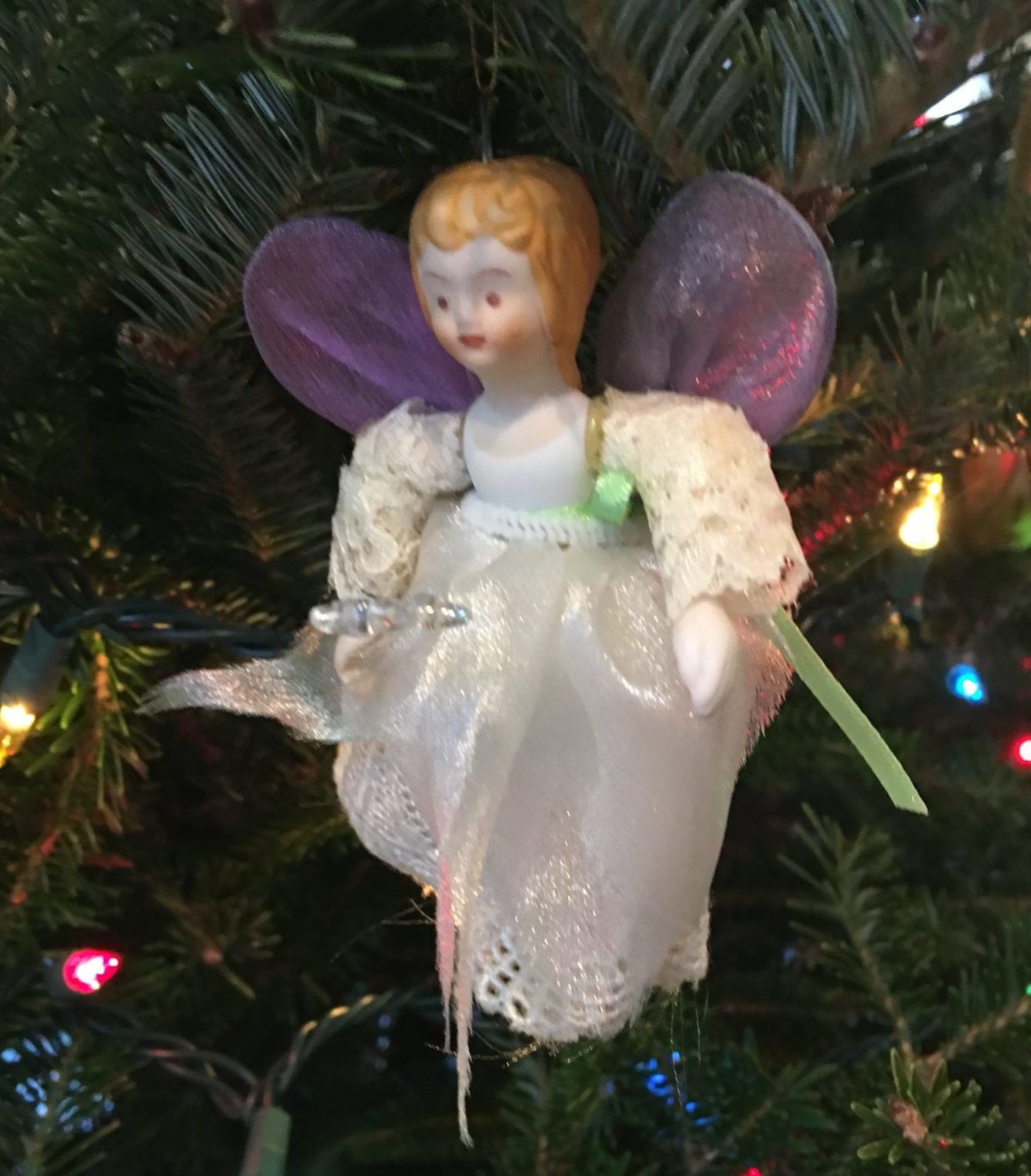 And while a Christmas movie played in the background, ( Christmas Eve on Sesame Street, trust me) and we decorated the tree, some Spicy Baked Beans cooked in the oven.  This is a great holiday dish because you can assemble it quickly in the morning, or day before, and then put it in the oven while you get on with the fun.  It can be doubled or tripled in size for a large gathering or halved for just two.  So, in the hope of making your day easier:
Chop an onion and cook it with a little oil in a sauté pan until it is soft.  Add the sausage and cook through, breaking up the clumps with a fork.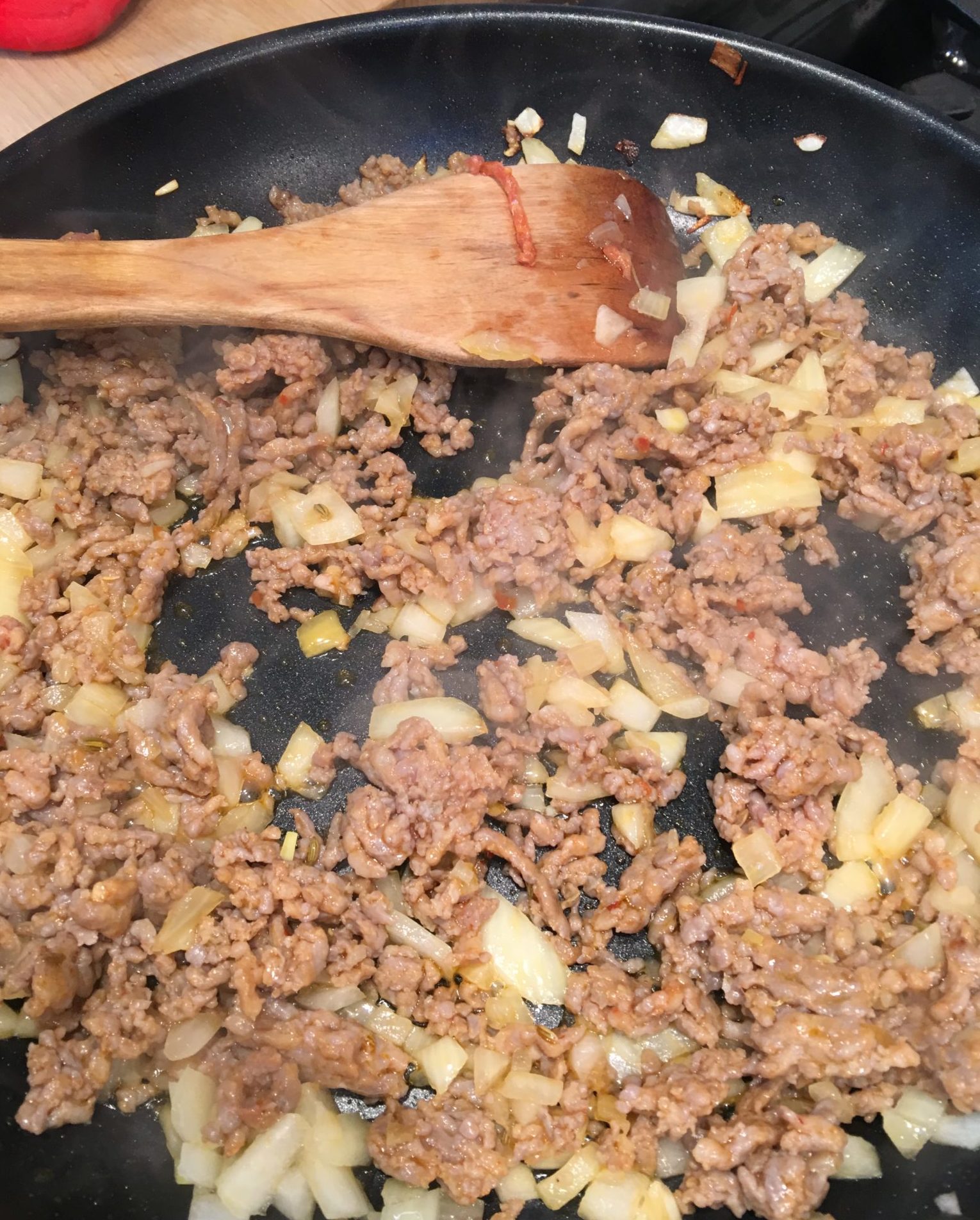 This is all the cooking you need to do.  From this point forward it is open up a few cans and put it all together in a lightly oiled casserole dish.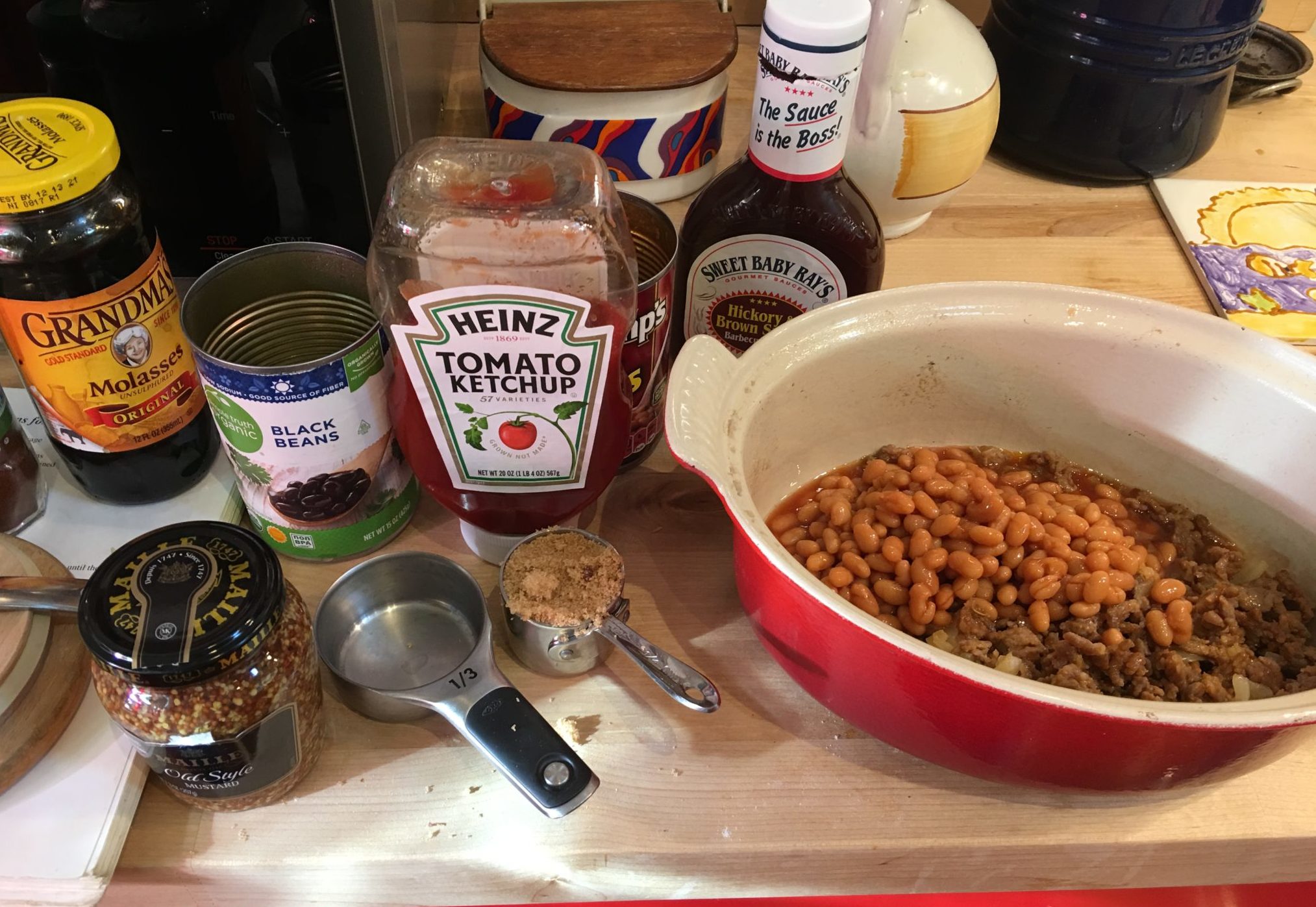 You can adjust the heat to suit your family.  Use sweet sausage instead of spicy, skip the jalapeno and go lightly on the chili powder, it will still be good. Finally, layer it with bacon.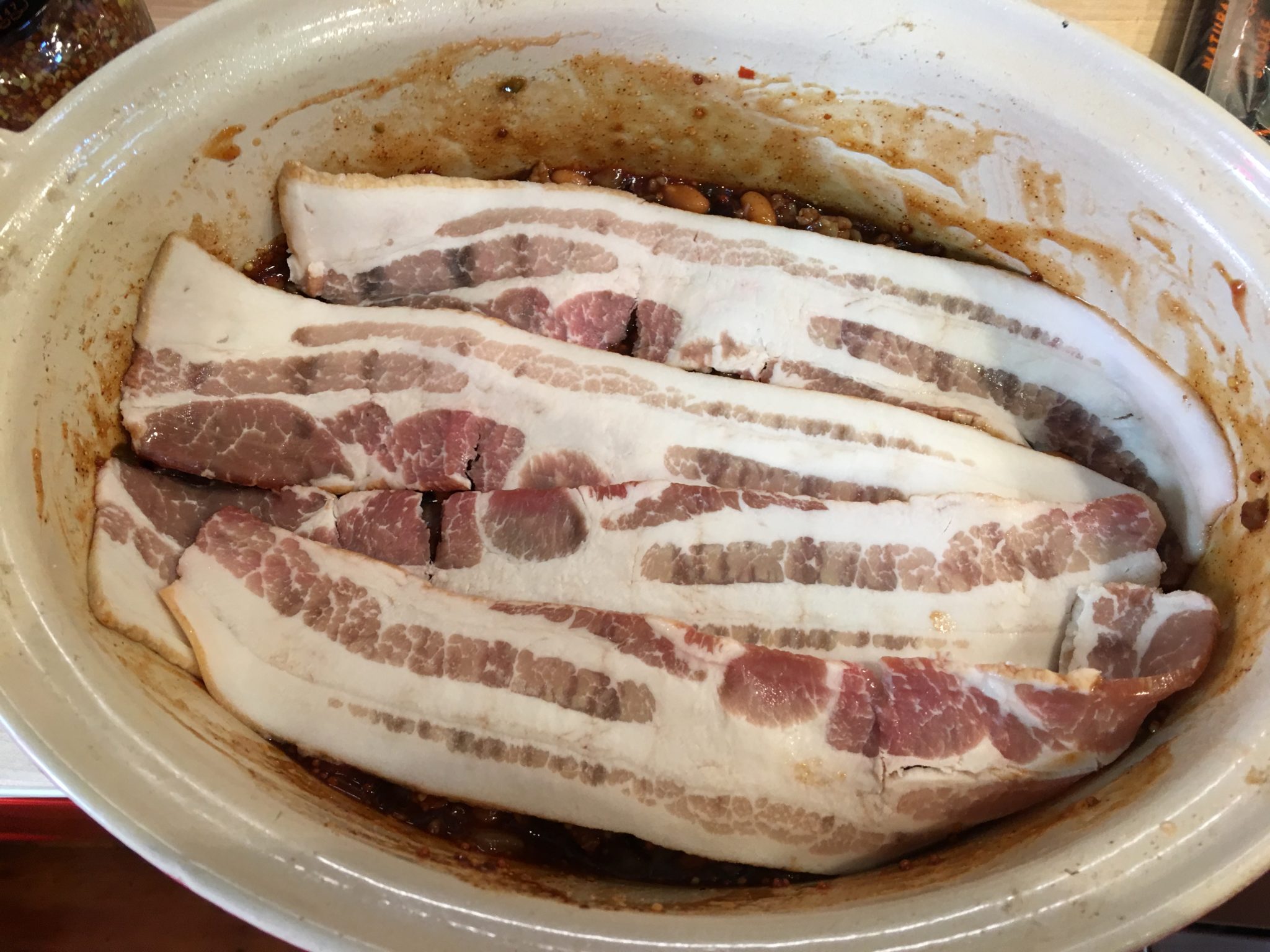 Once it is all together cook it right away or refrigerate until you want it.  It will take 90 minutes if you cook it right after assembly, a bit longer from the fridge.  It's done with the bacon is browned and the beans are bubbling.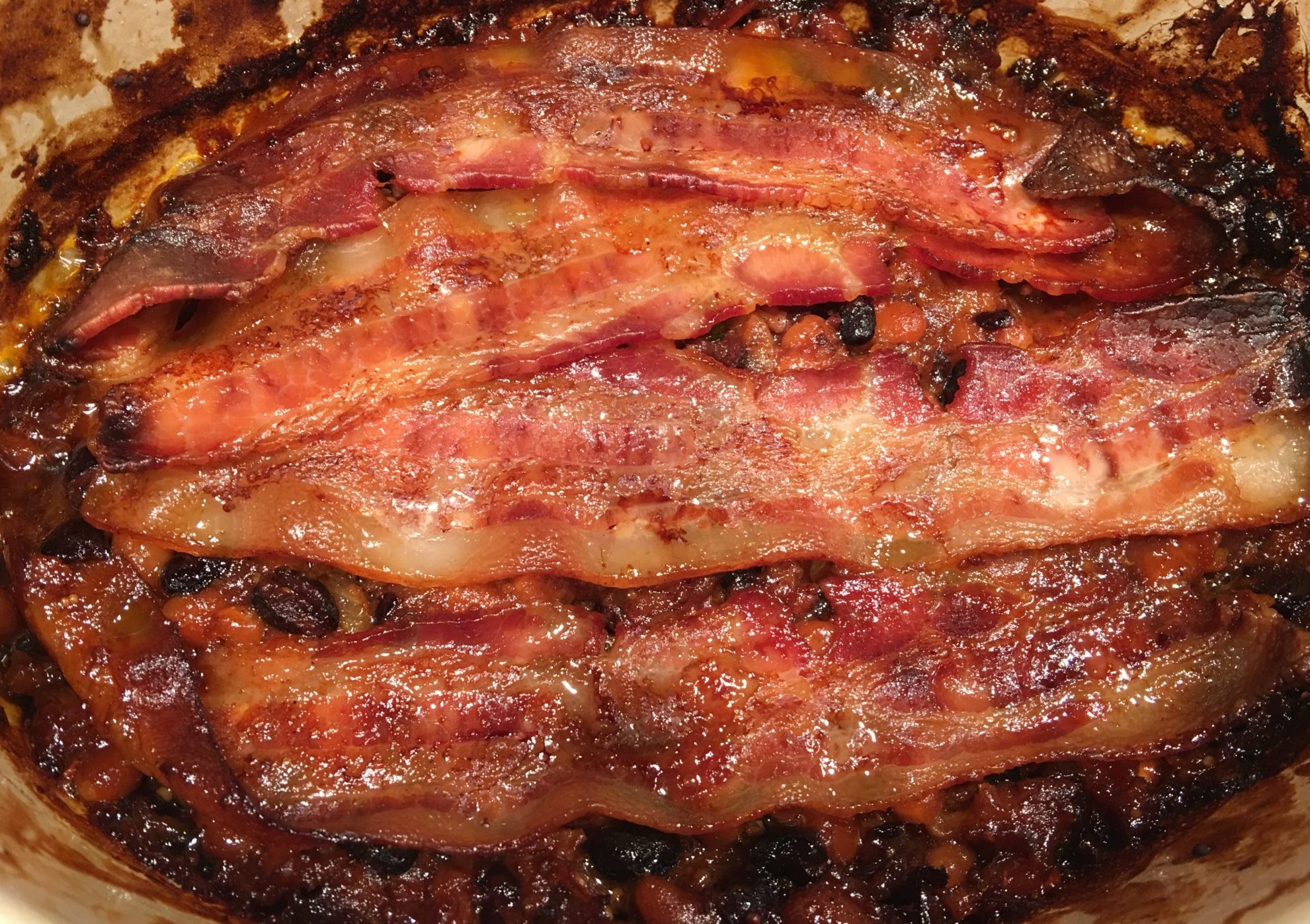 Add a green salad and you are good to go!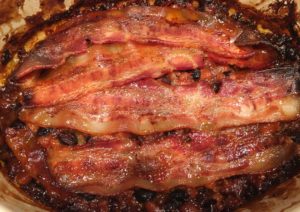 SPICY BAKED BEANS
Ingredients
½

lb

Spicy Italian Sausage

1

large onion

chopped

2 16

oz

cans Pork and Beans

1 15

oz

can black beans

drained

½

cup

brown sugar

packed

½

cup

barbecue sauce

1/3

cup

ketchup

¼

cup

coarse-grained mustard

¼

cup

molasses

1

jalapeno

seeded and chopped

1-2

tsp

chili powder

4

slices

of bacon
Instructions
Cook the onion in a large skillet until it is just starting to soften. Add the sausage and cook until the sausage is no longer pink, breaking up the chunks with a fork. Drain.

Combine the sausage, beans and all the rest of the ingredients in a lightly oil casserole dish. Stir well to mix.

Layer the bacon over the top of the bean mixture. Refrigerate until ready to cook.

Cook for 1 ½ to 2 hours in a preheated 350 degree oven.
Recipe Notes
This recipe can be easily doubled or tripled. Adjust the heat to suit your taste. Sweet Italian sausage can be substituted for the spicy variety, halve or omit the jalapeno as desired.