What makes a pancake a pancake?  Is it how it is cooked?  The ingredients? When you eat it?  Does it matter?
This delicious "pancake" may or may not meet the common definition of a pancake, but it will knock your socks off for its delicious strawberry filled flavor, the slightly crunchy top, and  the soft, pillowy interior.
As a former Bed & Breakfast owner, I have cooked a lot of breakfasts in my life but it's been a while since I made a dish that got the reception this one did at our Easter Brunch.  And since I told you I would share any recipe I thought worth your time, I could not wait to get this off to you!
The recipe makes one large pancake which will serve 8-12 people, depending on how hungry they are. It was Easter and springtime so I used strawberries, but you could certainly use other fruits.  I can't wait to try this with fresh peaches.
It comes together a lot like a cake.
Beat the butter and sugar together for 4 minutes, then add your eggs one at a time making sure each one is well incorporated before adding the next one. Scrape the bottom and sides of the bowl and give it one more minute in the mixer
Mix together flour, baking soda and salt.  Add that in turns with sour cream.  Be careful not to overmix it.  Add each portion just as the last one is almost mixed in.
Fold in the strawberries and spread it in a large skillet which has been greased and floured.
Finally, sprinkle sugar over the top.  Don't skip this step!  It adds a second layer of crunch to the pancake.
Bake it in a 375 degree oven for 40-50 minutes.  The edges will cook before the center does.  It's done when the center is just barely set.  Around 180 degrees on an instant read thermometer. You want the pancake to have a firm outside progressing to an almost creamy center.
Serve immediately with warm maple syrup (because why would you pour cold syrup on a lovely warm pancake?)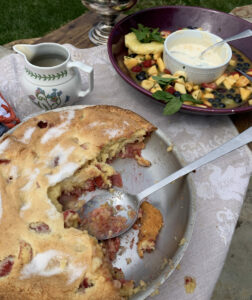 STRAWBERRY PANCAKE
Ingredients
1

c

butter

room temperature

2

c

sugar

4

eggs

1

tsp

vanilla

2 2/3

c

flour

2 ½

tsp

baking powder

½

tsp

salt

1

c

sour cream

¼

c

sugar

2

lbs

fresh strawberries

cleaned and halved.

Maple syrup
Instructions
Preheat the oven to 375 degrees.

Spray a 12" oven-proof skillet with baking spray with flour,

Beat together the butter and sugar in the bowl of a stand mixer on medium high for 4 minutes.

Add the eggs one at a time, beating after each addition until the egg is fully incorporated. Scrape the bottom and sides of the bowl between each addition. Add the vanilla and beat it in well.

Mix together the flour, baking powder and salt. Add the flour mixture and sour cream to the batter alternatively in four to five turns, starting and ending with the flour. Do not overbeat it. Add the next addition when the previous one is just incorporated.

Fold in the strawberries.

Spread the batter evenly in the prepared skillet.

Sprinkle ¼ cup of sugar over the top of the batter.

Bake 40-50 minutes until the pancake is fully cooked and browned around the edges. The center should still be a little soft.

Serve immediately with warm maple syrup.