If you are like me, your holiday shopping is barely finished (or not even), you have 200 presents to wrap, regular work to do and people keep asking you out to fun events.  And to top it off, family is arriving and you want them to feel loved and cared about but you don't have time.  If you had a recipe that made it look like you took extra time over the meal (even if you didn't) you would use it, wouldn't you?
Presenting Maple Brown Sugar Glazed Ham.
Key to this recipe is two things, the ham and a gallon of fresh apple cider.
I used to search all over for  the increasingly-difficult-to-find uncooked ham when I finally discovered that a cooked ham could be made to work just as well with two caveats: it should be bone-in and uncut.  You do not want a spiral-cut ham for this recipe unless you like dried out ham. It's a small sacrifice to make for a delicious meal, really small, because I am pretty sure someone in your house can handle slicing a ham. So, buy a half or whole pre-cooked ham, bone-in and unsliced.  Cured or uncured is a matter of preference.
The day before you are going to use it, unwrap the ham and place it in a large pot.  Pour fresh apple cider into the pot, enough to cover the ham, put the lid on the pot and refrigerate overnight.  (If it is cold enough outside you can get away with leaving it on the porch but it needs to be no warmer than 45 degrees and no colder than 34 degrees.)  This step will help make sure that your ham is moist and flavorful.
When you ready to cook the ham, remove it from the cider and score the skin in a diamond shaped pattern,  Be careful not to cut all the way through to the meat.  Stop when you get to the fat layer under the skin.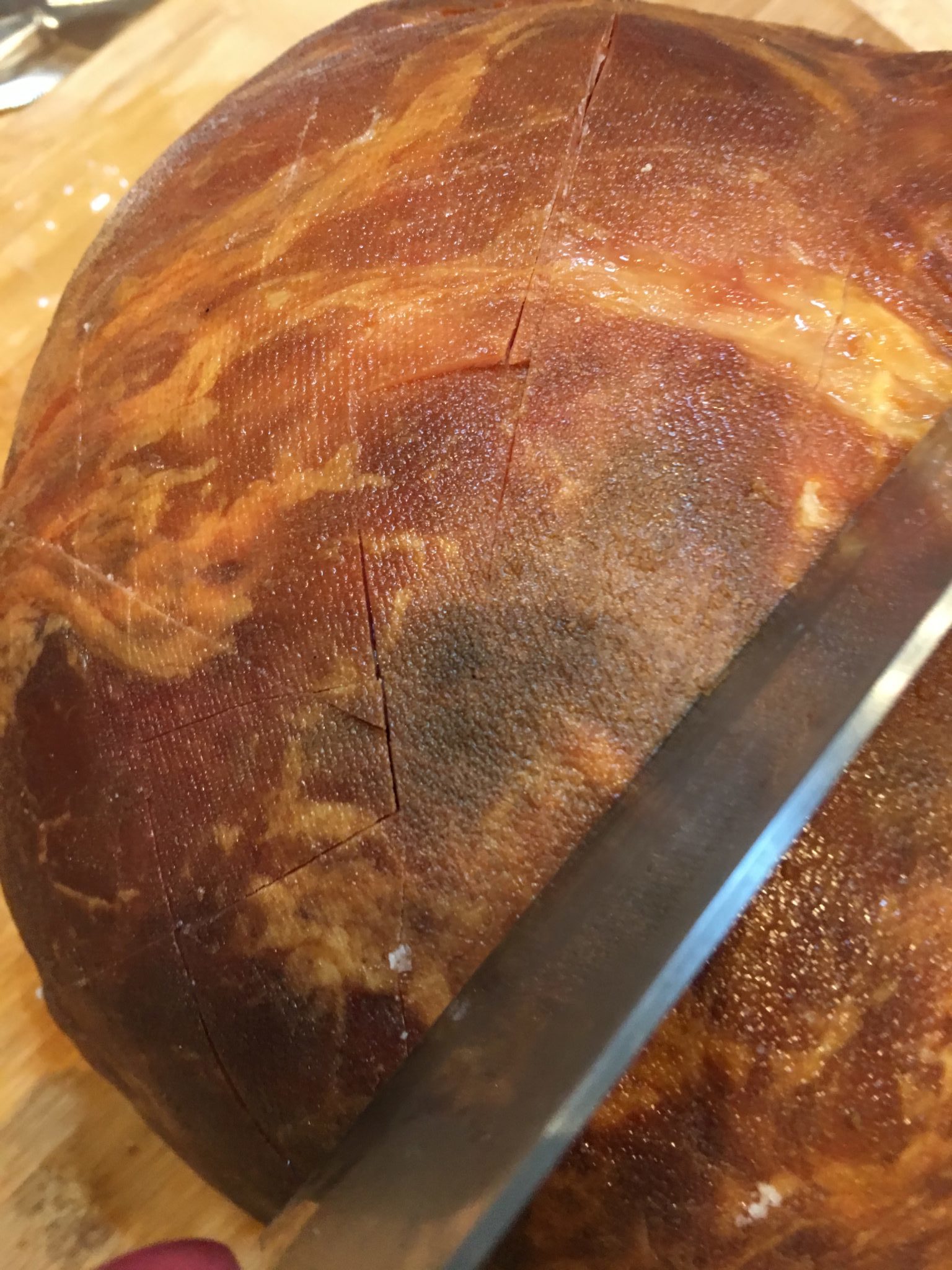 Line a rimmed baking tray with foil and place the ham, skin side up, on the pan.  Cover the ham with foil and set it in a low oven until it registers 135-140 degrees in the center.  For a half ham this will take about 2 hours, longer for a whole ham.  You can usually get the exact timing off the label.
Meanwhile, mix brown sugar, maple syrup, black pepper and dry mustard together in a small bowl.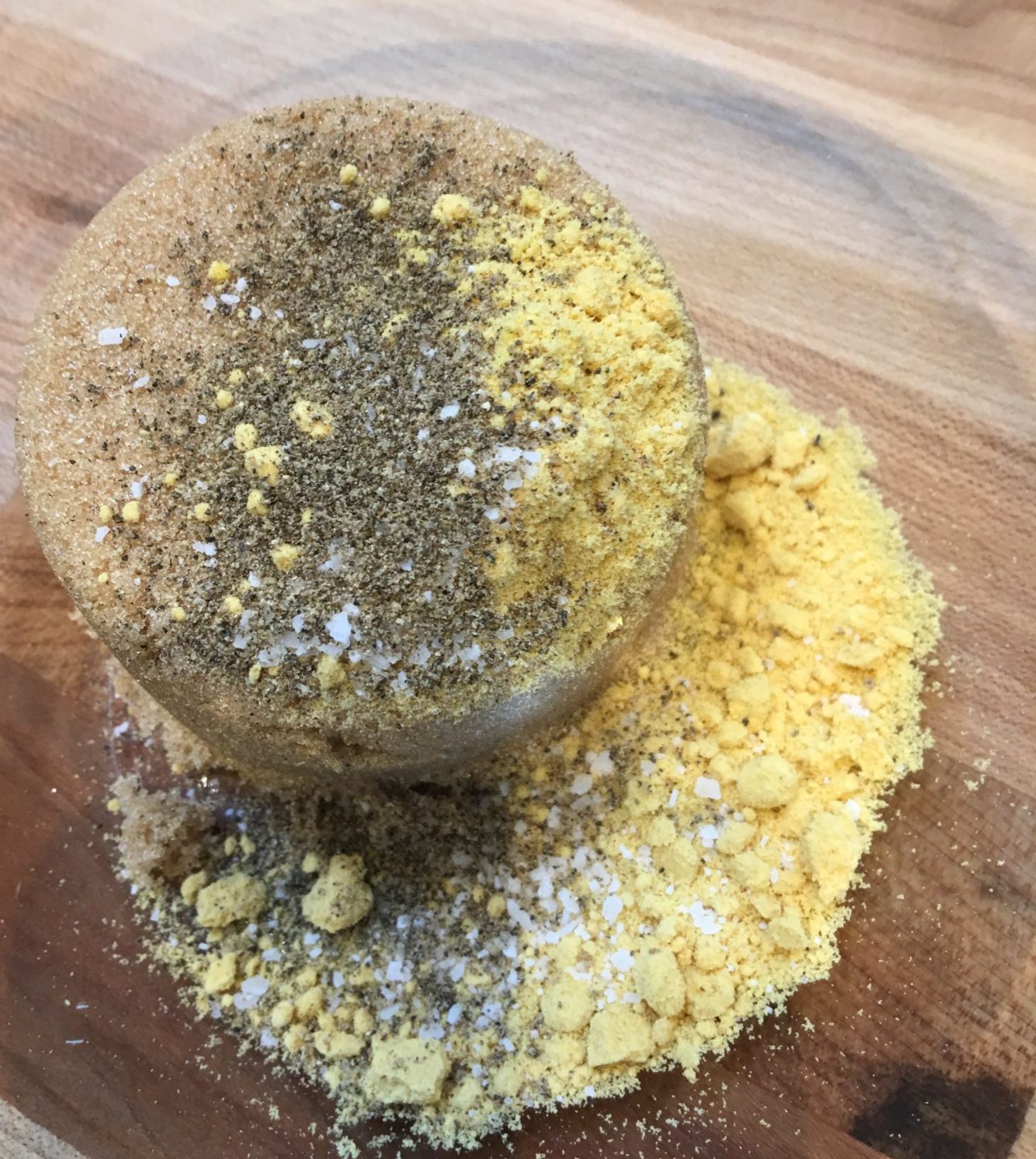 When the ham is warm, remove the foil and brush it all over with the glaze. Increase the oven heat to 350 degrees and put it back in the oven for a further 30 minutes, brushing with the glaze every ten minutes.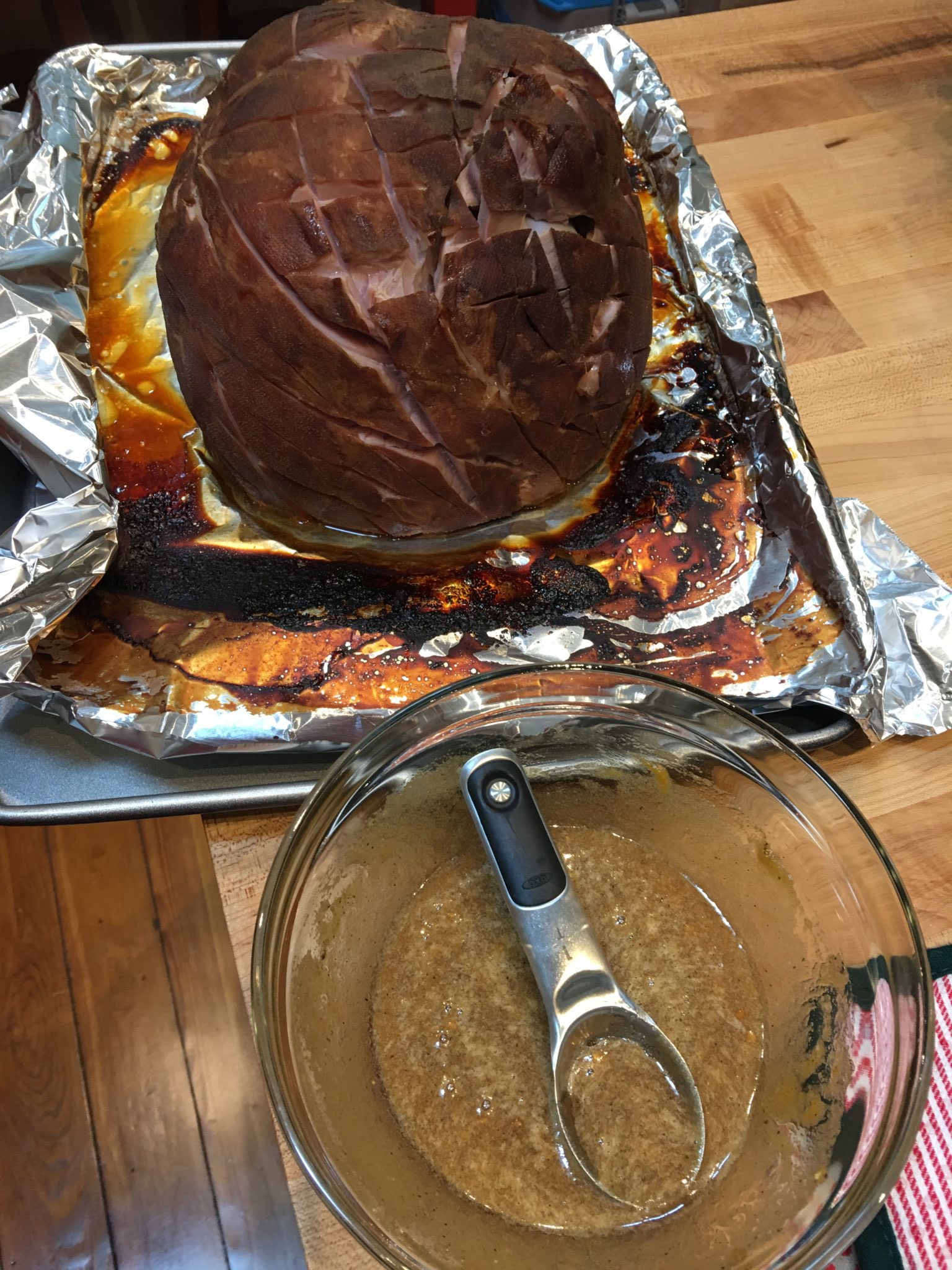 Let it sit for at least ten minutes before slicing it.
This ham can be served warm or at room temperature and the leftovers make great sandwiches (duh!).
Depending on how much time you have, you can make biscuits or cornbread or just serve it with some crusty artisan bread from the market and a green salad.  Looks amazing, tastes great and minimal effort.  In my house at least, ham says holiday!
Now, does anyone have a quick way of wrapping presents without resorting to a glue gun?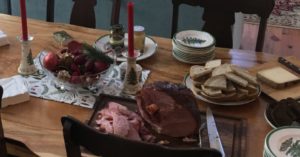 MAPLE AND BROWN SUGAR GLAZED HAM
Ingredients
½

whole ham

bone-in

1

gallon

fresh apple cider
For the glaze
¼

cup

brown sugar

¼

cup

maple syrup

1

tbsp

dry mustard

1

tbsp

fresh ground pepper
Instructions
The night before place the ham in a large pan and cover with fresh cider.

To cook the ham, preheat the oven to 325 degrees. Line a rimmed baking sheet with foil.

Using a sharp knife, score the skin of the ham diagonally into a diamond pattern. Be careful not to cut all the way down to the meat.

Place the ham skin side up on the prepared tray, cover with foil and bake for 18-20 minute a pound, until the ham reaches 135-140 degrees in the center.

Mix together the brown sugar, maple syrup, mustard and pepper until smooth.

Increase the oven heat to 375 degrees. Brush the ham all over with the glaze and cook, uncovered , for an additional 30 minutes brushing with glaze every 10 minutes.

Let the ham sit for ten minutes before slicing.
Recipe Notes
This recipe can be doubled. Ham can be served warm or at room temperature.