A walk through the streets of Paris is the inspiration for this Strawberry and Almond Brittle Studded Cookie.
I took a break from my blog and I went for a walk in Paris.
I was 28 years old and lived on the Avenue Du President Kennedy where I could see the Eiffel Tower from my apartment window.  In the evening the lights of the Bateau Mouche, the tourist boats, on the Seine raced across the ceiling of my bedroom.
It was a morning in June and I had just taken a dance class at a nearby studio.  As I walked home I stopped in a small boulangerie at the entrance to a market street.  In the bakery smells of bread vied with those of the almond paste baked into croissants. Carefully considering my options I bought a Palmier Cookie to eat on my way home.
As I walked I broke apart the crisp swirls of puff pastry.  The flaky pieces melted in buttery deliciousness in my mouth and the sugar coating gave texture and a touch of sweetness to each bite.  In the market, strawberries were piled high.  Their scent followed me as I walked in the warm sunshine, the swell of French conversation all around.
I took a break from my blog and took a cooking class with Christina Tosi.
She taught us to access our memories in order to create recipes which are memorable in themselves.
Here is my Walk In Paris Cookie.
Start by making a Ritz Cracker crumb.
Use your hands to break the crackers into small pieces.
Add sugar, dried milk and salt then pour melted butter the mixture and toss it until it is well coated and bake it in a low oven until you can smell the butter and it is lightly browned.
You can make this ahead and store it for a week or more in an air tight container or let it cool while you continue with the cookie.
To make the cookie,
Cream butter, sugar and honey in the bowl of a stand-mixer until it is VERY light and fluffy.  This will take 2-3 minutes if you are using cultured butter, 5-7 minutes is you are using regular unsalted butter.
(Of all the things I learned from Christina Tosi the biggest thing is what a difference there is between cultured butter and regular butter.  It's creamier, buttery, and much more flavorful.  I made these cookies both ways and I will never go back to regular butter!)
Scrape down the sides of the bowl.  You are going to do this a lot.  You will find that the bottom of the bowl doesn't always get mixed in well.  But also, you will be checking to see if everything is well mixed overall.  Don't be afraid to overmix the batter at this point. You can't.
Add the egg, vanilla and almond extract. Put the mixture on high and let it run for 7-8 minutes.  Stop once or twice to scrape the bowl and paddle.  It will get very light and expand in volume.  Don't cheat on this step! You can't overbeat it. When you are done, check it one more time to make sure there are no streak of butter or anything that is not mixed in.  If you see anything beat it for another minute or two.
Mix the flours and leaveners together and add them to the sugar mixture.  This time you don't want to lose any of the air you just spent ten minutes putting in the mixture so add the dry ingredients all at once, turn the mixer on low and mix it until it is just mixed in, about 20 seconds or so.  There will still be some flour on the sides and bottom of the mixture.
Scrape down the sides and bottom.  Add the Ritz Crunch and the strawberries and mix it for a further 20-30 seconds.  I like to use a spatula for this instead of the mixer.
Use a big cookie scoop or a ¼ cup measure and scoop out the dough.  Roll the cookies in the almond brittle and place them on a parchment lined cookie sheet.  Press down on the tops to flatten them a little.
They are going to spread in the oven so give them plenty of room.  Refrigerate them for an hour then bake them.
And take a A Walk In Paris.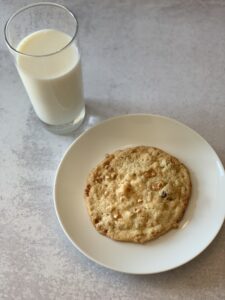 A WALK IN PARIS COOKIE
Servings
18
large cookies
Ingredients
For the Ritz Crunch
40

Ritz Crackers

6

tbsp

low fat milk powder

2

tbsp

sugar

½

tsp

kosher salt

½

c

butter
For the cookies
1

c

cultured butter

room temperature

1 ¾

c

plus 2 tbsp sugar

1

tbsp

honey

1

egg

1

tsp

vanilla

½

tsp

almond extract

1

c

flour

1 1/3

c

almond flour

½

c

oatmeal

½

tsp

baking powder

¼

tsp

baking soda

¾

tsp

kosher salt

1

c

Ritz Crunch

½

c

diced dried strawberries

1 1/2

c

crushed almond brittle
Instructions
Make the Ritz Crunch
Preheat the oven to 275 f.

Put the crackers in a medium bowl and use your hands to crush them down to small crumbs. Add the milk powder, sugar and salt and toss together.

Melt the butter and pour over the Ritz mixture. Toss it all together until everything is evenly coated.

Spread the mixture evenly on a parchment lined sheet and bake in a 275f oven until it is golden brown and smells buttery (about 20 minutes).

Cool completely before using. Store in an air tight container.
Make the WALK IN PARIS COOKIES
Cream the butter, sugar and honey for 2-3 minutes in a stand mixer on medium-high until it is very light and fluffy. Scrape down the sides of the bowl to make sure it is all mixed in.

Add the egg, vanilla, and almond extract. Return the mixer to high and beat for 7-8 minutes until very light and creamy. Stop the mixer once or twice in the process and scrape down the sides of the bowl. When finished, check to make sure everything is well incorporated.

Measure out the dry ingredients and stir them together. Add the dry ingredients to the sugar mixture and, with the mixer on low, mix it until it is just coming together, about 20 seconds. It's okay if there is some unmixed flour still on the sides or bottom.

Scrape down the sides and bottom. Add the Ritz crunch and the strawberries and mix again for a further 20-40 seconds, until it is all mixed in. Do not overbeat it.

Prepare your cookies sheets by lining them with parchment paper.

Spread the almond brittle on a plate.

Using a large cookie scoop or a ¼ cup measure, use a light touch to make a ball and roll it in the brittle. Place the cookies well apart on your cookie sheets. (I got 6 on a large sheet). Press the cookies down on top to flatten slightly. Cover the cookies well and refrigerate for an hour.

Preheat the oven to 375f.

Bake the cookies for 10-12 minutes until they are brown on the edges and beginning to brown toward the center.

Remove from the oven and cool.

Makes 18 large cookies.
Recipe Notes
NOTES: Dried cherries can be substituted for the strawberries if you can't find dried strawberries. I do not recommend using freeze dried fruit.
Almond brittle is easily purchased online.