An easy-to-make Almond, Toffee and Cherry Cookie 
Last week I took you to Paris in 1982 and gave you a recipe for a cookie which, while admittedly delicious, contained a number of steps and processes which made it more than a simple walk in the park to make.
This week, I am going to take you on a walk in the USA in 2021.  Where a cookie is a special treat but relatively easy to make.  It is something Moms make for their children, friends bring to friends and it is the cornerstone of the American Bake Sale.
I am doing this because I want my blog to be about making baking easy for people, not scaring them away with long lists of ingredients and multiple steps.  Because sometimes I want to bake (or cook) something as a project and sometimes I just want to bake a cookie!
So here goes.
The process for this cookie is the same as the other.  Beat the heck out of the butter, sugar and egg and then barely beat in the dry ingredients.
This cookie will be better with cultured (European style) butter. I am not compromising there.
Beat the butter, sugar and honey together until it is creamy and thick.
Add the egg and vanilla and then beat it for at least 8 minutes.  It will get light in color and the volume will double or more.  Check to see that all of the butter and egg is incorporated.  If not beat it for a minute or two longer.
Add all purpose flour and almond flour and your leaveners and use the slowest possible speed to mix them in.  (You just spent 10-12 minutes putting air into the mixture, don't take it out by overmixing!)
Then stir in chopped dried cherries and Heath Bar Toffee Bits.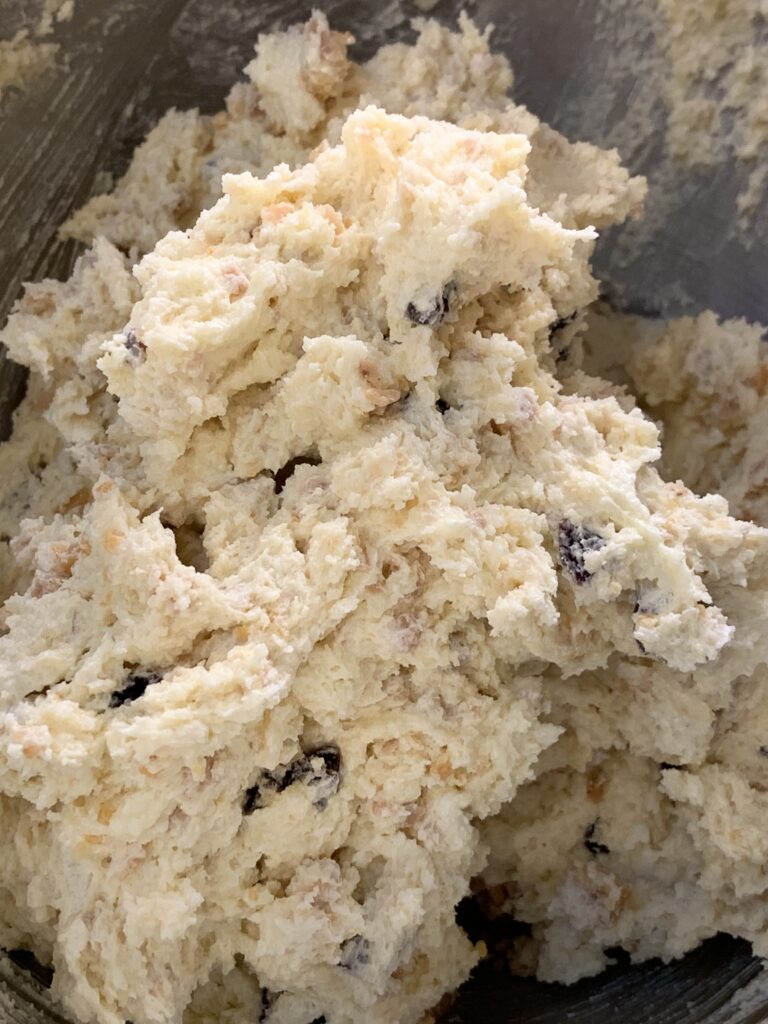 Chill, scoop and bake!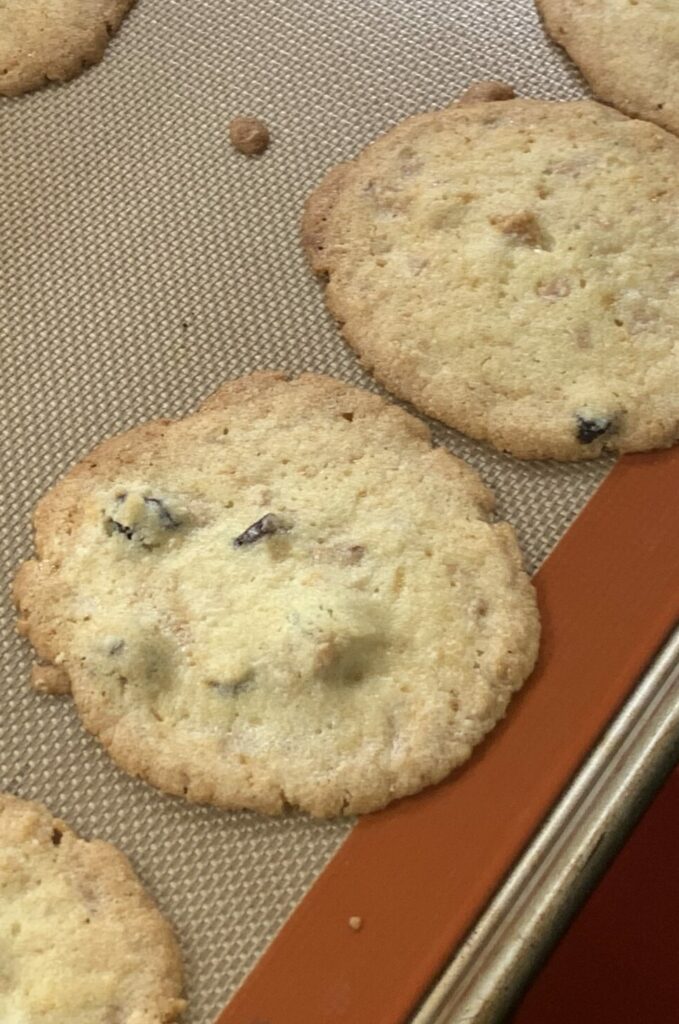 Yummm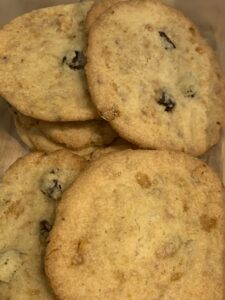 A WALK IN PARIS COOKIE—AMERICAN STYLE
Ingredients
1

c

unsalted

cultured (European Style) butter, room temperature

1 ¾

c

sugar

1

tbsp

honey

1

egg

½

tsp

vanilla

1

c

flour

1

c

almond flour

½

tsp

baking powder

½

tsp

baking soda

1

tsp

salt

1

c

Health Bar Toffee Bits

½

c

chopped dried cherries
Instructions
Cream the butter and sugar together at medium high speed for 3 minutes, stopping once to scrape down the bowl.

Scrape down the bowl again and add the egg and vanilla on slow setting. Increase the speed of the mixer to medium high speed and beat for 8 minutes, scraping the bowl once in the middle of the process and again at the end. The mixture should be very light in color and increased in volume. Check that all of the butter and egg is fully mixed in. Beat for another minute or two if you see any streaks of unmixed ingredients.

In bowl, mix together the flours, baking soda, baking powder and salt. Add them to the creamed butter and mix on the lowest setting until they are just mixed in (about 20 seconds). Add the toffee bits and the cherries and fold in with a rubber spatula until just incorporated. Do not overmix.

Refrigerate the dough for at least one hour or until the dough is cold.

Preheat the oven to 350 degrees and line your cookie sheets with a silpat or parchment paper.

Using a tablespoon or small cookie scoop place balls of dough on the sheets, well separated. They will spread. I got eight cookies on a half sheet and 6 on a quarter sheet.

Bake 10-12 minutes until brown around the edges and lightly browned on top.

Cool on the tray until set and then remove to a wire rack to complete cooling.