Perfect Brussels Sprouts: sweet from natural caramelization, enriched with butter and given a slight tang from cider vinegar!
Brussels Sprouts.
They look so appealing in the market, all bundled up in a little green net bag.  Or better yet, strong and tall,  on their stalk, like a large green pussywillow branch.  They speak of the harvest and just seem like something that would be good to cook.
It's almost Thanksgiving and, as I do this every year, I bought some. And as I do every year,  I get home and put them in the produce drawer of my fridge and there they sit.
Because I am conflicted about Brussels Sprouts.
In essence, I like the idea of Brussels Sprouts more than I like the actuality.  I think, "Oh yes! Brussels Sprouts. Good Idea!" I ignore the lingering memory from my childhood of brussels sprouts boiled long and hard until the whole house smelled like cabbage.  I focus on how fresh and green they look and the fact that everyone seems to like them.
I was resolved not to let them waste away in my refrigerator this year.  And then I remembered this recipe for Roasted Brussels Sprouts.  It comes from Wicked Weed, a craft brew pub in Asheville and they shared it in Farmer & Chef Asheville, a cookbook of Asheville recipes (you will even find one of mine in there). The recipe is for 2-4 people and is not easily increased so it won't work for a Thanksgiving crowd but for a home dinner, it's genius.
Brussel Sprouts are halved and place in an oiled, oven-proof saute pan.
Turn on the heat and sprinkle them with sugar and a little salt.  Add a some butter and when the butter has melted, put them in a hot oven
After they have softened and caramelized, they are tossed in a little vinegar.
That's it. Short, sweet and easy.
I could eat these Brussels Sprouts everyday!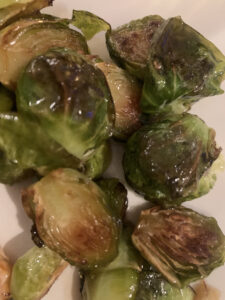 ROASTED BRUSSELS SPROUTS A LA WICKED WEED
Ingredients
1

lb

Brussels Sprouts

2

tbsp

canola oil

3

tbsp.

butter

1/1/2

tbsp

sugar

1

tsp

salt

1

tbsp

cider vinegar
Instructions
Preheat the oven to 450 degrees.

Trim the stems of the sprouts and cut them in half from top to bottom.

Brush the oil evenly over the bottom of a large, oven-proof skillet. Arrange the brussels sprouts, cut side down, in the skillet.

Place the skillet over medium-high heat and sprinkle the tops of the Brussels Sprouts with the sugar and salt. When the pan is hot, put 2 tablespoons of butter in the pan.

Once the butter is melted place the pan in the hot oven. Roast for 10-12 minutes until the sprouts are caramelized.

Remove the skillet from the oven and add the vinegar and the last tablespoon of the butter. Toss them around to deglaze the pan and coat the sprouts.

Serve hot.