I made my first Christmas cookie today.
It's November 29th.  Jumping the season? Maybe a little.  But I love an early Thanksgiving and the extra week it gives us before Christmas.
So this morning I turned on "A Christmas Eve on Sesame Street"  (Don't ask, it's a personal tradition) and started baking.  I've been leafing through magazines and cookbooks for weeks looking for inspiration and today I got to start!
These Fruitcake Gems will please those who love the candied fruits of a holiday fruitcake as well as those who enjoy the more subtle flavors of dried fruits and nuts.The cookie is soft and cakelike, flavored with the spices of the season: cinnamon, nutmeg, and cloves,
Start with the fruit. You need three cups of diced fruit.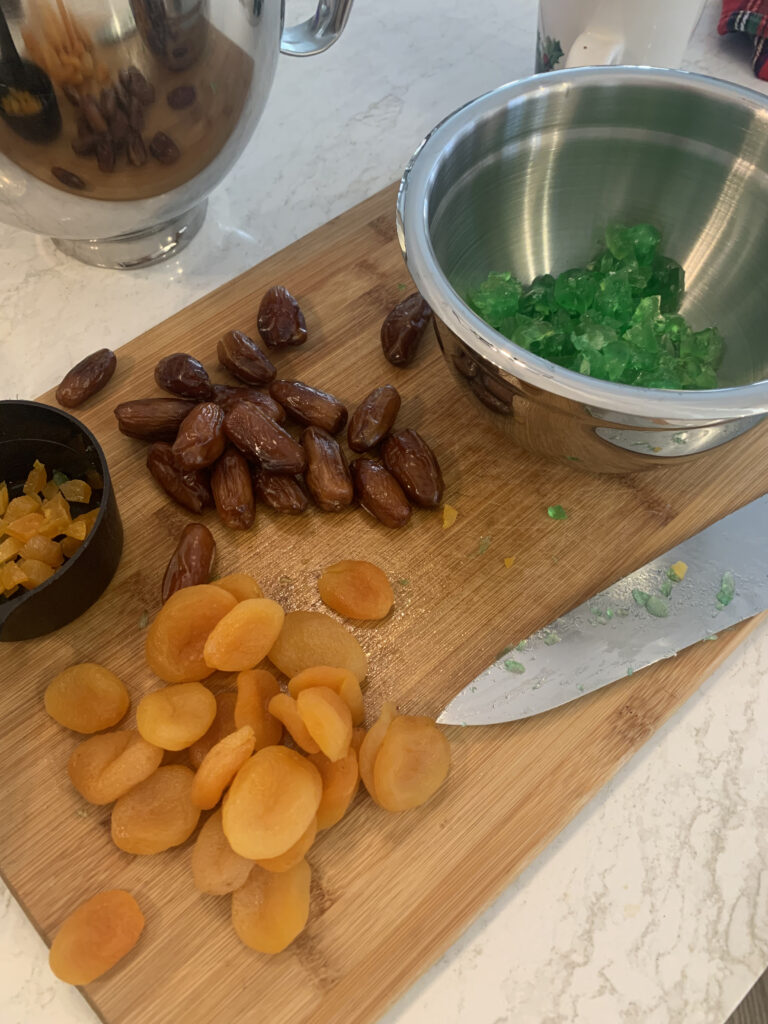 Choose at least one candied fruit.  I went with candied cherries for the bright color they bring to the mix. I would have liked to have red and green candied cherries but you use what you can find.
Next, choose some dried fruits.  I went with apricots.  Raisins or dried cranberries would also be good.  I chose dates for their rich, dark sweet flavor, so evocative of the season.
Finally, pick a nut.  I like pecans.  Some people like walnuts. It's up to you.
Chop the fruits into smallish dice and soak them in some brandy. Fruit brandy if you have any.
While the fruit is mascerating (love that word), beat the sugars and butter together.  You  know the drill: beat it until you think it is done then beat it for three more minutes.
Add the eggs, one at a time and beat them in.
Finally stir in the flour, spices, fruit and nuts.
Christmas cookie baking is underway!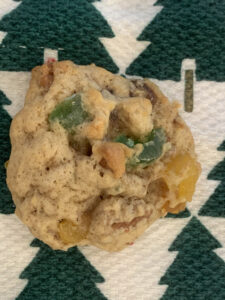 CHRISTMAS FRUITCAKE GEMS
Ingredients
3

c

dried or candied fruit

diced

2

tbsp

fruit brandy

see note

6

tbsp

butter

room temperature

½

c

sugar

¼

c

brown sugar

packed

2

eggs

1

tsp

vanilla

2

c

flour

1

tsp

baking soda

½

tsp

salt

½

tsp

cinnamon

½

tsp

cloves

½

tsp

nutmeg

1

c

nuts

chopped
Instructions
Preheat the oven to 325 degrees

Chop the fruits into small dice. Place them in a small bowl and mix them together with 2 tbsp of brandy. Set aside to sit for 15 minutes or so while you make the batter.

Beat the butter and sugars together in the bowl of a stand mixer for 5-8 minutes.

Add the eggs, one at a time, beating for a full minute after each addition.

Beat in the vanilla.

Mix the flour together with the baking soda, salt and spices. Add this to the butter and egg mixture and stir to mix. Add the fruits and the chopped nuts. Mix well.

Line your baking sheets with parchment paper.

Drop the batter by tablespoons onto the prepared baking sheets.

Bake 12-14 minutes until the cookies start to brown and are set in the centers.

Let them cool on the baking sheet for a minute or two before transferring to a wire rack to cool completely
Recipe Notes
Notes: Use any combination of dried or candied fruits. Nuts can be pecans, walnuts or even macadamia nuts. If you don't have a fruit brandy, any brandy or strong liquor will do