Chocolate Rice Krispie Treats take the original classic to another level.  Made with 3 Musketeer Candy Bars and decorated with candy corn, they are scary delicious with  all the flavors of Halloween in a single bite!
Did you miss me?  I have been so busy that I haven't had time to think about baking or new recipes, much less to write about them.  Things have slowed down now, and I am able to get back in the kitchen. It's cooled off a lot (thank goodness!) and the holidays are just around the corner.
And holidays mean baking!!
So here we go—
First up, Halloween.  I know it's still 6 weeks away but the candy and treats are already in the stores.  Including candy corn.
Candy corn is a divisive sweet, I know. Some people love it, some people don't.  I love it.  And I always grab a bag or two when it first appears, just in case they run out!  I used them to decorate my Chocolate Rice Krispie Bars.  If you are not a fan, orange and black M&M's make a good substitute.
These Chocolate Rice Krispie Treats are based on a recipe from an Australian cookbook of mine: The Australian Women's Weekly Cakes and Slices Cookbook.  I used to make it for my children when we lived in Hong Kong and later in England.  The original one uses Mars Bars, a favorite confection in Australia and England but not  something commonly found in the United States.  However, we have a good substitute: 3 Musketeer Bars!
I always make a double recipe because they disappear like lightning.  But you can halve the recipe if you like.
Cut the butter and 3 Musketeers Bars into small pieces and melt them together on low heat in a large pan, stirring constantly.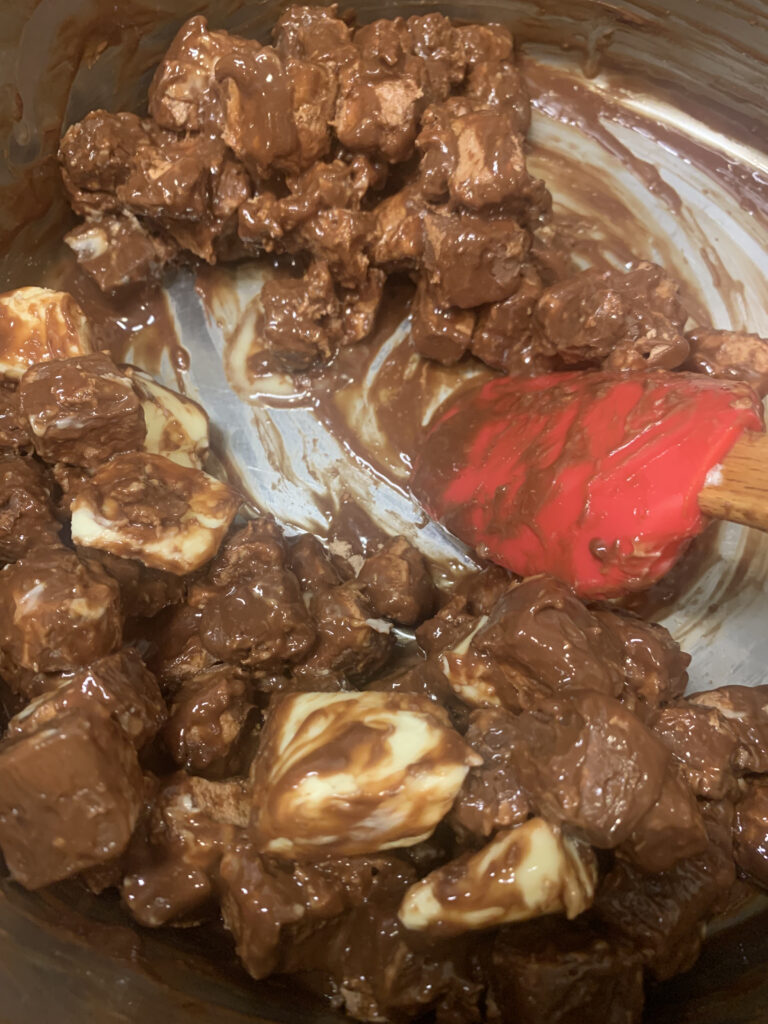 As the candies melt, the chocolate coating will melt first.  As the filling begins to soften and incorporate it will look a little grainy,
then seem to separate a bit
before finally coming together, smooth and creamy.
Add the Rice Krispies and stir them together well before  transferring them to your prepared pan.
Smooth the bars into the pan and place thin pieces of chocolate or chocolate chips (milk or semi-sweet to your preference) on top of the bars.  Place this in a warm oven for about three minutes until the chocolate is soft enough to spread over the bars.
Finish by sprinkling them with candy corn.  Then let it cool to set.
They will keep for a week.  Or so I am told.  They never stuck around in my house long enough for me to know!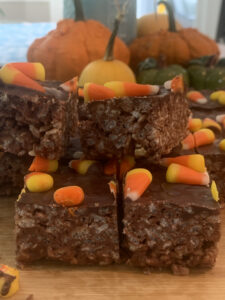 CHOCOLATE RICE KRISPIE TREATS
Ingredients
2

bags fun-size 3 Musketeer Bars

¾

c

butter

6

c

Rice Krispies

200

gm thin chocolate bars or 2 cups chocolate chips

1-2

c

Candy Corn or M&Ms
Instructions
Preheat oven to 250 degrees.

Line a 9x12 baking pan with aluminum foil, leaving a 2-3" overhang. Spray or grease the foil.

Chop the Musketeers Bars and butter into ½" pieces and place in a large pot.

Melt the butter and candy over low heat, stirring constantly. As they melt and combine, they will go through three stages. At first the mixture will appear grainy and curdled. Then it will seem to melt but remain separated. Finally, it will come together in a thick, creamy mixture.

Add the Rice Krispies and stir well until fully mixed. Pour the mixture into your prepared pan and spread evenly with a spatula.

Sprinkle the chocolate evenly over the top of the bars and place in the oven for 2-3 minutes to melt the chocolate.

Remove and use an offset spatula or knife to spread the chocolate evenly over the bars. Immediately sprinkle with Candy Corn or M&Ms.

Let the bars cool until the chocolate has set. Use the overhanging aluminum foil to remove the bars from the tray and cut into smaller bars.

Will keep at room temperature for a week.
Recipe Notes
Note: I like to trim the sides of the rectangle of treats before cutting into bars. This will give you a more even and consistent look to your finished treats.
This recipe can be halved.