The deep earthy flavor of wild mushrooms makes this Bolognese Sauce a rich and flavorful alternative to ground beef.  Although it really shouldn't be seen as an alternative to anything.  It's that good!
To be fair, I got Michael Symon's Fix it With Food Cookbook after Christmas…but not too long after!  And I am obsessed with it. The recipes manage to taste good while being vegetarian/vegan/gluten free/dairy free and more.  I am eating all sorts of things I never really cared for much and enjoying it.  You don't have to buy into any of the diets.  The recipes can be incorporated into your lifestyle and menu easily.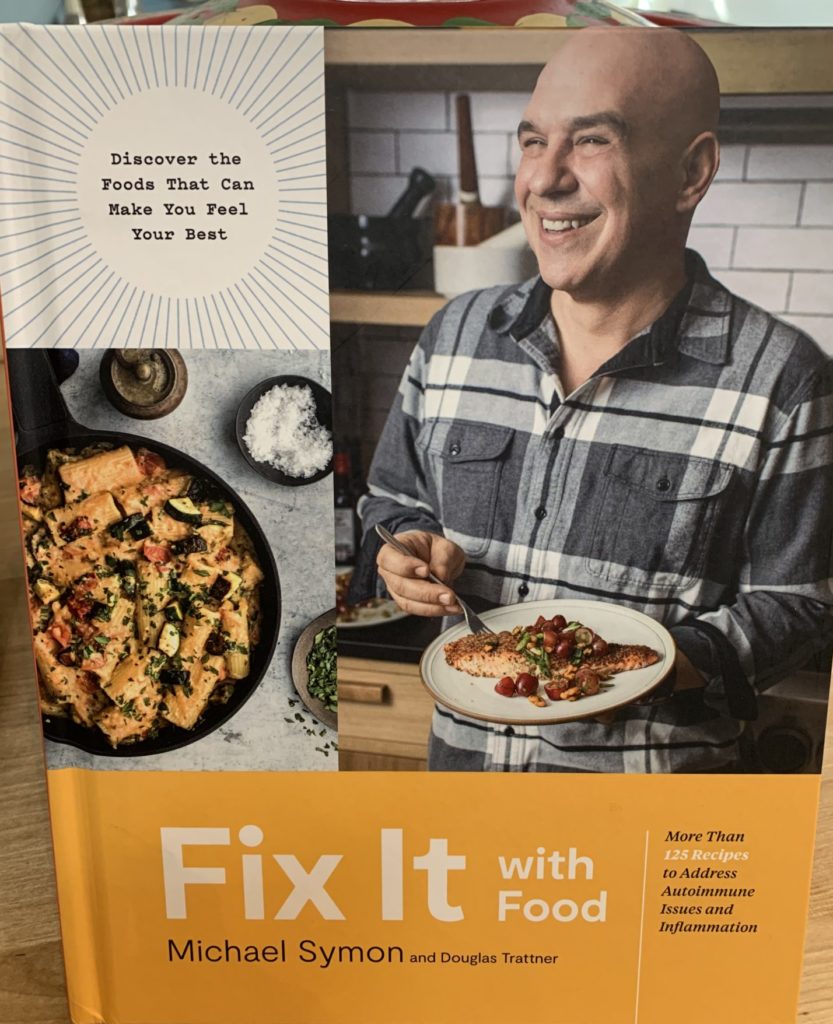 One disclaimer though.  This is a chef's cookbook.  The recipes generally involve a lot of cooking.  There are many steps and quite a bit of prep work.  Your knife skills will get plenty of practice.  I started with the ten day fix (or reset) and, while it is good, the menu plan is not suited to a busy life.  Many of the days require three cooked meals and some advance planning.  We were able to adjust it by sticking to smoothies for breakfast and preparing the lunch dishes the night before to be heated up the next day.  It was still a lot of work.
Which brings me to the Mushroom Bolognese.
I am a big fan of cooked mushrooms.  They bring a meaty, earthy flavor to a dish with few added calories.  So when I saw the recipe for Mushroom Bolognese I had to try it.
Start with wild mushrooms.
Remove the tough stems and pulse them in a food processor until they are in small pieces (kind of like cooked ground beef!).
Then finely dice carrot, celery, and onion. (I did say you would be using your knife skills a lot).  Mince some garlic.
Get out a large saucepan or skillet and heat some olive oil in it until it starts to shimmer.
Add the diced veggies and cook them for about five minutes.  Regulate the heat so that they cook slowly without browning.
Add the mushrooms and some fresh herbs (thyme or oregano) and let it cook, stirring occasionally until the mushrooms have given up their water and are starting to brown and stick to the pan.
Stir in tomato paste until it is mixed in then pour in some milk.
Bring it to a simmer and let it cook for 3 or 4 minutes.  Now taste it.  It will certainly need salt.  And I added about ½ cup of red wine which brightened the flavor and brought it all together.
You can stop here and serve it over pasta.  It will be good as is or you can stir in some parmesan cheese and fresh basil.
This makes a rich, hearty sauce and a warming, healthy bowl!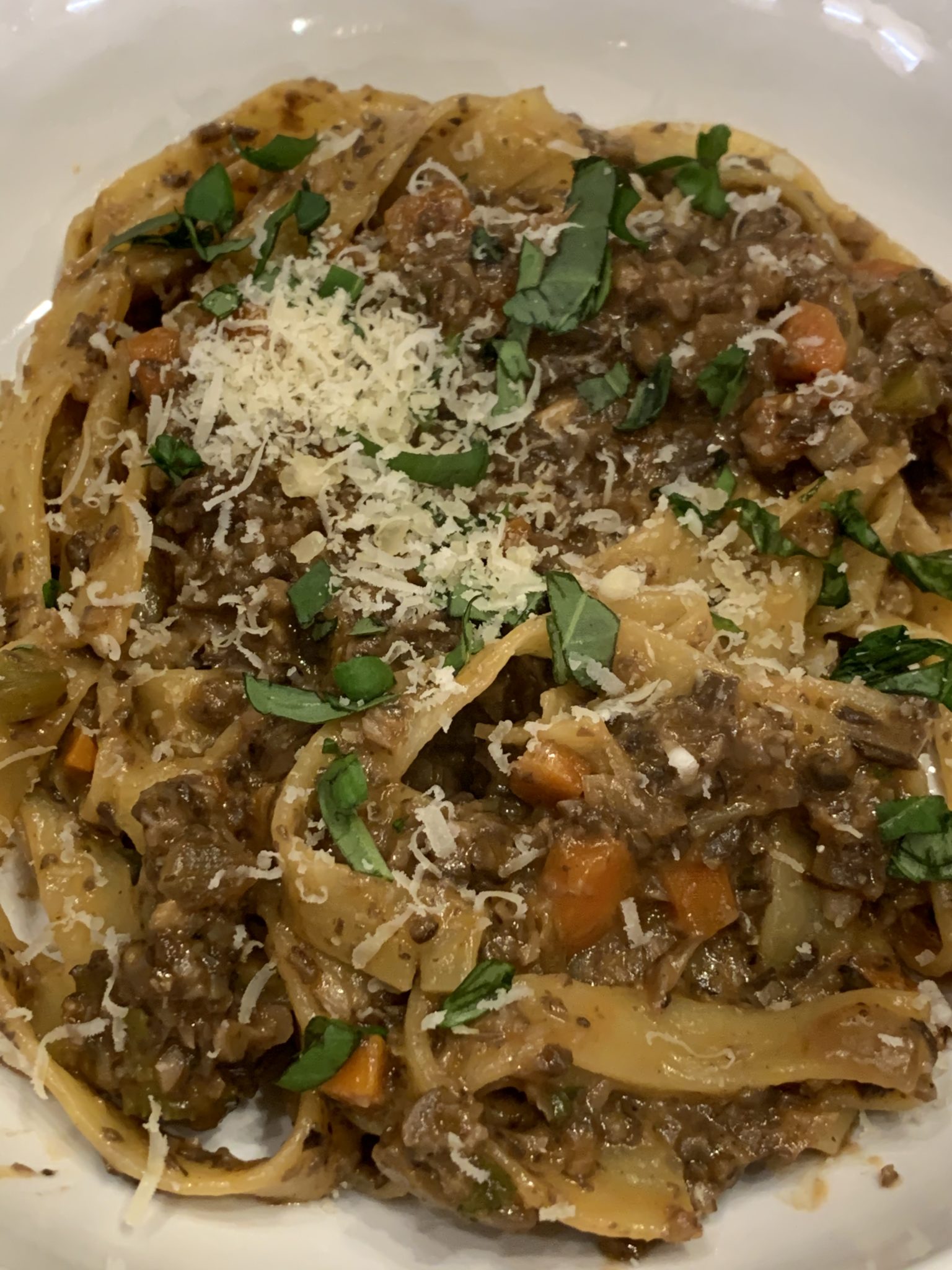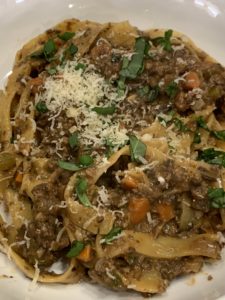 MUSHROOM BOLOGNESE SAUCE
Ingredients
1 ½

lb

wild mushrooms

¼

c

olive oil

1

small onion

1

carrot

1

stick of celery

2

cloves

garlic

Fresh thyme or oregano leaves

3

tablespoons

tomato paste

1

cup

milk

½

cup

red wine

Salt and pepper

Fresh Parmesan Cheese

finely grated (optional)

Roughly Chopped basil leaves

optional
Instructions
Remove the stems of the mushrooms and pulse them in batches in a food processor. Mushrooms should be the size of large breadcrumbs, also resembling ground beef.

Chop the carrot, celery and onion into small ¼" dice. Mince the garlic finely.

Heat the oil in a large sauté pan over medium heat until it is starting to shimmer.

Add the diced carrot, celery and onion. Regulate the heat so that the vegetables soften slowly without browning. This will take 4 to 5 minutes.

Add the mushrooms and a large handful of fresh thyme or oregano leaves. Let this cook for a further 5-6 minutes. Stir it occasionally but not too often. The mushrooms will start by offering up their liquid and then dry and start to brown.

When the mushrooms have started to brown stir in the tomato paste followed by the milk.

Heat it to a simmer and taste. Add salt and pepper as needed.

Finish with ½ cup of hearty red wine.

Serve over fresh pasta. If you like you can stir in the fresh Parmesan and Basil or serve them on the side.