Why is it so hard to make good cornbread?  This easy cornbread recipe will deliver moist and delicious cornbread every time!
I've had good cornbread, I've had bad cornbread and I've had great cornbread.
I've eaten cornbread in restaurants and at home.
I've made cornbread from scratch and tried almost every box mix out there.
I've added ingredients and changed proportions.
Almost always the cornbread is great when it comes hot out of the oven.  But by the next day, pretty much no one is going back for leftovers. I think it is because the very thing that makes cornbread "bread" is the same thing that makes it dry.
But Southerners have an answer for this!
Spoonbread.
Spoonbread is cornbread to which fat (in the form of butter) and other wet ingredients (think creamed corn) have been added. It comes out very light and very moist.  So much so that you can scoop it out with a spoon and eat it.  It's still bready but not at all dry.
This cornbread/spoonbread recipe is just dry enough to cut into squares if you wish, but it can also be served like a casserole.  Store it in the fridge and eat it cold the next day or heat it in some foil.  It's still good.
It's better than good.  It's great.
You know what else it is?  It's dead easy!
Everything in this recipe comes out of a box, a bag, or a can. You could make it from scratch but honestly, why bother?
A box of corn bread mix, some sour cream, a can of creamed corn, some grated cheddar cheese and some melted butter.  Dump it all in a bowl.
stir it up and pour it in a pan.
Cook it,
Scoop it out with a spoon if you like, or let it sit for five minutes to set and cut it into bars.
Doesn't get much easier than that, or yummier for that matter.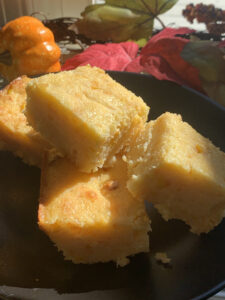 THE BEST CORNBREAD
Ingredients
1 15

oz

box of cornbread mix

1

c

sour cream

1 14

oz

can creamed corn

1

c

grated cheddar cheese

½

c

butter

melted.
Instructions
Preheat the oven to 350 degrees. Lightly grease a 9x9" baking pan.

Put all of the ingredients together in a bowl . Stir until well blended.

Pour into the baking pan and bake for 48-50 minutes.

Let sit for 5 minutes before cutting into it.

To reheat, wrap in foil and heat in a preheated 350 degree oven for 20-30 minutes.