A few of the things I remember about garden-fresh fruit and vegetables:
My grandmother's raspberry patch with bushes so tall and laden with fruit that I lost myself among them.
Tomato sandwiches made with tomatoes still warm from the sun.
The scent of strawberries spilling out onto the streets of France and England when the season was upon us.
And the first time I tasted a radish freshly plucked from the earth and served on bread with the finest sweet butter.
Which is why I plant radishes. Not only are they a different food when they are super-fresh but also they scratch my itch to get gardening when it's really too early for most plants.  Radishes need the cold nights and warm days of early Spring to produce the slightly spicy bulb which is such a pleasure to eat.
And this year, I had a bumper crop of radishes. After eating them in salads and adding them to sandwiches I still had a good quantity which gave me the opportunity to experiment a little.  So I decided to make a radish slaw.
What's the difference between coleslaw and slaw?   The "cole" in coleslaw means cabbage so coleslaw includes shredded cabbage.  A slaw without cabbage is a shredded or chopped salad of raw vegetables in a vinegar based dressing.
I love the way a tangy coleslaw pairs with a rich BBQ, the snap of the cabbage and the bite of the vinegar complements the soft texture of pulled pork and the rich fatty flavor.   I thought I could do something like that with crisp radishes.  I had indulgently purchased some lobster cakes at my fish market so I decided to replace my favorite vinegar and celery seed dressing with a lemon and poppy seed dressing  to go with the seafood.
Start with a good quantity of radishes. If you are buying them at the store or market, two bunches should be enough (about 2 lbs).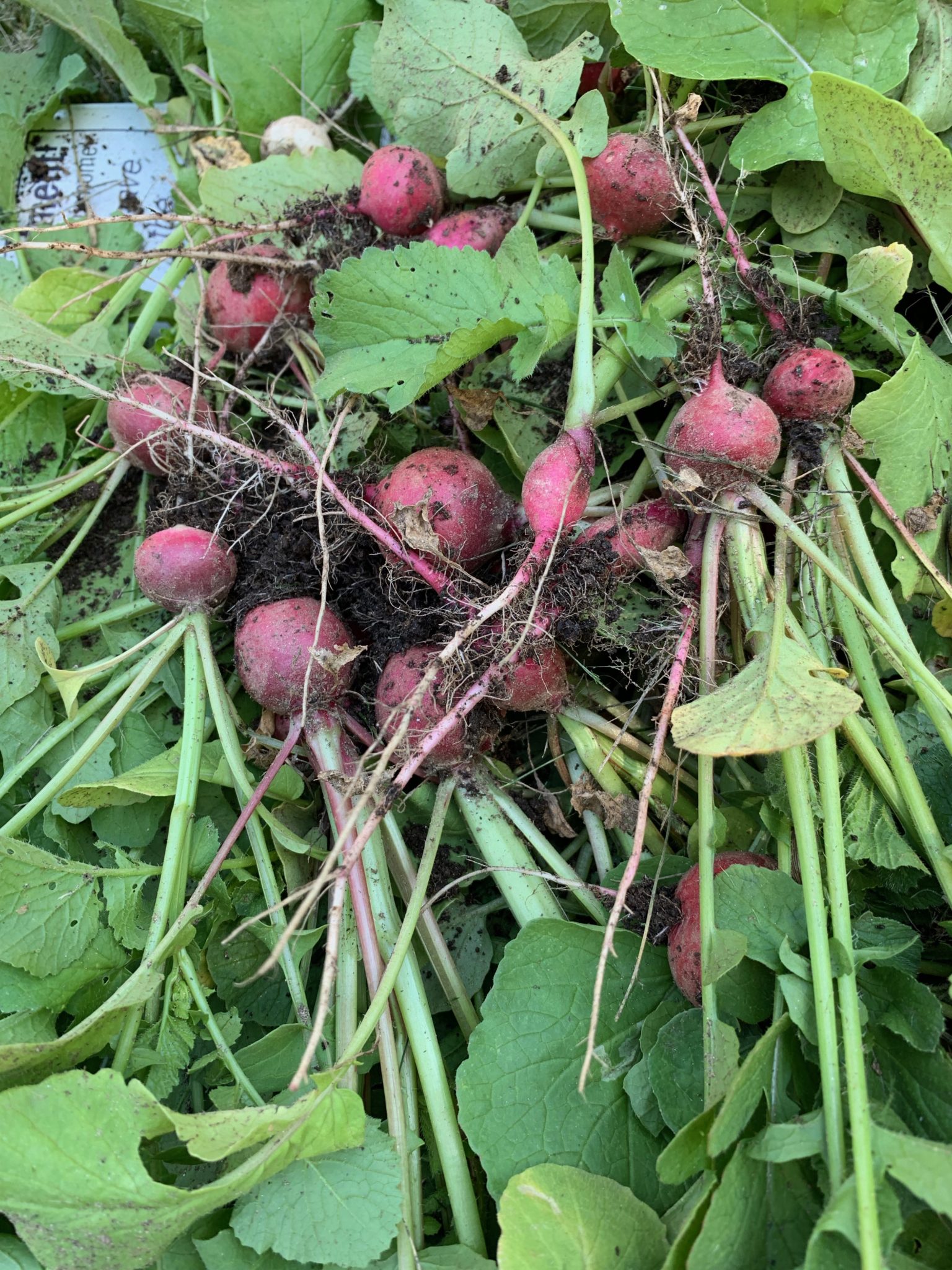 Remove the greens and the roots and wash them well.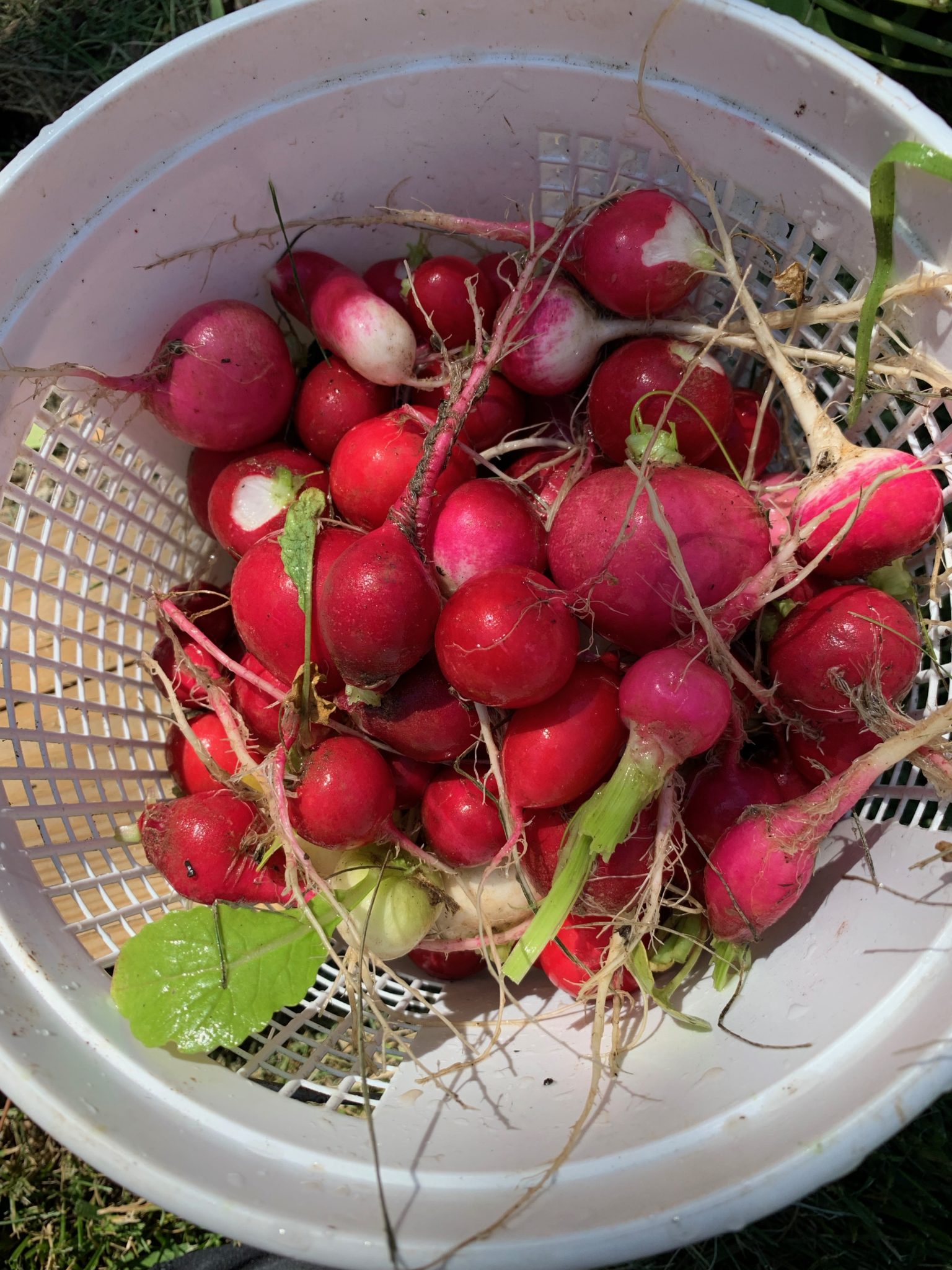 Next you will need to slice them thinly.  You can do this by hand (slow), with a mandolin (faster) or in a food processor (fastest).  You should end up with 4-6 cups of thinly sliced radishes.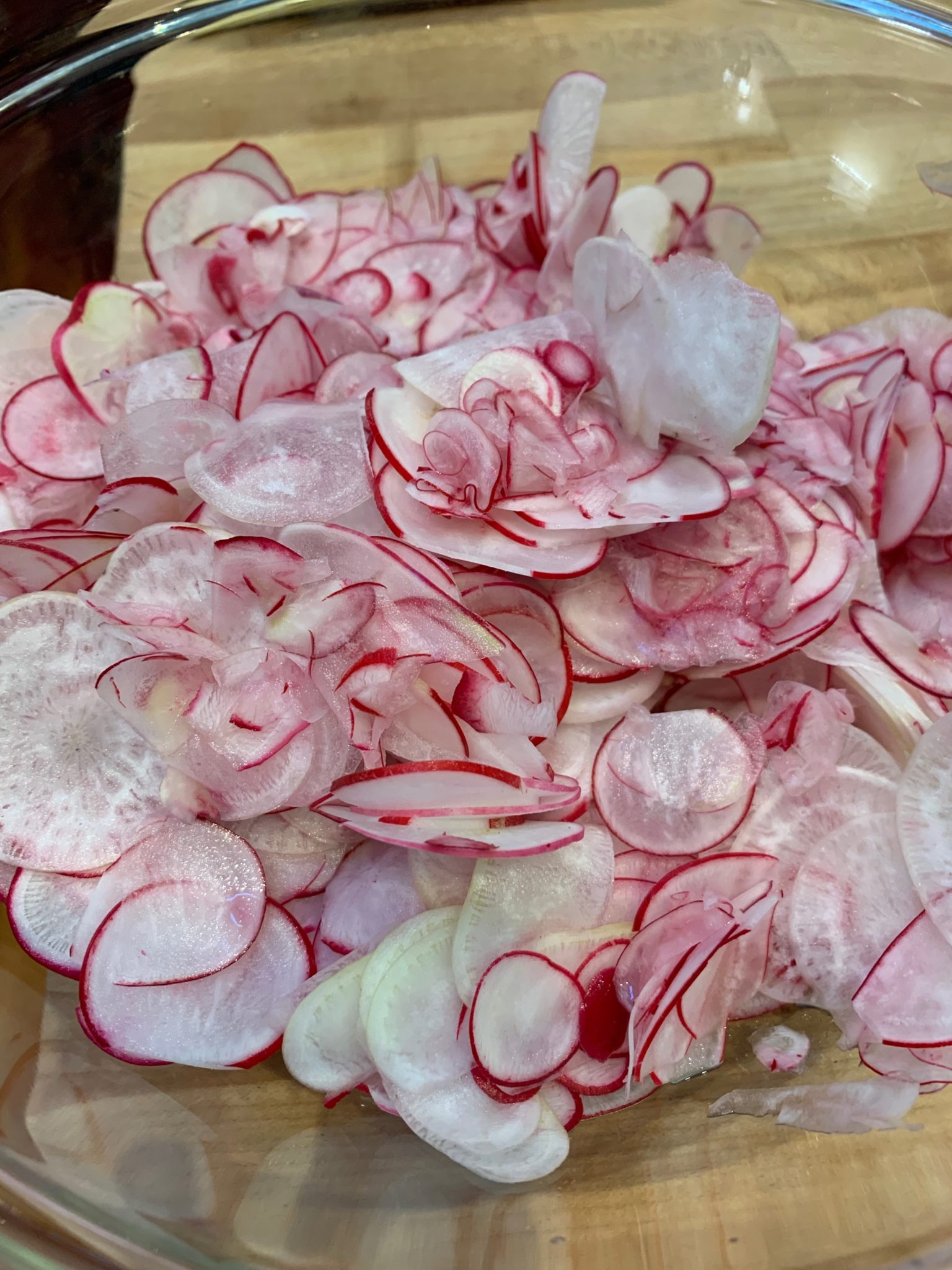 Place them in a heat-proof bowl and prepare the dressing.  Grate and juice two lemons.  Add the grated zest to the radishes and put ¼ cup of the lemon juice in a small saucepan along with some vinegar, sugar, mustard and poppy seeds.  Bring the whole thing to a boil and then pour it over the radishes, add some oil and give it a good toss.
Deciding the slaw needed some green, I went to my garden and picked a couple of good size handfuls of fresh basil.  Clean the leaves and make a little stack of them.  Then roll the stack up like a little cigarette and slice it width-wise.  You should have long threads of basil. (This is called a chiffonade in chef-speak)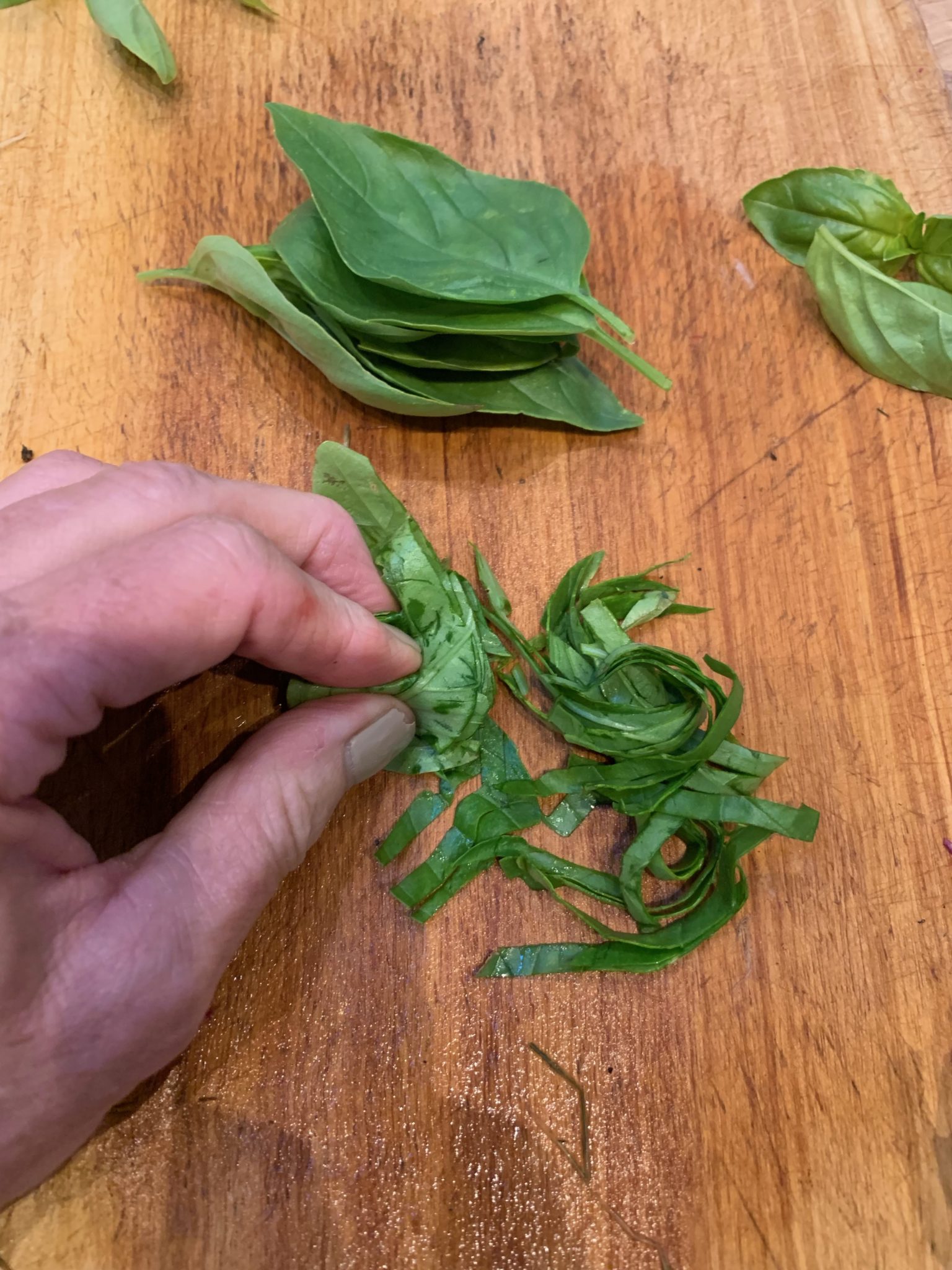 You could use parsley (chopped) or even mint would work.  Add it to the radish slaw, give it a good toss and refrigerate it until you are ready to serve it.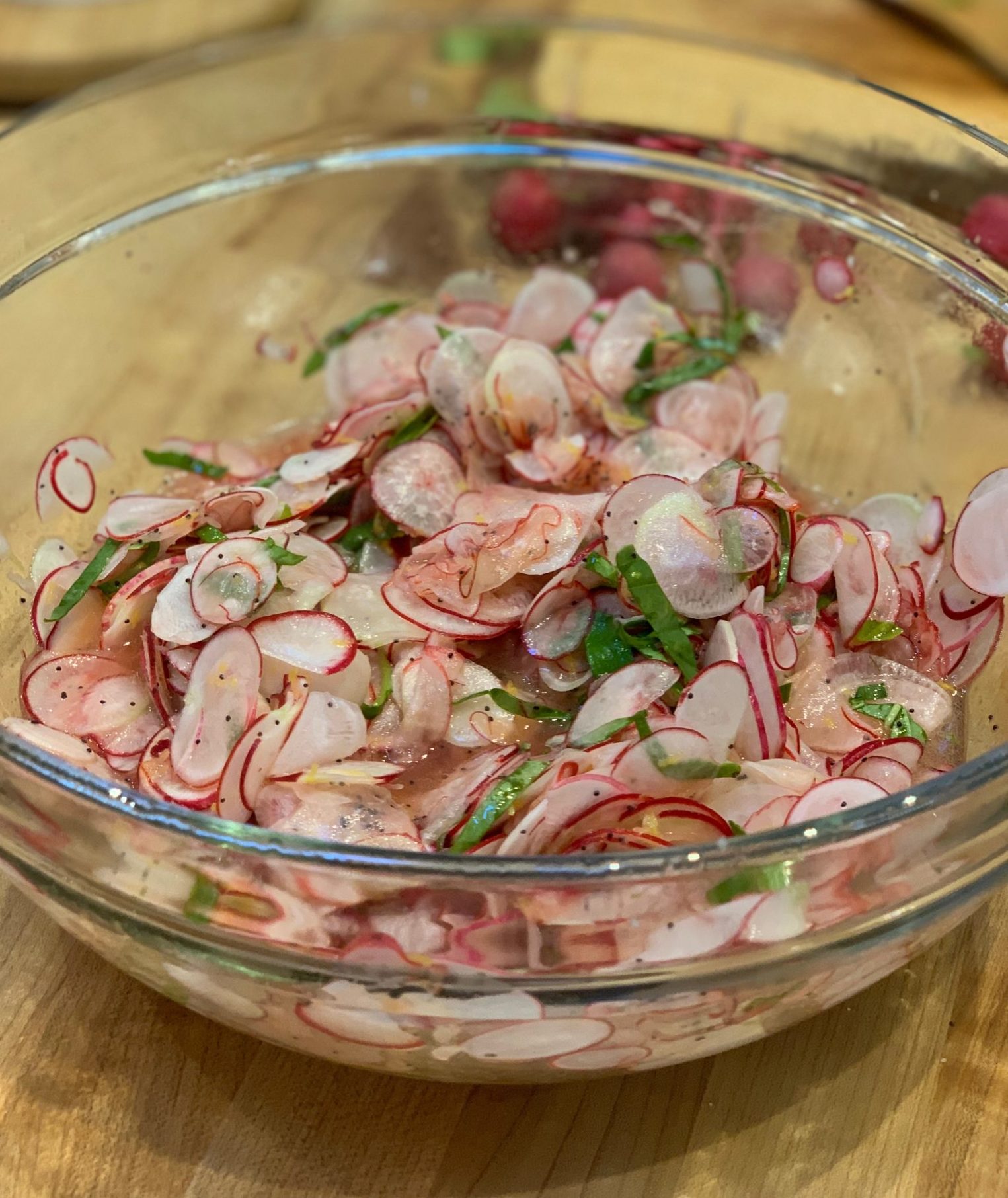 My lobster cakes were awesome with this.
And so was the sandwich I made the next day.  We even made some to serve with burgers from the grill which was delicious.
Go for the crunch!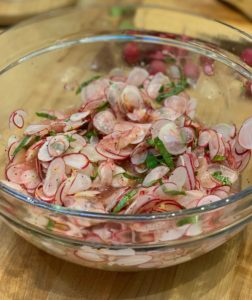 LEMON POPPY SEED RADISH SLAW WITH BASIL
Ingredients
2

lbs

fresh radishes

I cup fresh basil leaves

Two lemons

zested and juiced

¼

cup

white vinegar

¼

cup

sugar

½

tsp

dry mustard

1

tsp

poppy seeds

¼

cup

vegetable oil
Instructions
Remove the leaves and roots from the radishes and wash them well. Slice the radishes thinly. You should have 4-6 cups. Place the radishes in a heat-proof bowl. Add the lemon zest.

Put ¼ cup lemon juice, the vinegar, sugar, mustard and poppy seeds in a small saucepan over medium heat. Bring this to a boil, stirring until the sugar is dissolved. Pour this over the radishes and zest.

Add ¼ cup vegetable oil to the radish mixture and toss lightly.

Make a small pile of basil leaves and roll together tightly, slice across the roll making thin shreds of basil (chiffonade). Add this to the slaw and toss to mix. Refrigerate until ready to serve.
Recipe Notes
The slaw will keep for one-two days covered in the refrigerator.