Did you stress-eat leftover Halloween Candy last night?  Are you elated, disgusted, relieved, panicked, trepidatious or just happy to have something (or nothing) decided?
It's been a long year of jumbled up emotions and the last month felt like the previous six months before it ramped up and jammed into four weeks! Now it's all over except for the shouting.  The cake is baked.  The deed is done.
You know what we need?  We need chocolate. Chocolate in its most American form.  The one thing we can all agree on.  The Brownie.
Did anyone happen to see this season's Great British Baking Show on Chocolate?  The one where every single one of the contestants failed miserably when it came to baking an American Brownie?
I think it was because Paul Hollywood was looking for the type of brownie most American learn to make first.  The Brownie with the flaky light chocolate crust that rests on top of a deeply satisfying fudgy chocolate center.
The Box-Mix Brownie.
Truthfully, you can go the market and buy a brownie mix but I wanted to try the challenge myself.  And while I was at it, I wanted to disappear some of that left over Halloween candy.
A little research into the difference between box brownies and most homemade brownies uncovered two differences: box brownies contain water and saturated fat in the form of vegetable oil.  Most home brownie recipes have no water in them and use butter.
Start with cocoa powder and boiling water. Mix them together until combined.
Finely chop some unsweetened chocolate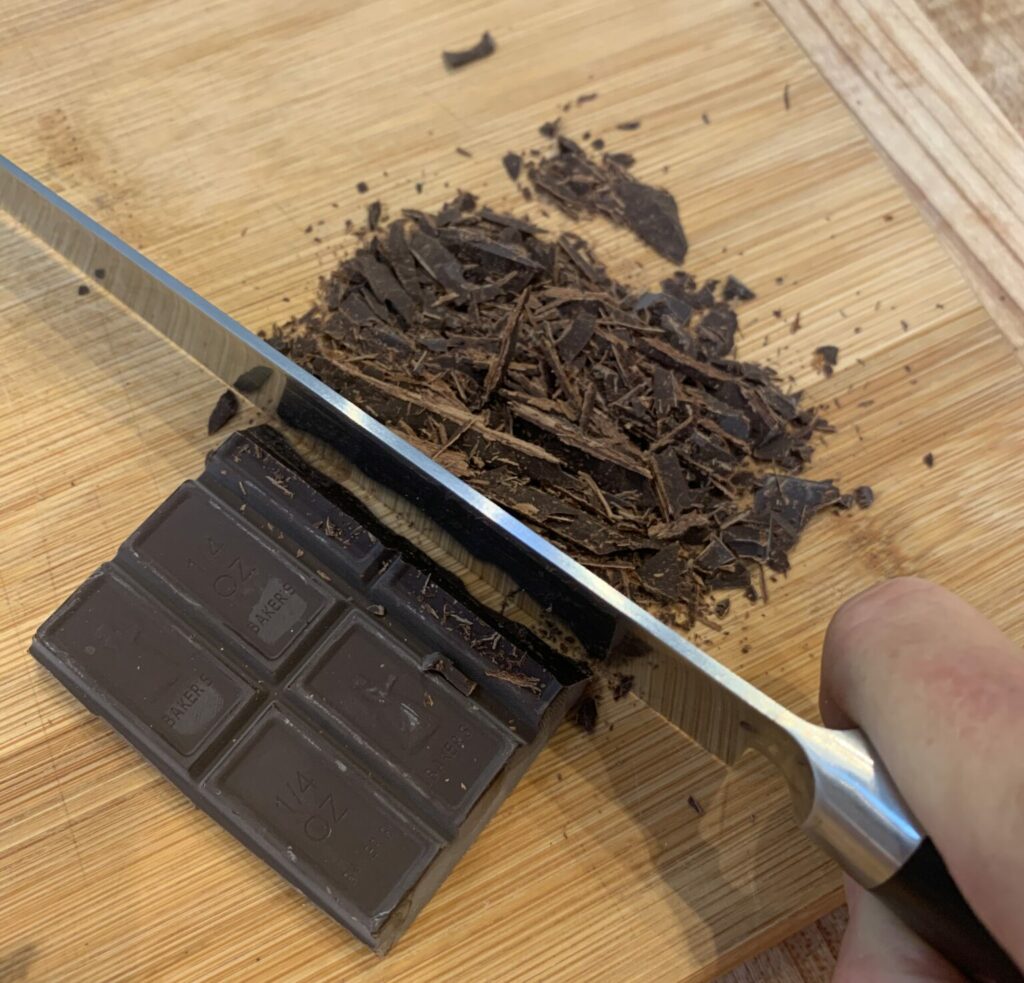 and stir it into the hot mixture until it is melted. and smooth.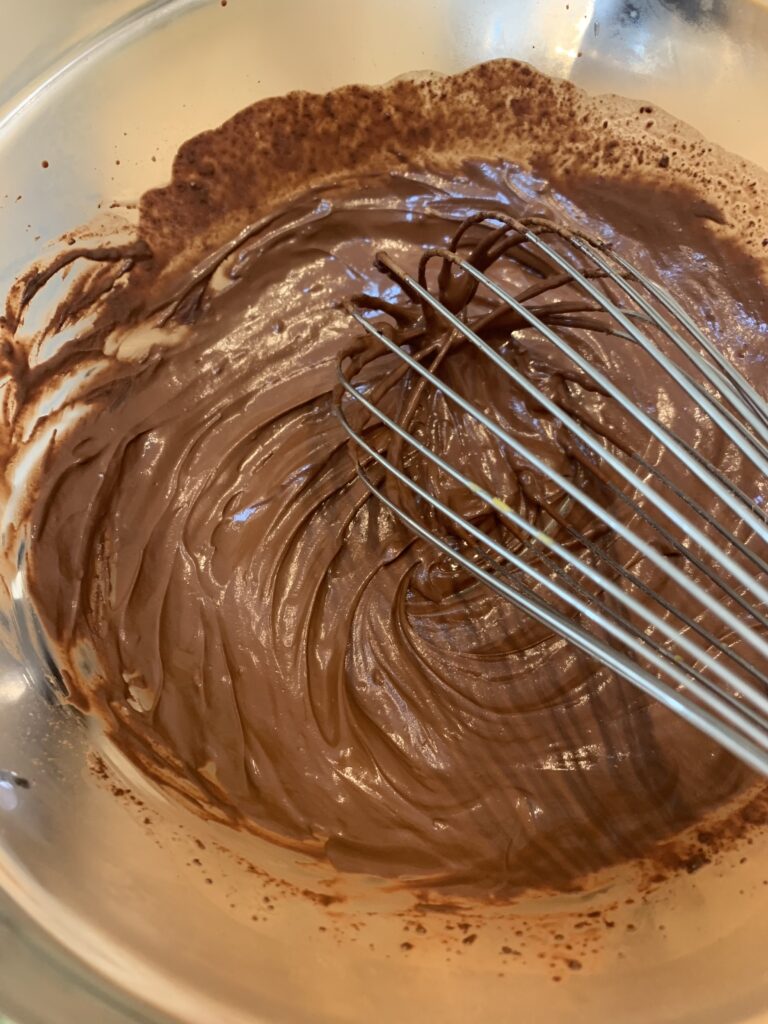 Melt butter (for flavor) and Crisco (for texture) and stir it into the chocolate.  It may separate a bit and look curdled but that's okay.
Move on to the next step.
Whisk the eggs, egg yolks and vanilla together in a small bowl and add them to the chocolate.  Whisk briskly until it is smooth and delicious looking.
Stir in the sugar. Add the flour and the salt and mix it all together.
Finely stir in about 1 cup of Halloween candy. I used a mixture of candy corn and M&M's.  If you don't want to use candy, add a cup of chocolate chips.
Just look at that.  Box-mix Brownies made from scratch!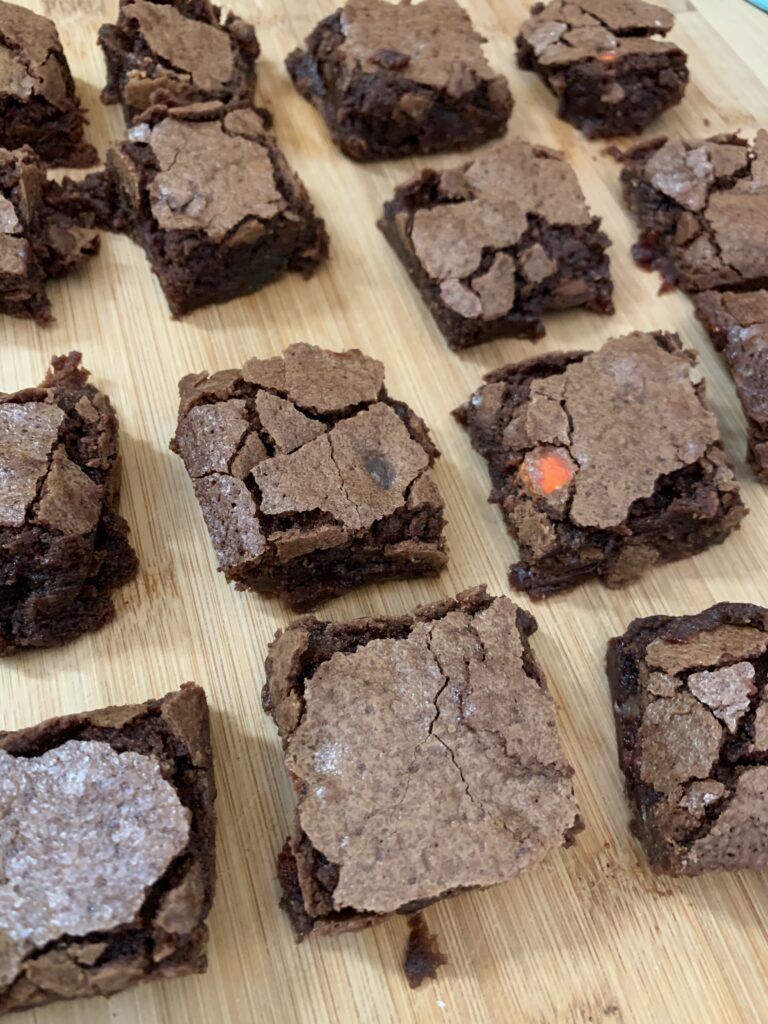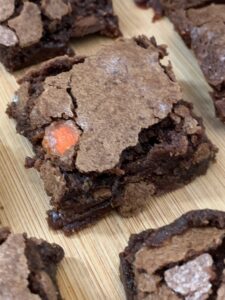 IT'S ALL OVER BUT THE SHOUTING BROWNIES
Ingredients
1/3

c

unsweetened cocoa powder

10

tbsp

water

2

oz

unsweetened chocolate

finely chopped

½

stick butter

(4 tbsp)

10

tbsp

Crisco Shortening

2

eggs plus 2 egg yolks

2

tsp

vanilla

2 ½

c

sugar

1 ¾

c

four

¾

tsp

salt

1

cup

chocolate chips or chopped candy
Instructions
Preheat the oven to 350 degrees. Line a 9x13" baking pan with foil or parchment paper. Spray well with cooking spray.

In a large heat proof bowl whisk together the cocoa powder and boiling water until the cocoa has melted. Add the chopped chocolate and continue whisking until the chocolate is melted.

Melt the butter and Crisco over low heat. Add them to the chocolate mixture and stir it well. It may look grainy.

Whisk the eggs, yolks and vanilla together in a small bowl and then whisk them into the chocolate. It should come together into a smooth, creamy mixture.

Add sugar and stir until it is well mixed in.

Fold in the flour and salt until it's is all combined.

Add the chips or candies.

Pour the batter into your prepared pan. It will be thick. Use your spatula to spread it out evenly.

Bake 30-40 minutes until a toothpick inserted into the center comes out clean.

Remove from the oven and cool in the pan for 15 minutes. Use the edges of the parchment paper to lift the brownies out onto a wire cooling rack and let cool completely (As much as two hours) before cutting.
Recipe Notes
Note: Depending on the type of candy you use, it can be hard to remove the brownies from the parchment paper. Chocolate candies are best for ease of cutting!