Half pieces of  vegetables in the refrigerator and partial packages of frozen meat are an inevitable part of living by yourself.  Things just don't come in single person sizes.  You may very good at planning out menus and using everything up or you may be like me and save the unneeded portions until it is a question of toss it or use it.
Today is a use-it day.  I really didn't feel like going to the store so I went to my fridge instead.  And I found half a butternut squash, half an onion, some apples,  and some frozen bratwurst. And carrots.  (I always have carrots).
This calls for a sheet pan!
First peel and chop all the vegetables into roughly the same size.  I am sticking with root vegetables so they all cook at the same time.
Mix together some spices and/or herbs.  I am going with a sweet spicy flavor to complement the apples and squash.  Brown sugar, cumin and a little chili powder.
Toss the veg in a little olive oil then add the spice mixture.  Salt and pepper it well and toss them all together until they are evenly covered with the mixture. I think the spice mixture may need another note so I throw in a handful or two of cranberries.
Arrange the vegetables on a foil lined sheet pan and put the bratwurst on top.  Drizzle a little oil on the Bratwurst and then put it all in the oven.
Roast it at a high temperature until the sausages are cooked through and the vegetables are softened with browning edges.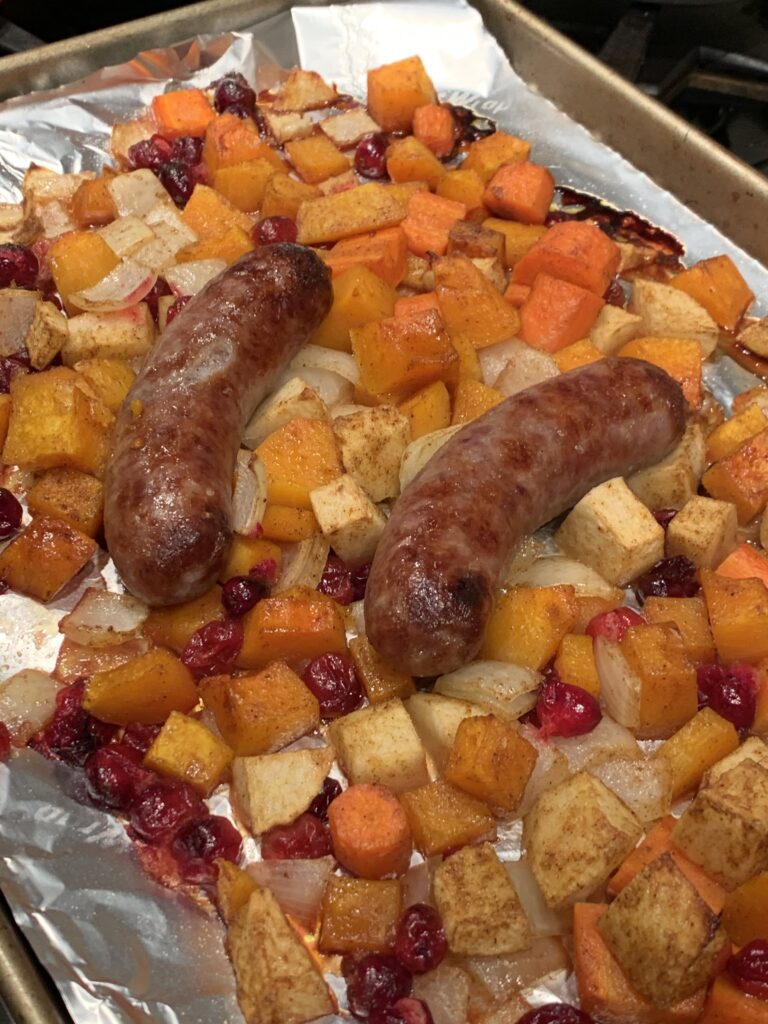 The sugar caramelizes the vegetables, the cranberries pop and spread their juices and the bratwurst browns.  It's like everything Fall on a plate.
Too good to be called leftovers!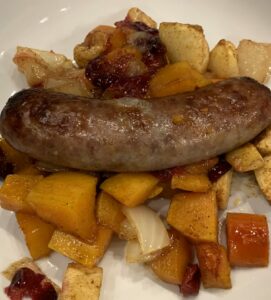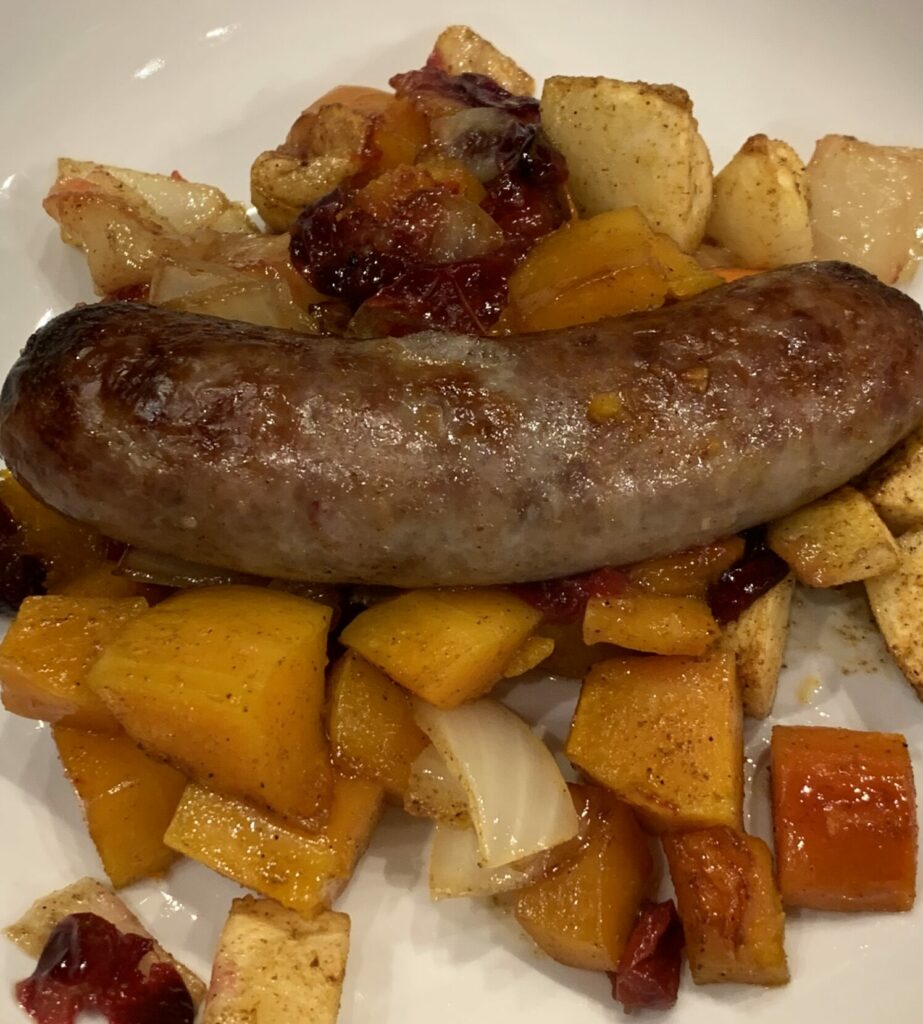 BRATWURST, BUTTERNUT SQUASH AND APPLE SHEET PAN DINNER
Ingredients
½

butternut squash

1

large carrot

1

large apple

½

large onion

½

cup

fresh cranberries

2

bratwurst sausages

¼

c

brown sugar

1

tsp

cumin

½

tsp

chili powder

1

tsp

salt

2

tbsp

olive oil
Instructions
Preheat the oven to 450 degrees and line a large sheet pan with foil.

Peel and dice the vegetables to similar sizes.

In a small bowl mix together the brown sugar, cumin, chili powder and salt.

Place the diced vegetables in a bowl and toss in olive oil. Add the brown sugar mixture and toss again until the vegetables are evenly coated.

Spread the vegetables on the prepared sheet pan and top with the bratwurst. Brush a little olive oil over the bratwurst.

Place the tray in the center of the preheated oven and cook for 30-35 minutes until the sausage is done and the vegetables are browned and soft.