It has taken me some time, and I have eaten a lot of banana bread, but I have finally come up with a recipe that produces a loaf like my mother used to make.  It is moist and rich with the flavor of banana, studded with good sized chunks of apricot and a faint bite from pecans. It was a childhood treat and a grown-up's memory until my sister told me she thought the recipe came from the Joy of Cooking.
 My mother's edition of The Joy Cooking would have been a very old one.  The original was published in 1931 and, while my mother may not have had the first edition, she would certainly have had one from the late 1930's-early 1940's.  I don't have access to her edition, but I do have the copy she gave me in 1974.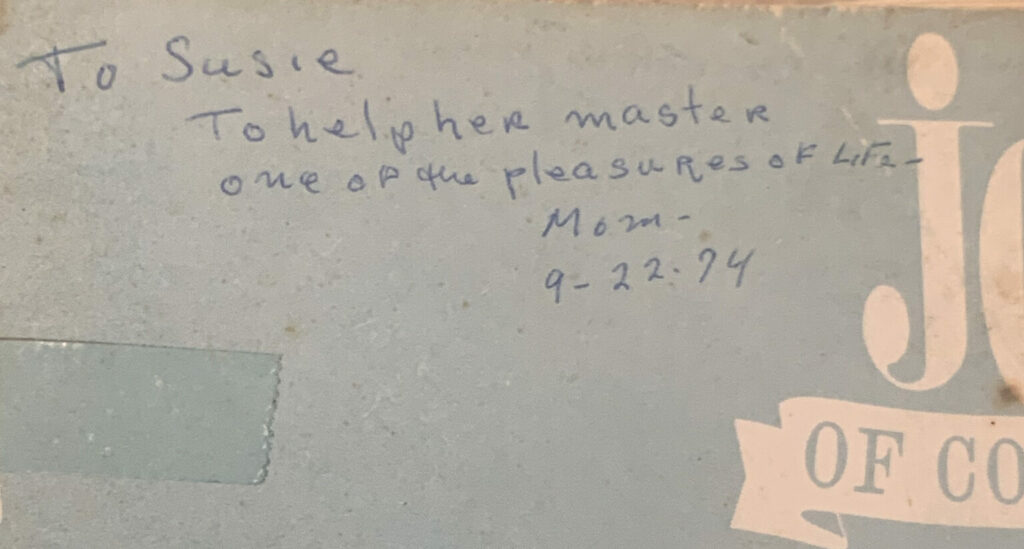 While the recipe may have been updated multiple times to meet changing tastes and norms, chances are the recipe in my 50-year-old cookbook is closer to hers than anything I can find online.
It is an old recipe.  Quantities are vague, assuming the baker has a preference.  It calls for a non-specific shortening, leaving the choice of  butter, lard or oil to the cook. The reader is given a range of eggs, 2-4, with no indication of why one might choose to use more or less.  In short, the recipe assumes more than a rudimentary knowledge of baking on the part of the reader.
I learned to bake from my mother so I went after this recipe the way I thought she would.  And here's what I learned:
The riper the bananas the better.  My best batch used bananas that were so far past ripe I questioned whether I even could use them.  I put the bananas in my food processor, so I got a very smooth puree.  I didn't measure the banana puree. I used five bananas for every batch.
A little less flour than called for gave me a richer flavor and a moist loaf.
As to shortening, when my mother heard "shortening" she reached for the Crisco so that's what I did.
I met the recipe in the middle on the question of eggs: three were used.
And finally, I added more apricots. Although the recipe called for them to be finely chopped, mine were in larger pieces because the jewel-colored sight of a soft, flavorful apricot is absolutely required.
There is nothing hard about this recipe. No creaming of butter and sugar for ten minutes or more.  My mother didn't have a stand mixer until sometime in the 1970's!
Prep your ingredients.
Beat the shortening and sugar together until it is well combined and creamy.
Add the eggs and the banana and beat it again.
Stir in the flour in three batches. And fold in the nuts and apricots.
See there is nothing hard about it.
Except eating just one slice!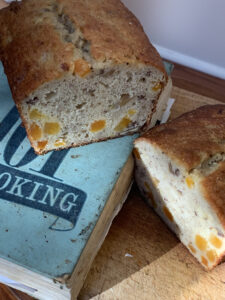 BANANA BREAD LIKE MAMA USED TO MAKE
Ingredients
2 ¾

c

flour

4 ½

tsp

baking powder

1

tsp

salt

2/3

c

shortening

1 1/3

c

sugar

Grated rind of one lemon

3

eggs

5

mashed ripe bananas

1

cup

chopped pecans

1 ½

c

coarsely chopped dried apricots
Instructions
Preheat the oven to 350 degrees. Grease or spray with cooking spray two 81/2"x 4 ½" loaf pans. Line the bottoms with parchment paper.

Stir together the flour, baking powder and salt in a bowl.

Beat together the shortening, sugar and lemon rind until they are well mixed and creamy.

Beat in the eggs and the mashed banana. Stir until combined.

Stir in the flour in three batches, stirring until smooth.

Fold in the nuts and apricots.

Share the batter equally between the two pans.

Bake in the center of the oven for one hour until done. Bread should bounce back with touched and a tester should come out clean.

Cool for ten- fifteen minutes in the pan then turn the loaves out onto a wire rack to cool completely before slicing