When I told my daughter about this dish, I called it a Pea Dish.  She laughed and said, "Mom, that's a pasta dish."  Peas and Pasta or Pasta and Peas, it is delicious. Tender fresh peas are tossed with pasta, cheese and basil then topped with crispy bits of bacon for a light meal or side dish.  It's easy, quick and delicious—the trifecta of recipes.
I was gifted with a bumper crop of peas this year, but you can use frozen ones if fresh peas are unavailable.  The pasta is similarly a matter of choice.  The only requirement is that it be a small pasta, close to the size of the peas.  The first time I made it I used Orecchiette, the second time I reached into my cupboard and found small Elbow Macaroni.  Both were good!
Start with bacon.  If you can find Pancetta that's always good but I usually end up using thick cut bacon.  Dice it and fry it up crispy.  Then set it aside for the grand finish.
Heat a big pot of water to a full boil and add the pasta.  A few minutes before the pasta is cooked, add a similar quantity of peas.
When the pasta is cooked, use a ladle and scoop out and save some of the pasta water.  You will need this for the pasta sauce.
Drain the pasta and peas and put them right back in the hot pan.  Add ½ to 2/3 of the cheese and some of the reserved water and give it all a good toss.  Once the cheese has disappeared into the pasta, add the remainder of the cheese and a little more water and toss it all again.
Finally add some chopped fresh basil and a little salt.
Top the pasta with bacon and bit more cheese if you like.
That's it.  As my children's Australian swim coach used to say: "Easy Peasy, Lemon Squeezy!"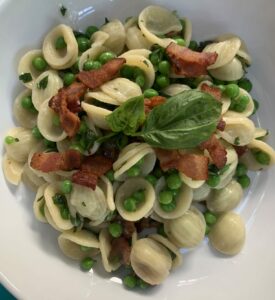 PEAS AND PASTA WITH FRESH BASIL AND BACON
Ingredients
8

slices

thick cut bacon

4

cups

finely grated parmesan cheese

1

cup

chopped fresh basil

1

lb

small pasta

4

cups

peas

Salt
Instructions
Cut the bacon into ½" strips and fry until crisp. Remove and reserve.

Bring a large pot of water to boil. Use the package directions to cook the pasta. Add the peas 3-4 minutes before the pasta is done. (If using frozen peas add two minutes to the time).

Reserve about ½ cup of the pasta water then drain the peas and pasta and return them to the pot.

Sprinkle 2/3 of the cheese over the pasta and moisten with ¼ cup of the reserved pasta water. Stir until the cheese is melted and mixed in. Repeat with the remaining cheese and water.

Add the fresh basil and salt to taste.

Serve and top with the bacon and a bit more cheese if desired.
Recipe Notes
NOTE: If you prefer you can stir in the bacon along with the basil