"Pfeffernuesse", it's almost as much fun to say it (feff er noose) as it is to eat it!  It is not a gingerbread cookie although it is filled with spices: anise, cinnamon, nutmeg and pepper.  It is a soft cookie and, like so many traditional cookies of the season, it doesn't look like much, even after being covered in icing sugar. But it delivers a punch of flavor!,
Pfeffernuesse has been around for ages, more than 200 years so there are a lot of recipes out there.  I am not laying claim to the recipe or reinventing the wheel.
My recipe comes from Zingerman's Deli  in Ann Arbor Michigan. I have never actually been there but I have ordered many great products from them and been gifted many others.  One of those gift baskets included Pfeffernuesse. So when I decided to bake some of my own I went straight to the source!  They were gracious enough to share the recipe with me and I am now gifting it to you.
Start with soft butter.  (At this time of year I leave a stick or two of butter on my counter so I am always prepared when the time becomes available or the inspiration strikes to bake).
Beat the butter together with all the spices. Lean in and enjoy the spicy aroma!
Add eggs, one at a time.
Then finally flour.
Scoop it out on to cookie tray and bake until just set.  You want a soft cookie.  Although even when they are a little crisp they are still delicious.
Once the cookies have cooled, toss them in some icing sugar to coat.
You can eat them right away or keep them for a day or two in an airtight container.  The flavors will mellow and ripen and get even better!
Thank you Zimmerman's!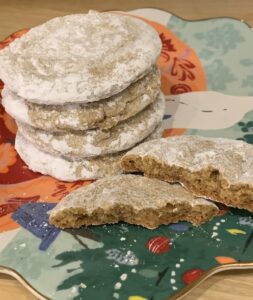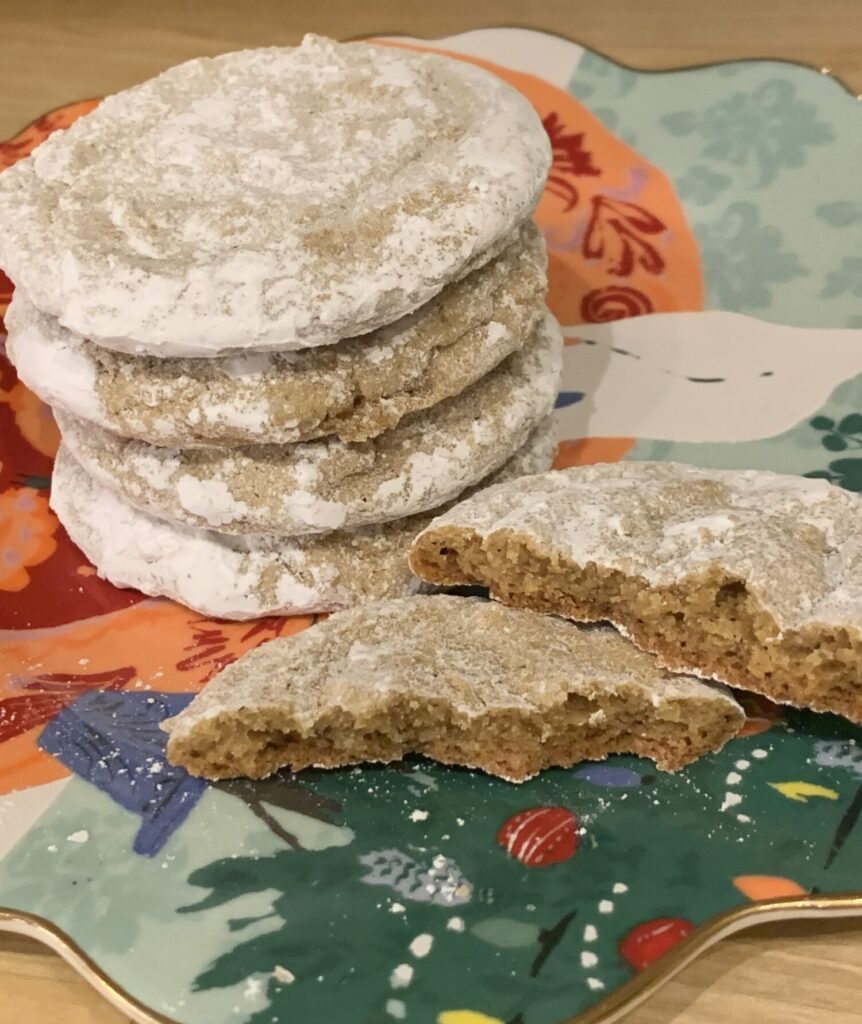 PFEFFERNUESSE
Ingredients
½

c

soft butter

2

c

brown sugar

½

tsp

baking soda

½

tsp

cream of tartar

¼

tsp

salt

½

tsp

cinnamon

½

tsp

nutmeg

½

tsp

black pepper

½

tsp

cloves

1

tsp

ground anise

2

eggs

2 ½

c

flour

Powdered Sugar
Instructions
Preheat oven to 350 degrees. Line cookie sheets with parchment paper.

Cream together the butter, sugar, baking soda, cream of tartar, salt and all the spices until it is well combined, about two minutes with a mixer.

Add the eggs, one at a time, and beat together until the mixture is light and creamy.

Add the flour and mix well.

Using a tablespoon or small cookie scoop. Scoop out walnut sized balls and place on the prepared pans.

Bake for 8-12minutes until the cookies are just done. They will puff up and brown slightly.

Cool the cookies on a rack then toss in powdered sugar to coat them.

Store in an airtight container.
Recipe Notes
Note: the cookies will be better a day or two after baking when the spices have mellowed and come together