How does this always happen to me?  December starts and it seems like I have so much time to get ready, and then I add one or two new baking projects to all the other baked goods I usually make, and before I know it I am baking at 7AM and again at 7PM! It's a good thing I enjoy it.
Years ago, when my girls were little, I had the bright idea of keeping them entertained in the lead-up to Christmas by giving each of them a small gingerbread house to decorate.  The recipe was one I found in a magazine back in 1971.  It was a clunky recipe which made a hard gingerbread which was not great for eating but held up to the stress of being covered (and I do mean covered) with candy.
Time moves on, things change, and there are no gingerbread houses being made this year. But I am still baking and dropping goodies off at my daughter's house so this seemed like a good year to find a new gingerbread recipe.  One which tastes good and will also stand up to being used for construction.
So here we go:
Make the dough one day ahead.
Put soft butter and brown sugar together in the bowl of a mixer and beat it until it is light and fluffy.
Add the egg and a little water and beat until it is incorporated.
Add the molasses and mix it in well.  The mixture may curdle.  It's okay if it does.
In a separate bowl stir together the flour, spices, salt and baking soda.
Add this to the mixer on low speed.  And beat it in until it is all combined.  It will be a thick and sticky dough.
Turn the dough out onto a board and pat it into a ball.  Separate the ball into two smaller balls.  Flatten them, wrap them in plastic wrap, and let them rest in the refrigerator overnight.
Baking the gingerbread
Preheat the oven to 350 degrees.
Take one package of dough out of the refrigerator.  Unwrap it, and place it in the center of a well-floured piece of parchment paper.  Sprinkle flour over the top of the dough and place another piece of parchment paper on top of it.
Use your rolling pin to roll out the dough between the two sheets of parchment.  This is a sticky dough so I found it best to turn the parchment over once or twice as I rolled it, peel off the paper and add a little more flour if it was sticking to the paper.
To make Gingerbread men or cookies you are going to be eating, roll the dough thickly, about ½".  If you will be using it for a house you can roll it a little thinner.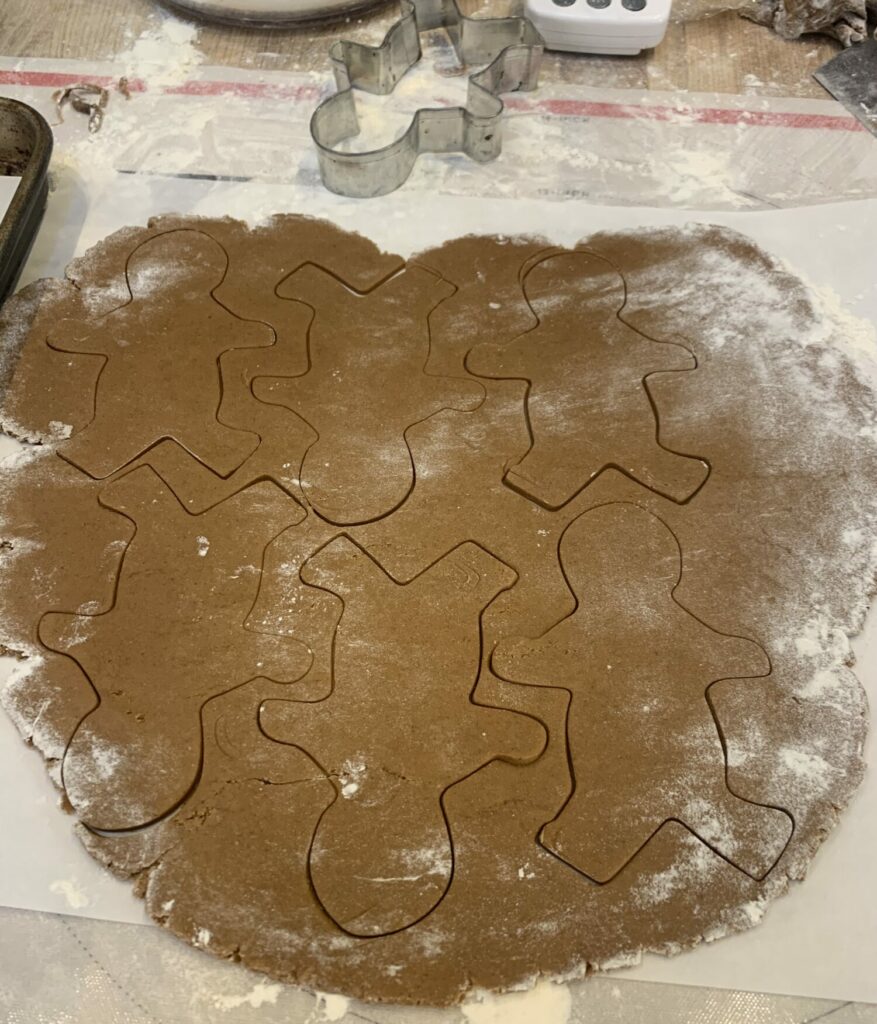 Flour the cookie cutter or your gingerbread templates when cutting the gingerbread.
Bake cookies for 10-12 minutes so they are soft baked, house pieces 15-18 minutes for a hard bake.
This dough makes enough for 2-3 dozen gingerbread men or one house (depending on the template you use!)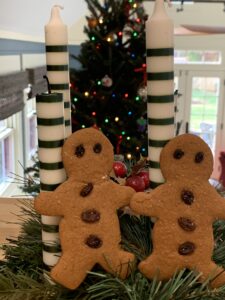 GINGERBREAD
Ingredients
1/3

c

soft butter

6 tbsp

¾

c

brown sugar

1

egg

½

c

molasses

2

tbsp

water

3 ¼

c

flour

2

tsp

ginger

2

tsp

cinnamon

½

tsp

allspice

¼

tsp

salt

¼

tsp

baking powder

Extra flour for dusting
Instructions
Make the dough
Beat the butter and sugar together until light and fluffy.

Add the egg and beat until incorporated. Add the molasses and water and beat together until mixed well.

Stir together the flour, spices, baking powder and salt in a bowl then slowly add it to the butter mixture at a low speed until it is fully mixed in.

Turn the dough out on to a lightly floured board and shape into a ball. Cut the ball in half and make two smaller balls. Flatten the small balls into two disks and wrap each one in plastic wrap. Refrigerate overnight, or for up to two days.
Rolling and baking the dough
Preheat the oven to 350 degrees. Line your baking sheets with parchment paper or a Silpat.

Using one disk at a time, roll the dough out between two sheets of parchment paper. Flour the bottom paper, place the disk in the center and flour the disk. Place another sheet over the top and roll to ½" (for gingerbread men) or ¼" (for a house). Turn the parchment paper over once or twice while rolling and check to make sure the dough is not sticking to the paper. Dust with a little more flour if it is.

Remove the top sheet and use a floured cookie cutter or template to cut the dough. Use a slide or spatula to move the shapes to the prepared sheets. Try and keep the edges straight for the house pieces.

Press currants or raisins into the gingerbread men for eyes and buttons, if desired.

Bake until raised and soft (10-12 minutes) for gingerbread men or until the edges are just starting to brown for the house pieces (15-18 minutes)

Remove to a flat surface to cool for the house pieces, or to a wire rack for cookies.
Recipe Notes
Note: I am leaving it up to you to find your own template. This recipe will make enough dough for a small house (7"x6"). The recipe can be doubled.