January is named after Janus, the Roman God of duality: beginnings and endings, comings and goings, transitions, doorways, ins and outs.
This duality is true for my month of January.  For me, January is  two faced.  On the one hand it is the month of reset: dry January, diets, return to exercise and a lot less partying.  On the other hand, in many of the places I have lived it is a month of celebration: eating, drinking and partying!
In my last blog, I brought you a piece of the French celebration of twelfth night with its Galette de Rois
In this blog, I am going to take you to Asia for a taste of the biggest celebration of all in Singapore and Hong Kong, the Lunar New Year or Chinese New Year.
It begins in the markets.  The shelves overflow with the traditional foods and gifts of the season. Orange trees and peach blossoms for decorating your front entry.  Roast duck to be ordered for the Lunar New Year's Eve feast.  Wood fired grills in the street markets are piled with thin strips of pork , barbecued with Char Sui sauce.  All sorts of exotic (and expensive0 produce tempt the buyer: abalone, out-of-season melons, mangos, and whole fish among them.  And everywhere there are trays of candies and cookies, carefully picked for their representation of good fortune.
The Lunar New Year celebration lasts for two weeks with ritual visits to family, friends, and employers.  And each visit requires a gift, most often food, to ensure prosperity and good fortune in the coming year for both the giver and the receiver.
My favorite of all these treats is a little cookie, the Pineapple Tart.  A rich buttery cookie is topped with sweet, sticky pineapple jam.  It is the Asian equivalent of the Oreo to me: sometimes I eat all around the jam center and then savor the quick hit of pineapple.  Sometimes I pop it in my mouth whole and enjoy the combination.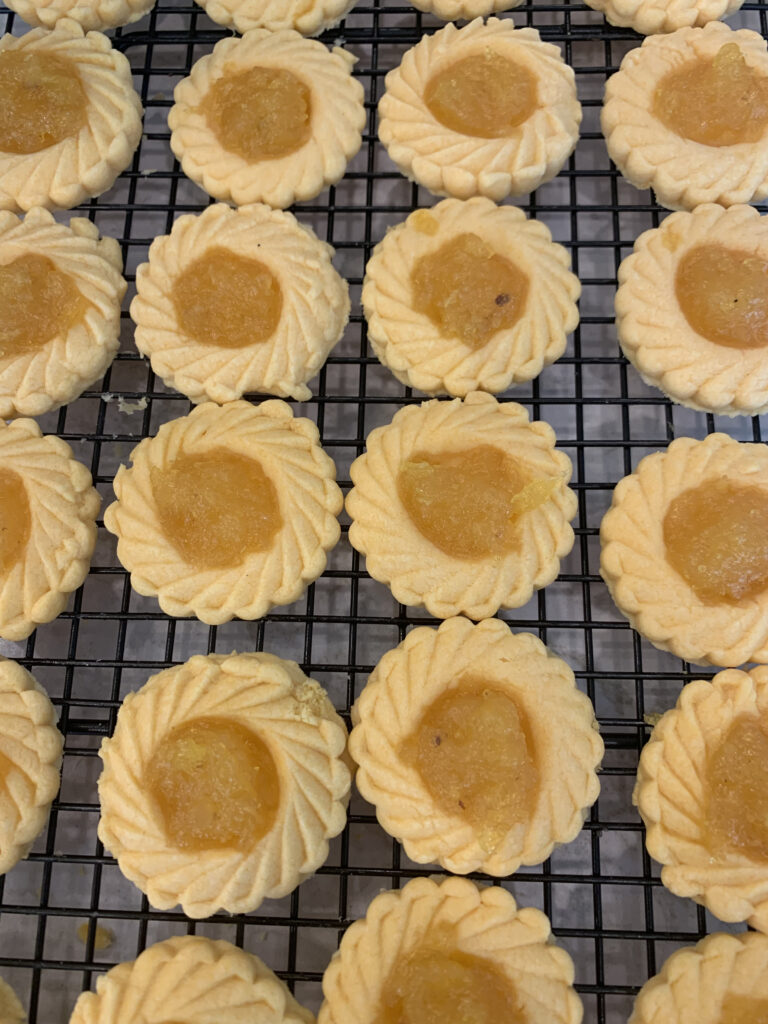 So here I am, far away from Singapore and the cries of "Kung Hei Fat Choy" (Happy New Year), longing for the delicious treats of an Asian New Year.
Fortunately, Pineapple Tarts are not terribly difficult to make at home.
Start with the jam.
Buy a ripe pineapple.  A good one will be somewhat yellow and smell like pineapple.
Break it down by cutting off the top and the outer rind.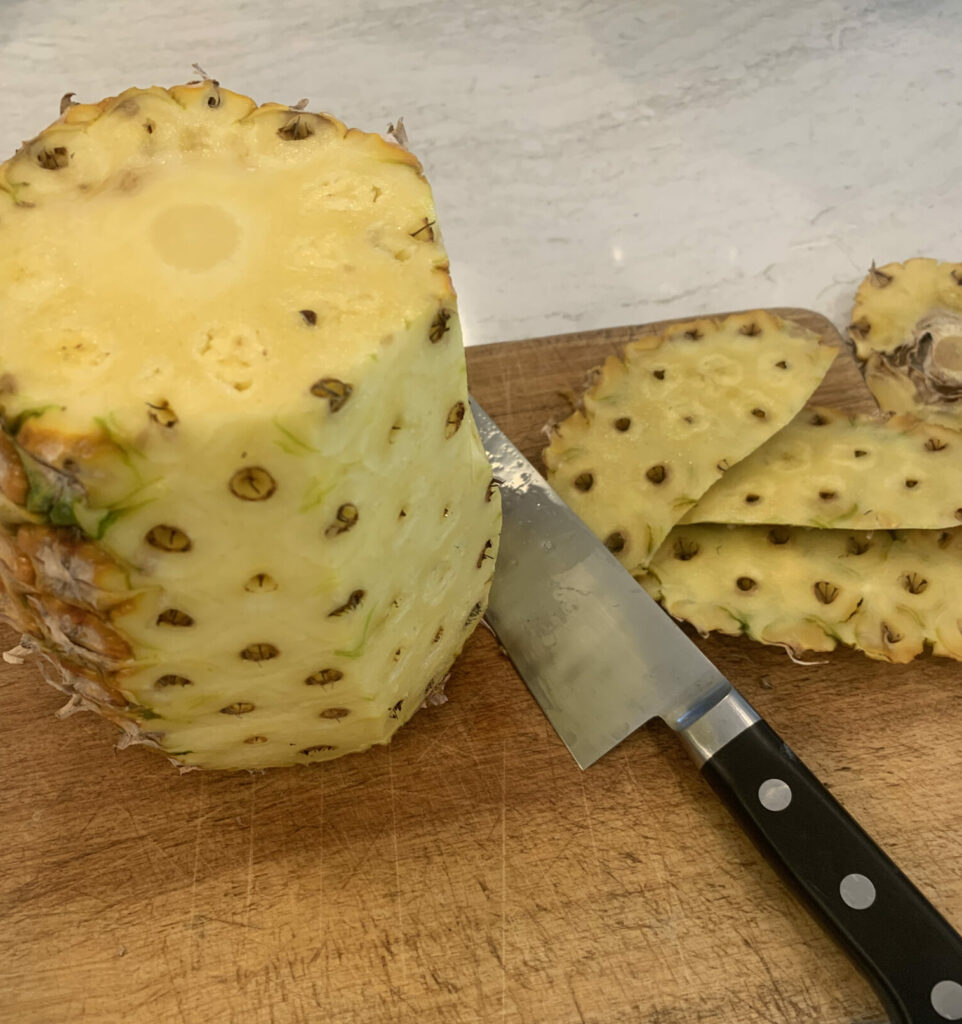 Then slice out the woody middle core. Cut the cored pineapple slices into small pieces.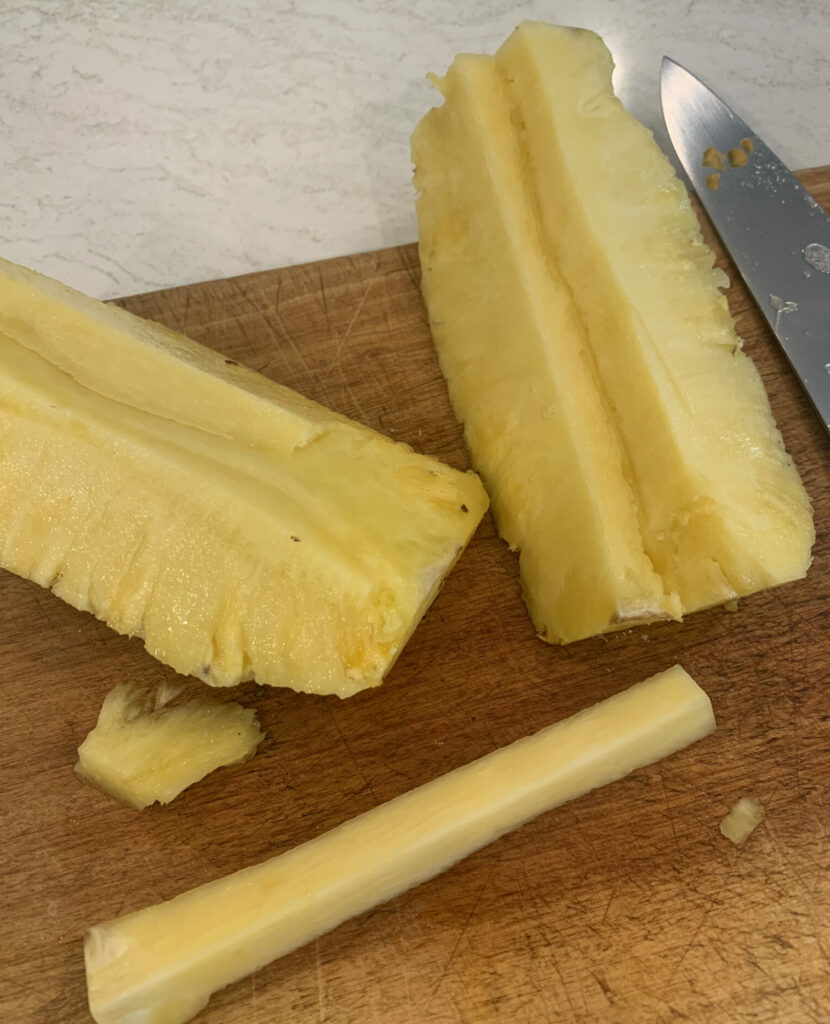 Put the pieces  in a food processor, or blender, and puree them.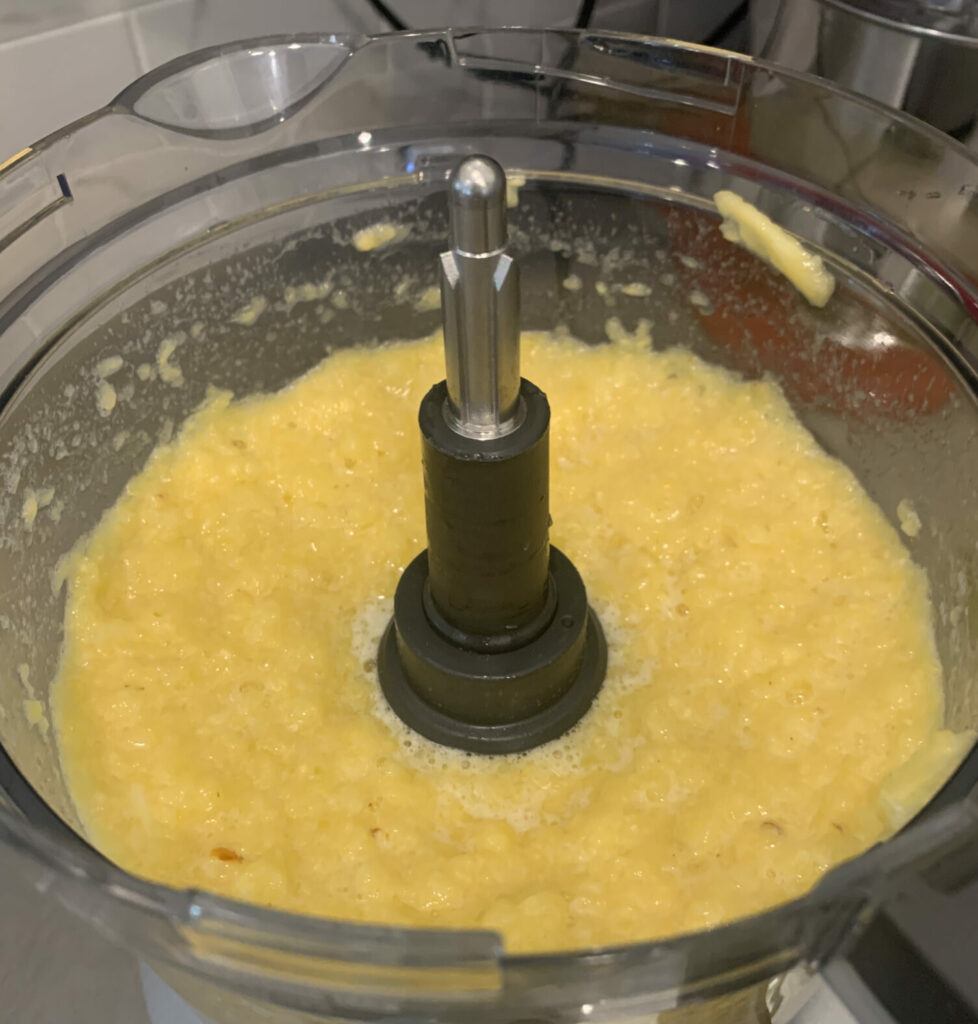 The pineapple puree and some sugar go into a pot.  Bring it to a slow boil and boil it until it is very thick.  Initially you won't need to stir it more than once every ten-fifteen minutes.  But as it gets to the end you will need to stir constantly.
The jam is done when it is a deep golden color and almost all of the liquid has boiled away.  If you run a spatula down the center of the pan it will take some time for the jam to close in.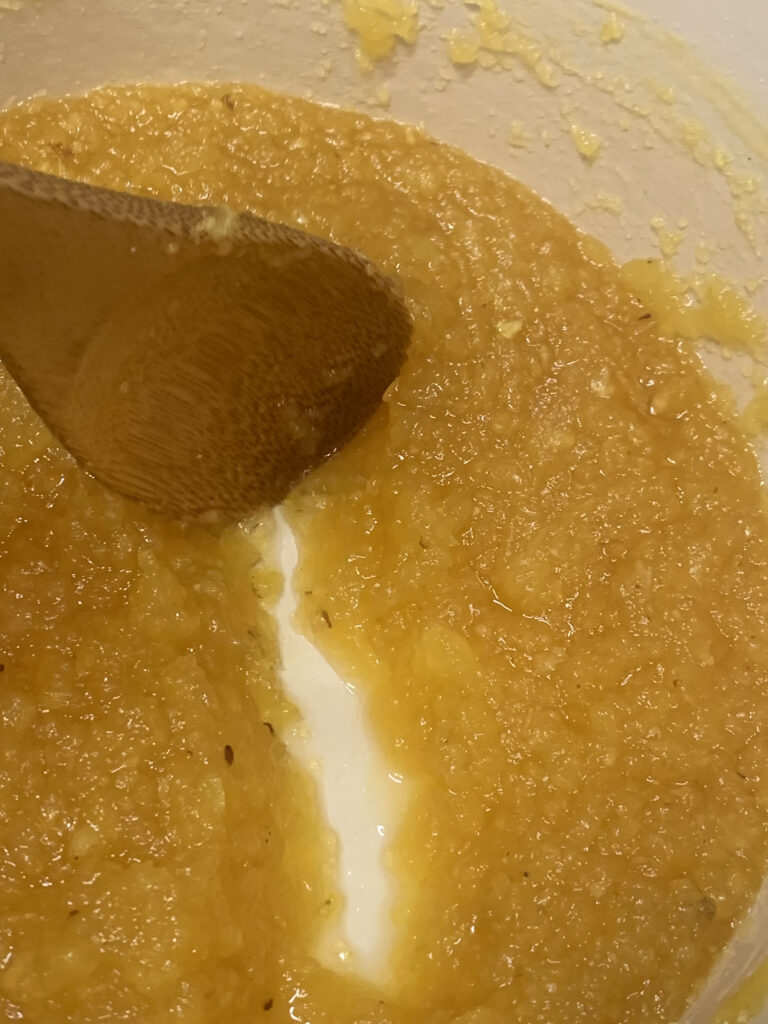 This whole process takes about an hour.  You can do it well in advance.  The jam will keep in the refrigerator for a week or more.
On to the cookies.
The buttery, rich base of a pineapple tart starts with butter. 1 cup (two sticks) of softened butter.  Beat this together with some powdered sugar until it is almost white and very light, 5 minutes or more.
Add eggs yolk and vanilla and beat it again until well mixed.
Next add the flour and  custard powder.
(Custard powder is mostly made up of corn starch along with flavorings.  It is much more commonly found in the U.K. and Australia than in the United States.  I have found it in the International aisle of my supermarket. Or it can be ordered online.  Vanilla pudding mix is a perfectly acceptable substitute.)
Mix it together and then roll the dough out on a lightly flour board, about ¼"-1/3" thick and cut the cookies
I use a pineapple tart press because in Singapore and Indonesia, one can easily purchase a pineapple tart press. In the United States, not so much.  But you don't need one.  At heart, the pineapple tart is a thumbprint cookie.
Cut small circles out of the dough and press your finger, or thumb, into the center to make a slightly indentation.  Fill this space with a  rounded ¼ teaspoonful of jam.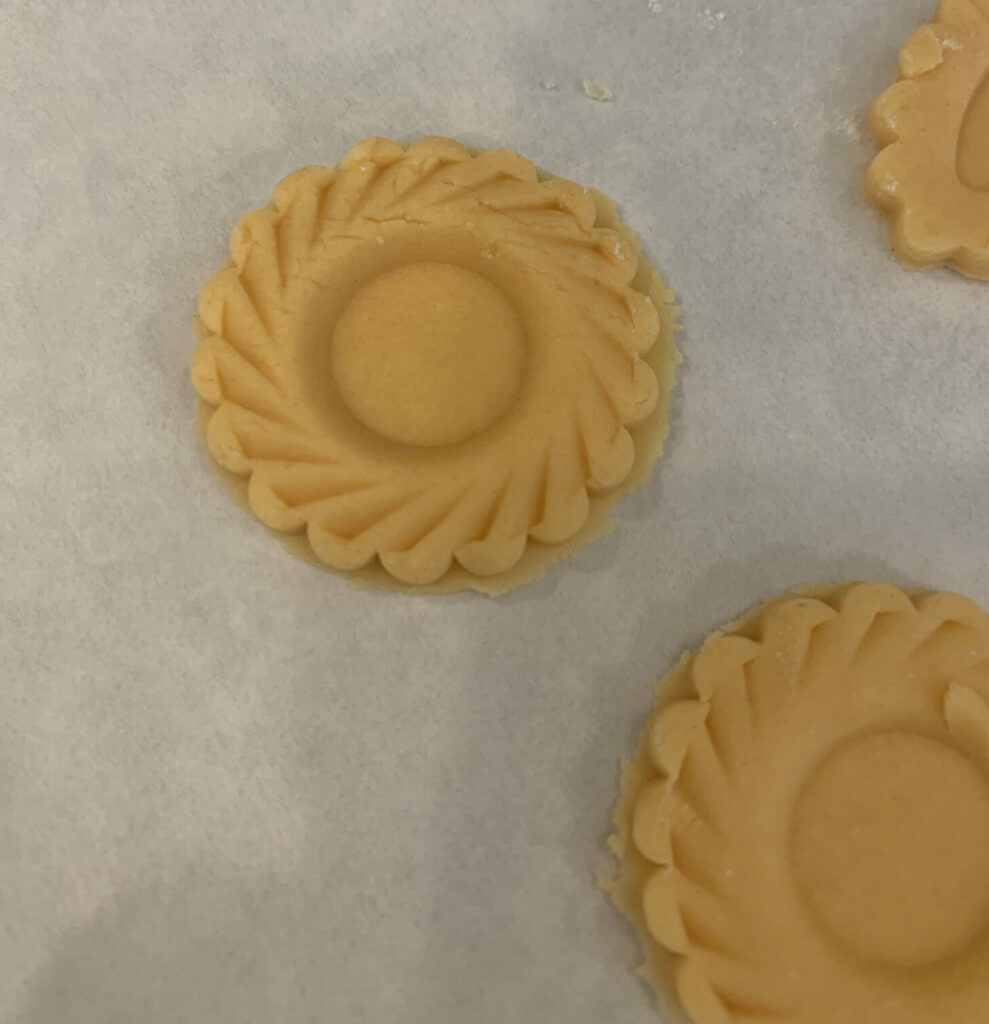 Bake them until they are just starting to brown, cool and devour.
This recipe makes about 5 dozen cookies, but no one ever eats just one cookie at a time.  Just watch them disappear.
Kung Hei Fat Choy!  May your Year of the Rabbit be filled with prosperity, good health and happiness!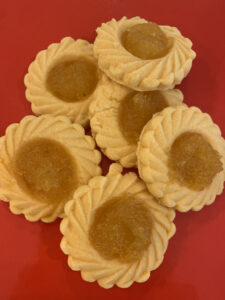 PINEAPPLE TARTS
Ingredients
1

medium pineapple

1 ¾ to 2

c

sugar

see note

1

tbsp

lemon juice

Pinch

of salt

1

c

butter

softened

1

c

powdered sugar

2

egg yolks

1 ½

c

flour

1 ½

c

custard powder

see note

½

tsp

vanilla
Instructions
Make the Pineapple Jam
Remove the top and rind of the pineapple. Cut the pineapple into quarters and use a sharp knife to remove the woody inner core of the pineapple. Cut the pineapple slices into smaller pieces and place them in a food processor or blender. Puree well.

Put the pineapple puree and sugar into a large saucepan and bring to boil, stirring until the sugar is dissolved. Reduce the heat to a low boil and cook, stirring occasionally, until the jam is very thick and golden. This may take up to an hour. Stir occasionally until the jam starts to become gold and thick then stir constantly to prevent burning until it is done. When the jam is done, it will separate when a spoon is run through it and will be very slow to return together. Remove from the heat and add the lemon juice and salt.

Allow the jam to cool and store in the refrigerator until you are ready to make the cookies.
Make the Cookies.
Preheat the oven to 350 degrees and line some cookie sheets with parchment paper.

Beat together the butter and sugar until it is very light (almost white) and fluffy, 5 minutes. Scrape the bottom of the mixer bowl once or twice while you do this.

Add the egg yolks and vanilla. Continue beating until they are well mixed in and smooth. 2 minutes.

Add the flour and custard powder. Mix well. Once it comes together, take it out of the bowl and use your hands to form a ball.

Roll on a lightly floured board to a ¼"-1/3" thickness. Cut small circles, 1 ½" to 2" diameter, and place them on the prepared cookie sheets. Use your thumb to make an indentation in the center of each cookie. Fill the centers with a heaping ¼ teaspoon of pineapple jam.

Bake the cookies for 10 minutes, until they are just turning golden.

Cool on a wire rack and store in an airtight container. Cookies can be frozen.
Recipe Notes
Notes:
The amount of sugar you will need depends on the ripeness of the pineapple.
Bird's Custard Powder can be found in the International aisle of some supermarkets or bought online. You can also substitute an equal amount of vanilla pudding mix.
This recipe makes enough jam for two batches of cookies. The left over jam is also great on toast!