Pumpple Pie is an easy to make apple and pumpkin pie with bourbon-soaked raisins.  It's a spice and fall flavor-filled extravaganza!
There are so many reasons to make this pie for your Thanksgiving:
Smaller Thanksgivings mean one pie instead of two or three and this lets you get most of your favorites in one pie.
In our area there has been a shortage of canned pumpkin.  This recipe uses half a can so you can make a "pumpkin" pie and another pumpkin treat.
Or make it because it's different and delicious.
As for me, I am making it because there is no length to which I will not go to escape pumpkin pie. Just not a fan!
For  the pie crust, you can make my pie crust, (the recipe is here), make one from a recipe you like or use a good quality ready-to-roll crust from the store.  If you do make your own, add some pumpkin pie spice along with the flour.
Now make the filling
Start with the raisins.  Soaking them in bourbon is optional but why wouldn't you?
Put the raisins and bourbon in a small bowl, cover it, and microwave for 30 seconds to 1 minute.  Then let them sit and plump while you get on with other things. Skip this step if you are not using bourbon.
Make the filling.
It starts with apples, of course. Apples are the most important part of the pie!  The flavor of the apple you choose and the way it holds up to baking will be key to your end result. If you want a sweet pie, use a sweeter apple.  If you are worried it will collapse in the baking, mix in something sturdy.
For my pie, I chose Granny Smiths and Cripps Pinks.  I like to taste the apple in my pie so I tend toward crisp, slightly tart varieties.
The next choice is how to slice the apples.  I like the texture of big pieces of apple so I diced mine into 2" chunks.  If you prefer thinly sliced apples in your pie, that will work too.
Toss the apples with the pumpkin, flour, spice and salt.  Finally add the raisins and any  (optional) bourbon which was not absorbed.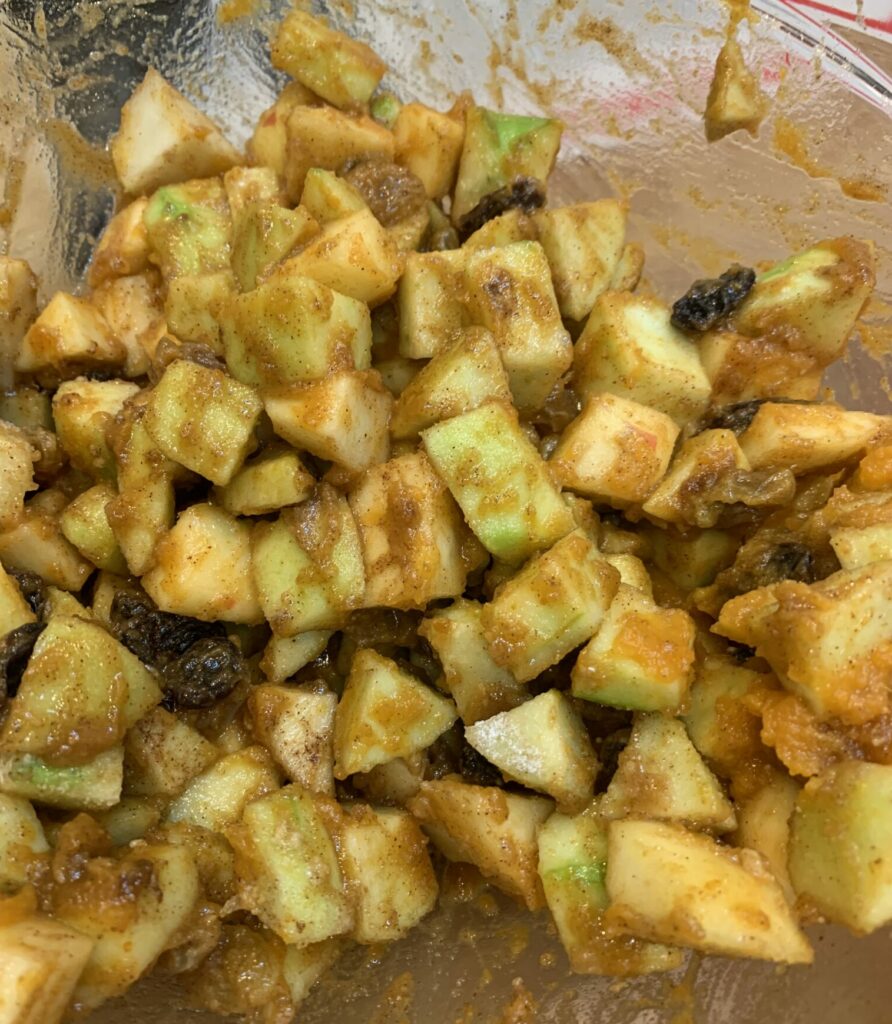 Roll out the bottom pie crust and put it in your pie pan.  Spread the apple mixture evenly in the pan and top with the second crust.  (If you would like to make a lattice top you can find the instructions here.)
Brush the crust all over with an egg wash and sprinkle with sugar.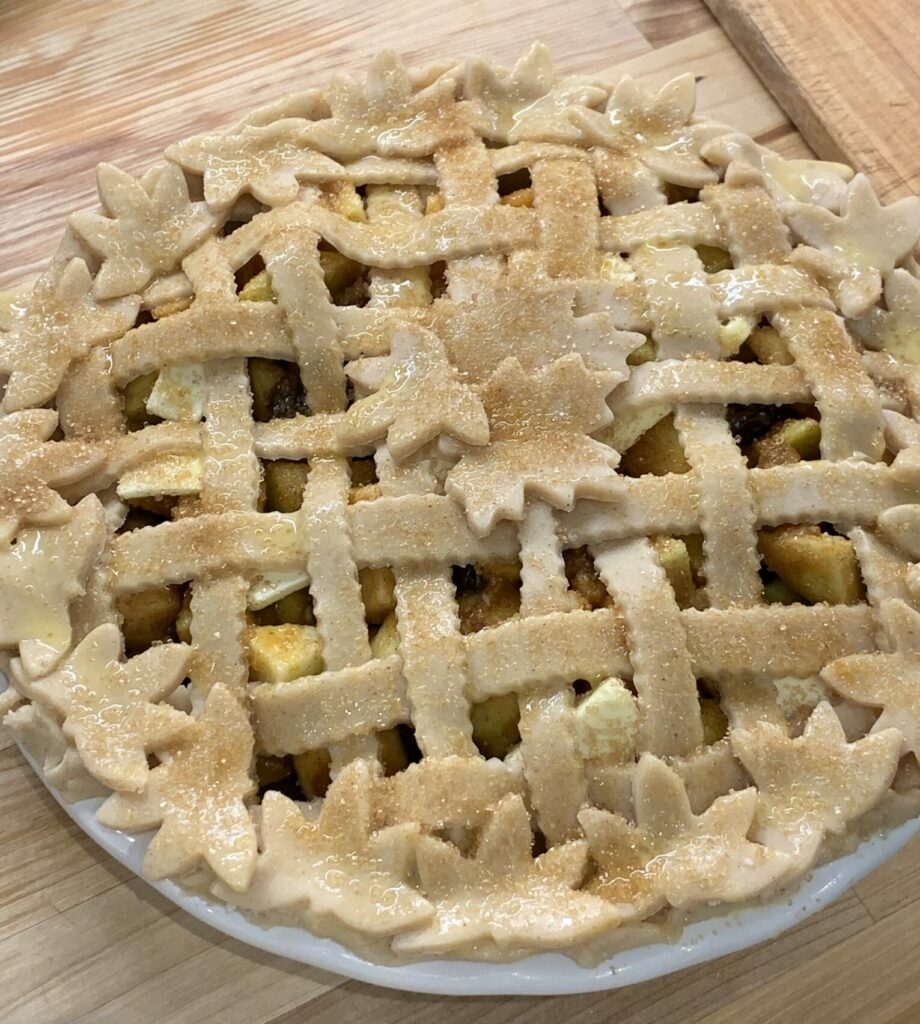 Happy Thanksgiving!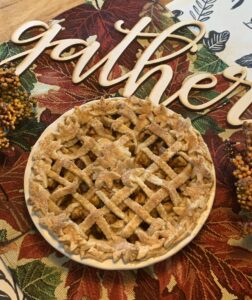 Pumpple Pie
Ingredients
1

c

raisins

¼

c

bourbon or rum

optional

6

apples

½

c

brown sugar

1

c

pureed pumpkin

1 ½

tbsp

flour

1

tsp

pumpkin pie spice

½

tsp

salt

2

tbsp

butter

1

egg

Demerara sugar
Instructions
Preheat the oven to 400 degrees.

Optional: put the raisins and bourbon or rum in a microwaveable bowl. Cover and microwave for 30 seconds. Leave covered until ready to use.

Peel and core the apples. Chop them into 2" dice or slice thinly according to your preference.

Put the apples in a bowl. Add the brown sugar, pumpkin, flour, spice and salt. Toss together until well mixed. Add the raisins (and any unabsorbed alcohol, if using) to the mixture and toss together. Set aside while you prepare the crust.

Roll out the bottom crust into a 12" circle and place in the bottom of a 9" pie pan.

Roll out the top crust into a 12". If you are making a lattice crust, cut narrow ½" wide strips in the dough.

Put the apple mixture in the pie pan and cover with the upper crust. If you are making a lattice weave the strips together on top of the pie. If you are using a whole crust, cut a few small slits to vent the pie in the crust. Trim and crimp the edges.

Roll out any extra dough and use a cookie cutter to cut decorative shapes if desired.

Whisk the egg well and brush well over the entire pie. Sprinkle with demerara sugar.

Place the pie on a baking sheet to catch any spills and bake in the center of a 400 degree oven for 30 minutes. Turn the oven down to 350 and continue baking until the juices are bubbling in the pie and the crust is browned.

Cool to room temperature before cutting.
Recipe Notes
Note: If you are making your own pie crust, add 1 tsp of pumpkin pie spice to the flour before mixing.