Yesterday I slow roasted a bunch of tomatoes, packed them in oil and put them in the fridge to use next week.  I had to.  My garden was getting away from me.
After ten years of struggling with bad drainage, soil contaminated by conifer needles and a lack of sunshine, I finally have a location where my plants are thriving.  As I stood and looked at my tomato plants bending under the weight of ripening fruit; at my lush zucchini plants which for the first time have survived an early onslaught of aphids, worms and mold and are continuing to turn out squash at a steady rate; at the strawberries overflowing the large urn in which they were planted and, of course my indomitable jalapenos—the only plants to find happiness wherever I put them, I thought, "This is a metaphor for my life!".
Like my vegetable garden, I have moved myself to a more hospitable environment and my garden of relationships is flourishing. This summer I have spent wonderful, quality time with my daughters, their spouses and significant others, and my lovely granddaughter. I have been exploring new friendships and nurturing them.  One, in particular,  has beautiful flowers now and shows promise of more in the future.  My home is comfortable, and I draw strength from its warmth and shelter.
There is so much sunshine!
However, both of these gardens require time and attention to keep them healthy and growing and just now I am giving the bulk of my time to the people garden. Which means I need to find a way to preserve the gifts of my vegetable garden until I can use them (and share them).
Which brings me back to the tomatoes.
Man, I love a fresh-from-the-garden tomato! But even at the rate of eating one or two a day, my travels mean that I can't keep up.
So, I did what has been done by so many in the past, I preserved some for future use.
Perfect ripe tomatoes are cut into quarters (halves if yours are small).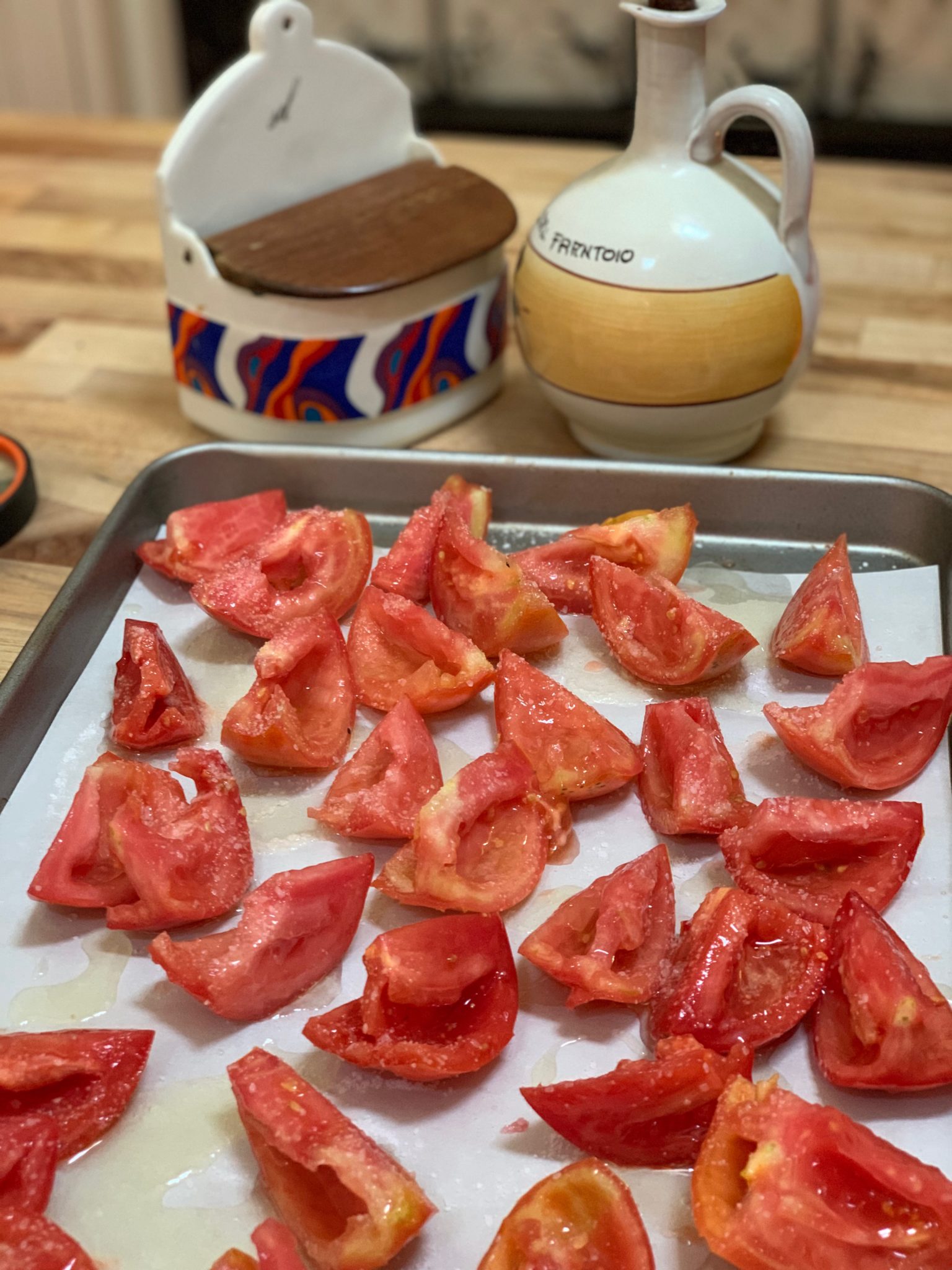 The seeds are removed, and they are placed on a parchment lined baking sheet.
Sprinkle with salt and dribble with oil, then place them in a low oven for 2-4 hours.
Eventually the house will start to smell like a rich, deep tomato sauce.  The tomatoes will shrink and start to dry.  They are ready when they feel like a moist, dried prune, not leathery but definitely dried.
Let them cool and carefully peel off the loosened skin.
At this point you can freeze them, store them as-is in the refrigerator for four or five days, or pack them in oil and keep them for a month or more, ready to use in the fridge.  If you do freeze them, the flavor will stay good but the texture will deteriorate so they will be best used in sauces or baked in a dish.  Otherwise, they are wonderful in a salad, on a sandwich or as part of an appetizer.
And there might be a tart in the future of my slow roasted tomatoes!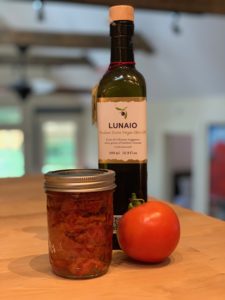 SLOW ROASTED TOMATOES
Ingredients
3 to 4

lbs

fresh

ripe tomatoes

1-2

tsp

salt

Olive oil
Instructions
Preheat the oven to 250 degrees and line a baking sheet with parchment paper.

Cut the tomatoes into even sized pieces. Use a small spoon or your fingers to remove the seeds.

Place the tomatoes cut side up on the baking tray. Sprinkle all over with salt and drizzle with olive oil.

Place in a slow oven for 2-4 hours until the tomatoes have shrunk and dried but are still soft. Cooking time will vary according to the size of your tomato pieces.

Remove from the oven and allow to cool. Carefully peel away any loose skin.

Store as is in the refrigerator for 3-5 days.

To store the tomatoes for longer, sterilize a small mason jar by filling it with boiling water. Sterilize the lid by pouring boiling water over it. Let both sit for at least one minute before pouring out the water. Carefully fill the jar with tomatoes and then finish by pouring in good quality olive oil until the tomatoes are fully covered. Refrigerate for up to a month.
Recipe Notes
Recipe can be increased as needed