My crazy summer continues.  I have been doing a LOT of traveling and really enjoying myself as I explore new cities and places, and their food.  I realized that while I have traveled around a lot of the world, it has been a long time since I visited many of the cities in the United States. So it has been a treat for me to do some travelling in the United States.  You can follow my travels on Instagram @awomancooks and on this blog in The Adventures of an Asheville Cook.
This week I returned from Cincinnati (Graeter's Ice Cream and Montgomery Inn BBQ Ribs) to find a massive number of lovely fresh ripe tomatoes.
After tomato sandwiches and salads, what next?
We make carrot cakes and zucchini bread and cauliflower pizza base, so why not tomato bread?  That's what I thought to myself as I looked at the giant pile of tomatoes I had just harvested from my garden.  I was thinking about a tea loaf, something sweet and moist and fulled with the spices of the Caribbean: cinnamon, nutmeg and allspice.
Is there any better way to start (or end) the day then with a warm slice of home-baked quick bread, maybe spread with butter or cream cheese?  I think not!
I went to work.
First the dry ingredients:
Flour and sugar and rising agents. (That would be baking soda and baking powder).
Then the spices: cinnamon and allspice and a little nutmeg
Now the liquids: the moisture of the tomatoes could replace any  needed liquid  if I whizzed them up in my processor along with some eggs and vanilla.
The lovely red tomato puree should add a nice color to the bread!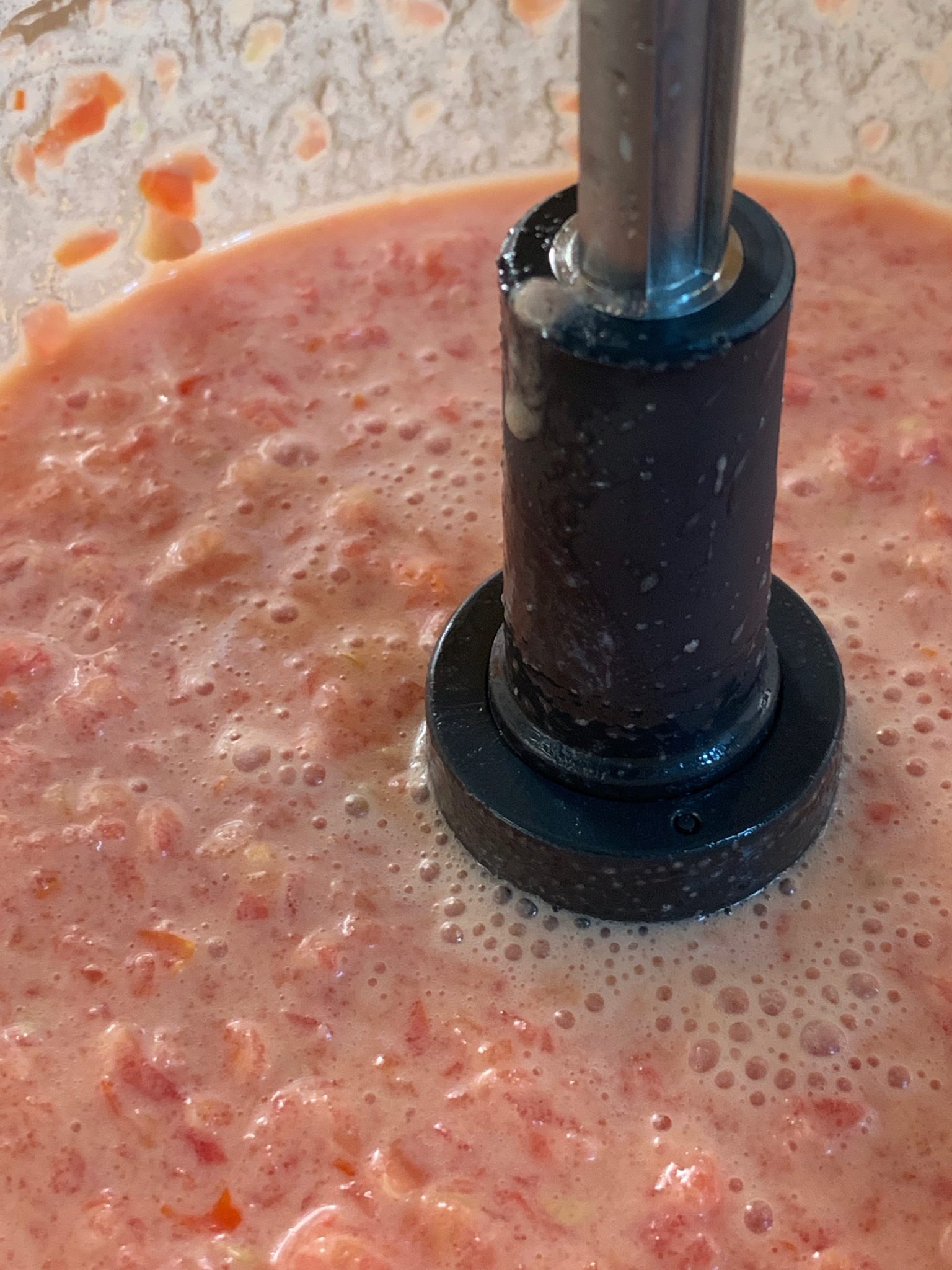 Add some cranberries for a pop of flavor and a little bite.  Some people like nuts as well.  I not a huge fan but you can certainly add some.  Mix it all together until the flour just disappears.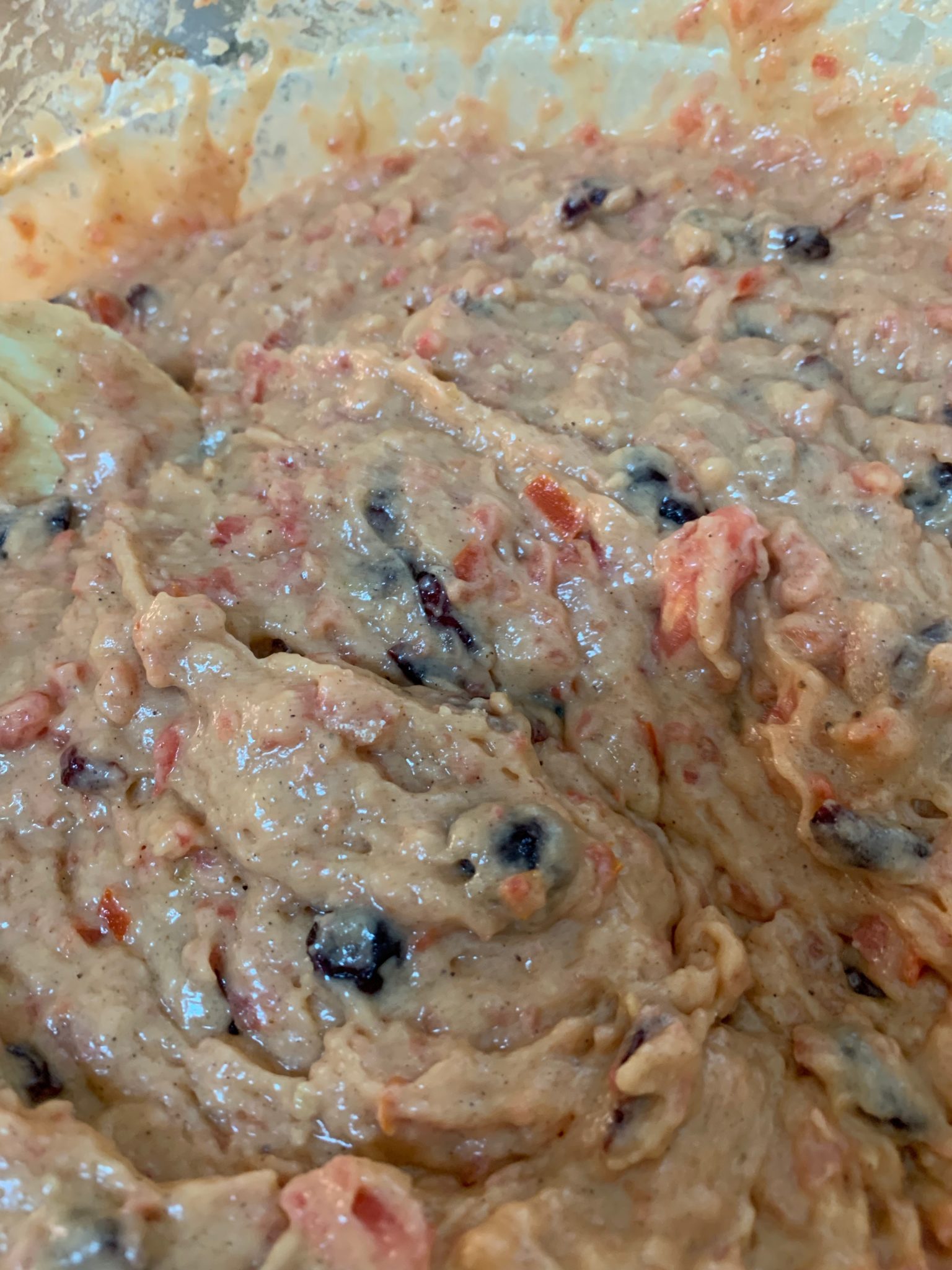 I like to use two 5×9 loaf pans for my Quick Breads, one for me and one to share!  Spread the batter evenly and, if you like, top it with a few slices of fresh tomato.
Cook the loaves until the top springs back when you touch it and a toothpick inserted into the center comes out clean.  Let them cool for about ten to fifteen minutes before carefully turning them out onto a wire rack to cool completely.
The Tomato Bread has a similar texture to carrot cake, moist and slightly sweet with little sweet-sour bites from the cranberries.  Such a unique and flavorful way to capture the best of summer's flavors!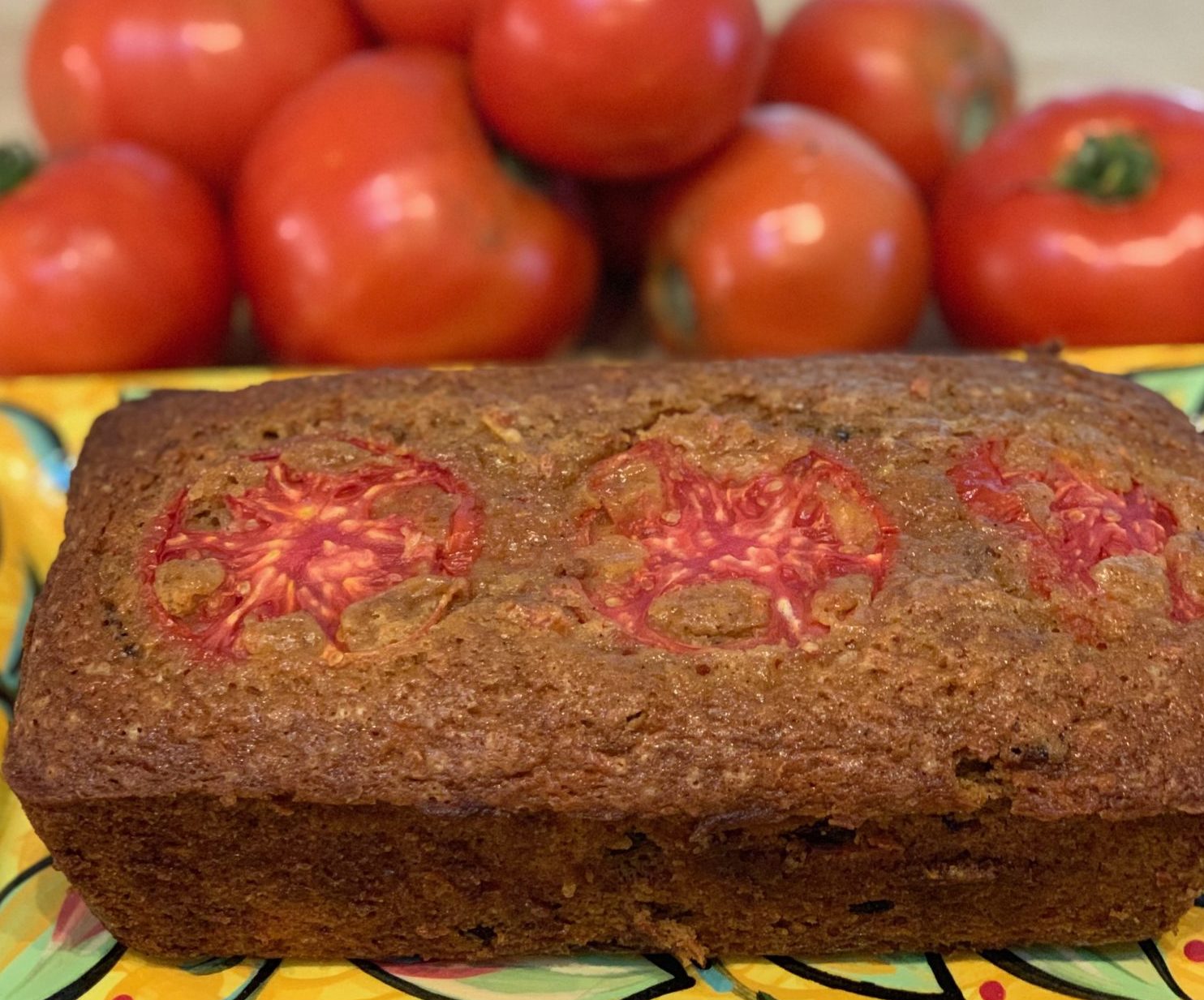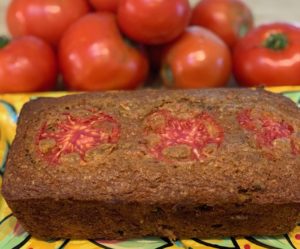 SPICED TOMATO BREAD
Ingredients
4

cups

flour

2 ½

cups

sugar

2

tsp

cinnamon

1

tsp

allspice

1

tsp

nutmeg

1 ¼

tsp

baking soda

1

tsp

baking powder

1

tsp

salt

2

eggs

½

cup

one stick butter, melted

2

tsp

vanilla extract

5

cups

tomato chunks

1

cup

dried cranberries

½

cup

chopped pecans

optional

1 to

mato sliced into ¼" slices
Instructions
Preheat oven to 350 degree. Grease 2 5x9" loaf pans and line the bottoms with waxed or parchment paper.

Ina large bowl combine the flour, sugar, spices, baking powder, baking soda and salt. Stir them together until well combined.

Put the eggs, melted butter, vanilla and tomato chunks in the bowl of a food processor and pulse two or three times until the tomato has broken down. You will still see some pieces of tomato.

Add the tomato mixture to the dry ingredients and fold together with a spatula until the flour has almost disappeared. Add the cranberries and nuts (if using) and continue to fold until everything has combined. Be careful not to overmix it.

Split the batter equally between the two loaf pans. Use the spatula to spread the batter and then top with tomato slices.

Bake in the center of a 350 degree oven for 50-60 minutes until the bread is done. Cool for 10-15 minutes in the pans and then carefully turn out onto a wire rack to cool completely.