You know how I feel about Hot Cross Buns!  But instead of just being disappointed by them, this time I decided to identify where I felt they were lacking and see if I could fix the problems.  And I did it!
My  Hot Cross Buns are smaller in size than the traditional bun, giving each bite a good ratio of honey glazed crust to soft interior.  They are filled with bits of diced apricot, an ingredient with more pop than the humble raisin.  And the dough, made with coconut milk and sweetened coconut flakes, is liberally flavored with vanilla and almond.  Every bite  has a hint of flavor which begs you to take another bite if only to identify what that deliciousness is.
I used my stand mixer to make my dough but you can do it by hand.  Just requires more time and a good amount of kneading!
Put the dry ingredients in the bowl of your mixer (fitted with the bread hook).  Give them a good stir (by hand with a spoon) and then form a bowl in the center of the ingredients.  Add warm coconut milk, the flavorings, melted butter and an egg,  Then start the mixer on low for a minute.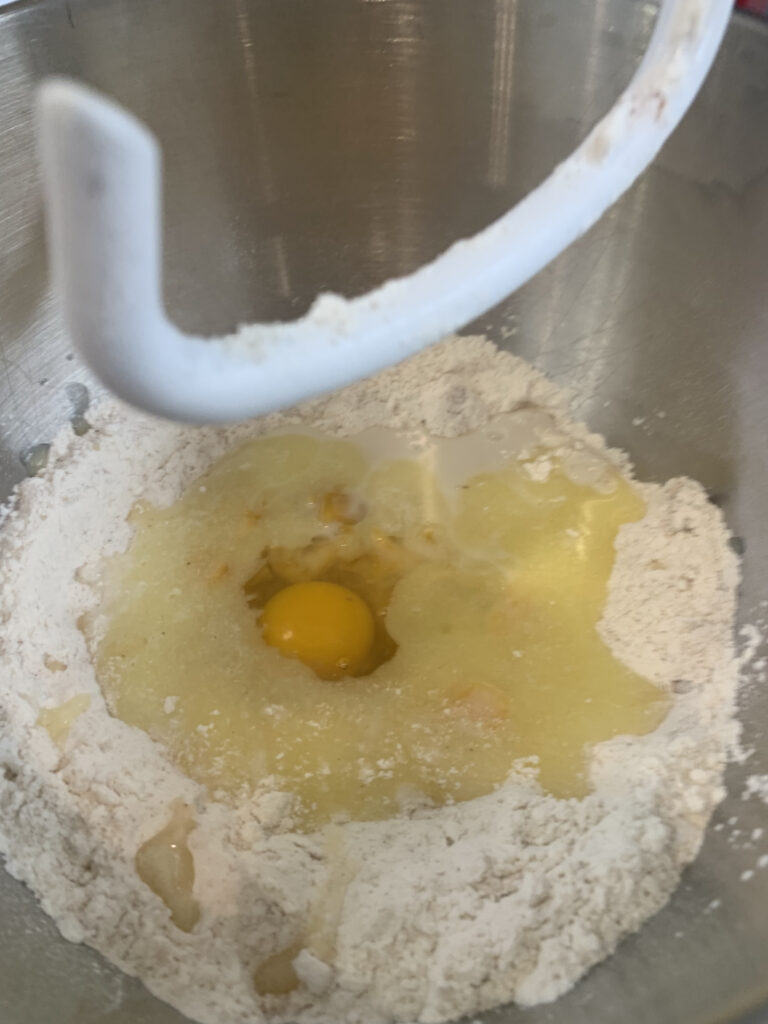 Once the ingredients are incorporated, turn the mixer up to medium or medium-high and knead the dough for 5-10 minutes.
Check the dough about two to three minutes into the kneading.  This is a wet dough but it should, at least initially, pull away from the sides of the bowl.  Add some flour a tablespoon at a time if it is really not coming together.
Halfway through the kneading process, add the diced apricots.
The dough is ready when it is elastic and can be stretched so that you can almost see through it.
Put it in a warm place and let it rise for 1 ½ to 2 hours until it is doubled in size.  How long this rise takes depends on how warm the room is.  I had mine in my oven on bread proofing (100 degrees F) and it took the full two hours.  It may take a little longer if your have it on your counter.
Once the dough is risen, punch it down on a board or counter lightly floured with powdered sugar.  (Using powdered sugar for this step means you are not adding any raw flour to your dough).  Knead it two or three times and then divide it into 24 equal pieces.  I use a scale for this.  But it's okay if you eyeball it.
Grease and line a large baking sheet (or two quarter sheets) with parchment paper.
Roll the pieces of dough into equal sized balls and place them about 2" apart on the sheet(s).  Cover them with plastic wrap and set them aside for the second rise.  The second rise should take about 30-45 minutes.  The buns will double in size.
When they are ready, make a paste of flour, coconut milk and sugar.  Put it in a small baggie, push it down to a corner of the baggie and snip a little bit off the tip.  There's your piping bag.  Use it to pipe a cross on each bun.
Bake the buns for 15-20 minutes, until they are golden brown.  While they are baking, mix together honey and water until the honey is dissolved. This is your glaze.
When the buns are done, move them off the pans to a wire rack to cool and, while they are hot, brush them all over with the honey glaze..
The Hot Cross Buns will keep in an airtight container for three to four days.  Eat them plain, heat them or split them and toast them with butter.  My whole family agrees, these are the bomb!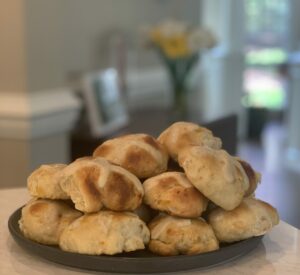 THE BEST HOT CROSS BUNS
Ingredients
For the Buns
1

c

chopped dried apricots

1

c

warm coconut milk

3

c

plus 4 tbsp bread flour

¼

c

sugar

3

tbsp

sweetened flaked coconut

4 ¼

tsp

yeast

1

tsp

salt

2

tsp

vanilla

½

tsp

almond extract

3

tbsp

melted butter

1

egg
For the Crosses
6

tbsp

flour

6

tbsp

coconut milk

1 ½

tsp

sugar
For the Glaze
2

tbsp

honey

1

tbsp

water
Instructions
Put the flour, sugar, flaked coconut, yeast and salt in the bowl of a stand mixer fitted with the dough hook. Stir it together well and make a hollow in the center of the mixture. Add the lukewarm coconut milk, vanilla and almond extracts, melted butter and egg into the hollow.

With the mixer on low, stir for one minute. Increase the speed to medium/medium-high. Initially the dough should come together and pull away from the sides. As you continue to knead it, it will become sticky. If it is very wet, add flour 1 tablespoon at a time, up to 3 tablespoons. If it is too dry, add a little more coconut milk. After 4 minutes, add the diced apricots. Continue kneading for up to a total of ten minutes. The dough will be sticky and stretchy.

Place the dough in a lightly oil bowl, cover with plastic wrap and set in a warm place to rise. Let it rise until it is double in size.( 1 ½ - 2 hours)

When risen, remove the dough from the bowl and punch it down on a counter lightly dusted with powdered sugar. Knead it three or four times.

Split the dough into 24 even pieces. Make a round ball out of each piece and place the buns on a cookie sheet that has been lightly oiled then lined with parchment paper. Leave enough room between each bun for them to rise to double their size. Cover and let rise for 30-45 minutes.

Preheat the oven to 375 degrees.

Once the buns have completed their second rise, make a thick paste out of flour, coconut milk and sugar. Place the paste in a small baggie and push it down into one corner of the baggie. Snip off the corner of the baggie and pipe a dough cross onto each bun.

Bake for 15-20 minutes or until the buns are golden. While the buns are baking, mix together the honey and water, stirring until the honey is dissolved.

When the buns are done, remove them to a wire rack to cool. While they are hot brush them with the honey glaze.

The buns will keep for 3-4 days in an airtight container.

Serve them warm or at room temperature. If you like, cut them in half, toast them and serve buttered.