We've been eating a lot of hamburgers and hot dogs around here lately. It's quick and easy and pleasing to people of all ages.  When it's a spur of the moment meal, I am apt to purchase some sides.  But when I have time, I would rather make potato salad and coleslaw myself. These two recipes are among my most requested from family and friends.
Potato Salad with Olives and Turmeric
Interestingly, when I went to google turmeric, almost everything that came up had to do with the health benefits of turmeric  It has anti-inflammatory and antioxidant properties which may be beneficial for a number of conditions.  But that's not why I use it in my potato salad.  Turmeric is an Indian spice which is often included in curry.  It's not very spicy.  Rather it has an earthy, slightly sweet flavor which picks up on the same flavors in potatoes.  I also love the orange color it imparts to potato salad.
Olives are my second secret ingredient.  It's a play off of pickles which some people add to potato salad.  They have a briny, vinegary flavor which brightens the flavor and cuts the heavy mayonnaise fats.  Salad olives are easy to find, sliced and ready to add to the dish.
The type of potatoes you use is up to you.  I have used Idaho potatoes, Yukon Gold and Small potatoes.  Just make sure you cook them enough.  The baking potatoes will break down more as you stir the salad, giving a creamy consistency to it.  Small potatoes will showcase the other ingredients existing beside them rather than blending in with them.
And when it comes to mayonnaise, down here we only use one type: Dukes, of course!
Vinegar Cole Slaw
If you are serving a mayonnaise based potato salad, you are not going to want an another creamy side.  So I opt for a vinegar based slaw. It's bright and cuts through heavy meals.  Try it sometime with pulled pork.
And the recipe is easy, just seven ingredients!
It starts with a bag of prechopped slaw mix.  I have made it with classic cabbage, cabbage and carrots, and even broccoli slaw.  It always turns out great.
You soften the slaw mix by tossing it in salt and pepper and letting it rest for an hour.  Then pour on hot vinegar and sugar brine with the flavorings. Add the oil.  Mix it together well and let it chill.
Time to light the grill!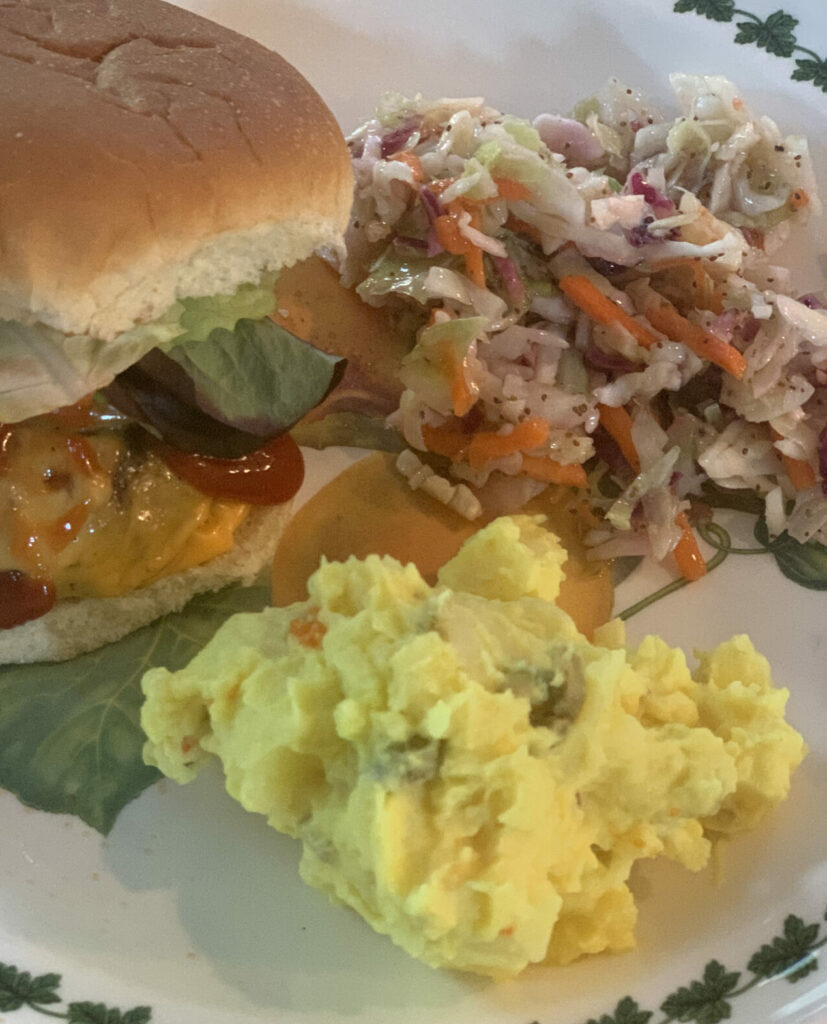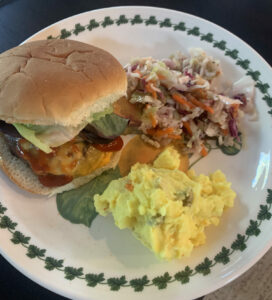 POTATO SALAD WITH OLIVES AND TURMERIC
Ingredients
5

lbs

potatoes

½

c

salad olives

1/3

c

red onion

diced

2/3

c

mayonnaise

1

tsp

Dijon mustard

1

tsp

turmeric

1

tbsp

salt

1

tsp

pepper

1

tsp

brine from the olives
Instructions
Wash the potatoes.

Cut the larger potatoes in half so that all of them are roughly the same size.

Put the potatoes in a large pot, cover with water and bring to a boil. Reduce heat and simmer for 20 minutes or until the potatoes are fork tender.

Drain and cool until the potatoes are easy to handle. Peel the potatoes and slice into thick pieces.

In a large bowl mix together the mustard, mayonnaise, turmeric, salt, pepper, and brine.

Add the potatoes, onion, and salad olives.

Use a large spoon to mix the salad together, being careful not to break up the potatoes too much.

Chill. Once the potato salad is cold, taste and adjust the seasoning as needed.
Recipe Notes
Notes: This recipe can be halved to serve eight. The potatoes can be diced if preferred. Use your favorite mayonnaise. Down South it's Duke's Mayo. 100% of the way!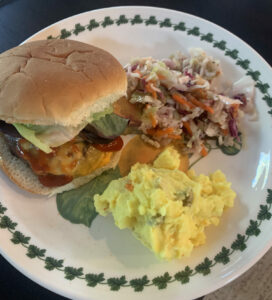 VINEGAR COLESLAW
Ingredients
1

bag prechopped coleslaw mix

1

tsp

salt

½

tsp

pepper

½

c

apple cider vinegar

½

c

sugar

½

tsp

mustard powder

1

tsp

celery seeds

¼

c

canola oil
Instructions
Toss the cabbage in the salt and pepper in a heat-proof medium bowl. Cover and refrigerate for an hour.

Heat the vinegar, sugar, mustard powder and celery seeds over medium-high heat, stirring until the sugar is dissolved. Bring to boil and pour over the cabbage mix.

Add the canola oil and stir until mixed thoroughly.

Chill for at least two hours before serving.
Recipe Notes
Notes: Can be doubled.Can be made the day ahead.