I drove back up the mountains the other night, returning from Charlotte, the airport and another trip.  The sky was clear, the light just fading and lightening flashed in the distance.  I smelt the clean air and watched the temperature drop and I was happy to be home.
Home means my town, my house, my cat, my friends, and my garden.
And this year that garden is not going to get away from me!  Weeds are not going to take over.  Tomatoes will not spread recklessly everywhere, and zucchini will fight back against mold and bugs.
In return the garden is gifting me with quantities of produce I have never had before.  Beginning with zucchini (of course).
This was the time to try my new pastry recipe! (Details here)
Pastry successfully resting in the refrigerator, I go to work on the filling.
I slice and half three zucchini, put them in a colander, toss them with salt and leave them to drain for an hour.
Out in the garden I gather large handfuls of fresh thyme.  Picking the fine thyme leaves off the stem is always a pain but it is so rewarding for the flavor and smell they add to a dish.  It is easiest to strip them off by pulling your fingers up the stalk.  The top leaves may come off with a little stem but the stem is quite soft there and it won't matter.
Once the squash has drained, I dry them with a paper towel and spread them out on a roasting sheet.  Drizzle the slices with some olive oil and sprinkle with fresh thyme.  I give it a good stir and then roast the squash for 20 minutes—just enough to soften them and give them a little caramelization.
I cut the pastry into eighths (like cutting a pie).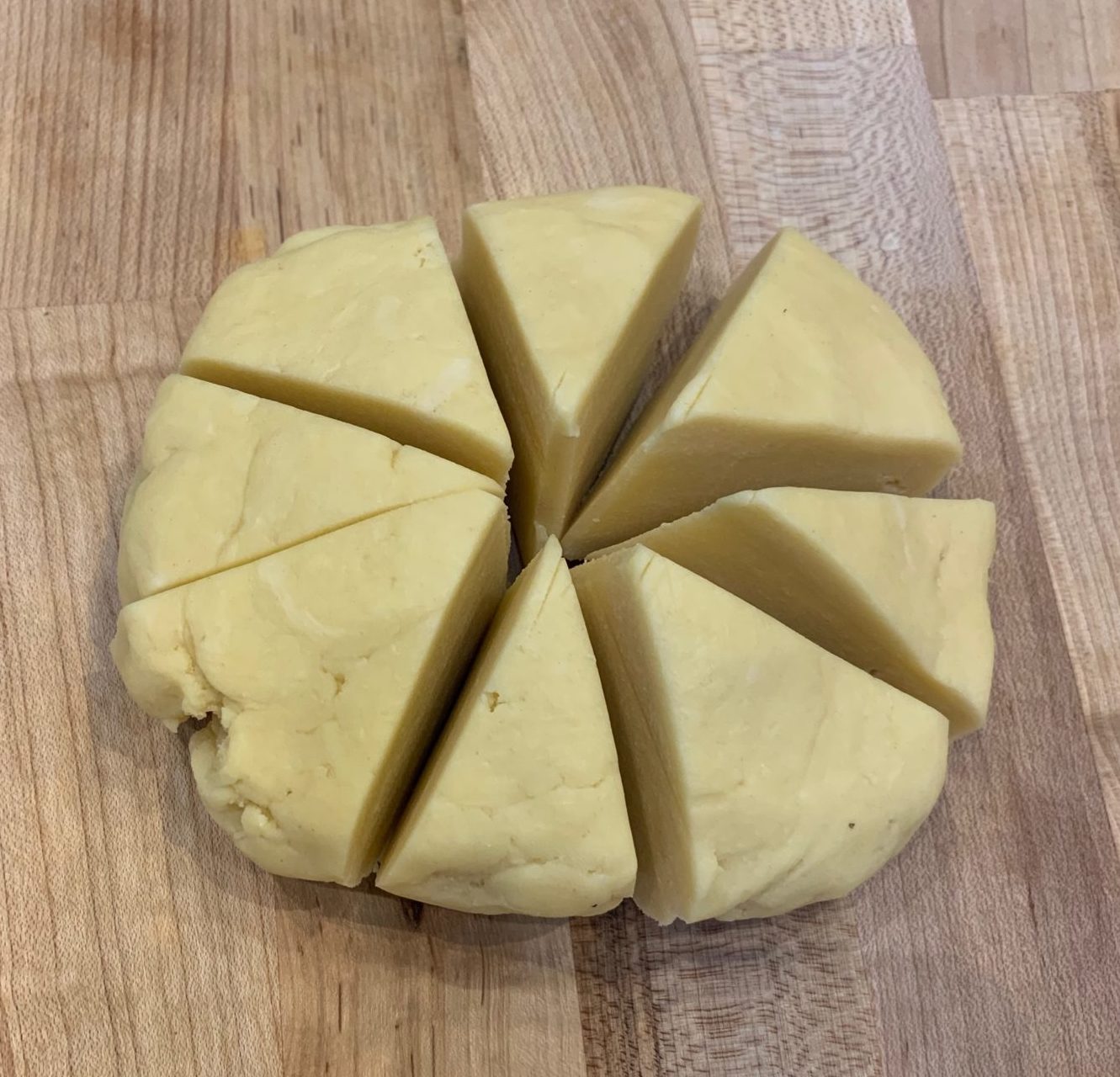 I want to incorporate thyme leaves into the pastry itself so I pile some leaves on top of each piece before I start rolling.
Each little galette gets topped with zucchini and feta then folded up into a little open packet.
Brush with egg wash and into the oven.
MMMMmmmmm  My kitchen smells delicious!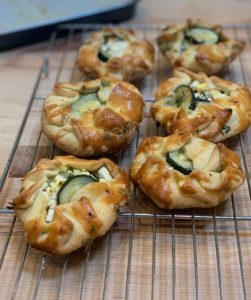 ZUCCHINI AND FETA GALETTES WITH FRESH THYME
1 batch Laura Cole's Pastry (see below) 2-3 medium zucchini 2 tsp kosher salt ¼ cup fresh thyme leaves 1 tbsp olive oil 8 tbsp feta, crumbled 1 egg, whisked
Ingredients
1

batch Laura Cole's Pastry

see below

2-3

medium zucchini

2

tsp

kosher salt

¼

cup

fresh thyme leaves

1

tbsp

olive oil

8

tbsp

feta

crumbled

1

egg

whisked
Instructions
For the Filling
Slice and cut in half the larger pieces of zucchini. Toss with salt and place in colander over a plate or in the sink to drain for an hour.

Preheat oven to 450 degrees.

Blot the zucchini dry with paper towels and spread on a roasting sheet. Dribble with olive oil and sprinkle with thyme leaves. Stir everything together making sure to coat each piece. Roast for 10-12 minutes until the zucchini is just starting to brown, remove from oven to cool.
To assemble the galettes
Line a baking sheet with parchment paper.

Cut each disk of pastry into eight pieces.

Working with one piece at a time, roll lightly into a small ball. Flatten the ball slightly with you hand and top with 1 tsp fresh thyme. Roll the pastry out into a 6-7" circle. It doesn't have to be perfect.

Top the pastry with 4-5 slices of zucchini and 1 tablespoon of crumbled feta. Fold up the edges of the pastry, pleating as you go to make it flat.

Repeat until all of your galettes are assembled.

Brush each galette with egg wash and bake on the prepared sheet for 20 minutes until the pastry is well browned and the bottoms are cooked.

Can be served hot or at room temperature.