I bet you all are just waiting for tomatoes to come in so you can stop hearing about zucchini.  But zucchini doesn't care.  Zucchini is the gift that keeps on giving.  Last week I decided to really go after my plant and make a dinner based on zucchini.  I started with Zucchini Fritters with Burrata, Basil and Tomatoes followed by some Squash Blossom Quesadillas and a Kale Salad.
Zucchini Fritters
Using the coarse shred side of a grater, shred the zucchini and toss it in a little salt.  Then place it in a sieve to drain for ten minutes.  You want the zucchini to be as dry as possible so after it has drained, use your hands to squeeze out as much liquid as you can.
Mix flour, eggs, some chopped onion and a little salt together in a bowl.  If you like, you can add some fresh herbs.  Basil is obvious but thyme, cilantro, tarragon, even mint will add a pop to your fritters.
Add the zucchini and toss it all together lightly.  Try not to compact it too much so your fritters don't become too dense.
Heat oil in a pan and scoop balls of the zucchini mixture into the hot oil.  Use a spatula to press the zucchini balls lightly down into rounds.
Let them cook for two-three minutes on a side.  You will see them getting brown on the side when they are ready to flip.
The fritters will hold in a warm oven while you prepare the quesadillas.
When you are ready to serve them, top them with fresh tomatoes and basil. Cut open a burrata and scoop out the creamy interior and put a dollop on top of the tomatoes.
Drizzle with a little Balsamic vinegar if you like.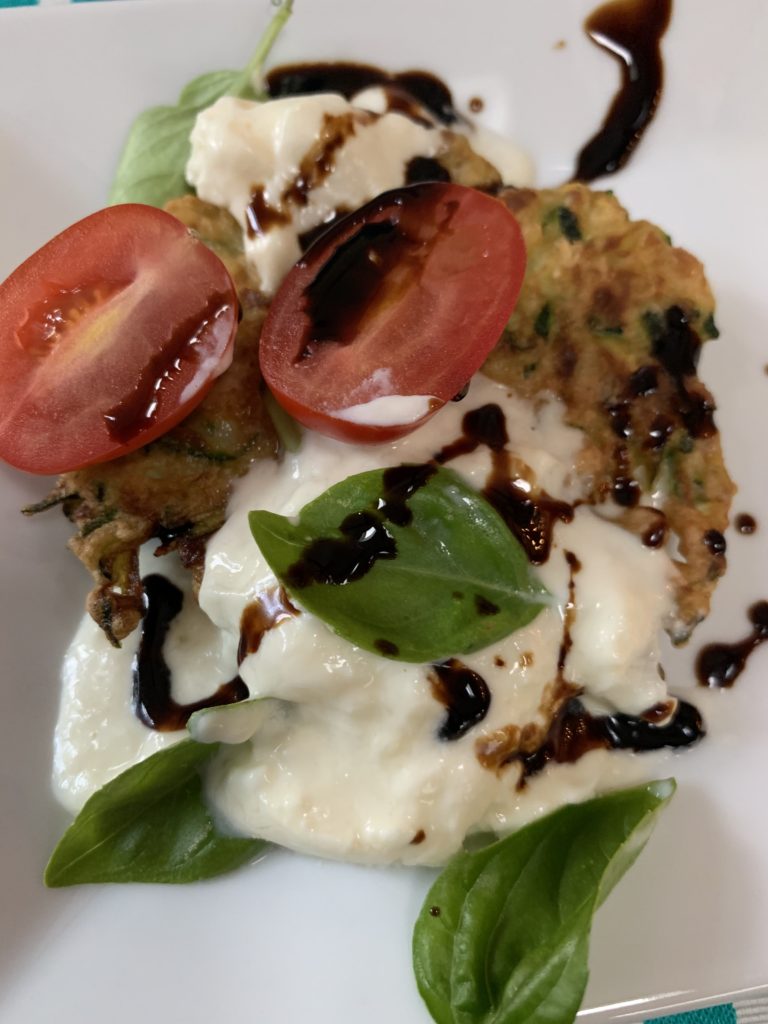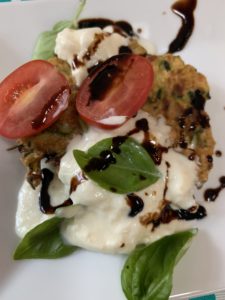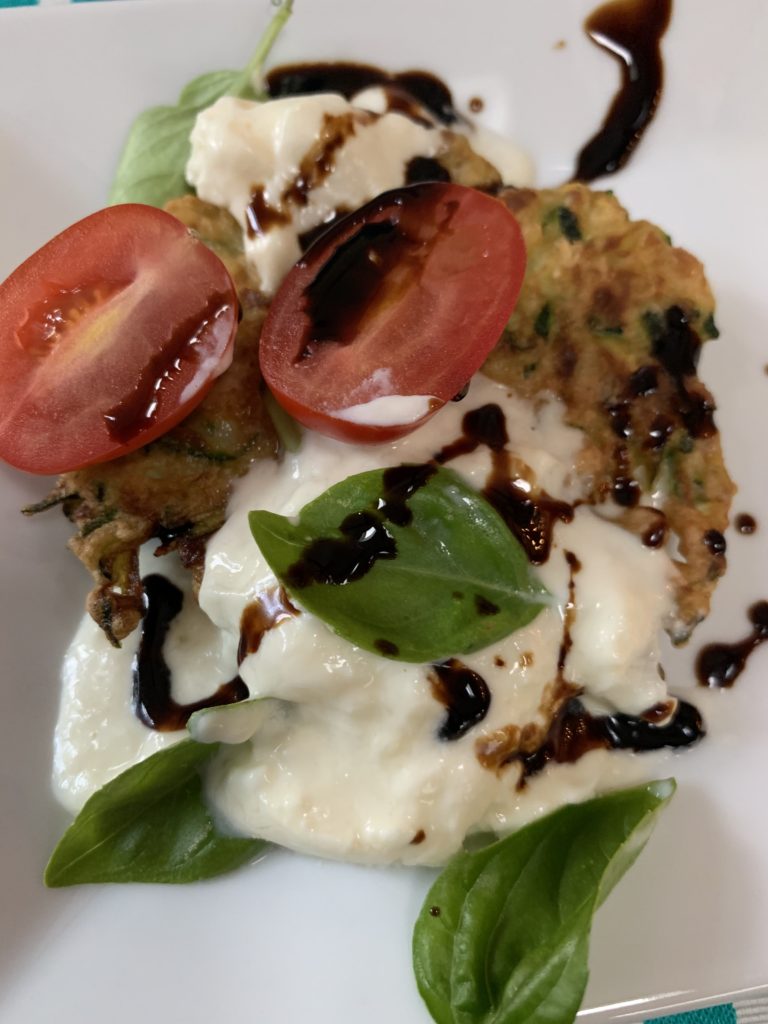 ZUCCHINI FRITTERS WITH BURRATA, BASIL AND TOMATOES
Ingredients
2

c

coarsely shredded zucchini

1 medium zucchini

1/3

c

flour

1

egg

2

tbsp

minced red onion

1

tbsp

fresh herbs

optional

Salt

I/2 c cherry tomatoes

halved

¼

c

small basil leaves

1

Burrata

Balsamic vinegar

Olive oil
Instructions
Coarsely shred the zucchini, sprinkle lightly with salt and place in a sieve to drain for ten minutes or more. Using your hands squeeze the zucchini to remove as much liquid as possible.

Place the flour, egg, red onion and optional herbs in a bowl and mix together well. Add the zucchini and stir together with a fork until well mixed.

Heat a film of oil to hot in a sauté pan over medium heat. Use a ¼ c size measure to scoop zucchini into the hot oil. Flatten lightly with a spatula.

Cook for two to three minutes on a side until browned and cook through.

Serve immediately or keep warm until needed.

To serve, top each fritter with some tomato halves and some of the basil leaves. Cut the burrata in half and use a spoon to scoop out the creamy interior. Put a dollop of burrata on each fritter.
Squash Blossom Quesadillas
Typically I stuff my squash blossoms and fry them but I wanted to try something different.  I was so surprised when I found out that Squash Blossom Quesadillas were a thing.  Apparently squash blossoms are sold by the basketful in the markets in Mexico.
It's okay if you don't have any squash blossoms. The flowers add color and a little squashy flavor but the quesadillas are still good without them.
Zucchini flowers are ephemeral.  They wilt in the heat of the day and come back overnight so try and pick your blossoms in the early morning while the dew is still on them.  Give them a quick rinse and put them on a paper towel on a plate. Cover with another paper towel and keep them in the refrigerator until you need them.
Roast garlic and jalapenos over medium heat until they soften and the skin turns black.  Let them cool, then peel off the skins and mash them together into a paste.  This mixture will be very spicy but once added to the cheese the heat is moderated. I mixed everything else together first then added into jalapeno and garlic a little at a time, tasting as I went along until I a got a balance of heat and flavor I liked.
In a bowl crumble the queso with your fingers.  You can substitute feta if you can't find queso.
Mix in the herbs and the chopped prosciutto.  Stir in the chili mixture a little bit at a time, mixing well after each addition.  Taste it after each addition, stopping when you start to feel the heat come through.
Clean the zucchini flowers by removing the bases and the pistils from the centers.  Lay them flat and cut them into strips then dice them.
Add the flowers to the cheese mixture and season with salt.
Spread the cheese mixture onto a flour tortilla and top with another tortilla.  Cook the tortillas in a dry skillet over medium heat until they are browned on both side and the cheese is melted.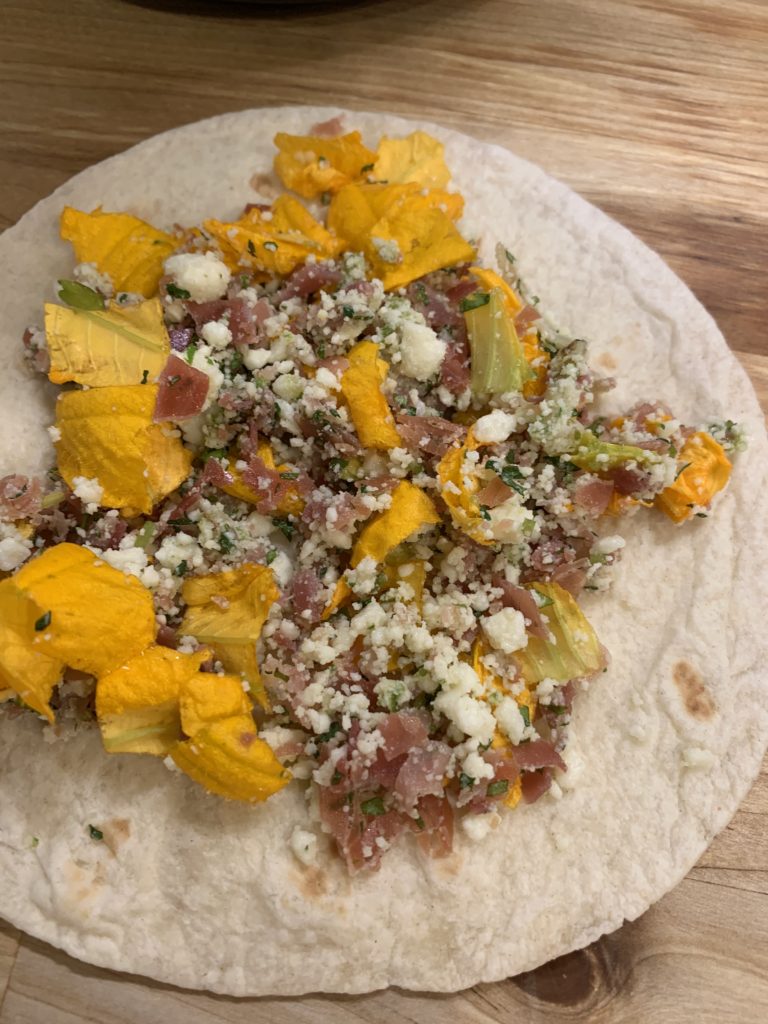 You can serve them with a little tomato salsa and sour cream or some Pico do Gallo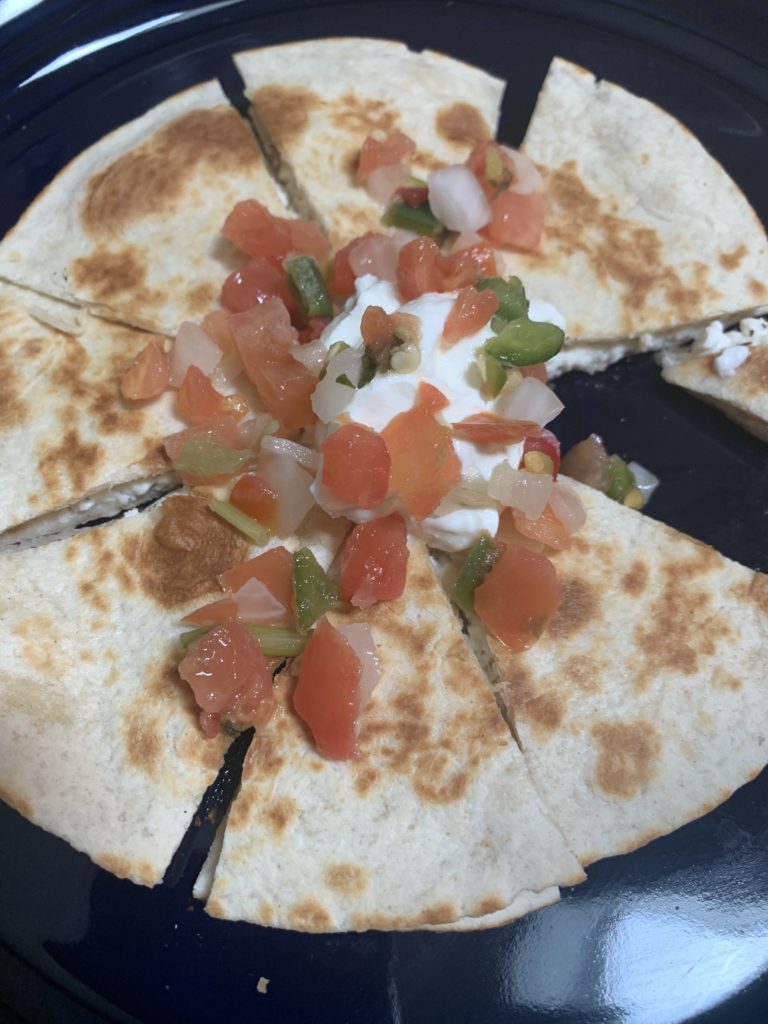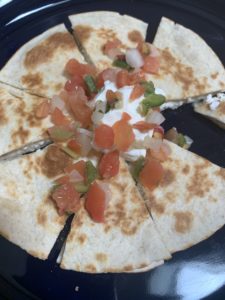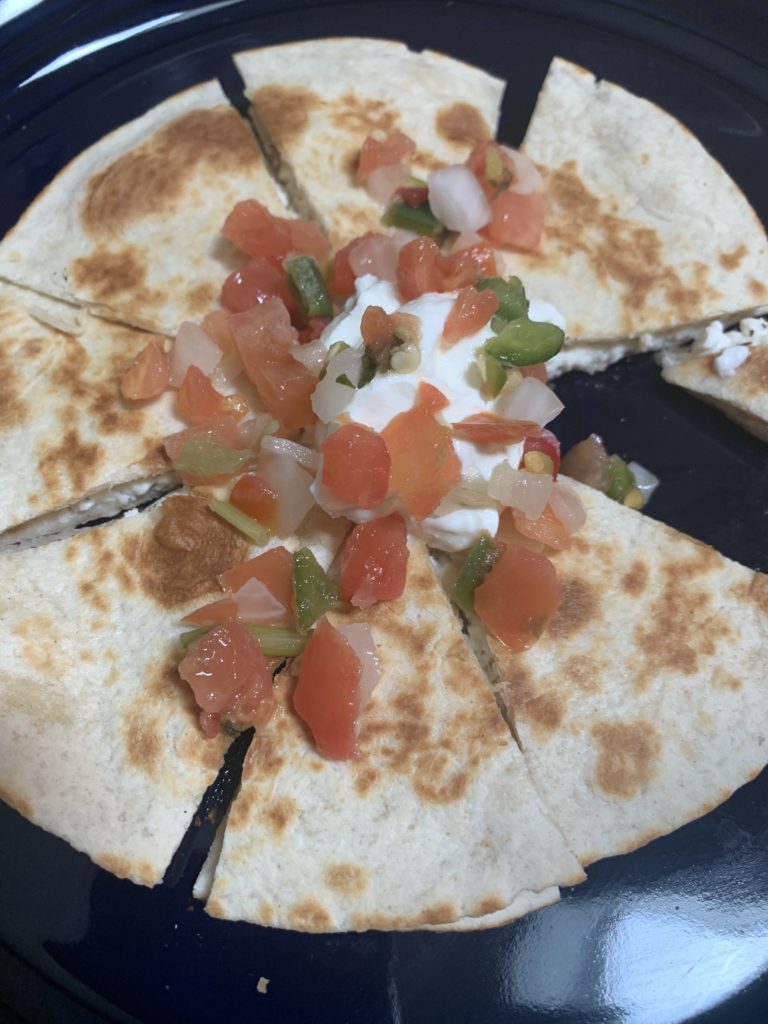 SQUASH BLOSSOM QUESADILLAS
Ingredients
1

clove

garlic

1

medium jalapeno

½

cup

3 oz packed queso fresco or feta

1

tbsp

minced cilantro

2

slices

prosciutto or dried ham

8

squash blossoms

8

flour tortillas
Instructions
Put the unpeeled garlic clove and the jalapeno in a dry saute pan over medium heat. Cook, turning as needed, until browned and soft. Cool slightly. Peel the garlic clove and remove the seeds and stem from the jalapeno. Mash together in a bowl until well blended.

In another bowl, crumble the cheese with your fingers until soft. Add the cilantro and ham and season with salt and pepper. A little at a time, add the jalapeno and garlic, tasting as you go along until it has a heat you like.

Clean the flowers by removing the stem end and pulling out the pistils inside. Lay them in a pile and slice, then dice them into ½ to 1" dice.

Add the squash flowers to the cheese.

Spread the cheese evenly on four tortillas and top with another tortilla.

Cook the quesadillas for 2-3 minutes on a side until browned and crunchy and the cheese is melted.

Serve immediately topped with sour cream, salsa and/or pico de gallo.