A quick and easy recipe for Kale Salad with Dried Cherries and Pistachio Nuts
I have never been a huge fan of Kale.  I'll eat it.  Sometimes I will even choose a Kale salad off the menu. But I don't usually buy it.  It always seems like a lot of work: stripping off the leaves and massaging them to a squishy mess. It never felt compelling enough to me.
Then my daughter asked if she could have one of my raised beds in which to plant some seeds.  Of course I said yes. Now, thanks to her, I have mustard greens and kale (and even watermelon!).
Lately I have been harvesting the Kale every few days as removing the outer leaves gives the inner leaves a chance to grow.  There is Kale for Sarah and Kale for me, and for anyone else who wants some!  I have discovered that, like so many things, freshly picked Kale is more tender and has a slightly sweeter flavor than the Kale I am able to purchase at the store.
This is a salad I make all the time. It's quick. Yesterday I went from picking the Kale to eating lunch in less than twenty minutes!  You can switch out the cherries and pistachios for other fruits and nuts.  I use pretty much whatever type of cheese I have in the fridge.
Rinse the Kale and shake off any water droplets.  Then make a little pile of the leaves and cut along the stem on both sides.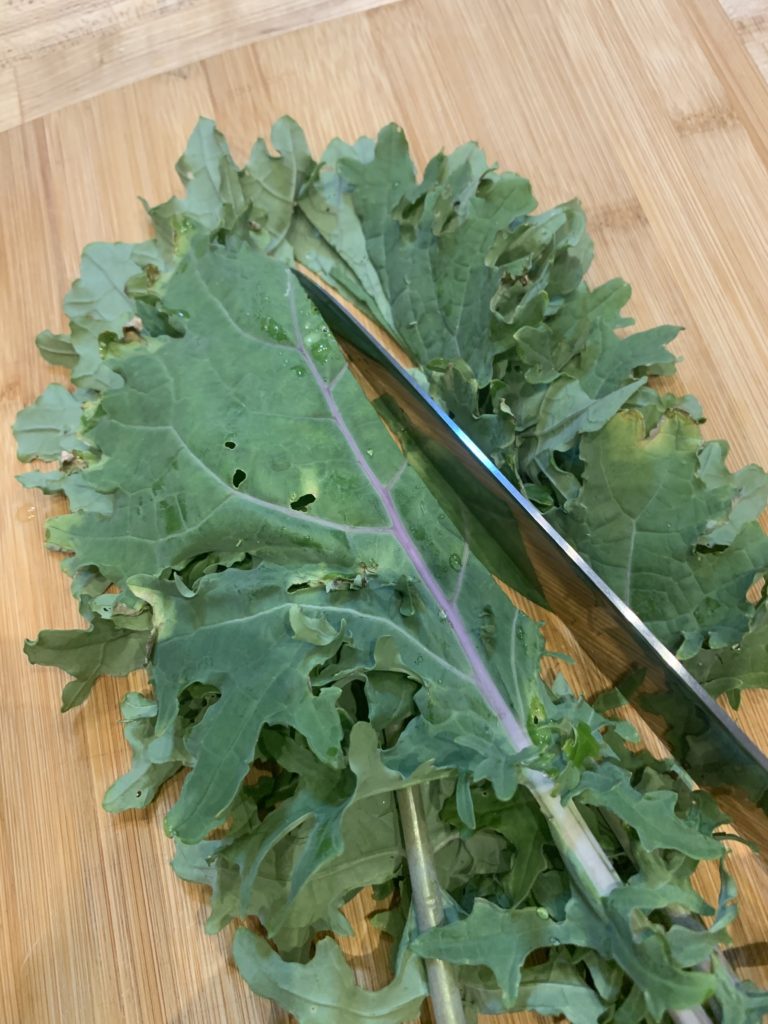 If the leaves are small, you can use them as they are.  If not, you may want to cut them in to smaller squares.
Now put them in a bowl and drizzle a little olive oil over them along with a sprinkle of salt.  Use your hands to rub the oil and salt into the leaves for about one minute. This breaks down some of the tough fibers of the Kale and makes it easier to digest. This is especially important if your stomach is bothered by cruciferous vegetables like cabbage and broccoli.
Add nuts, dried fruit and cheese.
Make a salad dressing (in this case I used fresh lemons for their bright flavor).  I like to mix my salad dressings in a small mason jar.  Vigorous shaking will emulsify the dressing easily and any remainder can be stored in the fridge in the jar.
Pour the dressing over the Kale and toss the whole thing together.  Serve the Kale in a bowl and watch your family go after it!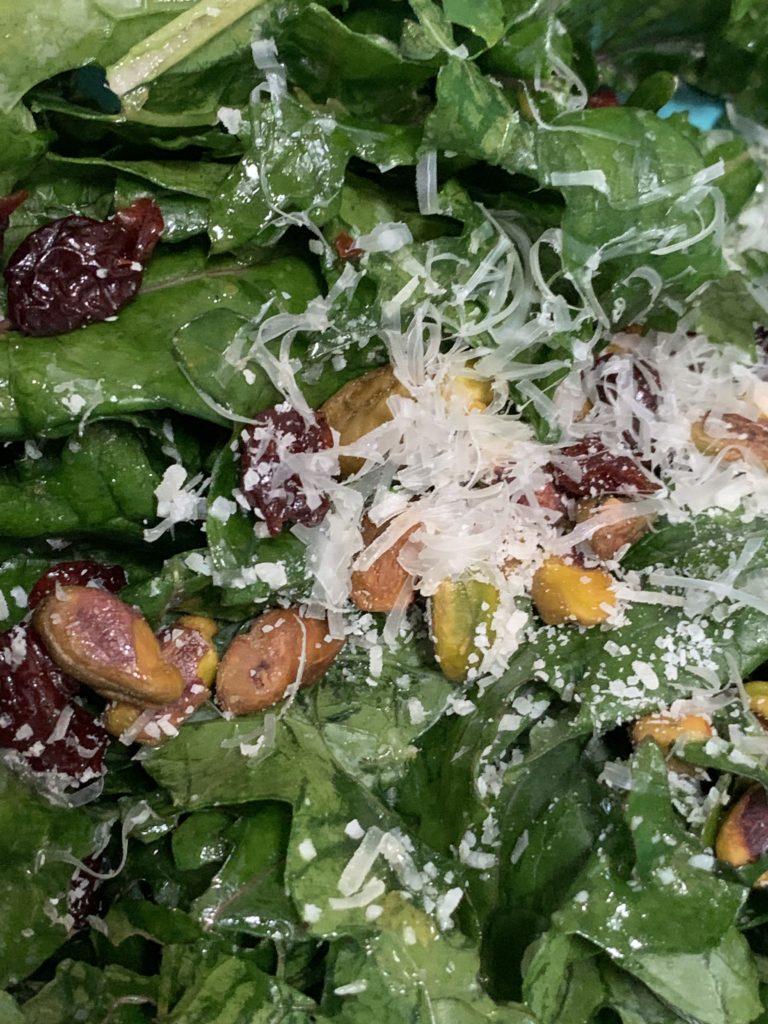 Now does anyone have a good idea for mustard greens?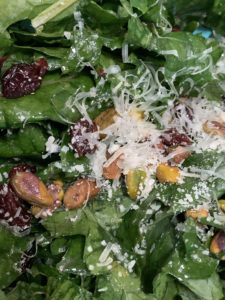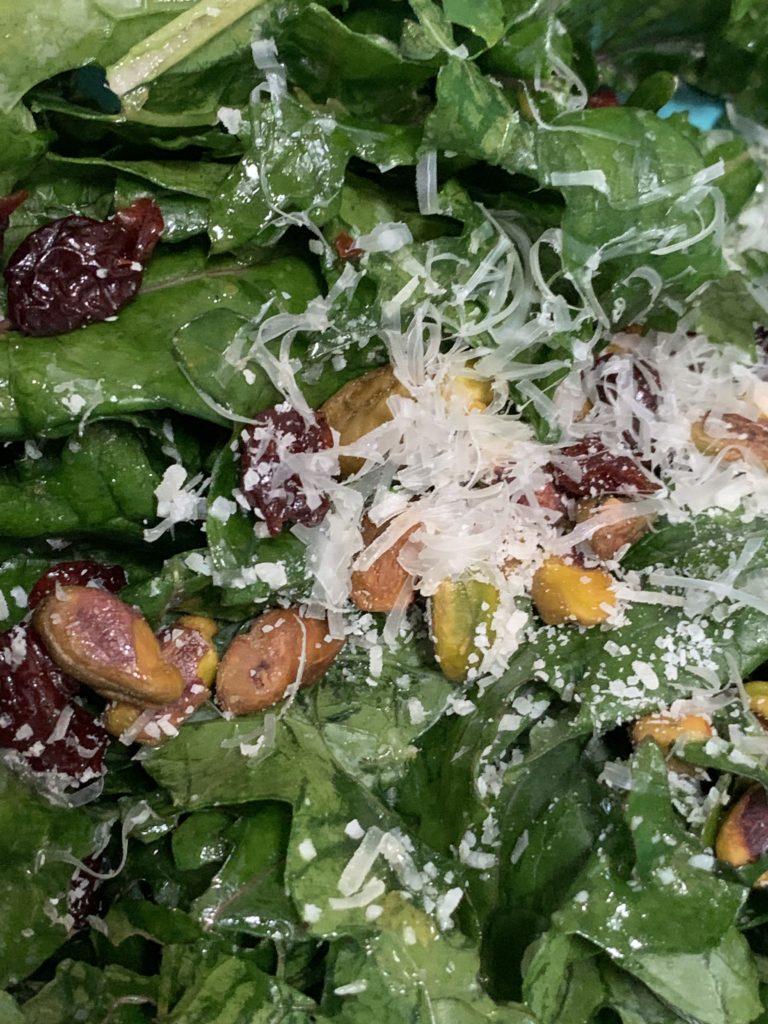 PISTACHIO AND DRIED CHERRY KALE SALAD
Ingredients
For the salad
10-20

large Kale leaves

1

tbsp

olive oil

¾

c

dried cherries

½

c

shelled pistachios

1

cup

cheese

Parmesan or feta
Lemon Dressing
2

large lemons

¼

c

red wine vinegar

¼

oil

1

tbsp

honey

Salt and pepper
Instructions
Assemble the salad
Make a pile of the Kale leaves and use a sharp knife to cut along the stem and separate it from the leaves. If the leaves are quite large, use your knife to cut them in halves or quarters

Put the leaves in your salad bowl and drizzle a tablespoon or so of olive oil over them. Sprinkle with a little salt. Use your hands to rub the oil and salt into the leaves. They will become dark green and soft. Allow the leaves to sit for five minutes or so while you make the dressing.

Chop the cherries if they are large and add them to the Kale along with the pistachio nuts and most of the cheese.

Pour half of the salad dressing over the salad and toss well. Save the remainder of the dressing for another salad.

Serve the salad in bowls and top with the reserved cheese.
Lemon Dressing
Zest and juice the lemons. Put the juice and zest in a mason jar along with the other ingredients and shake vigorously until the dressing is well mixed/