I started this week with the best of intentions.  I thought that everyone must certainly be tired of Quarantine Baking so I planned to write a blog about something meaty, maybe something on the grill, something far removed from bowls and ovens and flour.  Then I went out the garden and found the zucchini had decided this was the time to begin.
Even then, my intention was not to start with zucchini bread just yet.  I thought I would collect a number of recipes and then do baker's choice for you all.  But that was before I tasted this zucchini bread.
This zucchini bread is moist, super moist.  It teases your mouth with a hint of lemon and pops of spicy ginger.  And in the back of all there is a flavor, a good flavor, a flavor that asks "what is that??" (It's cardamom!)  I made it and I thought, "Damn that's good!".
My choice became binary.  Do I write about a perfectly good burger recipe with less than total enthusiasm or do I write about summer's bounty brought to you with fresh flavors and joy?  What do you think?
Zucchini–grated finely, olive oil, lemon zest, candied ginger and cardamom, that's what it takes to lift this  summer squash use-it-up staple to a wow.
Start by assembling your ingredients.  Grate the zucchini using the fine side of a box grater.  You can put it aside in a bowl for super moist bread or let it drain in a sieve if you like a little more body.
Zest the lemon and add it to the zucchini. Chop crystallized ginger into a ½ inch dice—you want to know when you find a piece of ginger in this bread.
Put the flour, baking powder, baking soda and salt in a bowl and mix it together really really well.  At my house, in the summer, the baking soda can form clumps from the humidity. It's important to break it up and make sure it is well distributed.  Is there anything worse than biting into a yummy muffin and hitting a clump of baking soda?
Put the olive oil, maple syrup and brown sugar in bowl and beat that together until it's mixed.
Here's a tip:  measure the oil into a measuring cup first and pour it into the bowl and then use the same measuring cup, without cleaning it, to measure the syrup.  The residual oil in the cup will help all of the sticky syrup  pour out of the cup.  No scraping needed.  This works well with honey and molasses too.  In fact, if the recipe doesn't call for oil, I will spray the measuring implement for sticky things with oil anyway!
Add the eggs and vanilla and mix it up again until it is thick and there is no egg showing.
Put all the flour mixture into the wet stuff and mix it in.  Once it is almost fully mixed add the zucchini, lemon zest and ginger and continue to mix it until everything is just mixed.  You don't want to over-mix it!
Bake it until the top springs back and a toothpick or skewer comes out clean when inserted into the middle.
Let it cool in the pan for 10-15 minutes and then turn it out onto a wire rack to cool completely.
Slice a piece for yourself and smile!!!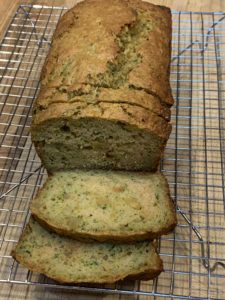 THE BEST OF INTENTIONS ZUCCHINI BREAD
Ingredients
2

c

flour

1

tsp

baking powder

½

tsp

baking soda

½

tsp

salt

1

tsp

ground cardamom

½

c

olive oil

½

c

maple syrup

1/3

c

brown sugar

2

eggs

Lemon zest from 1 lemon

1

tsp

vanilla

½

c

chopped crystallized ginger

2

c

finely grated zucchini
Instructions
Preheat oven to 375 degrees. Spray an 8" x5" loaf pan with oil.

Mix the flour, baking powder, baking soda, salt and cardamom together in a bowl.

Finely grate the zucchini and zest the lemon.

Chop the ginger into large-ish dice.

In a good size bowl beat together the oil, syrup and brown sugar until well mixed. Add the eggs and vanilla and beat until it holds together and thickens.

Add the dry ingredients to the egg mixture and fold it in. When it is almost incorporated add the zucchini, lemon zest and ginger. Continue folding until all of the flour is mixed in and the zucchini and ginger is evenly distributed.

Pour the batter into the prepared pan and bake in the center of the preheated oven until done, 45-70 minutes. The top will spring back when touched and a toothpick inserted into the center will come out clean.

Let cool for 10-15 minutes in the pan then turn the loaf out onto a wire rack to cool completely.