Apple Pie
        My mother took the phrase "Mom and Apple Pie" to heart.  I don't know if it was because we lived near an apple orchard or if she had a genuine love for apple pie but we ate a lot of apple pie growing up.  Fortunately she made a great apple pie.
Her apple pie was filled with apples, not flat thin slices but big chunks of apple.  Her pastry was a high dome of crust over cinnamon, sugar and apples and nothing else.  To me this is how an apple pie should be.  (And apparently to my children as well. Once my daughter was looking at table full of pies brought to a Thanksgiving gathering of friends and she turned to me and asked, "What's with all the flat pies?")
If there is a pie that should be at Thanksgiving it is apple pie.
So that's where I am going to start.
You will need a double pie crust. (For instructions and the recipe please go to All About Pie: The Pastry).
And you will need apples.  For my pie, I use two different types of apples, Granny Smiths and Pink Ladies.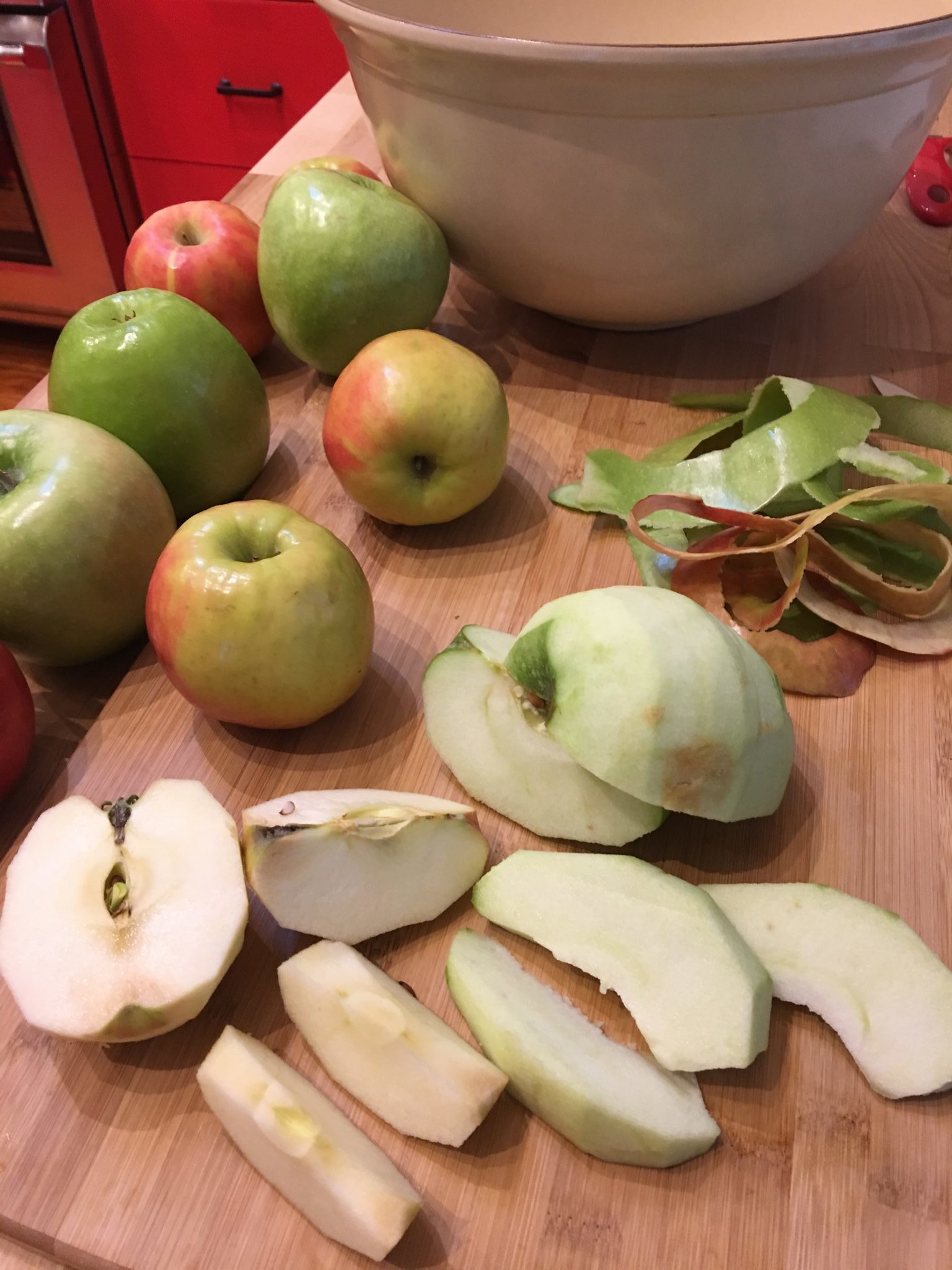 The Granny Smiths are a given.  It is a firm apple with fairly good flavor, a slight tang and the distinct advantage of being readily available almost everywhere.
For the second apple, you are looking for something with a sweeter flavor and color.  Northern Spy is the classic New England pie apple but Cortlands are good as are the Pink Ladies I used.  Find an apple you like and try it out!  You can even mix three varieties if you like. Here is a good link to some of the more available apples and how they stack up in a pie  
Peel the apples and cut them into quarters or halves depending on how big the apples are.
How many apples you use is up to you.  I start with four to six large Granny Smiths and six to eight of the somewhat smaller Pink Ladies.  Once the pie is filled I may add another apple or two if I think it needs it.
Once the apples are ready toss them with ¾ cup of sugar (more if your apples are very tart) a teaspoon of cinnamon and a good pinch of salt.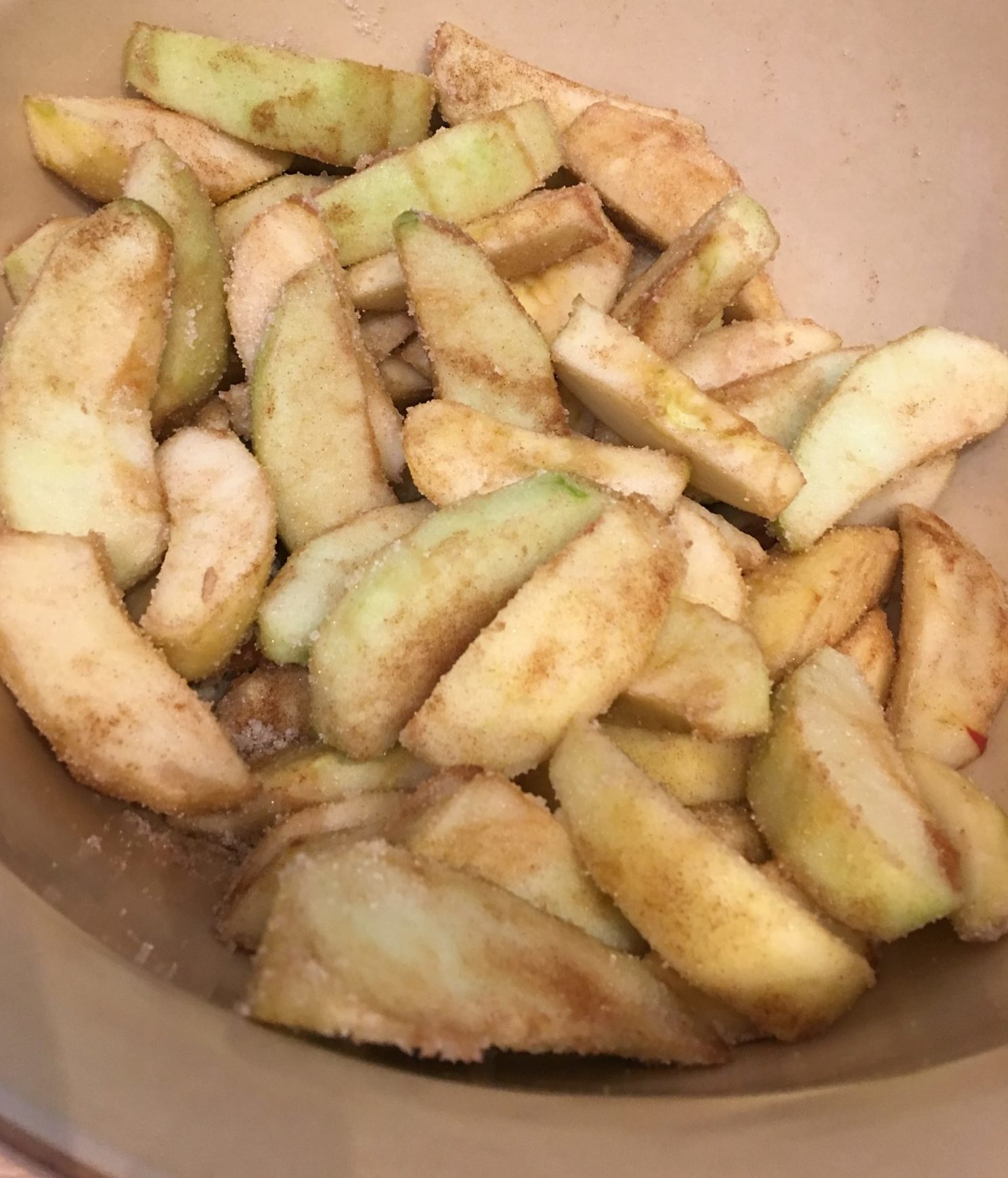 Then set the mixture aside to rest while you roll your pie crust.
(Optional:  my family likes to eat cheese with their fruit pie.  It's a New England thing. "An apple pie without the cheese is like a kiss without the squeeze." Sometime I offer a sharp cheddar on the side and sometimes I spread grated cheese on the bottom crust before I add the apples.  If you have never tried the combination, you should!)
Fill the crust with apples and top with some slices of butter before adding the top crust.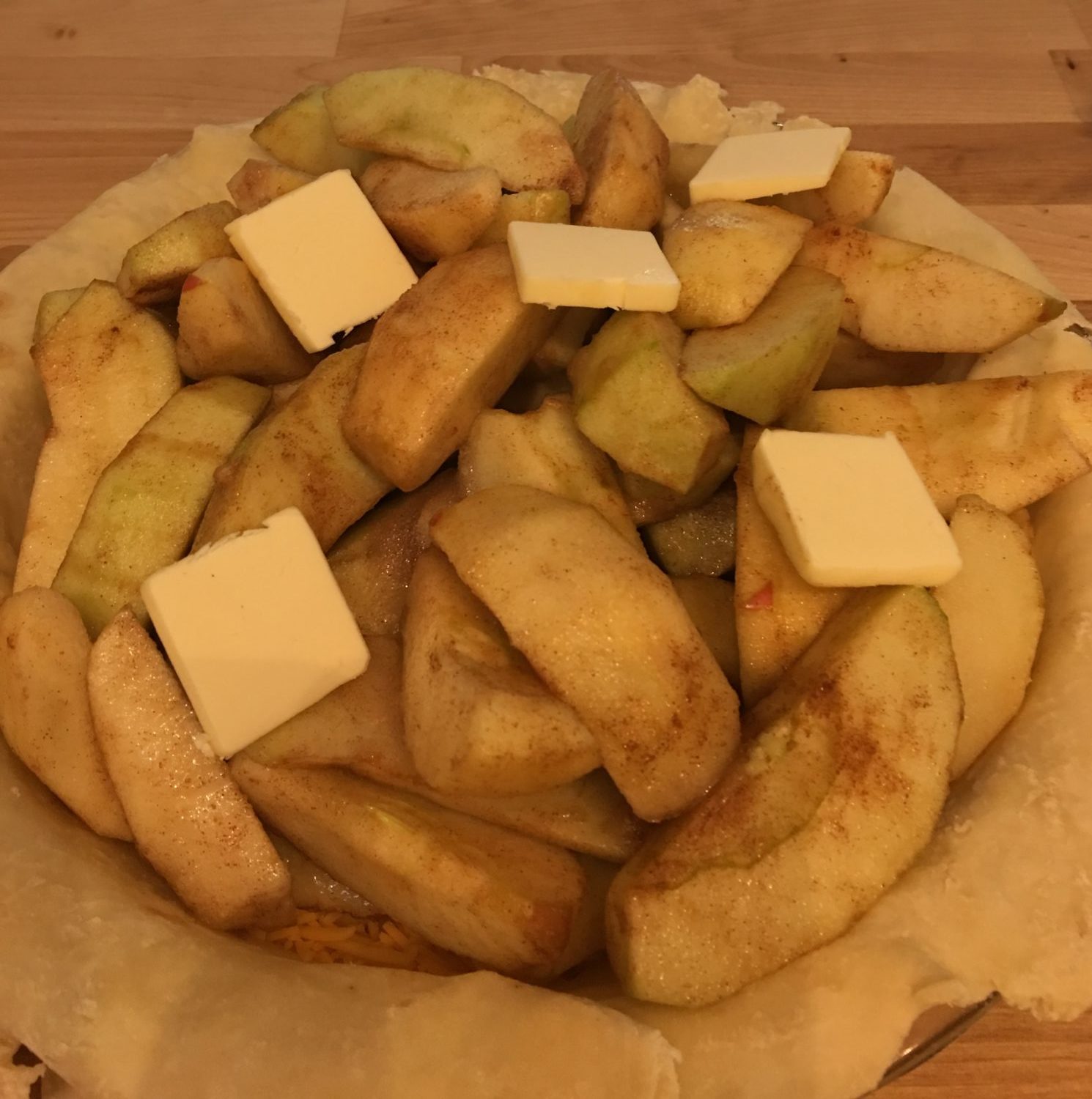 Cover with the top crust, cut a few small holes in the top and brush the whole thing with a little beaten egg.  Finally sprinkle it  with some sugar (or a mixture of cinnamon and sugar).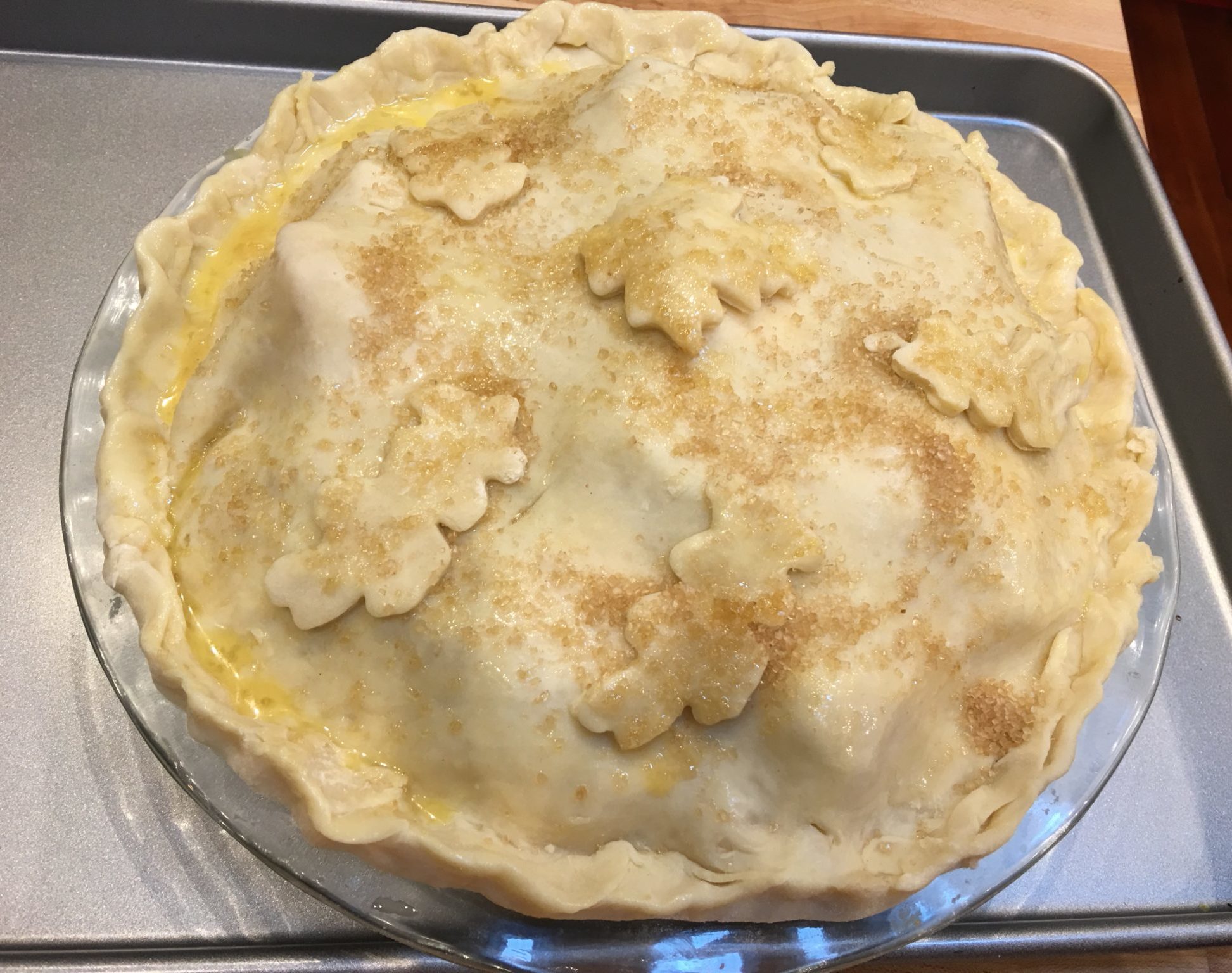 Cook it in a preheated 425 degree oven for 20 minutes then turn the oven down to 350 degrees and cook for a further 30-45 minutes or until the crust is gold brown and pie juices are bubbling up.
Serve it warm or at room temperature.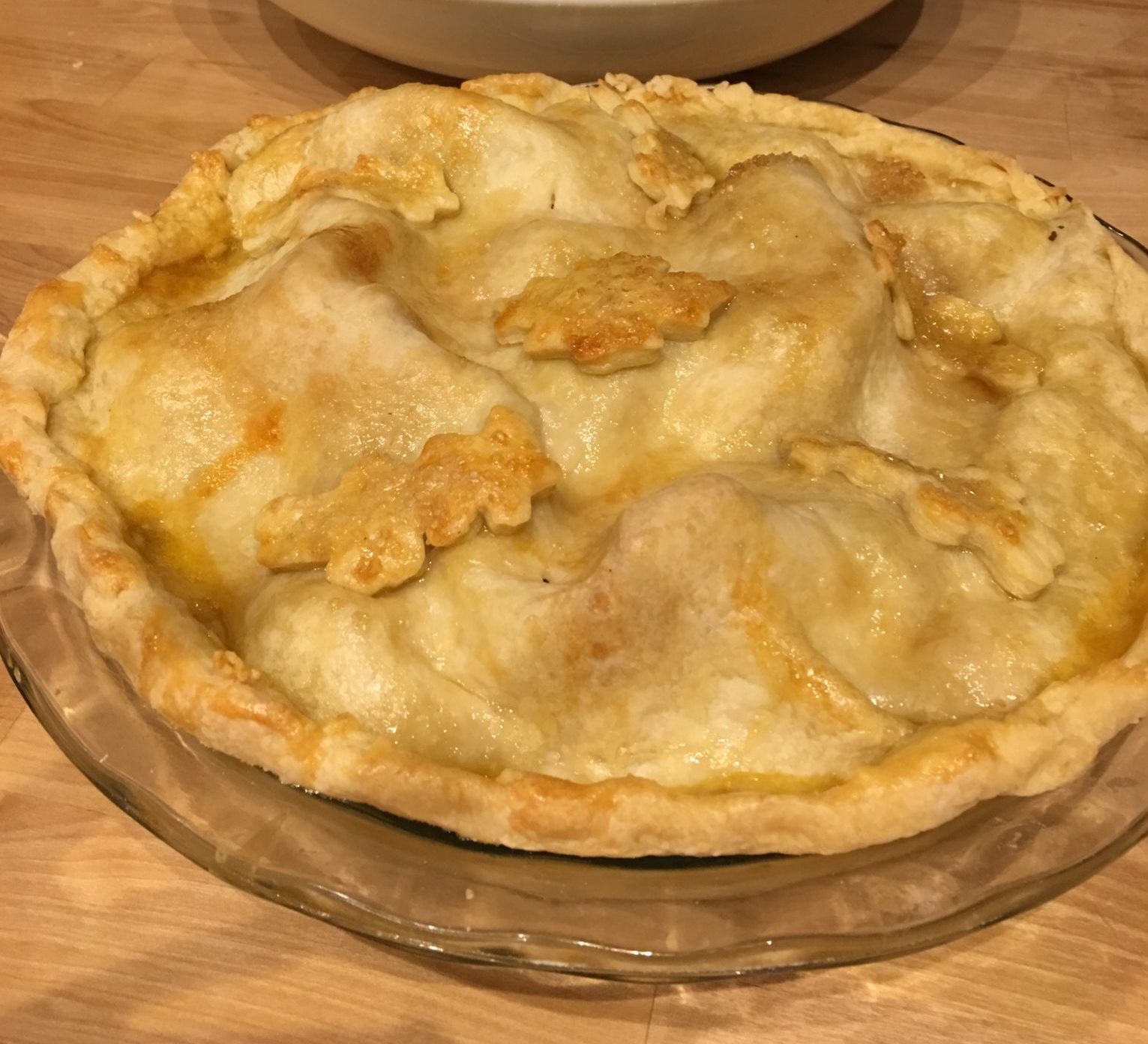 Pear and Blackberry Pie
Apple pie is traditional but every once in a while I like to leave tradition behind and do something different.
Pears and blackberries are two wonderful Fall fruits which are sometimes overlooked.
When I think of pears and blackberries, I think of England.  Our garden outside London had a number of fruit trees, including a lovely pear tree who's heavily laden branches were near the front door inviting me to reach up and pick one as I came home.  In the fields nearby blackberries grew in huge brambles; the tangle of sharp branches forming bushes which towered over the heads of my children.  Picking the autumn harvest was easy as one could stand in a single spot and fill a bucket with little effort.
Unlike the Apple Pie, our Blackberry-Pear Pie will be flat.
Peel and dice the pears into chunks about the same size or a little smaller than the berries.  That way they will cook in the same time.  The pears should be just ripe.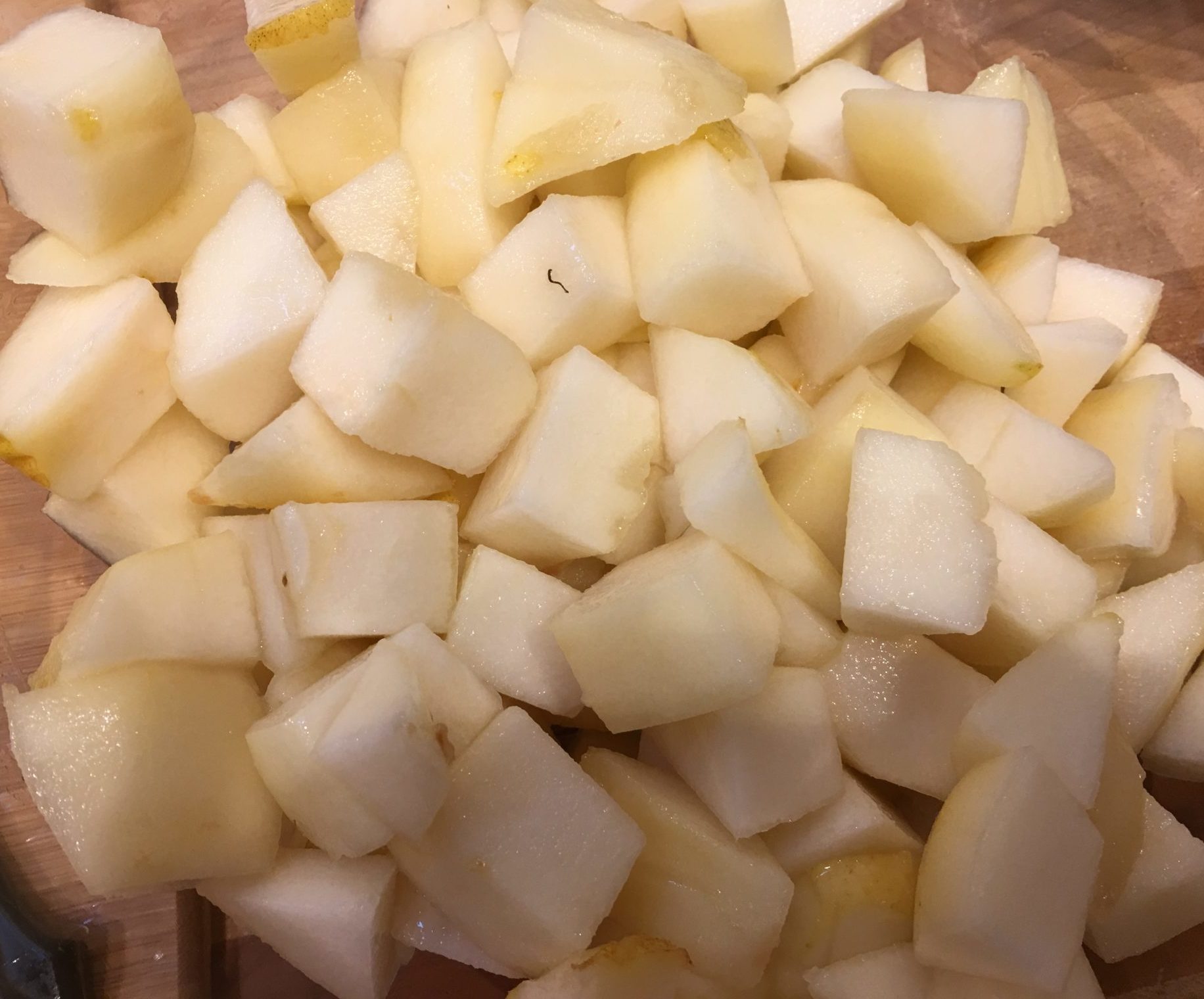 Put the pear together with the blackberries in a bowl.
(Note: blackberries have become more common in the markets but can still sometimes be hard to find.  They freeze well so if you see them buy two or three boxes, spread them on a tray and freeze.  Once they are frozen you can transfer them to a bag and use as needed.  For this recipe it is best to allow them to thaw before using).
Between the berries and the pears, we are looking at a lot of pie juices so we will need a thickener.  Some people use flour, some use corn starch.  I like tapioca.  It holds its shape even when the pie is reheated and I prefer its flavor over cornstarch.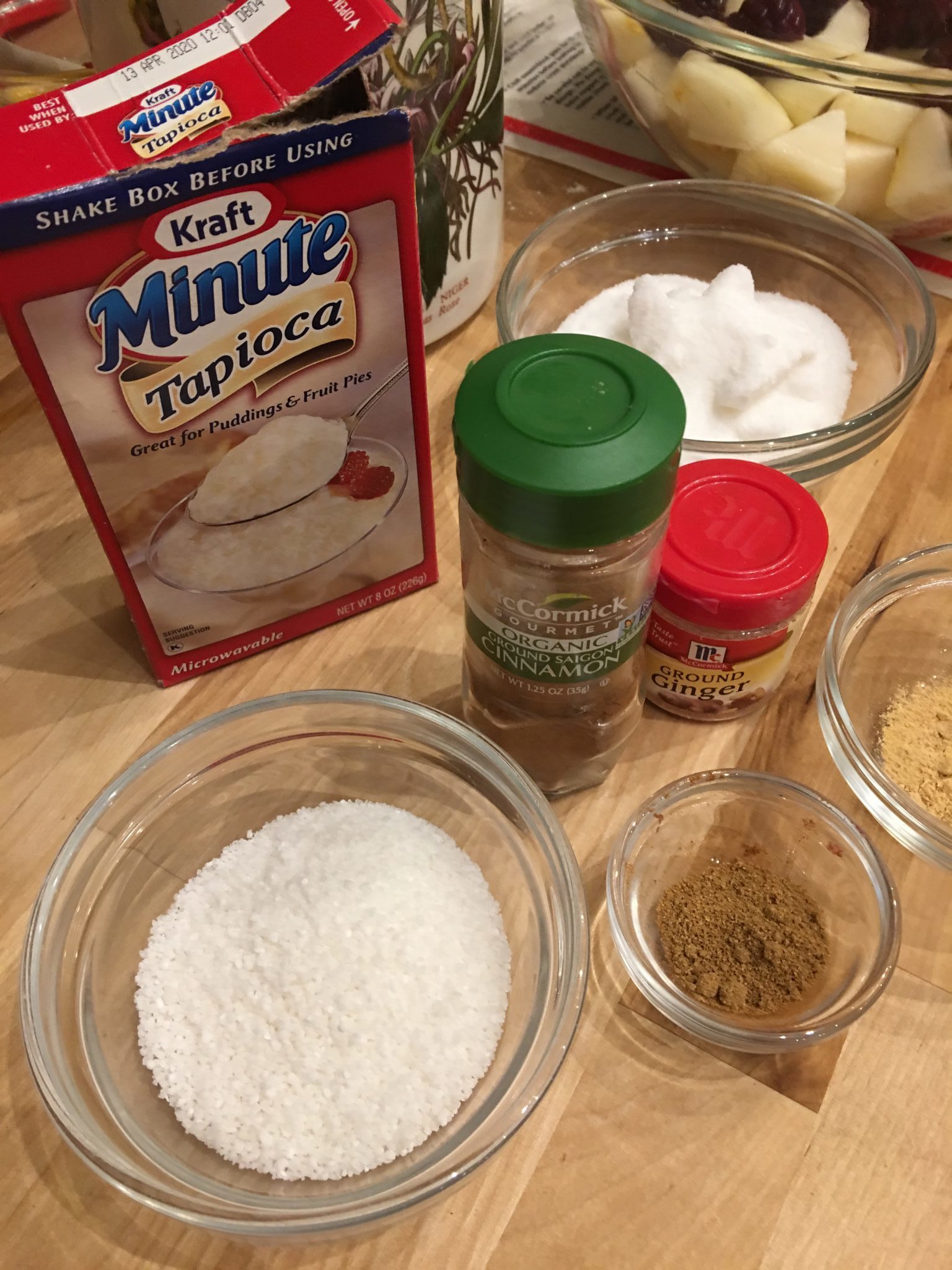 For spices, cinnamon and ginger of course, but I also add some cardamom. Its warm earthy tones complement the berries and adds another note to the overall flavor.
Toss the spices, sugar, and tapioca together with the fruit and let it sit for at least fifteen minutes before proceeding with the pie. Don't skip this step.  The tapioca will start to soften as it sits in the pear juices.  It will finish cooking as the pie cooks.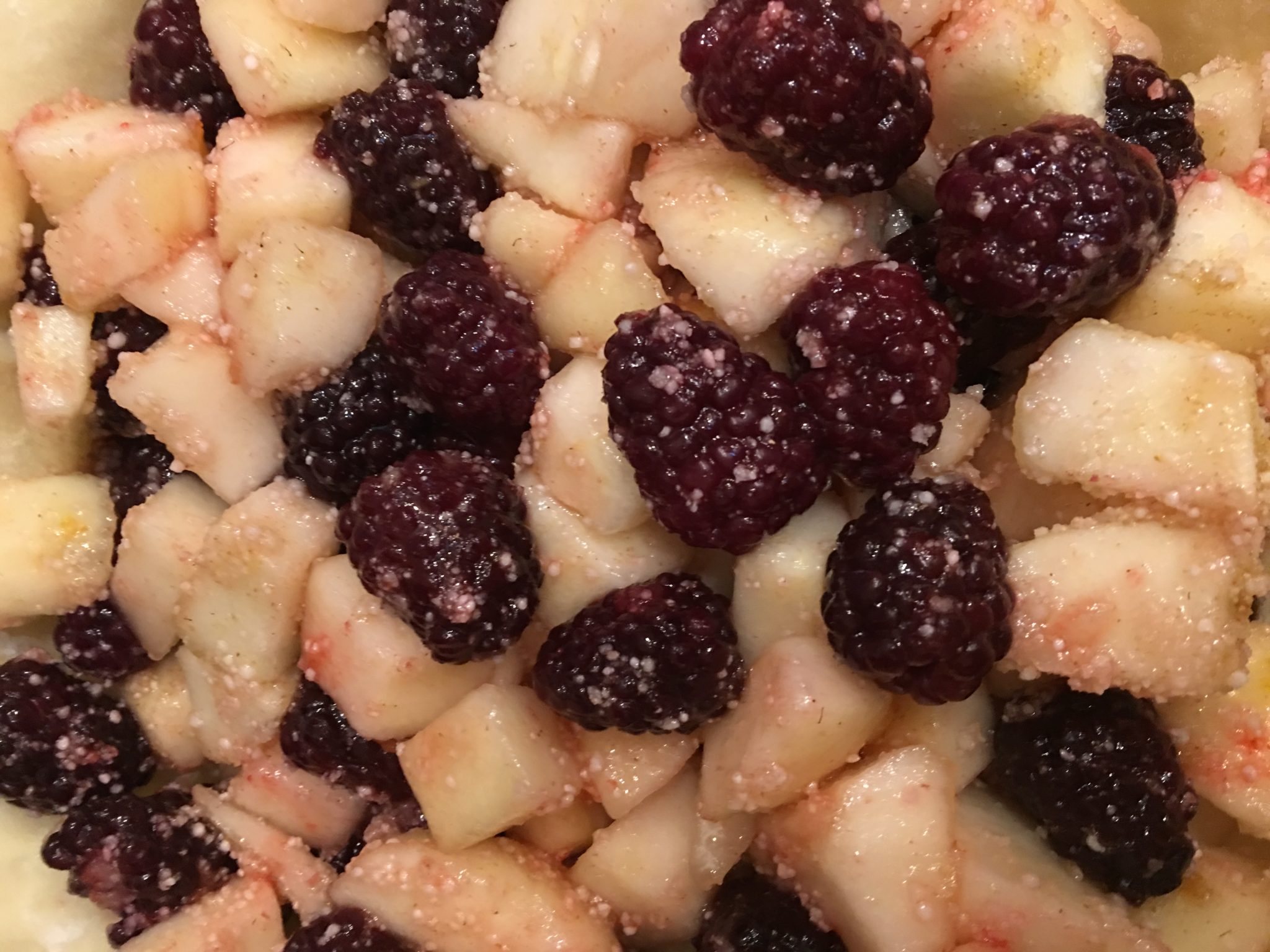 Roll and fill the pie crust as for any other pie.  I like to cut decorative designs in this crust so they people can see the beautiful colors of the pears and blackberries.  An egg wash and sprinkling of sugar help it to develop a golden brown crust.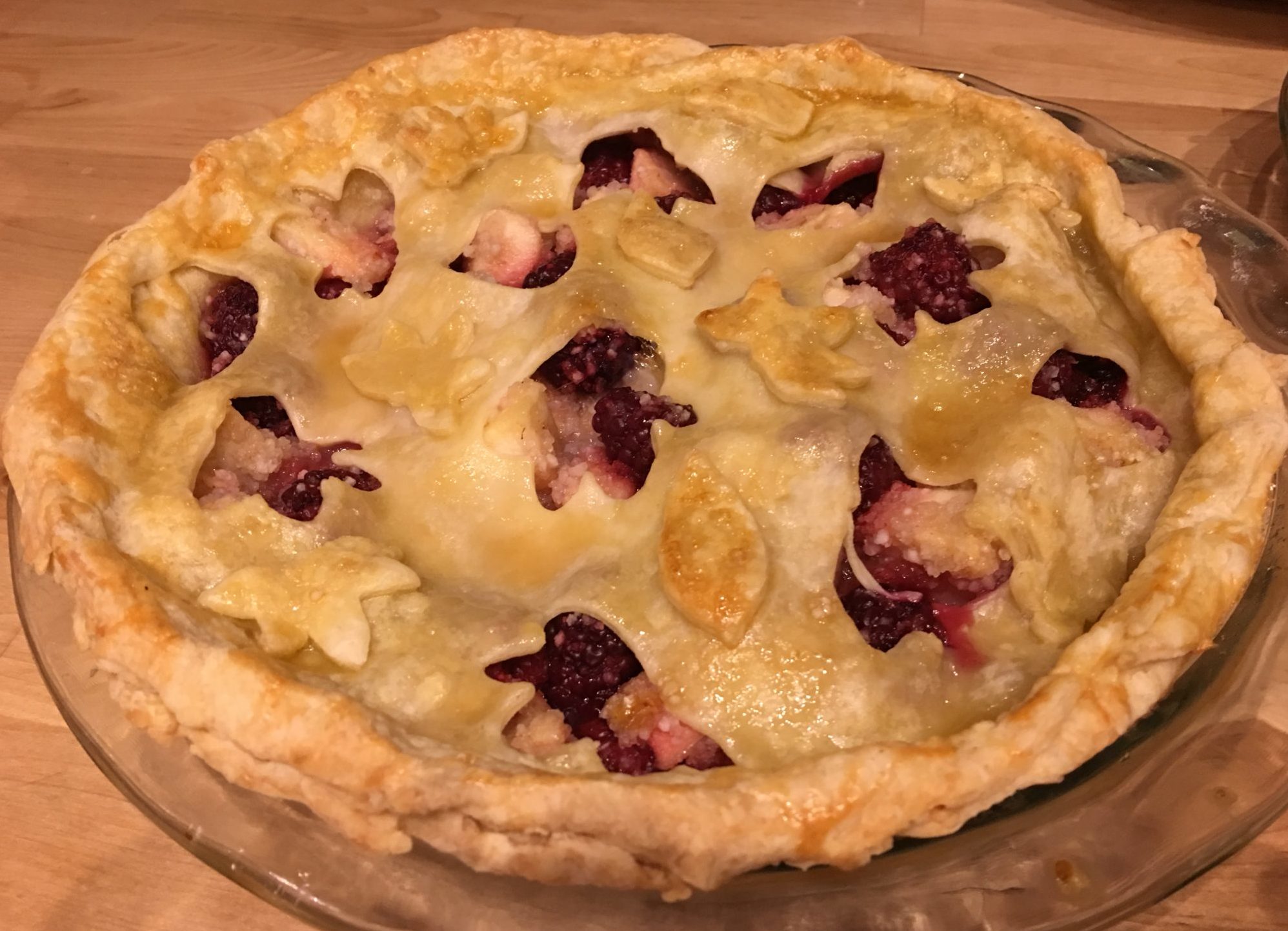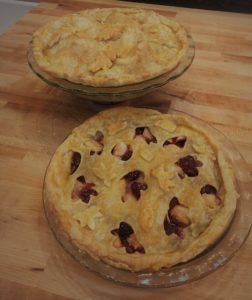 GRANDMA'S APPLE PIE
Ingredients
4-6

large Granny Smith Apples

6-8

Pink Ladies

or other sweet apples

2/3

cup

sugar

1

tsp

cinnamon

pinch

of salt

1 ½

cup

grated cheddar cheese

optional

2

tbsp

butter

1

egg

Demerara sugar

1

double

pie crust
Instructions
Peel and slice the apples into large slices and place in large bowl.

Add the sugar, cinnamon and salt to the apples and toss together until the apple slices are well coated. Set aside for at least 15 minutes.

Preheat the oven to 425 degrees

Roll out the bottom pastry to a size about 2" larger than the pie plate.

Place the bottom pastry in the pie plate and sprinkle with grated cheese (optional)

Add the apples, scraping the bowl to get all of the juices and sugar into the pie.

Dot the pie all over with butter.

Cover with the top crust and cut a few holes in the crust to allow it to vent.

Whisk the egg well and brush it all over the pie crust. If you are using decorated pieces of pie crust place them on top of the egg washed crust and brush them with the egg too.

Sprinkle with Demerara sugar

Place the pie on the center rack of your oven and cook at 425 for 15 minutes. Reduce the oven temperature to 350 degrees and cook for a further 40-50 minutes. The pie is done when the juices are bubbling up through the holes in the crust.
Recipe Notes
Note: if you look at the pie and the juices are just starting to bubble another ten minutes is needed!
Pastry instructions can be found here:  All About Pie: The Pastry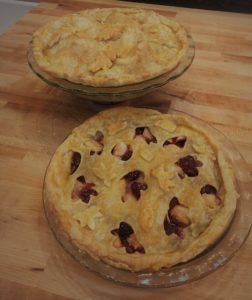 PEAR AND BLACKBERRY PIE
Ingredients
3

cups

blackberries

5-6

barely ripe pears

6 cups

¾

cup

sugar

¼

cup

tapioca

1

tsp

cinnamon

1

tsp

cardamom

½

tsp

ginger

pinch

of salt

1

egg

beaten

Demerara sugar

1

double

pie crust
Instructions
Preheat the oven to 425 degrees

Peel and dice the pears to the same size as your berries.

Place the fruit in a large bowl. Add the sugar, spices and tapioca and set aside for at least 15 minutes.

Roll out the bottom pastry to about 2" larger than your pie tin and line the tin with it.

Add the fruit mixture to the pie tin.

Roll out the top layer and cut decorative shapes in it if you wish.

Top the fruit mixture with the second pie crust and brush the entire pie with the egg wash. Sprinkle with sugar.

Place the pie in the middle of the preheated oven and bake at 425 degrees for 20 minutes. Reduce the heat to 350 degrees and bake for a further 40-50 minutes until the juices are bubbling well.

Let cool to room temperature before serving.
Recipe Notes
Note: if you are using frozen blackberries allow them to thaw before proceeding with the pie.
Pie crust recipe and instructions can be found here:  All about Pie: The Pastry