What is Breakfast Pie?
It is the pastry of pie, the spices and crumb of coffee cake, the fruits of summer and a little healthy oatmeal thrown in for good measure.  Eat it cold or warm it up.  Eat it plain or top it with vanilla yogurt. It's the best breakfast ever!
What is Breakfast Pie?
It is created from some of the best moments of my life. The inspiration for this pie came from my Instagram friend and fellow Asheville Baker, Jill Worthy of The Worthy Baker  She posted a picture of her award winning Breakfast Pie on Instagram which went right to my heart, leftover pie being one of my favorite breakfast foods.  She kindly sent me the recipe and her pie is very good, but my mind flew in other directions– pie being one of my things–and before I knew it I had revised her recipe and created my own version of breakfast pie.
It starts with pie.
Memories of pie stretch all the way back to my childhood.  My mother baked pies.  Apple pie, pecan pie, blueberry pie, peach pie, lemon meringue pie, mince pie; pies were a cornerstone of every special occasion. And I helped her.  I sat at the kitchen table and peeled apples, sliced peaches and mixed fillings while she rolled out the pastry.  My favorites were always the fruit pies. And there was nothing I loved more than a slice of warmed-up leftover pie for breakfast!
So fruit is required.
And fruit pie takes me to our home on the beach in North Carolina where long days of children playing in the sun and sand ended with fresh shrimp or grilled meat and a Jumbleberry Pie before they tumbled off to bed, happy and exhausted. Raspberries, blueberries, blackberries and strawberries jumbled together in a delicious mess!
Pie needs pastry.
The pastry recipe I used for my Breakfast Pie was taught to me by Laura Cole, one of my chef idols, at her restaurant in Denali, Alaska.  My trip to Alaska was a bucket list item (also from my childhood) and I shared the experience with my family, the people I love most in the world.  I remember watching Chef Cole make this pastry with my British friend (and my daughter's mother-in-law) Jo.  We both looked on in surprise at the ingredients and the process as she did things contrary to all the rules of pastry we thought we knew.  And yet it works!
Fruit and pastry = pie.  What makes mine a breakfast pie?
For this we go to England where Fruit Crumble is a favorite dessert. Crumble is often served with custard and was a great favorite of my middle child, Emily.  We would walk from our house down to the meadows by the Thames River where the blackberry brambles grew as tall as small houses.  And return with buckets of berries, some of which became jam, and some of which went into a crumble. Crumble kind of reminds me of a very fruity coffee cake.  Cinnamon and nutmeg are the prevalent spices and when the crumble cooks the topping sinks down and surrounds the fruit in an almost cake-like manner. I added oatmeal which is not typical in an English Crumble but I think it adds a nice consistency and texture.
Making the pie "pop".
Finally, I brought in some of the life I have been living for the past four years: exploring food, cooking, baking and techniques.  I drew on my recent classes with Christina Tosi and her unique way of looking at commercial products as ingredients to add flavor and pop to baked treats.  I went to my cupboard and found some freeze dried strawberries, chopped them up and added them to the crumble mixture.
I assembled the pie by placing the fruit in the center, covering the fruit with the crumble mix and folding the pastry over the edges to seal in the fruit.  Finally I brushed  the edges of the pastry with a little egg wash and sprinkled it with Demerara sugar.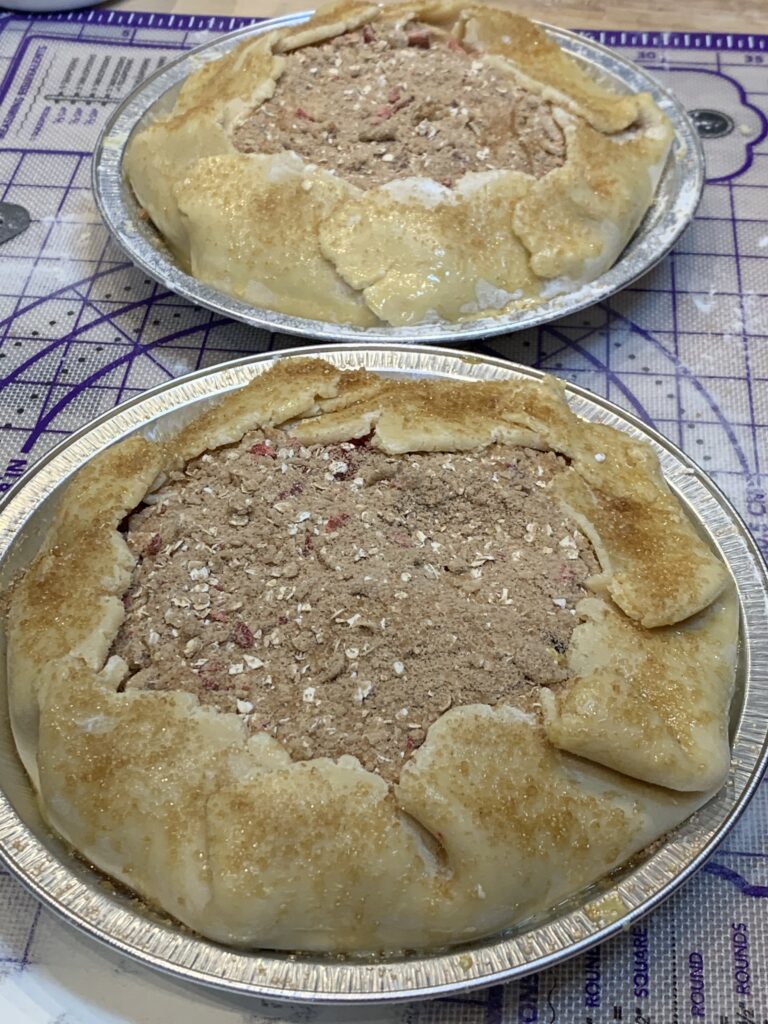 And when it was done, I found I had created my pie.  Every slice is a slice of my life and who I am, the things I love and the people I care for.  I hope you will enjoy this Breakfast Pie and start your day with a slice of happiness!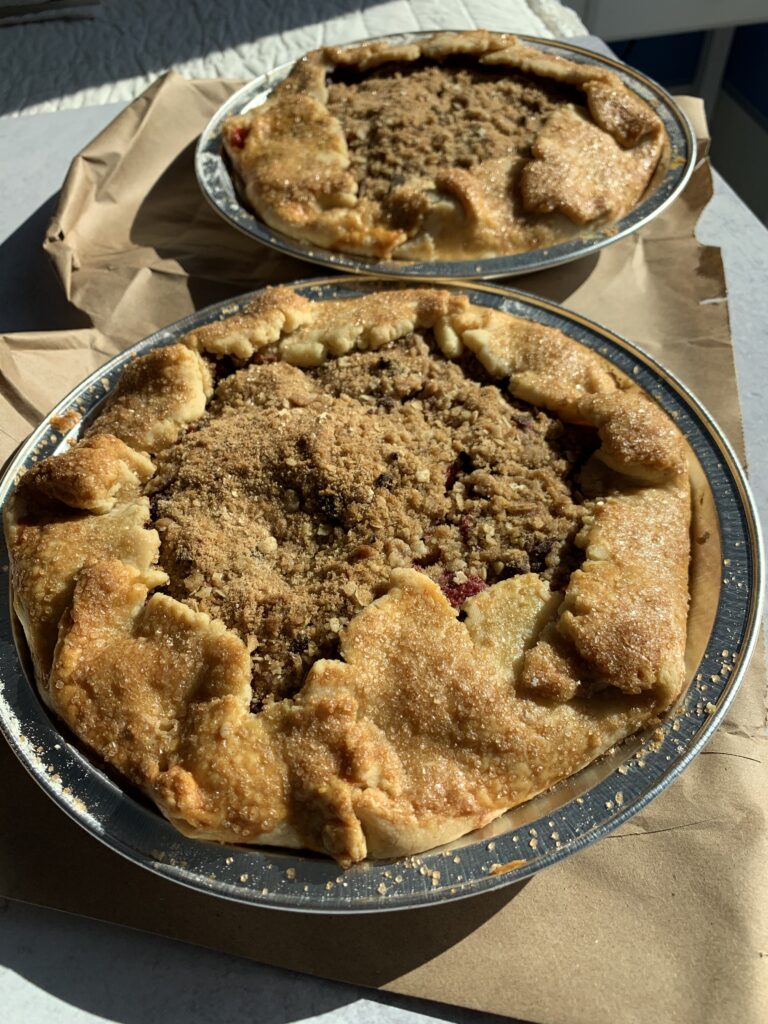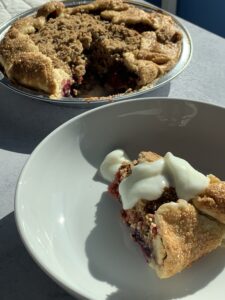 JUMBLEBERRY BREAKFAST PIE
Ingredients
For the Filling
5-6

c

mixed berries

¼

c

sugar

¼

c

light brown sugar

3

tbsp

tapioca pearls

½

tsp

cinnamon

¼

tsp

nutmeg

¼

tsp

salt

Zest of one lemon

1

tsp

vanilla extract

1

tbsp

lemon juice

1

tbsp

water
For the Crumble
½

c

cold butter

1

c

brown sugar

¾

c

flour

¾

c

oatmeal

½

tsp

cinnamon

¼

tsp

salt

½

c

coarsely chopped freeze-dried strawberries.
To Finish
1

egg

well beaten

1-2

tbsp

Demerara sugar
Instructions
Make the pastry according to the instructions (found here) Let rest in the refrigerator for at least one hour.

Preheat the oven to 400 degrees.
Prepare the filling.
Place the fruits in a large bowl. In a separate bowl mix together the sugars, tapioca, spices and lemon zest. Add this to the fruits and toss lightly until the fruit is mixed and covered with the dry ingredients. Add the lemon juice, water and vanilla and toss lightly again. Set aside until the juices have started to appear and the tapioca is softened (about 15 minutes).
Prepare the crumble mixture.
Cut the cold butter into small chunks. In a bowl, mix together the brown sugar, flour, oatmeal, cinnamon, and salt. Add the butter and use a pastry cutter to cut the butter into the mixture until it looks like sand. Alternatively, you can pulse it once or twice in a food processor. Stir in the coarsely chopped freeze-dried strawberries.
Assemble the pie.
Roll out the pastry into two large, ragged circles. It should be large enough so that it hangs over the edges of the pie tin. Place one crust in each of two pie tins. (See Note).

Divide the filling between each of the pie tins, scrapping out any juices lingering in the bowl.

Top with a generous layer of crumble mixture.

Carefully fold the edges of the pastry up over the filling. Brush the pastry with egg and then sprinkle well with Demerara Sugar.

Bake for 20 minutes at 400 degrees then lower the oven temperature to 350 and bake for a further 30-35 minutes until the filling is hot and bubbling up through the crumble.
Recipe Notes
Notes:
This makes two small pies or one large deep dish pie.
Other fruits may be used in season. You will need 5-6 cups of fruit.
Freeze-dried strawberries work best in this recipe