Replacing mayonnaise with avocado in the Cilantro Lime Sauce for this creamy slaw results in a rich and healthy Asian style slaw, perfect for using with fish dishes, in sandwiches or by itself!
The seeds for this recipe were planting in Hong Kong in 1986.  On one of my first forays into the local cuisine, I took a boat to the island of Lantau where I sat in a plastic chair at a rickety table on the waterside of the South China Sea.  I was served a dish of fried rice with the freshest possible shrimp.  It was delicious.  But there was something in it I had never experienced before, a green leafy herb that looked a lot like parsley. I could not get enough of it.  One of the other women shared her knowledge with this Asian Newbie.  It was fresh coriander, commonly known in the USA as cilantro.
Today cilantro is ubiquitious but at that time it was relatively unknown outside of Asia.
30 years later I found myself growing vegetables in the garden of my inn in Western North Carolina.  Some things did well, others less so.  One of my most consistant successes were peppers.  And a glut of jalapenos lead me to the next ingredient, candied jalapenos.  Fresh jalapenos are sliced and preserved in a sugar syrup.  The sweetness of the syrup tempers the heat of the jalapeno.
I added those peppers to everything I could think of, including an aioli sauce flavored with lime and cilantro. Everyone loved it.
Except for people who don't like mayonnaise.
One of those mayo naysayers is my son-in-law who came up with the genius idea of replacing the mayonnaise in the sauce with ripe avocado.
He tossed the ball to one of my daughters.  She recently had a baby and that baby is allergic to eggs which means as long as she is nursing she can't eat eggs either. She decided to try the avocado sauce instead of mayonnaise in a creamy cole slaw for fish tacos.
I love how this worked out.  This one dish encapulates my whole life!  I have had it on a fish taco, with steak, and in a cheese and slaw sandwich. It has so many good uses. Let me know what you use it for!
The sauce takes four ingredients (five if you count salt). Lime juice, cilantro, avocado and candied jalapenos
Put them all in the bowl of a food processor or a blender.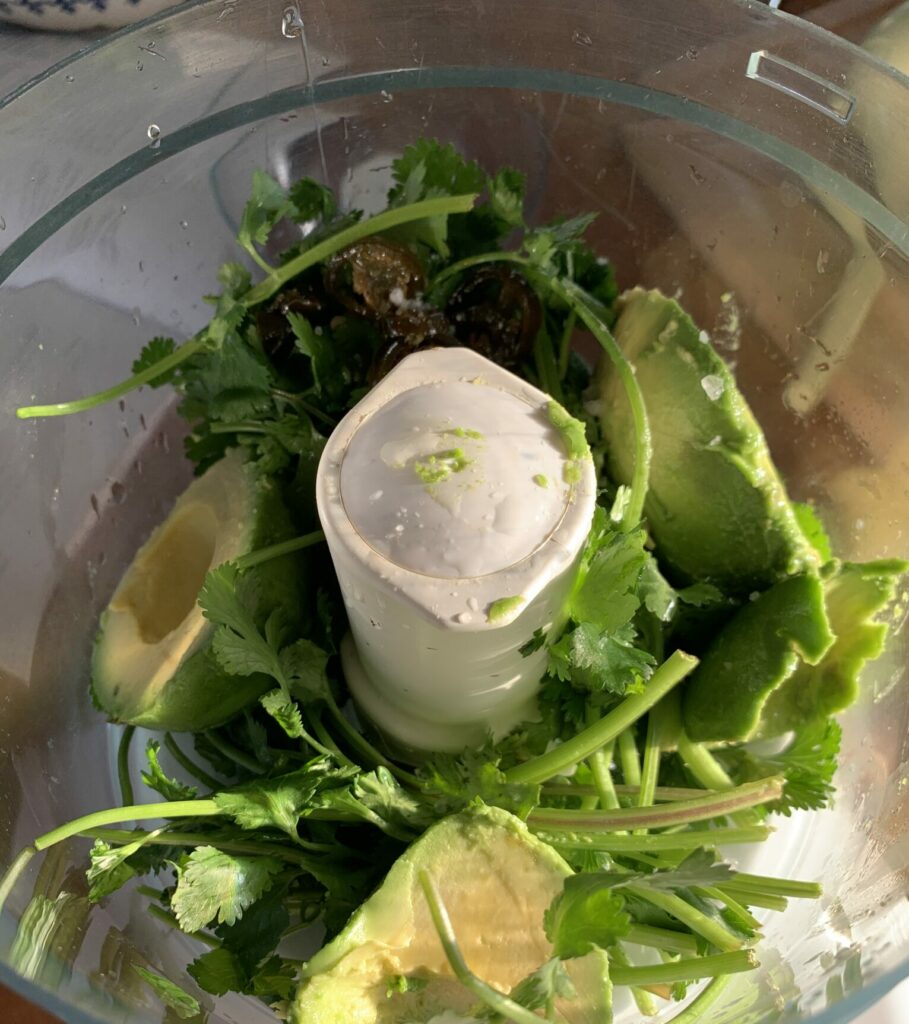 Pulse it until it is smooth.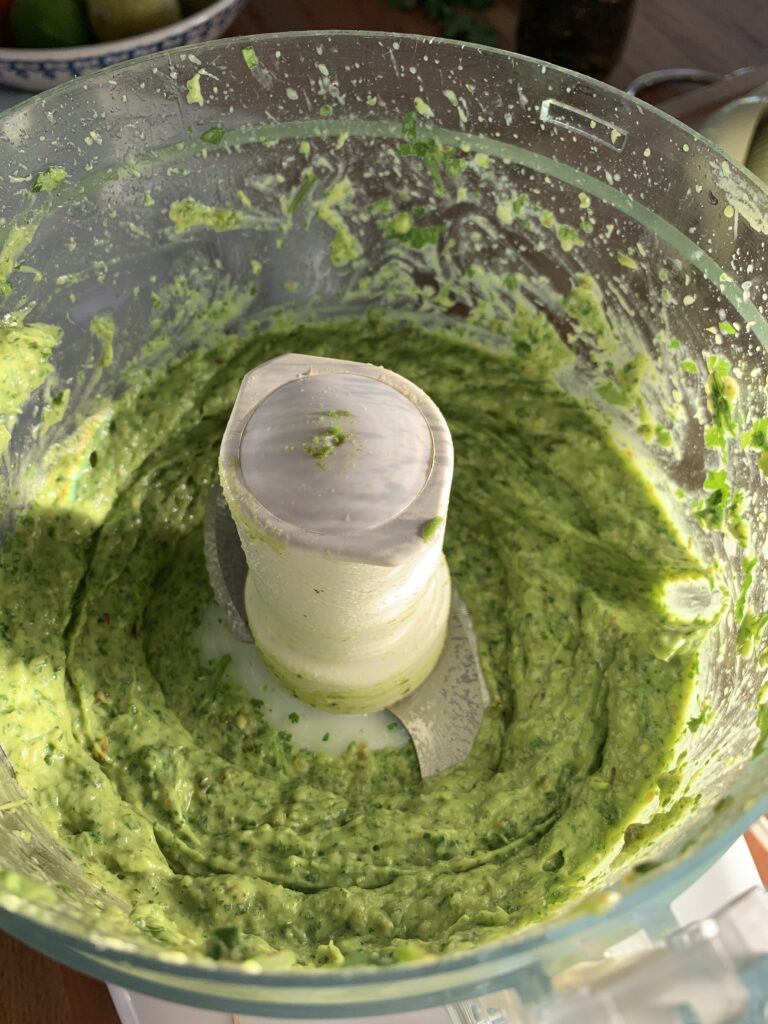 Put the slaw vegetables of your choice in a bowl and toss it all together.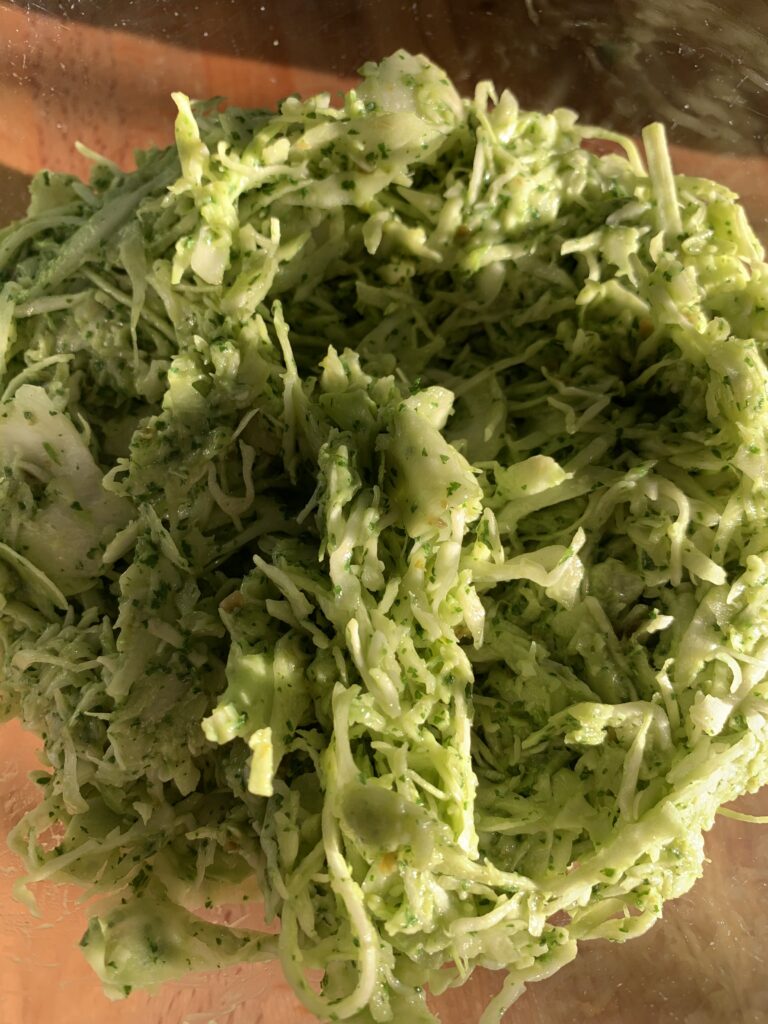 Could this be any easier??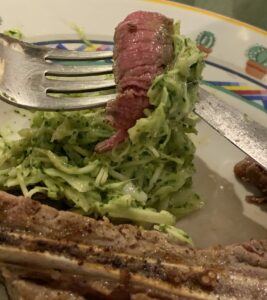 CILANTRO LIME AVOCADO SLAW
Ingredients
1

medium ripe avocado

A handful of fresh cilantro

leaves and stems

Juice of one lime

1-2

tbsp

candied jalapenos and syrup

¼

tsp

salt

12

oz

package of slaw mix
Instructions
Put the avocado, cilantro, lime juice, jalapenos and salt in the bowl of a food processor. Pulse three or four times until smooth. Taste and adjust season.

Put the slaw mix in a medium bowl and toss with the cilantro lime avocado sauce until well mixed. Cover and refrigerate for one hour before serving.

Slaw will keep for three or four days in the refrigerator.