Was it two years ago I went to Alaska?
Yes.
Two years since I rode with my family on a bus headed to Denali National Park and a cooking class with Chef Laura Cole of Top Chef fame. Two years since I dined on homemade pasta topped with fresh (never frozen) Alaskan King Crab and the most unlikely and scrumptious carrot sauce I have ever had.  Two years and and then the world transformed, making that trip seem like a life time ago.
After our lesson and meal, Chef Cole gave us the recipe and I put it in a file and then misplaced the file. But things have a way of reappearing. I found it and I have spent the past two weeks working on making the recipe a little bit more accessible to busy lifestyles (and lack of access to fresh Alaskan King Crab).
For this recipe, the sauce is the thing. It's a Carrot Beurre Monte, basically a carrot juice reduction to which butter is added until it is somewhat thickened and lustrous. It is also ridiculously delicious.
My first run-in with a beurre monte sauce was in Paris in 1981.  I had ordered a fish dish which came covered with the most amazing flavored Beurre Blanc Sauce.  (Beurre Blanc is a reduction of white wine vinegar, tarragon and shallots which is finished with butter.) I loved it to the point where I was using pieces of my baguette bread to wipe up the last bits off my plate.  The chef saw my enthusiasm for it and had more made and brought to me.  When I got home that night, I looked up what was in it and realized I had probably eaten a half cup of butter.  But you know what? I would do that again in a heartbeat! That will always be one of my most memorable meals.
I may be wrong but I think the Carrot Beurre Monte was a similar revelation for my son-in-law.  He looked at us all at dinner and said, "I'm going to pick up my plate and drink the rest of this sauce so look the other way if that offends you!".
So here's the thing about this recipe: you can make your own pasta or you can use a good store bought pasta, you can buy frozen King Crab Legs, use local crab meat or lobster.  But don't touch that sauce! Stick to the recipe and nothing else will really matter.
Mince a small leek and saute it in a little butter. Add your choice of seafood and saute it until it is just done.  Toss in some fresh dill and season with salt to taste.
Boil pasta and toss in a little olive oil.
Keep everything warm while you make the sauce.
Reduce one cup of carrot juice and a pinch of cayenne pepper to ½ cup.  This takes 5-10 minutes. Watch it carefully as it will boil over if given the chance.  Stir it often to keep from burning.  You can do this in advance, just reheat the juice to a boil when you are ready to add the butter.
Have ready 8-10 tablespoons of good quality butter (cultured or European style butter is best) which you have brought to room temperature and cut into tablespoon size chunks.
Remove the carrot reduction from the heat and whisk in one tablespoon at a time, adding another tablespoon when the previous one is almost melted.  Whisk constantly and vigorously.  Keep adding butter until the sauce has reached thickened and glistens. Finish with salt to taste.  If the mixture gets too cool and the butter won't melt, you can reheat it very gently.  Don't let it go over 175 degrees or it will break and separate.
Assemble the pasta and pour over the Carrot Beurre Monte.
I have made this dish with lasagna noodles.
I put sauce in the bottom of the bowl, and layer noodles, seafood mixture, noodles and sauce.
I have also been much less refined about it.
Add the cooked pasta to the filling, toss together and add the sauce.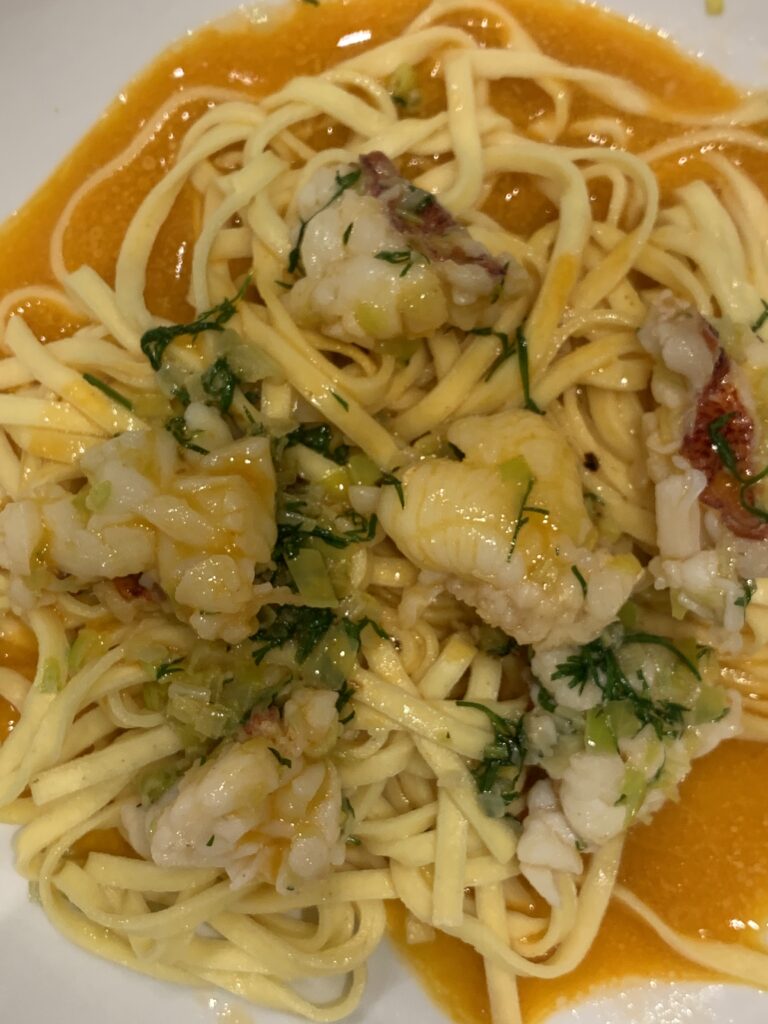 Anyway you serve it, it's always good!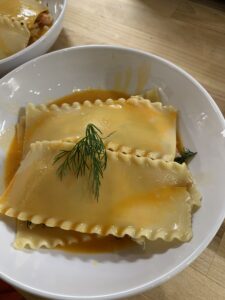 CARROT BEURRE MONTE WITH PASTA AND SEAFOOD
Ingredients
1

lb

pasta

or enough for four people
For the Seafood Filling
2

cups

of lump crabmeat or lobster

½

c

minced leeks

¼

cup

minced fresh dill

2

tbsp

butter

Salt to taste
For the Sauce
1

c

carrot juice

1/8

tsp

cayenne pepper

10

tbsp

unsalted butter

room temperature

¼ - ½

tsp

salt
Instructions
Cook the pasta according to the package directions. Drain, toss in a little butter or oil and keep warm
Make the Carrot Beurre Monte Sauce
Cut the butter into tablespoon size pieces and have ready next to the stove.

In a saucepan over medium heat bring the carrot juice and cayenne pepper to a boil and cook, stirring constantly, until it is reduced by half.

Remove from the heat and add the butter, one piece at a time, whisking constantly. Add another piece of butter as the previous piece is almost fully incorporated. Keep whisking vigorously and adding butter until the sauce is thickened and glistens. Add salt to taste as needed.
Make the Filling
Heat the butter in a large skillet over medium heat until it foams up. Add the minced leek and cook until soft. Add the seafood and cook until done (or reheated if precooked). Add the dill and salt to taste.

Serve the pasta and seafood with the sauce and pass any extra sauce on the side.