I took a break last week as I worked on my Christmas shopping.  It felt like I needed to get going on that but then I realized, because of the early Thanksgiving, I had more time than I thought.
So here I am on this dreary, chilly Saturday, free to get back to baking cookies and sending the recipes your way.
In between making my old favorites I have been trying out some new recipes.  I chose this one because there is someone in my life who loves lime desserts.
This shortbread cookie is flavored with lime and topped with a lime and cream cheese glaze.  I could have stopped there but then we would miss the flavor of the hazelnuts which complements the buttery richness of the dough and adds a little texture at the same time.
It's a good cookie.
And it is not a hard cookie to make.
Beat together butter and sugar and then add lime zest, vanilla and lime juice.
Mix in the flour and nuts until it is thoroughly combined.
The hardest part is rolling out the dough.  Use a gentle hand.
Work with one half of the batter at a time. Spread some flour on your board and dust the top of the dough.  Roll it out lightly and then turn it on the board to keep it from sticking. Continue rolling and turning the dough until it is about 1/4 " thick. Use a small cookie cutter to cut out a shape you like.  My small Christmas cutters are down at my beach house so I used a fluted circle.
The cookies won't spread much or rise so you can place them pretty close together on the sheet.
Bake them until the edges are just starting to brown and let them cool on a wire rack.
Make a glaze by putting softened cream cheese in the bowl of mixer along with vanilla, lime juice and powdered sugar.  Beat it all together until it is smooth.  It took about three minutes for my glaze.
Dab a little on the cookie and decorate as you wish.  I had some pretty Christmas sprinkles I used but you could finish them with some chopped hazelnuts or a little lime zest.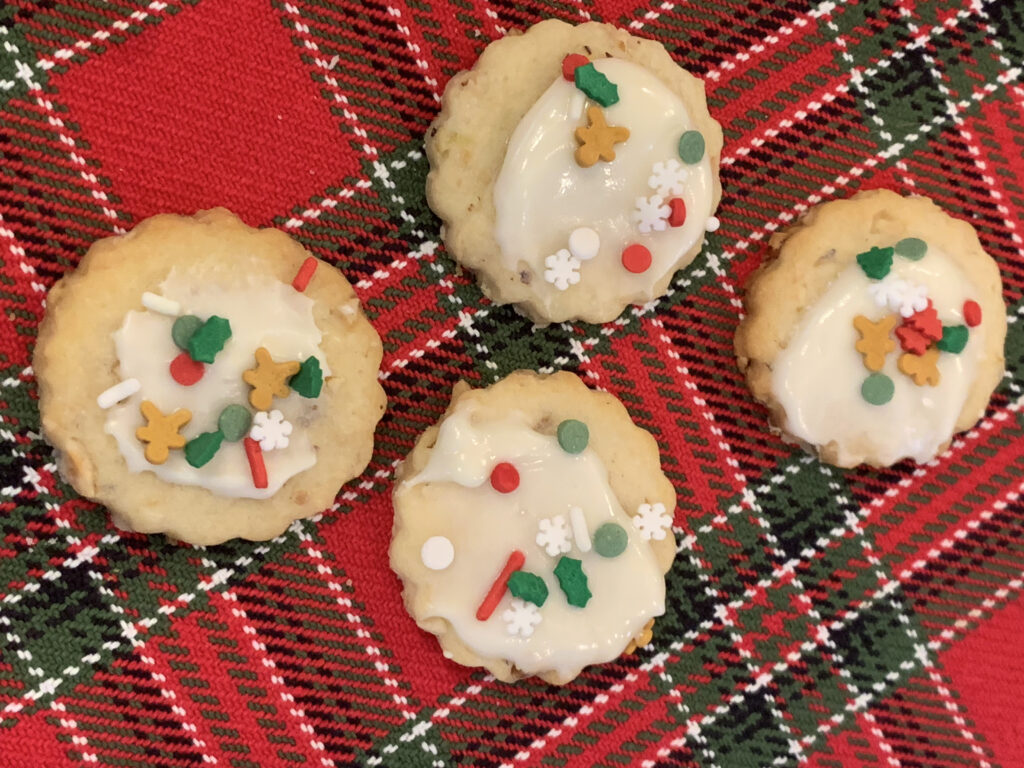 The shortbread should melt in your mouth and pop with lime!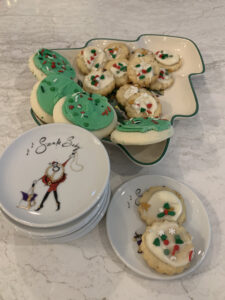 HAZELNUT LIME SHORTBREAD COOKIES
Ingredients
For the Shortbread
1

c

butter

softened

½

c

sugar

¼

c

lime juice

zest of 1 lime

1

tsp

vanilla

2 ¼

c

flour

¾

c

very finely chopped hazelnuts

¼

tsp

salt
For the Glaze
4

oz

cream cheese

softened

1

c

powdered sugar

1

tbsp

lime juice

1

tsp

vanilla

Pinch

of salt
Instructions
Beat the butter in the bowl of a stand mixer on high for 1 minute. Add the sugar and continue beating for 3 minutes more. Beat in the lime juice, zest, and vanilla until it is all incorporated. Add the flour and nuts. Scrape the bottom of the bowl to make sure that all of the butter is mixed in.

Working with one-half of the dough at a time, roll out on a lightly floured surface to ¼" thickness. Be gentle with the dough. Roll it, then lift it and turn it and roll it again.

Cut cookies out of the dough and place 1" apart on an ungreased cookie sheet. Bake for 12-15 minutes until the cookies are just beginning to brown on the edges.

Remove the baked cookies from the cookie tray and cool completely on a wire rack.

Make the glaze by putting all of the ingredients in the bowl of a mixer and beating on high until it is smooth. This may take as long as 3 minutes.

Glaze the cooled cookies and decorate, if desired, with sprinkles, lime zest or chopped hazelnuts.