Sweet and Salty Maple Glazed Donuts with Bacon Bits or Satisfyingly Rich Dark Chocolate Ganache Glazed Donuts with Crunchy Pecans, there is something for everyone here!
In the beginning, donuts came in three varieties: filled with strawberry jam, coated in powdered sugar or sparkling with bright crystals of cane sugar.
My favorite was, and still is, the jelly donut.  Its soft pillowy exterior hides a blob of sticky red jam making each bite an adventure. Sugar donuts are also a favorite. When I was a child, my mother would cut the centers out of Pillsbury Poppin Fresh Biscuits, fry them and toss them in cinnamon sugar for a treat.  (You can still do this.  It's a quick and easy route to a fairly good donut)
As for my children, they played a game, seeing who could eat a powdered sugar donut and go the longest without licking the sweet white sugar off their lips and cheeks.
Then Krispie Kreme entered the game.Our summers in the South always included the classic Krispie Kreme, a fried donut dipped in a sweet sugar glaze and topped with nuts, chocolate or colored sprinkles among other things. And when Krispie Kreme expanded their shops to the rest of the United States, donuts moved from breakfast treats to sweet desserts.
Mind you I am not complaining.  Just observing.
This week, as you have surely guessed, the Great British Baking Show Challenge is Donuts.
Make a dough.  Warm milk, a little sugar and yeast are added to a mixture of eggs, more sugar and butter in the bowl of your mixer.  Stir in the flour and when it is mixed in switch to the dough hook.  Let the mixer do its work for five minutes.  Add flour by the teaspoonful until you have a good looking ball of dough.  Adjectives that come to mind are smooth, elastic, slightly tacky and stretchy.
Let it rise to double in size, then roll it out into a large rectangle ½ " thick.
If you have donut cutter, now is the time to use it.  If not, a round cookie cutter will do.  Cut out circles and then use a smaller round cutter to cut out the centers.  If you don't have a small cookie cutter, use a sharp knife to cut small circles in the donuts.  Gather any remaining dough together, roll it out and cut some more.  You will have 12-24 donuts depending on the size you cut them.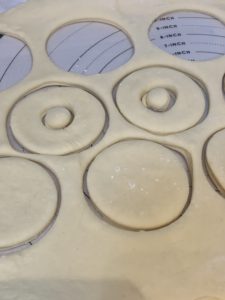 Put the donuts on a parchment lined tray, cover them and let them rise again until puffed, 40-60 minutes.
During the last fifteen minutes of rising time, make your glaze(s) and topping ingredients.
I made two donuts: a maple glazed bacon topped donut and a chocolate glazed donut with chopped pecans.
Heat 2" of oil in a large Dutch oven to 350 degrees. It really helps if you have a thermometer, either an instant-read or a sugar thermometer.  You will want to maintain this temperature in order to get a good color on the donuts.
Fry the donuts in small batches, turning them once.  They take about 2 minutes on a side.  Remove them to a paper towel to drain until they are all cooked.  The holes will cook faster and usually will flip themselves over when the first side is done.
Finally, dip each donut in the glaze and sprinkle on the topping while the glaze is still wet.  I only glaze the tops of my donuts but you can do both sides if you wish.
The donuts will keep for a day or two but are best on the day they are made.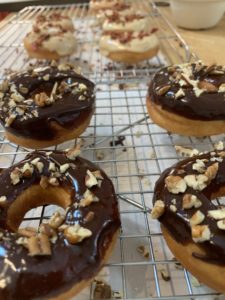 DONUTS TWO WAYS: MAPLE GLAZED WITH BACON AND CHOCOLATE GLAZED WITH PECANS
Ingredients
For the Donuts
1

c

milk

1

tsp

sugar

2 ¼

tsp

yeast

Pinch

of salt

4 1/2

c

flour

¼

c

sugar

6

tbsp

butter

2

eggs

1

tsp

vanilla

Vegetable oil for frying
For the Maple Glaze
1

c

powdered sugar

¼

c

maple syrup

Pinch

of salt

4-5

strips crisp bacon

chopped
For the Chocolate Glaze
6

oz

semi-sweet chocolate

6

tbsp

heavy cream

1

tbsp

butter

1

tbsp

corn syrup

¼

c

chopped pecans
Instructions
Make the donuts
Heat milk to lukewarm. Stir in 1 teaspoon of sugar to dissolve and sprinkle the yeast over the top. Let sit for 5-10 minutes until frothy.

Using the paddle attachment of your stand mixer, stir together ¼ cup of sugar, the butter (melted), eggs and vanilla. Add the yeast mixture and mix it to combine. Add the flour and salt and beat it together until it forms a ragged dough.

Change to the dough hook and knead for five minutes until a smooth and elastic dough has formed. You may need to add flour 1 teaspoon at a time until it pulls away from the sides of the bowl.

Roll the dough into a ball and place in a large, greased, bowl. Roll the dough over once to give it a slight covering of oil then cover and leave to rise for an hour or so until doubled.

Push down on the dough and remove it from the bowl. Roll it out on a floured board until it is a large rectangle about ½" thick. Cut donuts and holes and place on a parchment lined baking sheet. Gather together any remaining dough, roll it out and repeat. Let the donuts rise, covered, in a warm place until they are puffed up.

Heat about 2" of vegetable oil to 350 in a large Dutch oven.

While the oil is heating, prepare the glazes.

Cook the donuts in small batches until golden brown on each side. Remove and set aside on a paper towel to drain.

When all of the donuts are cooked, dip each donut into the glaze of your choice and sprinkle on the toppings. Put the donuts on a wire rack and allow the glaze to set.

For the Maple Glaze

Stir the maple syrup into the powdered sugar along with a pinch of salt. If it is very thick, thin it with some water (1 teaspoon at a time) until it has reached a slightly runny consistency.

For the Chocolate Glaze

Put the chocolate, butter, and corn syrup in a heat proof bowl. Bring the cream and salt to a simmer and pour it over the chocolate. Stir until the butter and chocolate have melted and it is thick and shiny. If necessary, place the bowl in the microwave for 10 second bursts to help the chocolate melt.
Recipe Notes
The donuts are best eaten the day you make them but will keep in an airtight container for a day or two.