It's crunch time.  Christmas is 4 days away. Maybe you have a freezer full of Christmas cookies, ready to pull out at moment's notice.  Or maybe you haven't baked a thing.  And that's okay!  This is what bakeries are for.
But
If you wish you had baked something, and you are a little sad you haven't but you just don't have time , this recipe is for you. Puff pastry is wrapped around a filling of sugar, lime zest,  and cardamom then finished with some holiday sprinkles.  Cookies you will be proud of, from start to finsh in 20 minutes or less!
Start with a roll of ready-to-bake crescent rolls.
Open the dough out flat on a parchment lined paper and use your fingers to pinch together the perforations, creating a single rectangle.
In a small bowl mix together some lime zest, some Demerara (raw) sugar and some ground cardamon.  Spread this all over the dough, reaching right to the edges.
Now, starting at one of the short ends, roll the dough up like a carpet pressing it together as you go along.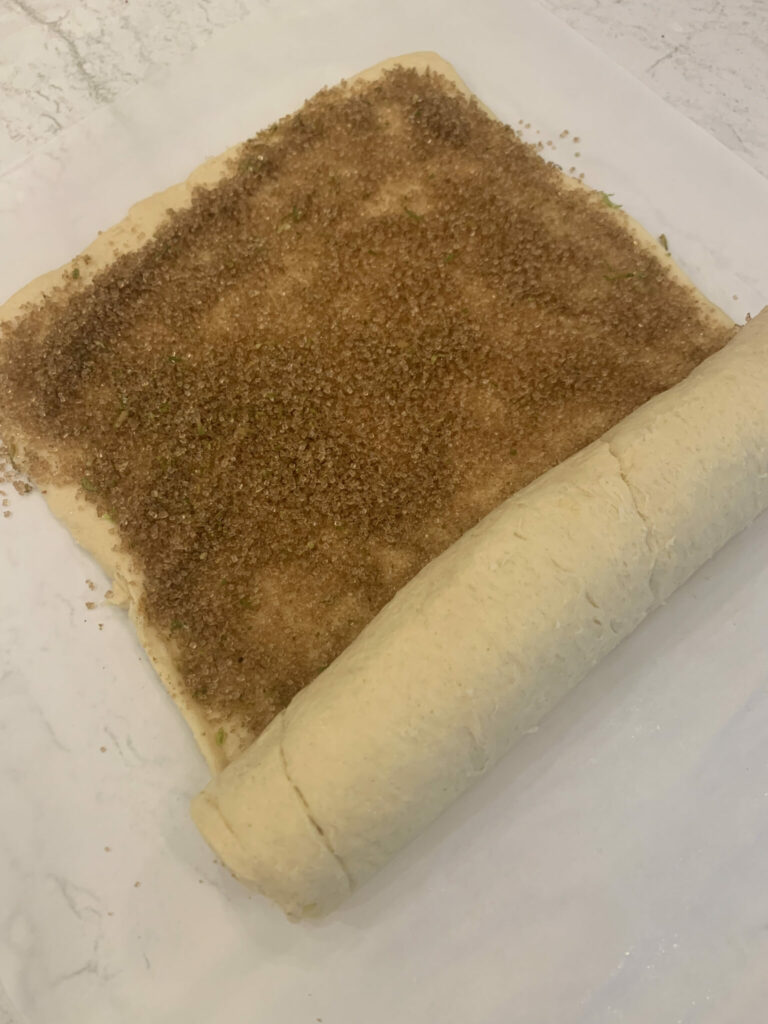 Sprinkle some sanding sugar or colored sprinkles on the parchment paper and roll the log of dough over it, pressing in the sprinkles as you do.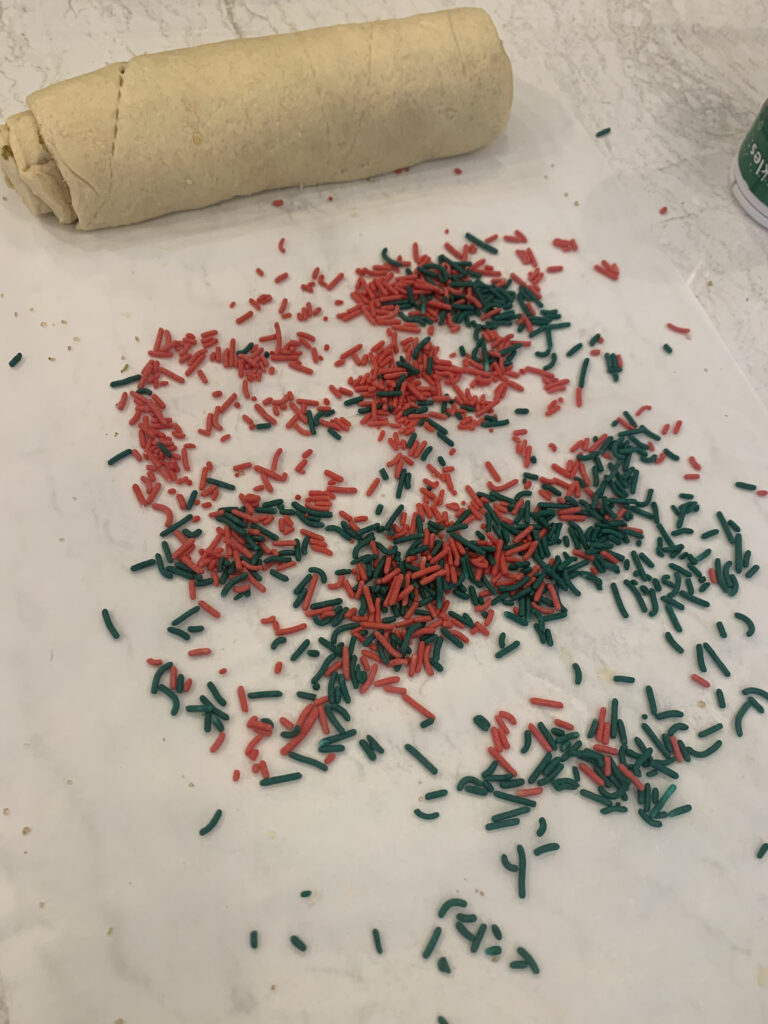 Cut the log into 12 slices and bake for about 10 minutes.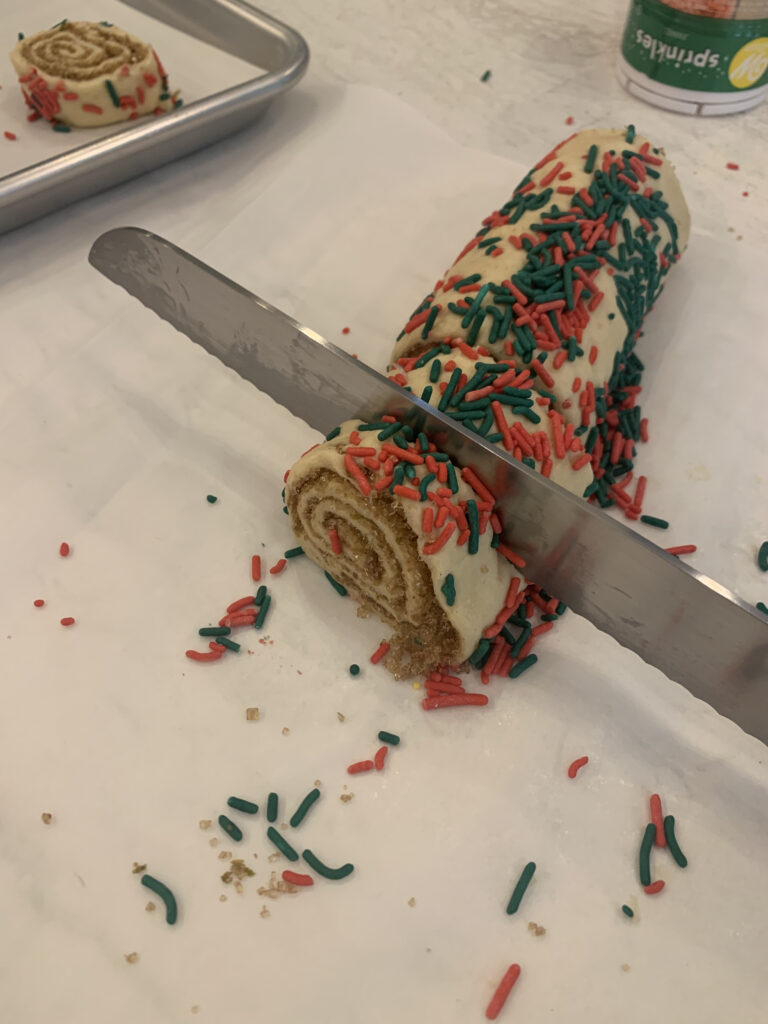 Let them cool. Put them on a plate.  And you are good to go.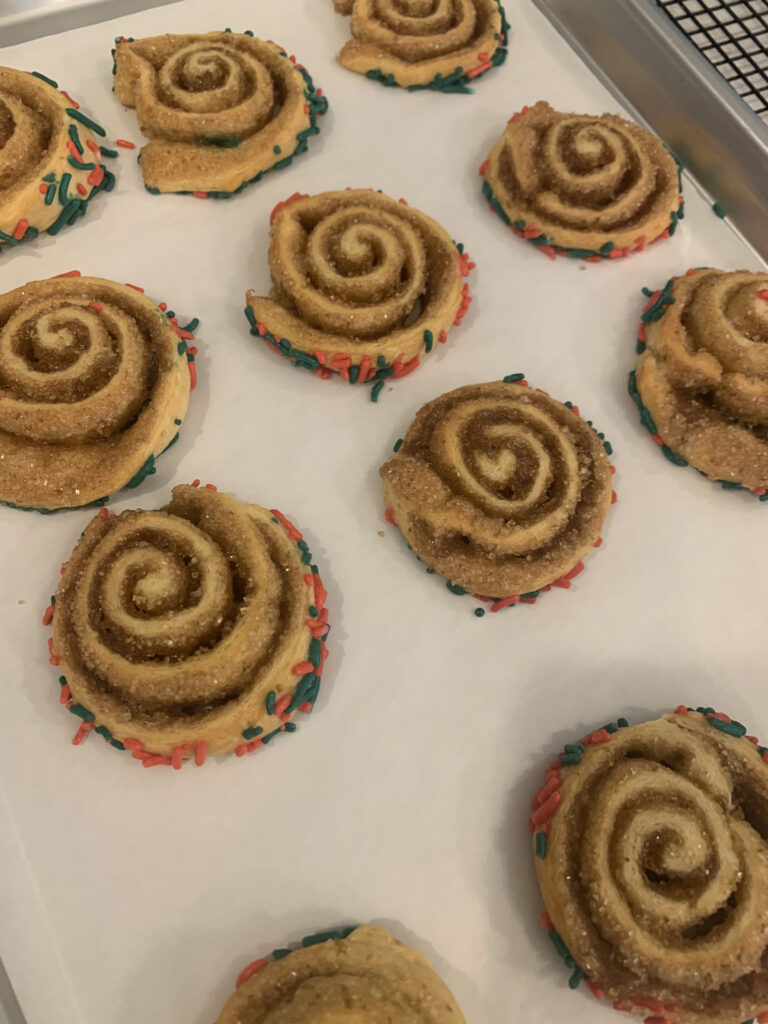 Cookies in 20 minutes or less!
And with that I wish you Merry Christmas and Happy Holidays.  I'll be back in the New Year!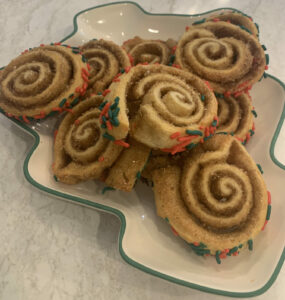 HOLIDAY PINWHEELS
Ingredients
1

roll of Ready-to-Bake Crescent Rolls

Grated zest of 2 limes

½

c

Demerara Sugar

¼

tsp

ground Cardamom

Red and Green Sprinkles or Sanding Sugar
Instructions
Preheat the oven to 375 degrees and line a baking tray with parchment paper.

Open the dough and roll it out onto a piece of parchment paper. Use your fingers to pinch together the perforations making one single rectangle of the dough.

Mix together the lime zest, sugar and cardamom in a small bowl.

Spread the sugar mixture evenly over the crescent roll dough.

Then, starting on a short end, roll up the dough into a log. Press it together as you roll to keep tight.

Spread the sprinkles on the parchment paper and roll the dough log over them, pressing them in lightly as you go along.

Use a serrated knife to cut the log into 12 slices.

Place the slices on the prepared tray and bake for 10 minutes until lightly browned.

Cool on a wire rack