It's Hodgepodge week here: the week I give you a couple of short and easy recipes in a mix-up of hors d'oeuvres, sauces and other items.  This serves two purposes.  It allows me a moment to catch my breath after a crazy two weeks baby sitting in Chicago followed rapidly by catering an event in Charlotte (which was supposed to be for 50 people but the actual attendence more than 80), and it lets me share with you a few recipes which aren't really long enough or hard enough for a post of their own.
I am going to start with an easy recipe for a quick appetizer which has the added bonus of being something you can make ahead: White Bean and Caper Crostini.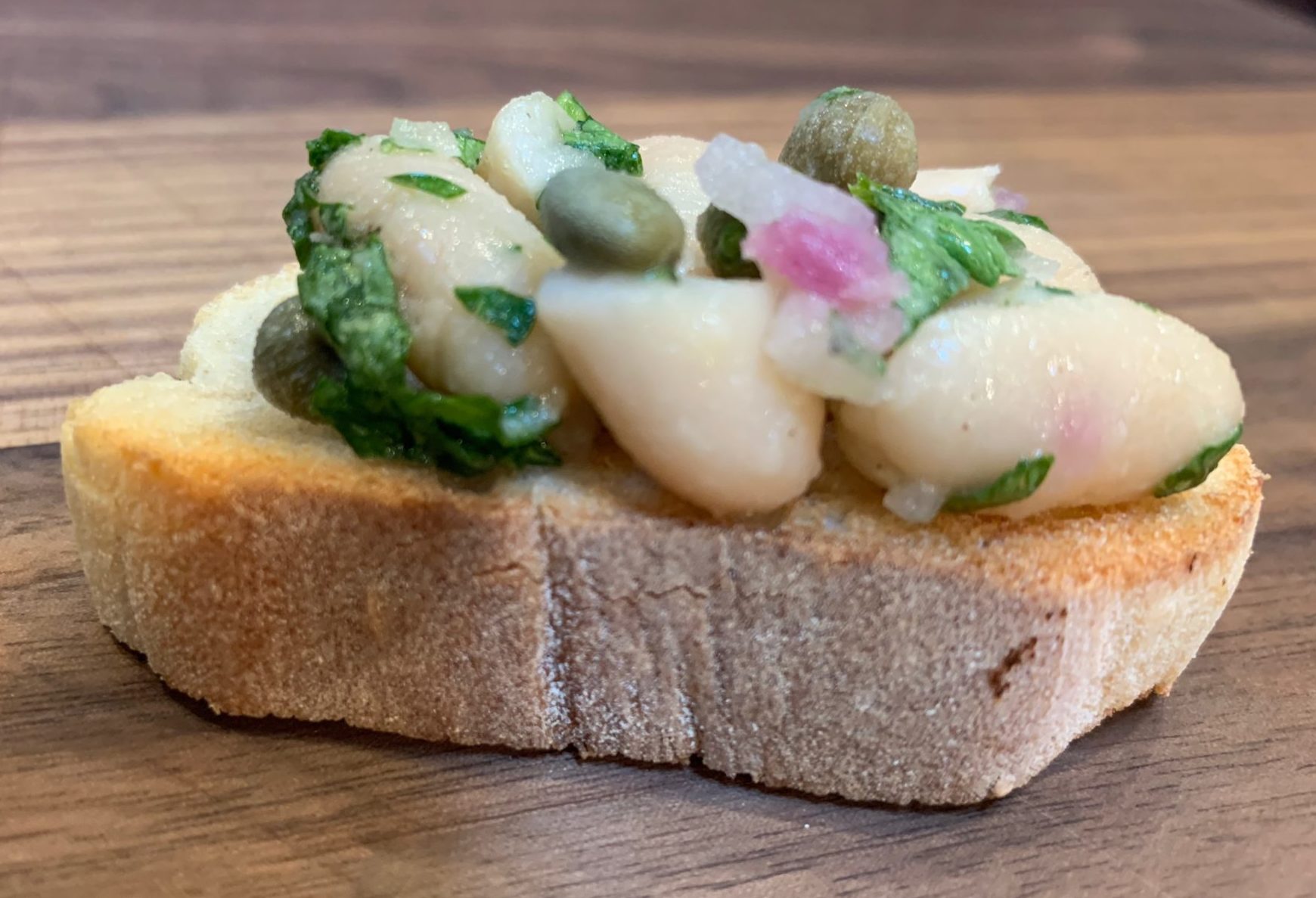 But first, here is a question for your next foodie trivia night:  do you know what the difference is between bruschetta and crostini?  Did you know there was a difference?  Bruschetta is technically the term for a thick slice of rustic or sourdough bread which is grilled over coals and brushed with garlic and oil.  It is sometimes topped with something, although not always, and is eaten warm.  Crostini are smaller and thinner slices of bread which is toasted, usually in the oven, and is, as a rule, served with a spread or topping.
This recipe can be made as much as a day or two ahead, except for the toasting of the bread.  I learned the hard way that bread which is toasted in advance moves quickly from toast to stale and that is not what you are looking for!
The only things you need to make this crostini is a can opener and a good knife. You have a good knife, don't you?  I hope so, it will make your time in the kitchen so much more enjoyable and faster.  I recently found this great review of Chef's knives which will help you find the knife which is right for you.  And believe me, a good knife is life-changing!
Finely mince the red onion and parsley, drain the beans and capers and put them all together in a bowl with the best olive oil and white wine vinegar you can find. This is not time to go cheap!  Mix them together and mash the beans a bit.  Taste it and add salt and pepper as needed. (The bean topping should be served at room temperature so if you do refrigerate it overnight make sure to take it out of the oven an hour or so in advance.) Toast your bread, top it with the bean mixture and off you go.  Your guests will be delighted.
The second recipe I have for you is for Citrus and Herb Marinated Feta.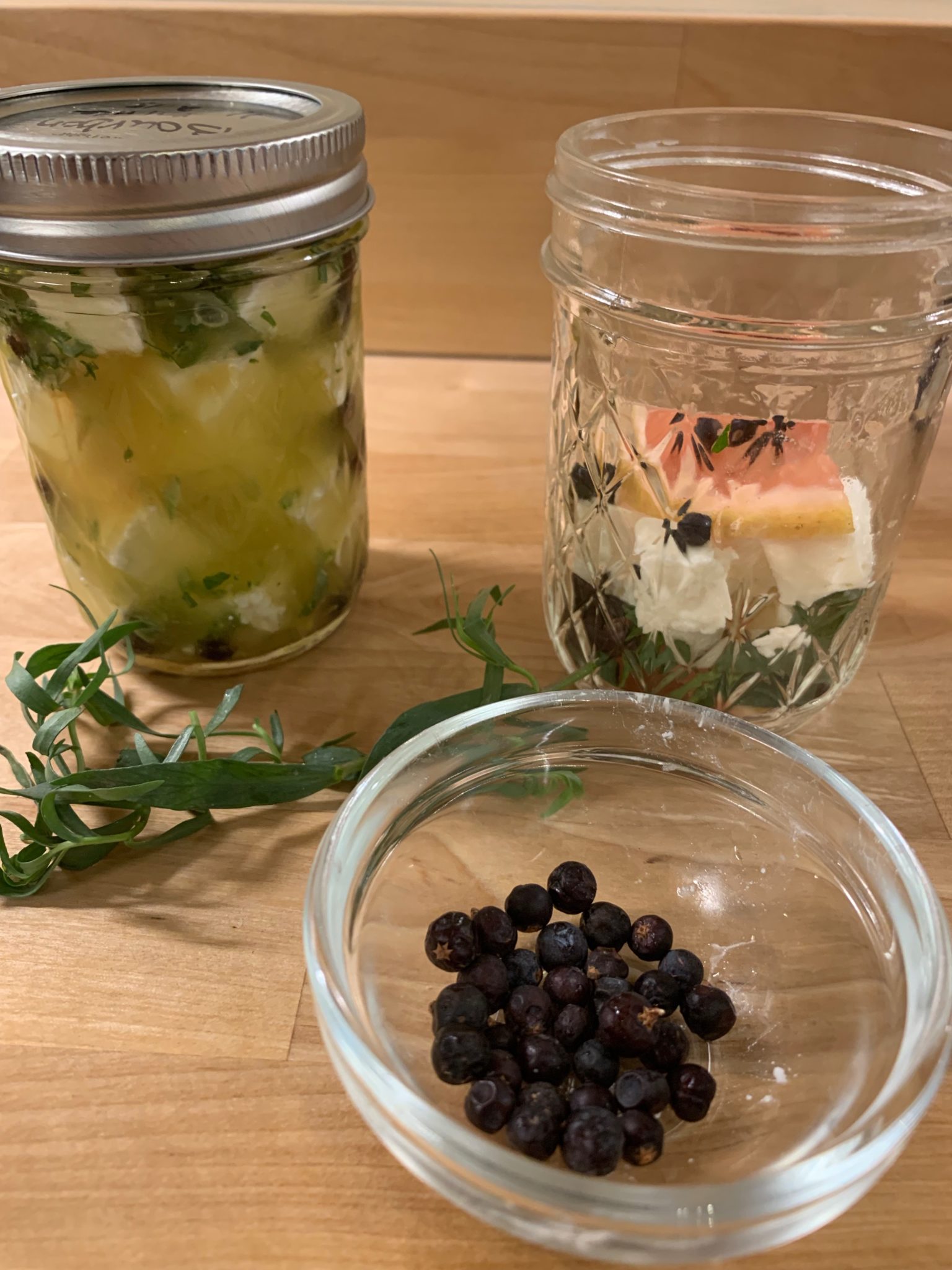 It can be made a number of different ways.  I chose to use pink grapefruit and tarragon, but you can use any citrus and herb combination.  Lemon and thyme is a classic but lime and cilantro would be great as would orange and mint.  Change out the juniper berries too.  Maybe try green or pink peppercorns (or both) or maybe pomegranate seeds.  It is really is up to you to pick a combination you like.
Once made, the feta needs to marinated for a day or two in the refrigerator.  The oil will cloud over and thicken so you need to let it warm up a bit before using it.  I like to add it to salads or you can serve it as is for an appetizer or even on a crostini.
Chop the feta into smallish pieces and mix the herbs, oil and juice together in a separate bowl.  Layer the cheese, citrus slices and other ingredients in a glass jar or plastic container and finally pour the oil mixture over the whole thing.  After you have used the cheese up the oil can be used in a salad dressing or brushed over poultry or fish as it bakes.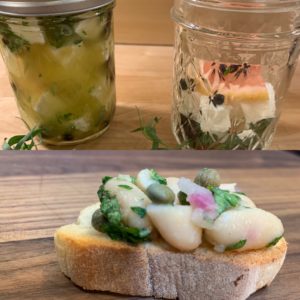 WHITE BEAN AND CAPER CROSTINI
Ingredients
1/4

c

red onion

minced

¼

c

parsley

minced

2

tbsp

capers

1

tbsp

extra-virgin olive oil

1

tsp

white wine vinegar

1 15

oz

can cannellini beans

rinsed and drained

Salt and pepper

1

small baguette

sliced and toasted
Instructions
With a fork combine all of the ingredients except the baguette in a small bowl, mashing some of the beans slightly. Taste and adjust seasoning as needed. Place a heaping tablespoon of the mixture on top of the toasted baguette.
Recipe Notes
Note: Bean mixture can be made a day or two ahead and refrigerated. Bring to room temperature before serving.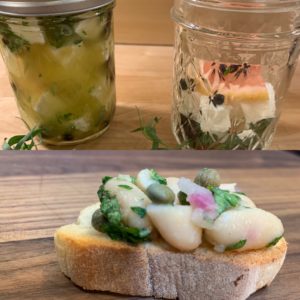 CITRUS AND HERB MARINATED FETA
Ingredients
8

oz

feta

1

tbsp

finely chopped tarragon

Zest and juice of one small pink grapefruit

¼ - ½

small pink grapefruit

thinly sliced and quartered

1

cup

olive oil

2

tsps

juniper berries

Salt and pepper
Instructions
Cut the feta into small dice.

Whisk together the grapefruit juice, zest, tarragon and olive oil. Taste and add salt and pepper if needed.

In a glass jar with a lid layer the cheese, grapefruit slices and juniper berries.

Pour oil mixture over the cheese to cover.

Allow the mixture to sit at room temperature for four hours then refrigerate for a further 48 hours.

Bring to room temperature before serving.
Recipe Notes
Note: Any combination of citrus fruit and herbs can be substituted for the grapefruit, tarragon and juniper berries.