According to my daughter, these light and flyffy biscuits overloaded with cheese and richly flavored with Old Bay Spice Seasoning give the Biscuits from Red Lobster some serious competition!  What do you think?
When we moved to Singapore in 1999, my oldest daughter was 13.  Over the course of the next 11 years I watched all three of my girls transistion from childhood through high school to young adults.
There were many milestones and many traditions, one of the most memorable of which revolved around suitcases.  Sometime in May, every year, we would board a plane home to the United States for the summer break.  Each of us with an enormous suitcase.  The suitcases were so large we called them "refrigerators" and they were largely empty.
My daughters were long-legged, healthy American girls who towered above the tiny, fine-boned Asians and buying clothing for them in Singapore was next to impossible.  So throughout the summer as we visited family across the Eastern seaboard from New Hampshire to North Carolina, we stopped in malls and shops buying  clothing for the following year, until the suitcases were filled and heavy.
The final stop was always at the mall in North Myrtle Beach, an hour from our house near the beach.
After a long day of trying on shoes, saying "Yes", "No" and "Maybe, I'll think about it" (which is another way of saying no), I would pull into the parking lot of the Red Lobster half an hour from home.  We would feast on rich and succulent bites of butter-dipped steamed lobster while I appreciated a well-deserved glass of cold white wine.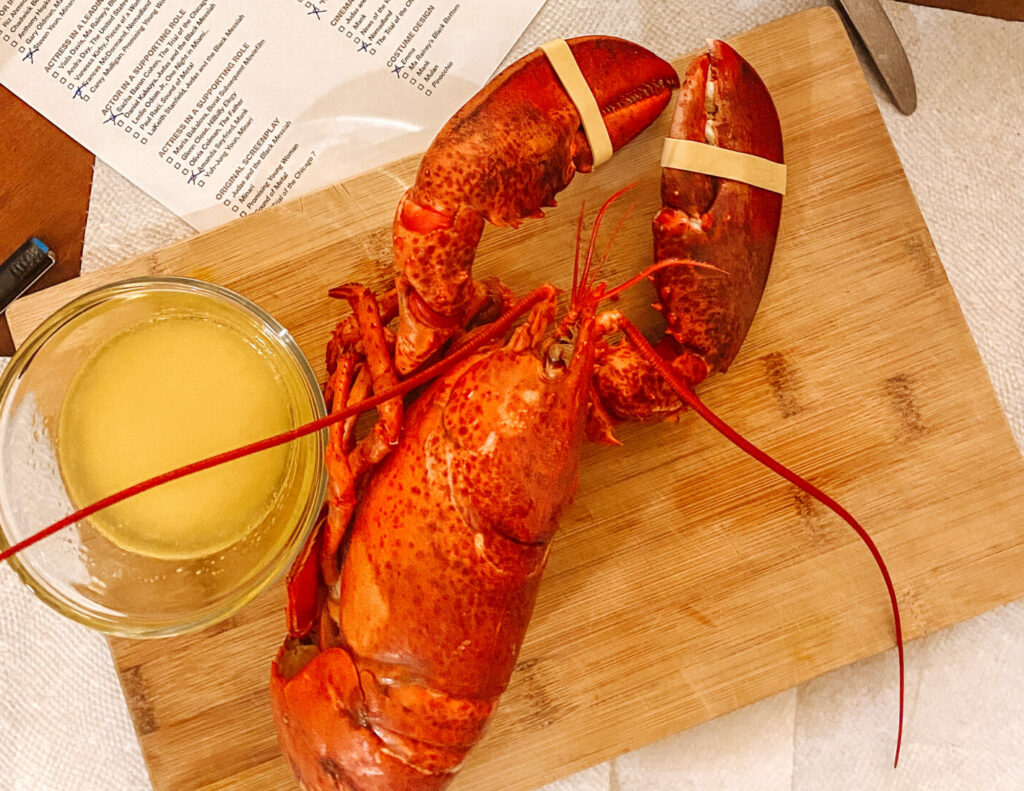 Apparently there were also biscuits.  I have to be honest that I have no memory of the biscuits at the Red Lobster but my daughter does.  As soon as she bit into one of these Old Bay and Cheddar Biscuits she said, "Oh, Mom!  This is as good as a biscuit at Red Lobster!".
Is it?  That's for you to say.
Stir together flour, baking powder, salt and a heaping tablespoon of Old Bay Seasoning (nothing subtle about the flavor of these biscuits!)
Melt butter and whisk it together with buttermilk.  The cold buttermilk may make the butter seize up but that's okay. This is an easy way of acheiving the distribution of butter throughout the batter that cutting the butter into the flour with a pastry cutter does.
Pour the buttermilk mixture over the dry ingredients and stir it  together until it is moistened and mixed together.  Add a copious amount of sharp cheddar and mix it one more time.  I like to grate the cheese on the large side of the grater.  The biscuits won't look as elegant but the flavor is worth it!
Use a large spoon or 1/4 cup measure to drop the batter onto a lined cookie sheet.
And bake until the biscuits are baked and lightly brown.  If you like, go for broke and brush the warm bscuits with melted butter before serving.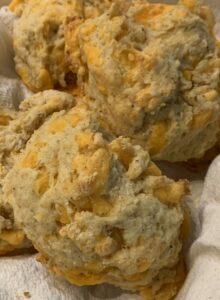 OLD BAY AND CHEDDAR BISCUITS
Ingredients
2

c

flour

1

tbsp

sugar

1

tbsp

baking powder

1

tbsp

Old Bay Seasoning

¼

tsp

salt

½

c

melted butter

1

cup

buttermilk

2

c

grated cheddar cheese
Instructions
Preheat oven to 450 degrees. Line a large baking sheet with parchment paper.

Stir together the flour, sugar, baking powder, Old Bay and salt in a medium bowl.

In another bowl whisk together the melted butter and the buttermilk. The butter may seize up from the cold buttermilk. That's okay.

Pour the buttermilk mixture into the bowl with the dry ingredients and fold them together until just moistened. Do not overmix.

Fold in the grated cheese.

Use a ¼ cup measure to scoop out the batter and place 2" apart on the prepared cookie sheet.

Bake 12-14 minutes until done. Best served warm.
Recipe Notes
Optional: brush the biscuits with melted butter immediately after removing from the oven.)