(It's Summer and things are heating up.  So in order to bring you seasonal recipes when you need them most I will be posting twice a week from now on.  Look for my new posts on Wednesday and Sundays.  Sign up to receive notification of new posts above.  I promise I will never, never, never give your email to anyone else!)
You might not think it based on this but there are other things I like beside food.  Food just always makes good times even better! One of the things I like a lot is the theater.  I have always been involved in theater: acting, directing, teaching, working with kids, creating costumes, producing and more.  None of this was ever professional.  It pretty much always centered around schools. Nothing makes my heart sing like watching the interaction between art, audience and actor.
The fact that my children are grown and I have no connection with any school has not stopped me from finding a way to be involved in theater in Asheville, however tangentially.
I have friends involved in the theater and I go to all of their shows.  A fact which has me driving to new towns all over Western North Carolina. Closer to home, I attend the performances of our community theater, The Montford Park Players, and support them financially as well.
The Montford Park players perform in an outdoor amphitheater near the house I am renovating.  And this weekend they were opening Robinhood.   I grabbed  my daughter, packed a picnic and off we went.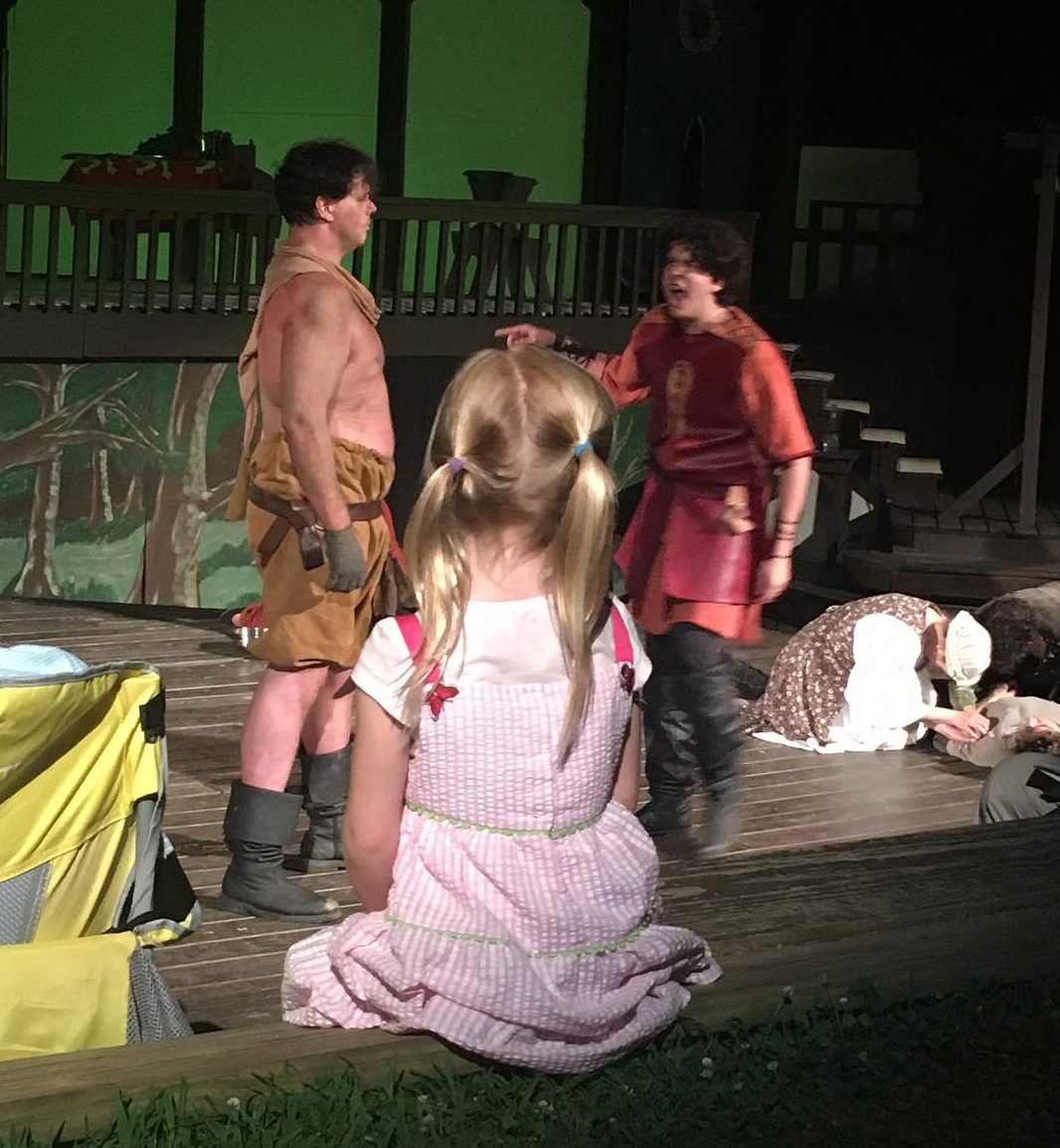 (Before I go any further, let me just say that if you live in Asheville or will be visiting this month you should go see this show. This is what my daughter wrote about it: " I'm so glad I went, the theater was sold out – when the merry men ran through the audience at the beginning of "Robin Hood" all the dogs in the theater started howling and barking. This little girl sat absolutely enthralled and completely lost in the show. And it reminded me of the magic of theater and that we're not alone, and that you can find joy, you just have to show up.")
Theater under the stars is one truism of summer.  Another one is peach pie.   It was time to bring the two together.  It's not easy to transport a whole pie to the theater.  As a matter of fact pie is generally not considered portable or an easy snack at all.  But you know what is?  Hand pie.
By now you should know how to make pastry!  If you've missed that lesson, read here.  The only difference between this recipe and my standard pastry recipe is that I used bourbon instead of ice water as the liquid.
Once the pastry was ready, I chopped up some peaches.  For a full-size pie I would use slices but for hand pies it is better to dice them.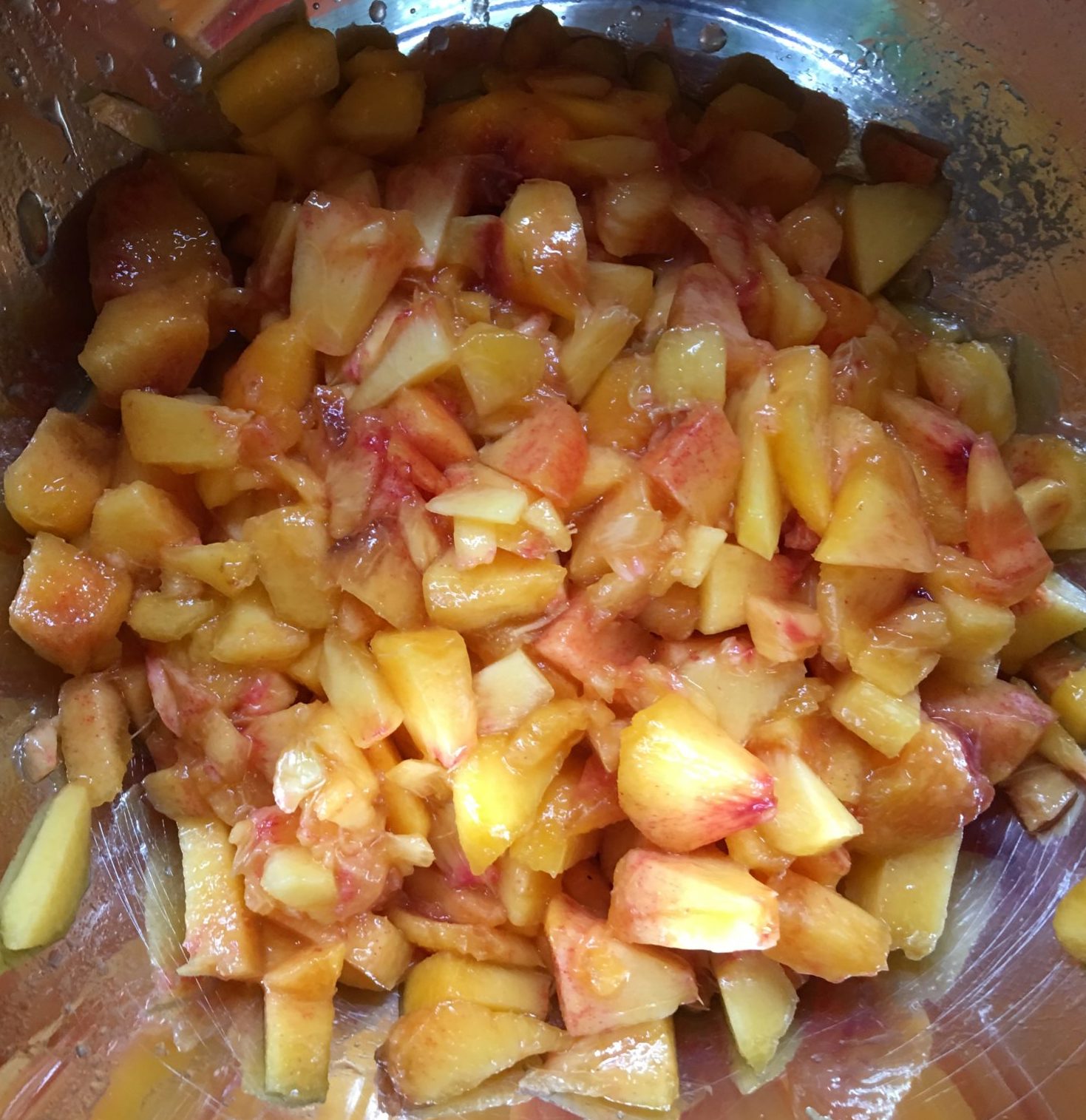 I tossed the peaches in brown sugar, tapioca, chopped mint and a little more bourbon then set it aside for fifteen minutes so the tapioca could start to soften.  This is an important step.  The pies don't take long to cook.  The tapioca needs a little more time so this will make sure it cooks through.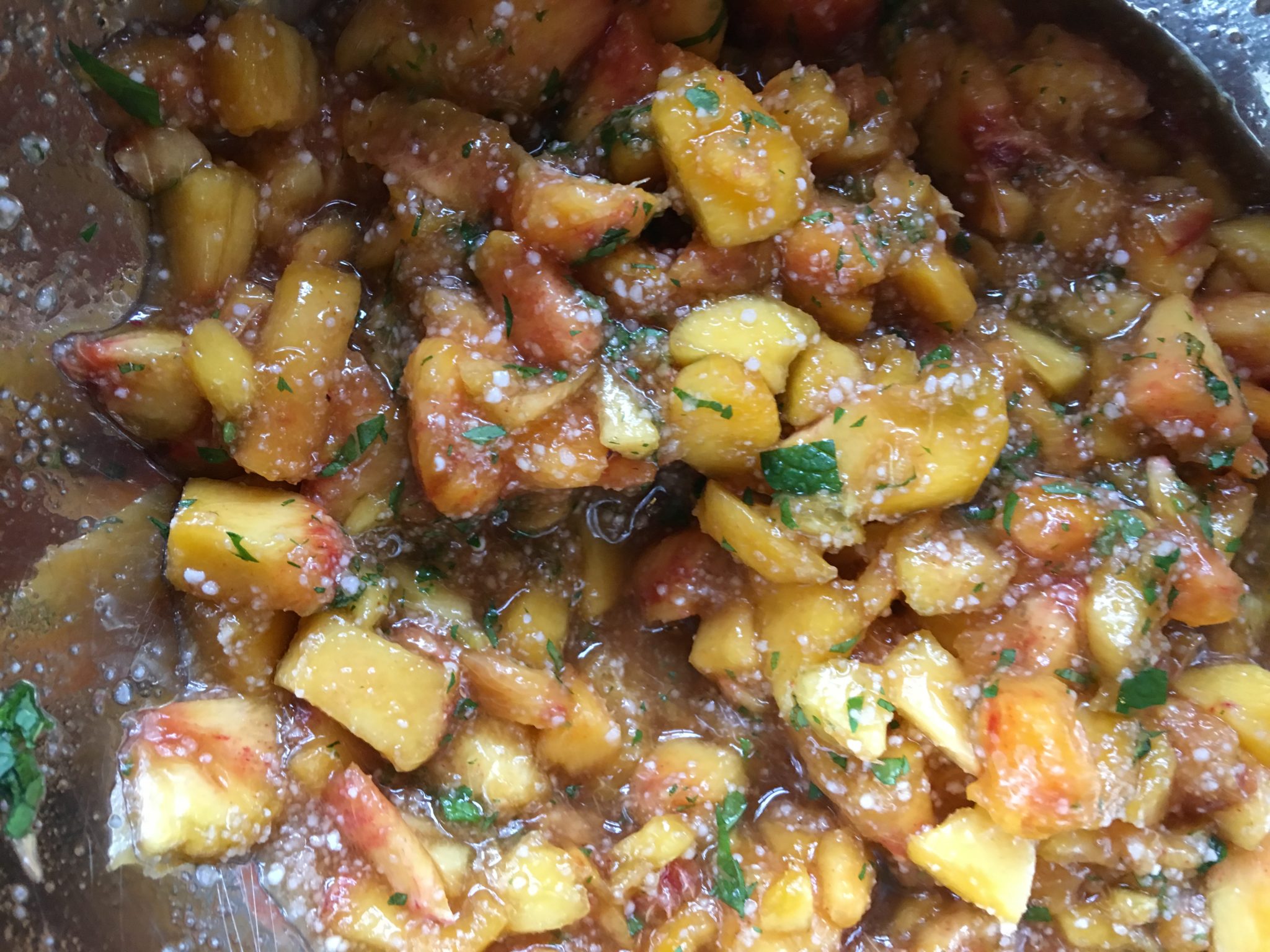 Roll half  the dough out about 1/8" thick.  If you have a circle cutter, cut circles for your pies.  I don't have one (it's in storage) so I used a ruler and measured a 12"x 6" rectangle then cut my pastry into three pieces.
Place 1 heaping teaspoon of the peach mixture onto one half of the pastry and brush the inside with egg wash.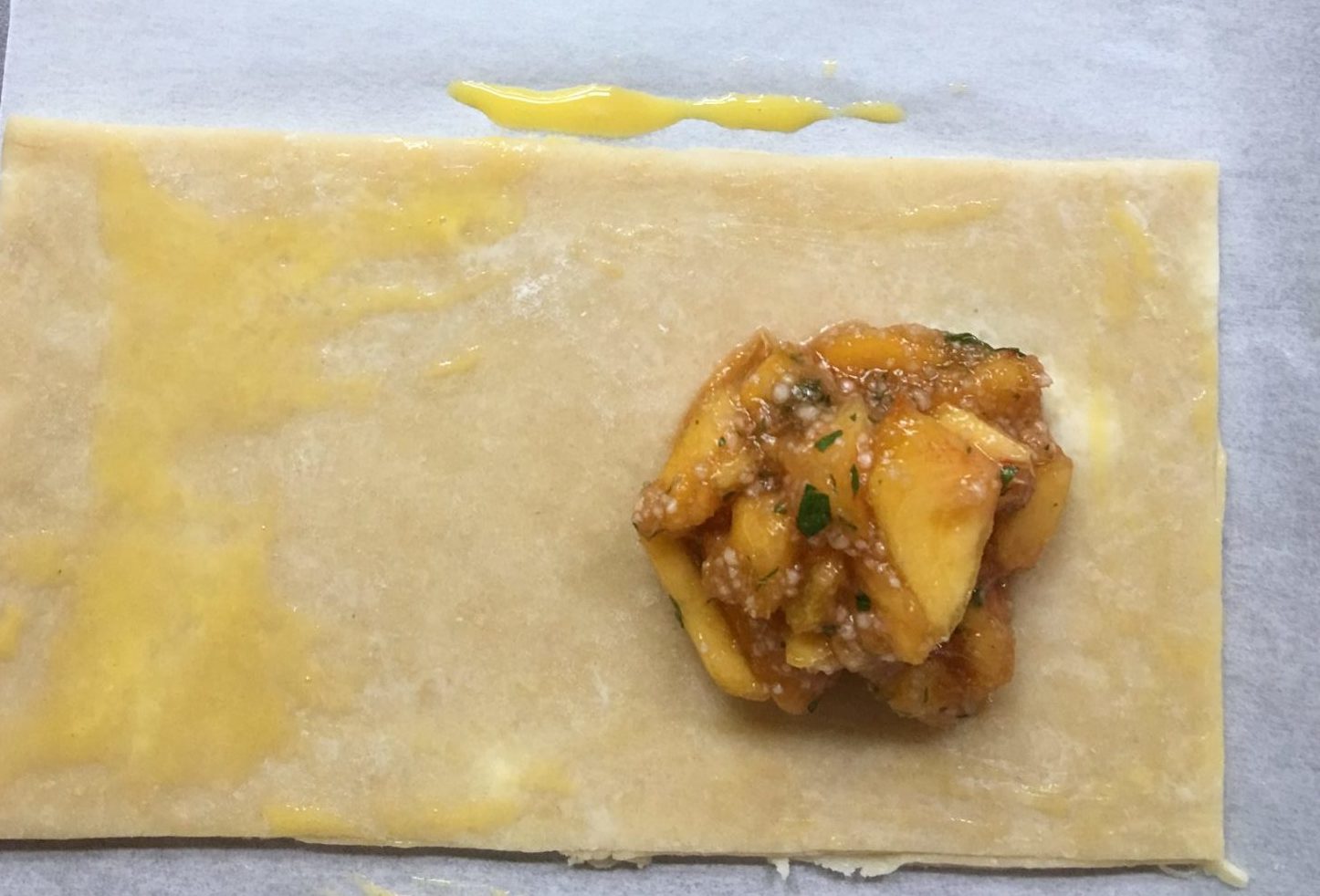 Fold the pastry over and use a fork to seal the edges well.  Finally finish by brushing egg wash over the pastry and sprinkling with a little sugar.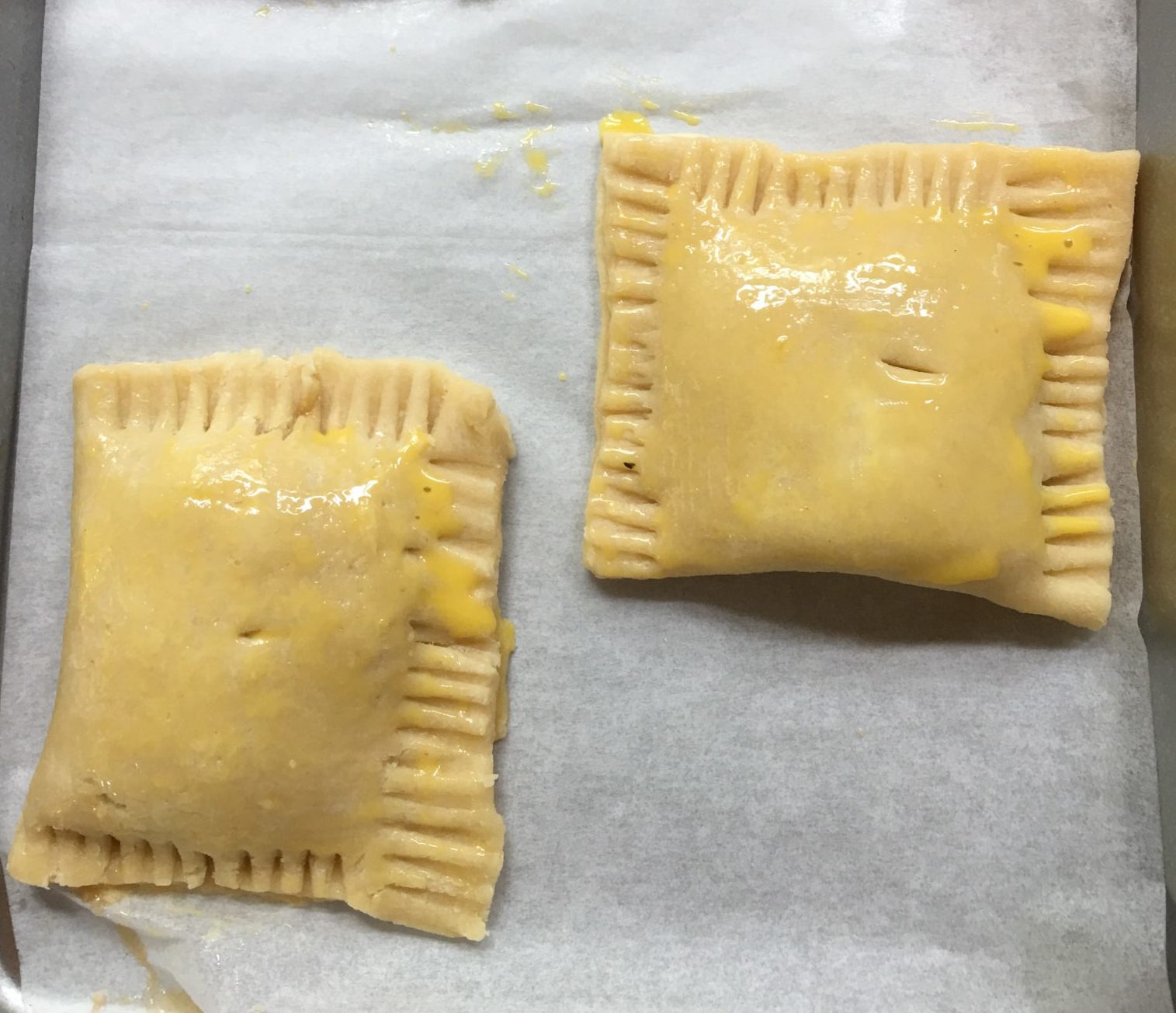 Bake to pies for 20-25 minutes until they are lightly browned.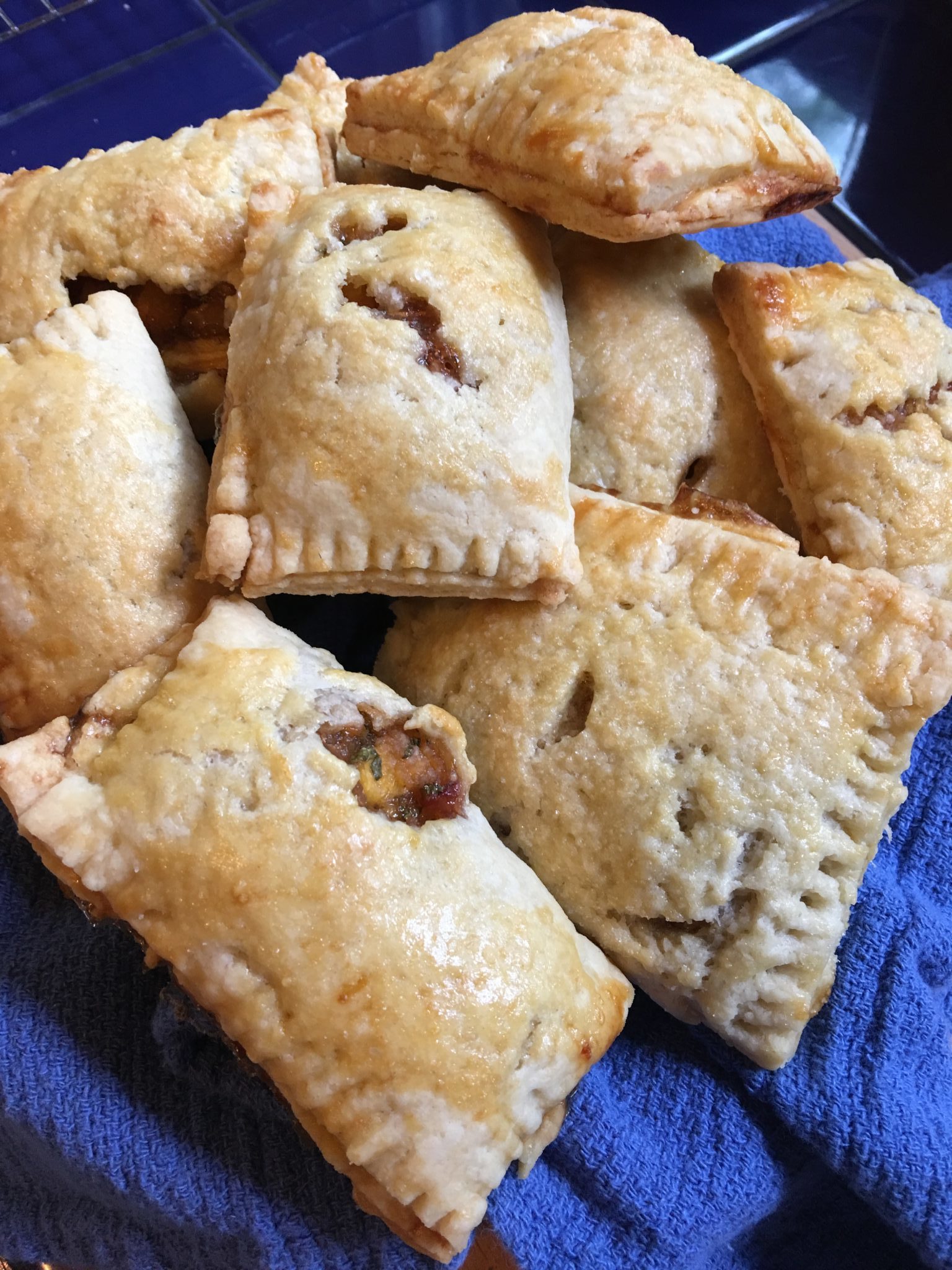 This is so good that I eat them for breakfast, warm and topped with vanilla yogurt!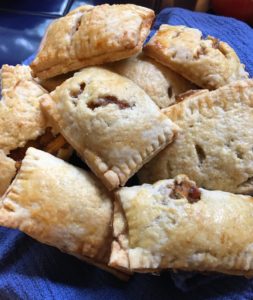 PEACH MINT JULEP HAND PIES
Ingredients
For the Pastry
2 ½

cups

flour

1

tsp

salt

1

tbsp

sugar

1

cup

cold butter

¼ - ½

cup

bourbon
For the Filling
3

cups

diced fresh peaches

3

tbsp

tapioca

3

tbsp

brown sugar

1

tbsp

bourbon

Pinch

of salt

1

tbsp

chopped fresh mint
For the egg wash
1

egg yolk mixed with 3 tsp water
Instructions
Make the pastry
Cut 1 cup of cold butter into the flour, sugar and salt mixture until it resembles sand. Slowly add the bourbon bit by bit until the pastry just holds together. Roll the pastry into a ball, flatten slightly and place in refrigerator for at least one hour.
Make the filling
Stir together all of the ingredients in a medium bowl and set aside for 15 minutes. Stir occasionally
Assemble the pies
Preheat the oven to 375 degrees

Roll half the pastry into a large rectangle. Trim to 12" X 6". Save the trimmings.

Cut the pastry into 3 rectangles. Spoon 1 heaping tablespoon of filling on to one end of each rectangle. Brush with egg wash, fold over the pastry and seal.

Continue with the second half of the pastry, then reroll the trimmings and repeat.

Place the pies on a parchment lined baking sheet, brush the tops with egg wash and sprinkle with sugar.

Bake the pies for 20-25 minutes until lightly browned and the filling is cooked.