It's Fall!  All hail pumpkin and pumpkin spice!
It seems like every year the stores try to push us into the next season long before the present one is finished.  Pumpkin products have been on the shelves of my local markets since August.  In my quest to enjoy the products of each season when they are in season, I have studiously ignored this.
Yesterday, however, was the first day of Autumn.
With everything else that's been going on it seems like the weather gods are giving Western North Carolina a bit of a break. This September has moved from the heat of summer to the cooler days and nights of Fall at a measured pace which seems far removed from the vicious heat of the past few years.  Fingers crossed it continues.  I could use a spectacular leaf season.
This lovely weather inspired me to get out the pumpkin and apples
I'm not a huge fan of pumpkin pie but I do like squash and I think pumpkin is unfairly ignored when it comes to savory uses.  I am out to correct that with this recipe for Pumpkin Biscuits.  Flakey, rich biscuits perfect for pairing with soups, chili, stews and more.  All that comfort food we turn to when the days get shorter and the nights cold.
Start with mixing the dry ingredients in a bowl then add some cold butter.
I used a pastry cutter to cut the butter into the flour mixture.  You can do the same thing in a food processor.  You want it to look like large crumbs.
Add the pumpkin and milk and stir it together with a fork until it is just mixed.
Now turn it out onto a floured board and pat it a little flat, sprinkle it with some flour and fold it over once or twice on itself.  Repeat this four or five times until the dough is no longer sticky.
Use your hands to flatten it or use a rolling pin to spread it out about 1 inch thick.
Flour a biscuit cutter or 2 inch cookie cutter and cut the bsicuits.  Try to get as many biscuits as possible out of the first rolling.  You can roll up the scraps and cut some more but they won't rise straight up as well as the those cut from the first roll.  They will still taste good though!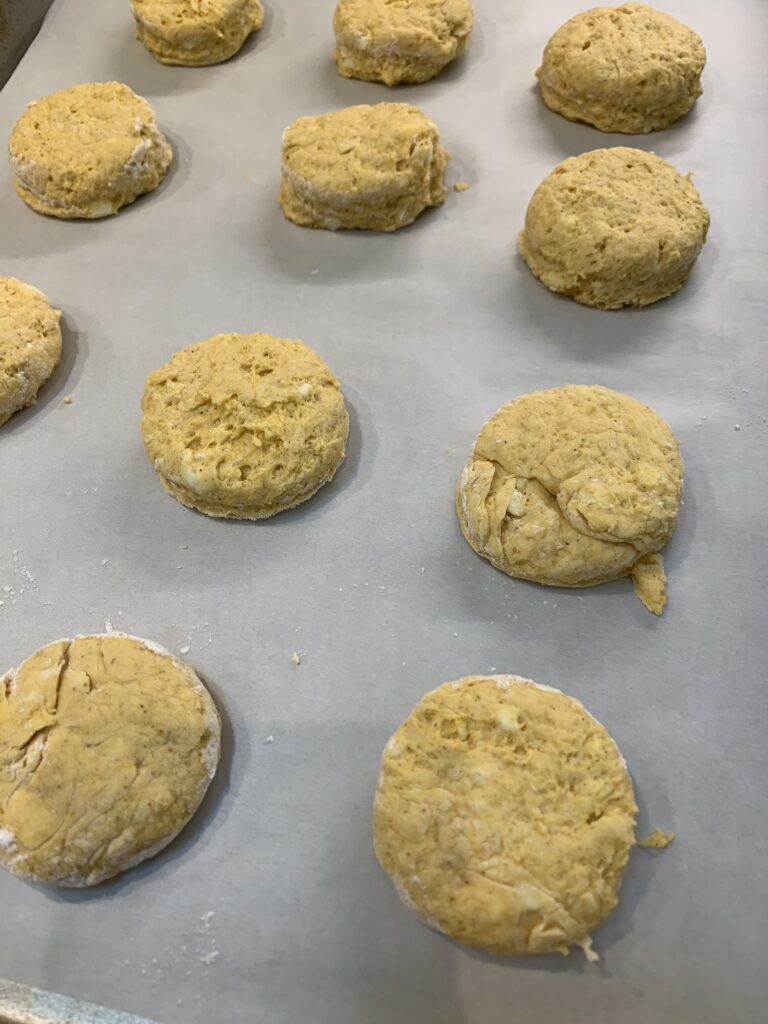 Put them on a parchment lined baking sheet and cook them until they are raised and golden brown.
These are delicious with honey and butter for a sweet treat or with a hot comfort food.  I'm having mine with some Green Chicken Chili tonight!
Happy Fall, Y'all!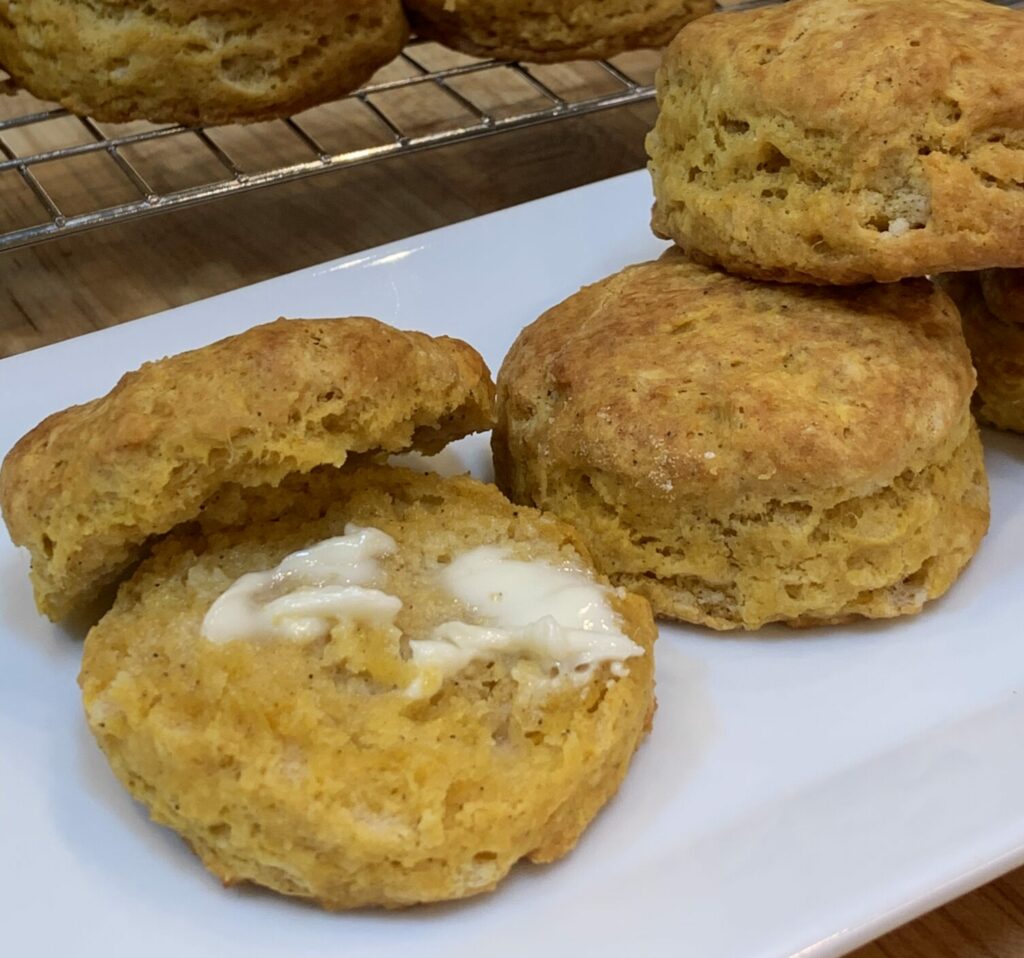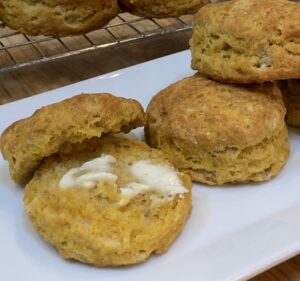 PUMPKIN BISCUITS
Ingredients
2

c.

flour

4

tsp

baking powder

1

tsp

baking soda

1

tsp

salt

¾

tsp

pumpkin pie spice

1

stick

1/2 c butter

¾

c

milk

2/3

c

pumpkin
Instructions
Preheat oven to 450. Line baking sheet with parchment paper or Silpat

Stir together the flour, baking powder, soda, salt, and spice in a bowl.

Cut the butter into small chunks and add to the flour mixture. Using a pastry cutter or food processor, cut the butter into the flour until it makes reaches a crumblike texture.

Stir together the pumpkin and the milk until smooth.

Add the pumpkin and milk to the flour mixture and stir with a fork until mixed together.

Turn the dough out onto a lightly floured board. Handling the dough lightly, pat the dough flat with your hands and sprinkle the surface lightly with flour. Fold the dough over on itself and turn a quarter turn. Repeat four or five times until the dough is no longer sticky.

Roll the dough out to a 1" thickness and cut into 2" biscuits with a lightly floured cutter. If you don't have a biscuit cutter you can use a sharp knife and cut square biscuits. Cut as many biscuits as possible from the first roll. Gather together any scraps and roll out once more to cut more biscuits.

Bake for 12-14 minutes until brown on top.