This is the sad tale of three Kugelhopfs and knowing when to stop and make Green Chicken Chili instead.
The story starts 39 years ago when I traveled to the French city of Strasbourg in the Alsace-Lorraine region near the German border.  Students of history will know that this area of France has been hotly fought over and traded back and forth between Germany and France giving it a unique culture and cuisine.
We visited the cathedral, walked along the river and explored the narrow cobblestone streets and, of course we stopped in a bakery.  I had heard of the traditional cake of the region, a yeasted bread cake, similar to a brioche but studded with rum filled raisins and sliced almonds.  It was cooked in a castle-like mold and rose high above the other cakes, at once unadorned in its appearance and yet commanding in its height.  We choose our Kugelhopf and it was presented to us in a large box, somewhat like the square pyramid box of a Christmas Panatone.
The day had become warm and we stopped at the car and left our jackets and the Kugelhopf in the back seat, planning to enjoy it with a lunchtime picnic the next day.
This was not to be.  In the morning when returned to our car we found the window broken and the jackets and cake stolen.  This was all that was taken so in my heart I understood.  Sadly, we had to move on and I never got to try a Kugelhopf.
Then, last week, the Signature Challenge on the Great British Baking Show was to make a Kugelhopf.  The bakers did seem challenged but their cakes turned out, tall and delicious.  So I was all in on this bake!
My first issue was the lack of a Kugelhopf pan.  Researching recipes indicated that the cake could be successfully made in a Bundt pan.  I don't have either of those pans, but I do have friends who own Bed and Breakfasts, and Bed and Breakfast owners bake!  So I borrowed a Bundt pan and I was off to the oven.
(Can I take a minute here and make a plea for all of you to think of visiting Asheville and staying at a traditional bed and breakfast when things open up again?  Our bed and breakfasts are some of the finest in the country, clean and safe, with excellent food.  Sadly, the economic devastation surrounding COVID-19 means that they may not survive if people don't return.)
Back to the Kugelhopf.
I tried people.  I really tried.  I made it three times.  I adjusted the amount of flour, I tried different oven temperatures and I tried different pans.  In the end I was forced to the conclusion that Kugelhopf and I were destined never to meet.
Therefore, there is no Kugelhopf recipe for you this week.  Instead I am sharing with you one of my favorites for  Green Chicken Chili, a comfort food that hits all the buttons of warmth, cheese and ease while still being on the lighter side.  (After all, how much cheese is up to you!) As an added bonus try pairing it with my Pecan Cheddar Bread.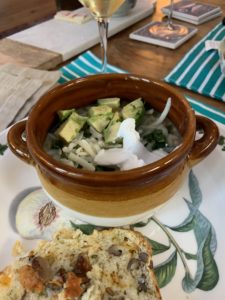 GREEN CHICKEN CHILI
Ingredients
For the Chili
1

tbsp

olive oil

1

small yellow onion

chopped

1

clove

garlic

minced

1-2

jalapenos

seeded and chopped

1

small can chopped green chilis

2/3

tsp

cumin

½

tsp

oregano

Pinch

ground cloves

Pinch

cayenne pepper

1 15-

oz

can large white beans

undrained

1

c

chicken broth

1 ½

c

diced cooked chicken
For the Garnish
1

avocado

diced

Sour cream

Fresh cilantro

chopped
Instructions
Heat the oil in a large sauce pan until shimmering/ Stir in the onion, garlic and chopped jalapeno and cook over medium-low heat until softened, 4-7 minutes.

Add the cumin, oregano, cloves and cayenne pepper and the green chili to the pot and sauté until the spices are redolent, 1-2 minutes.

Add the chicken broth, the can of beans and the liquid from the can, and the white beans. Bring it to a boil then turn down the heat and simmer for 20 minutes.

At the end of 20 minutes use a potato masher to mash the chili until the beans are broken up. If the chili is too soupy, boil it for 5-10 minutes to thicken.

Add the chicken and let it cook for a few more minutes until it is heated through

Serve topped with grated cheese and other garnishes to taste.
Recipe Notes
Note: Vary the heat of this chili to your taste using all or none of the jalapenos.