I told myself I wasn't going to give you yet another recipe for zucchini bread.
Until I made this one.
Filled with dried apricots and flavored with orange, it reminds me of my mother's long lost banana bread recipe that I have been unable to replicate.  When my daughter Abby came home and raved about this bread I knew I had to share it.
It starts with my basic Olive Oil Zucchini Bread Recipe .
Olive oil, maple syrup and brown sugar are beaten together in a bowl until they are mixed.
Add eggs, vanilla and orange extract and beat it together until it is emulsified (it will be thick and hold together).
Add flour, leaveners and salt and stir until almost fully mixed.
Toss in the zucchini and apricots and fold them in until it is all mixed in.  Don't over do it!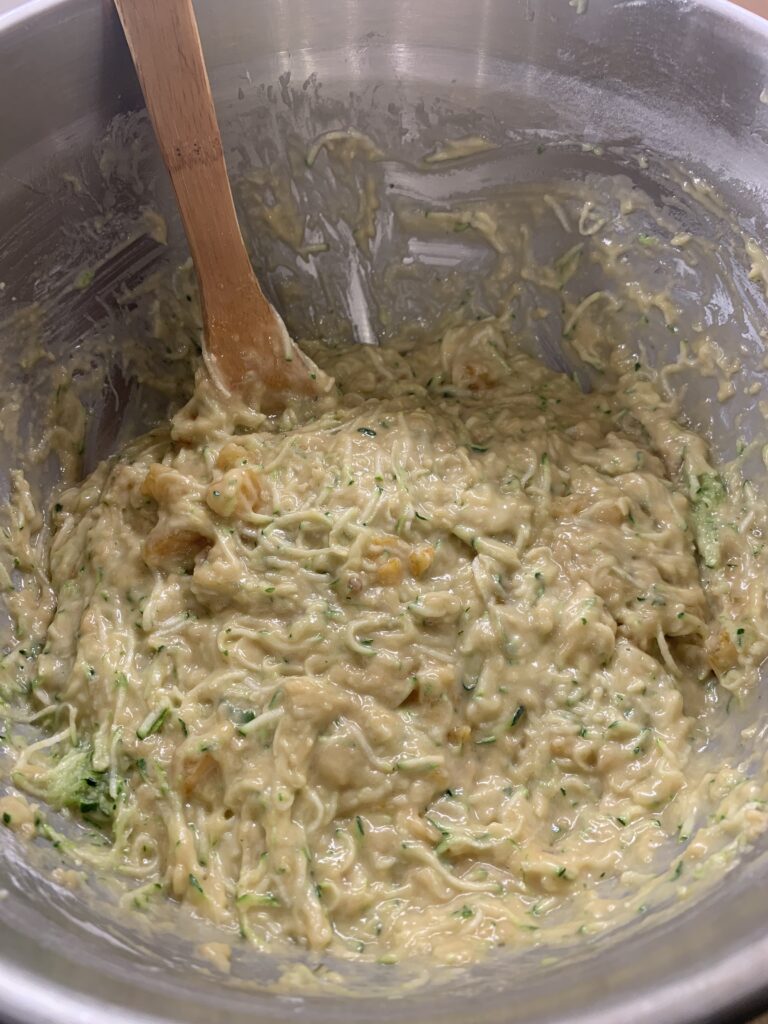 Put it in the pan and bake it.  I like to decorate the top with some Sweetened Dried Orange Slices from Trader Joes but that is entirely optional.
Bake the loaf until it is  done.  DON"T be fooled by the top springing back, this makes a big loaf.  You need to make sure the middle is cooked.  Use a toothpick to test it.  If the toothpick comes out covered with batter you will know it needs another five to ten minutes.  Alternatively, I like to use my instant read thermometer.  A temperature of 200 degrees usually ensures a fully cooked loaf.
This recipe is easy to double, which you may need to do if your harvest is overwhelming.
The loaves freeze well.
Neighbors are also more receptive to receiving a loaf of Zucchini Bread than they are to another green monster!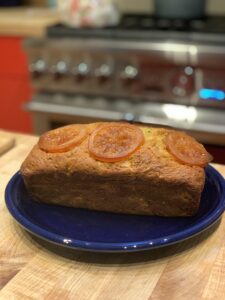 APRICOT ORANGE ZUCCHINI BREAD
Ingredients
2

c

flour

1

tsp

baking powder

½

tsp

baking soda

½

tsp

salt

½

c

olive oil

½

c

maple syrup

1/3

c

light brown sugar

2

eggs

1

tsp

vanilla

¼

tsp

orange extract

2

c

finely grated zucchini

¾

c

diced dried apricots

Sweetened dried orange slices

optional
Instructions
Preheat oven to 375 degrees. Spray an 8"x5" loaf pan with oil. Line the bottom with parchment paper and spray the paper.

In a large bowl beat together the oil, syrup and brown sugar until it is well mixed together. Add the eggs, vanilla and orange extract and beat vigorously until it is thickened and holds together.

Add the flour, baking powder, baking soda and salt. Stir in the dry ingredients until they are just disappearing into the batter.

Fold in the grated zucchini and the diced apricots until all the flour is mixed in and the zucchini and apricots are evenly distributed.

Pour the batter into the pan and spread it even. Top with the orange slices if you are using them. Bake in a 375-degree oven for 55-65 minutes until done. Use the tester method to determine doneness: a toothpick inserted into the center should come out clean. Alternatively, an instant-read thermometer will read 200 degrees in the center of the loaf.
Recipe Notes
Note: This recipe can be doubled. The loaves freeze well, wrapped in plastic, for up to three months.