Meet Tom, mild mannered computer programmer by day and impresario of the cocktail at night. I spent an evening with him and his wife, Emily,  in Chicago recently where he showed me how easy it is to make a showstopper cocktail to impress your friends. ( Before I go any farther with this here is a disclaimer:  Tom is my son-in-law and he is British.  We forgive him for both.)
I don't know if Tom discovered whiskey (and specifically Bourbon) in the United States  or not, but he has developed a love for it which endears him to friends and family as he uses his expertise to our advantage.  I even have one of his cocktails on my phone as my wallpaper.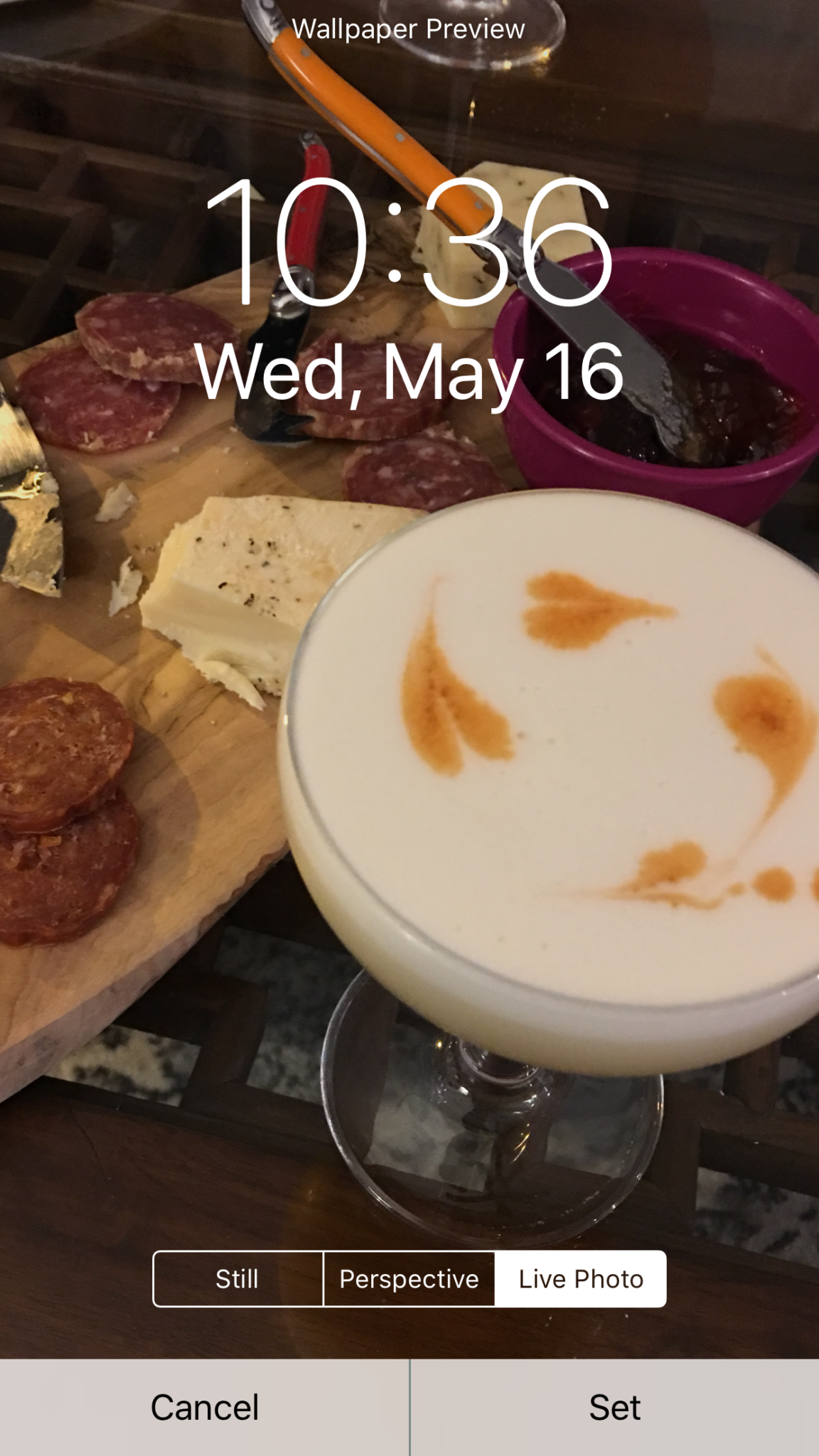 So when I thought about my "Cooking with Friends" series it seemed inevitable that one of Tom's drinks would make the cut.
According to sources,  the whiskey sour originated from the British Navy and their practice of combining a sailor's ration of grog with the lemons or limes required to combat scurvy.  This seems fitting given Tom's origin. By 1872 the drink had been officially "invented" by an ex-sailor in a bar in Peru: whiskey, a sour and a sweet all in one glass.
We started with the mise en place, same as you would/should for any dish.  Tom has a great selection of bartending tools but you can substitute.  In place of the cocktail shaker use a large mason jar with lid, and any small kitchen sieve will work for a strainer.  Tom uses a jigger which measures in ounces.  You can use a tablespoon.  (one ounce=2 tablespoons) Sorry, there is no substitute for the silver tray!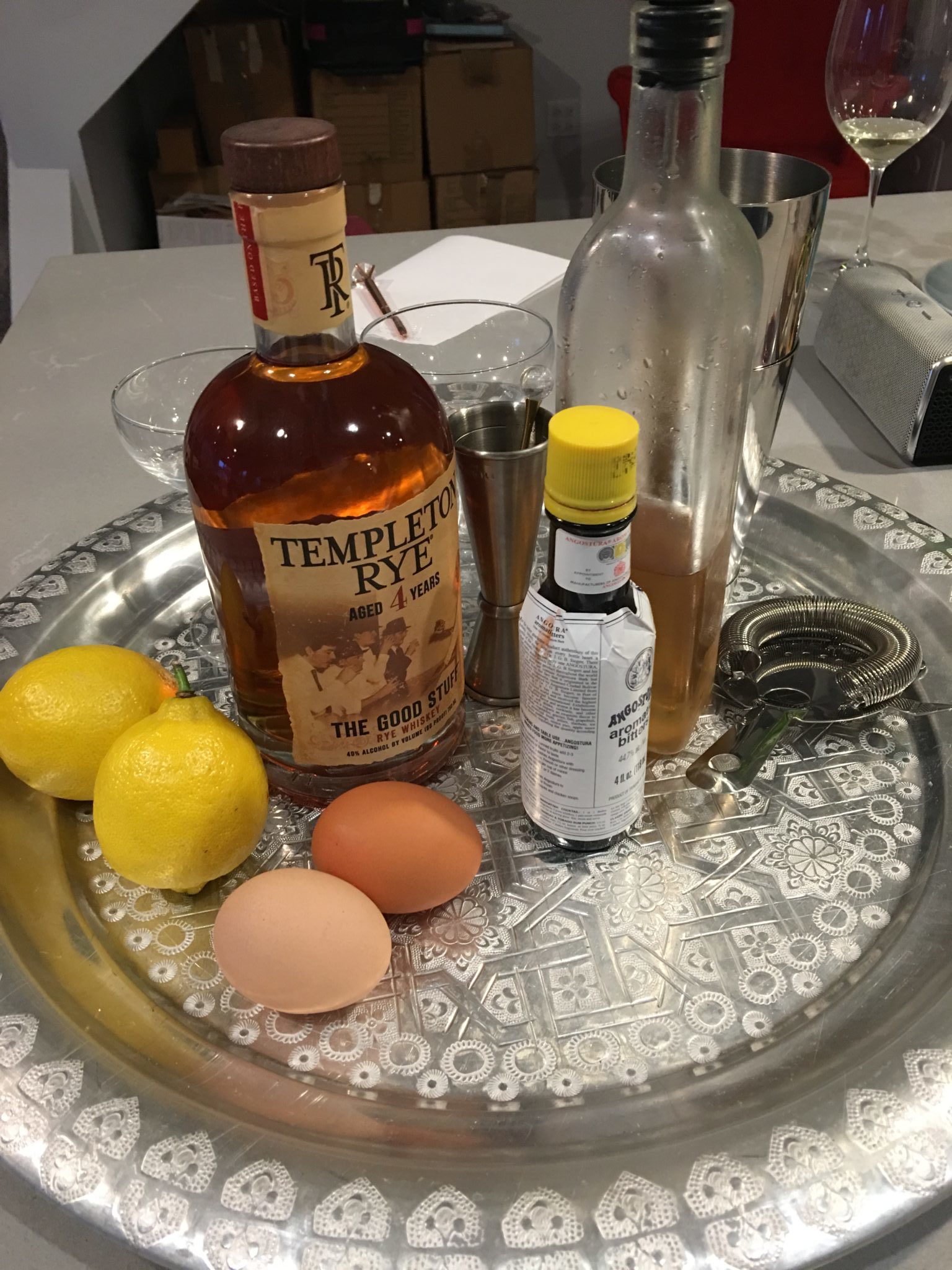 Tom's choice is Rye for his Whiskey Sour.  The rye used  in making  the whiskey gives a dry, spicy flavor to the final product.  Corn used in making bourbon produces sweeter drink with more body.  Later that evening Tom and I explored some of the flavor differences between bourbons and rye.  Some evening when you don't have much to do the next morning, try it yourself.  You will be surprised at the nuance and difference in flavor.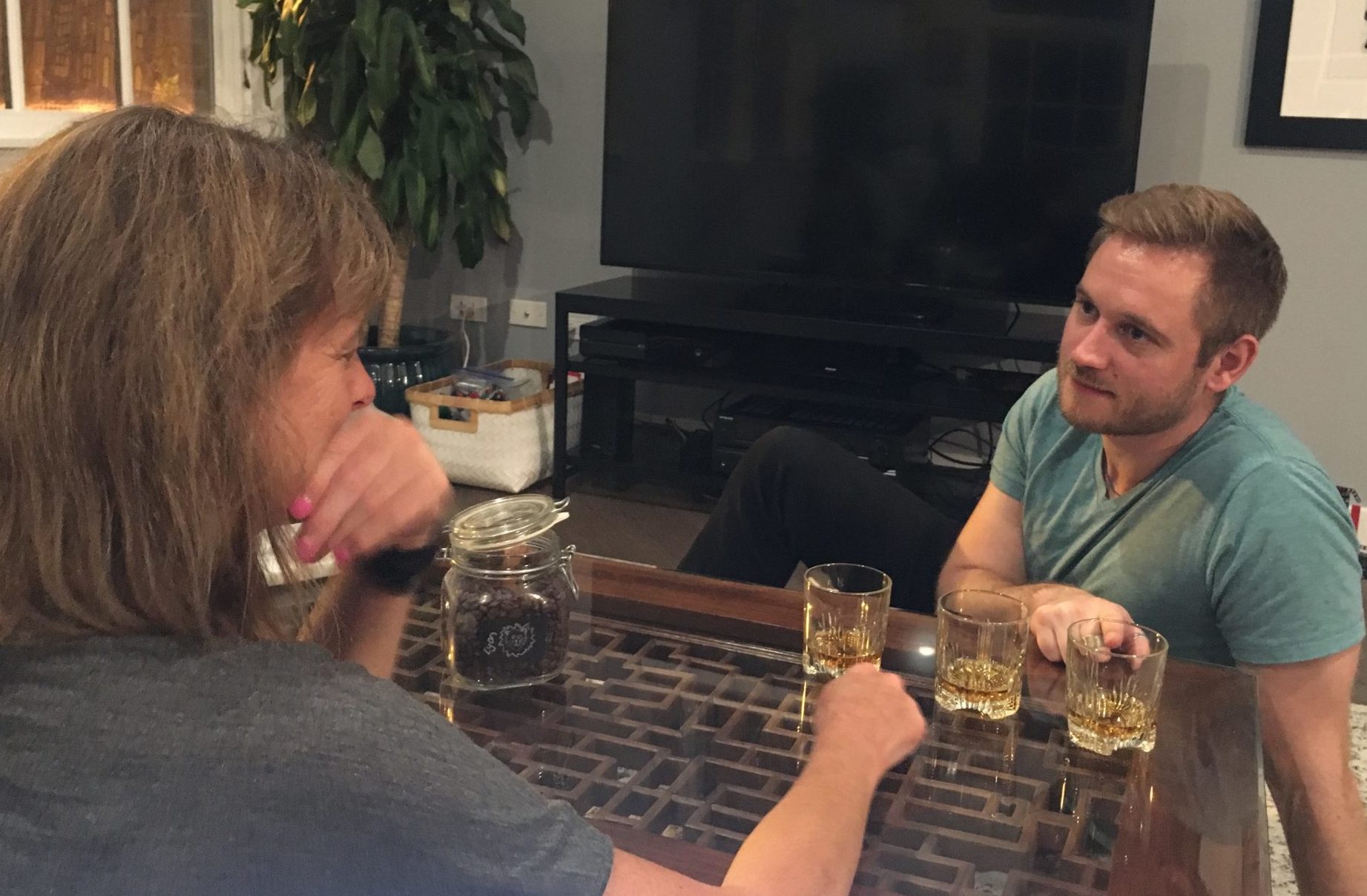 For one drink, fill your shaker half full with ice and add the juice of about half a lemon, your whiskey, some simple syrup (recipe below) and 1 egg white.  The egg white is the magic in the drink.  It creates the froth.
(Yes, using  raw egg whites does present a small risk but the alcohol provides a safety barrier and the citric acid from the lemon lessens the risk even more.  To be even safer you can use organic eggs from a safe source.  However, there will always be some risk so if you are uncomfortable with the egg white you have two options:  shake the drink even longer and harder which will produce a lesser amount of froth or try one of the substitutes available.)
Close the shaker and shake vigorously!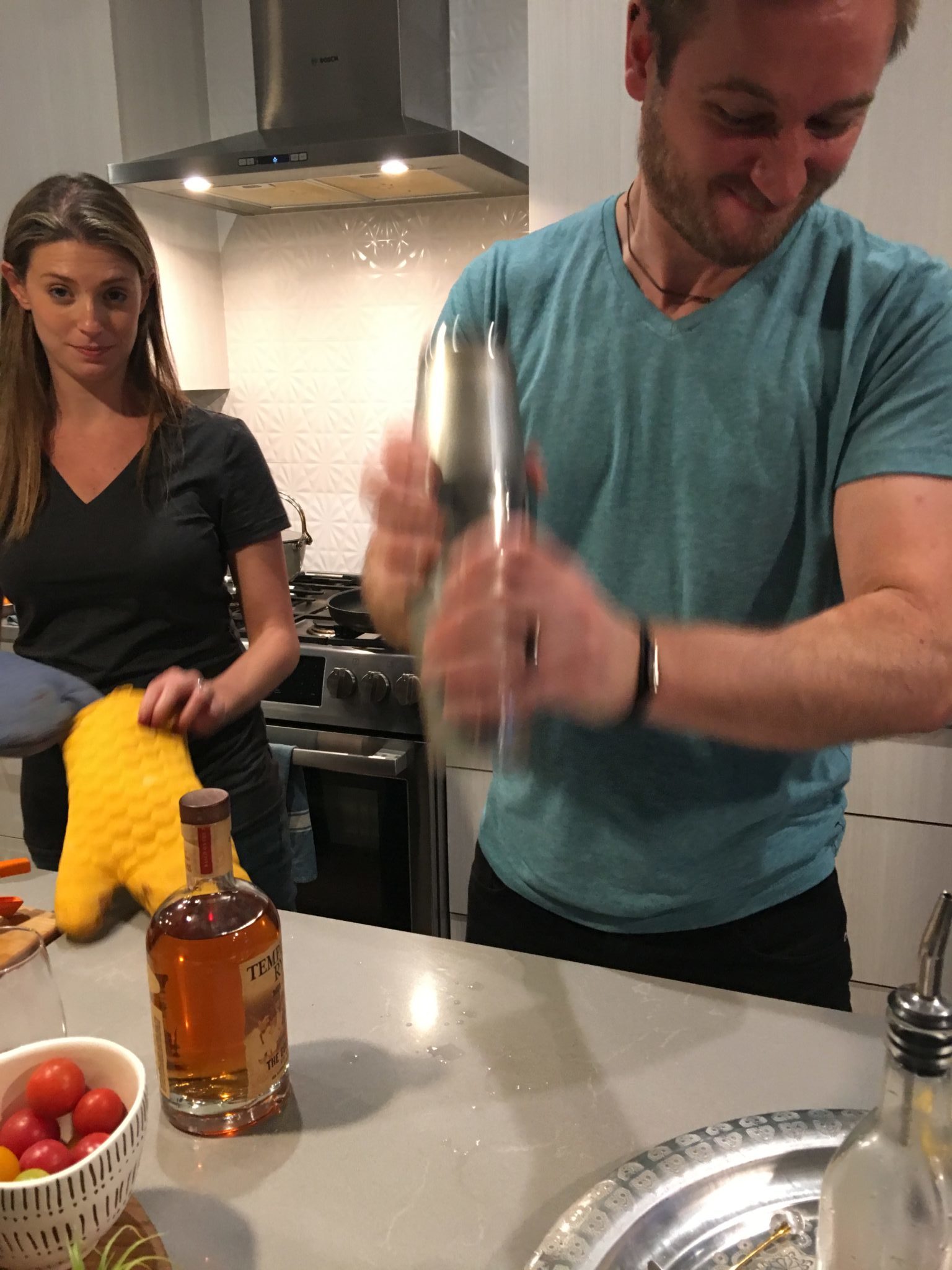 Strain the liquid into a cocktail glass.  You don't have to use a champagne coupe as shown here, any short cocktail glass will work. Don't be concerned if your drink does not pour out with a nice head of foam.  Give it a second and the foam will rise to the top.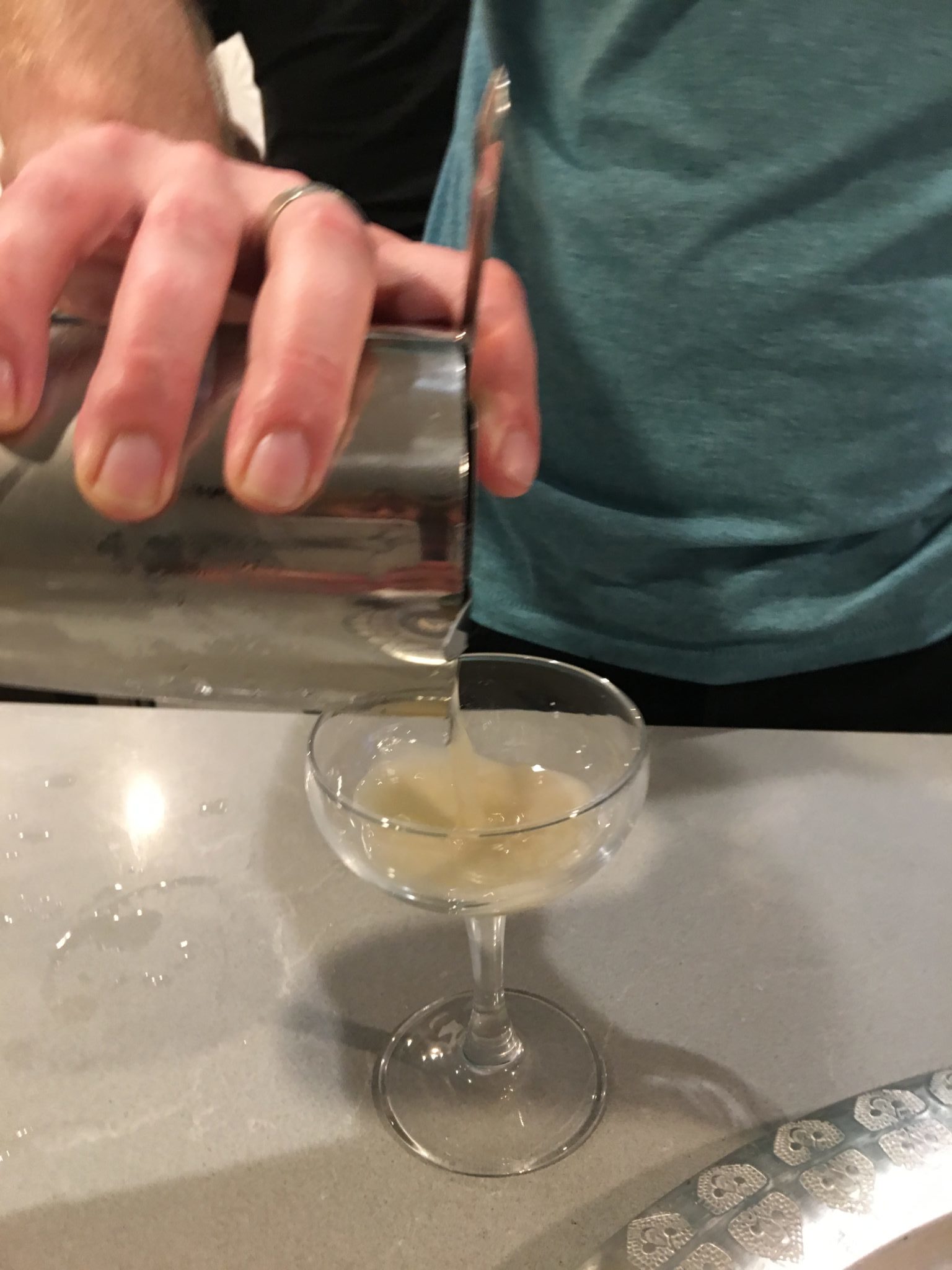 And now the fun starts:
Put four or five drops of bitters on top of the foam.
Using a toothpick, create small hearts by pulling a bit of the dark bitter to elongate the end.  With practice you will be able to make lots of great shapes. (Think barista at high end coffee shop!)
A note about "Bitters":  bitters are made by infusing a neutral spirit with herbs, barks, spices and other flavors.  They were originally thought to have medicinal qualities but now are best known for their use in cocktails.  I have heard it said that they are the salt of the mixologist's pantry, brightening and increasing the flavor. They come in a variety of flavors and it's worth experimenting with them.  Some cocktails call for a specific type of bitter (the Sazarac  ) and with others you can experiment and create your own flavor profile.  We used Angostura Bitters (http://angosturabitters.com/), one of the most well known bitters for our whiskey sour.
That's it folks–
CHEERS!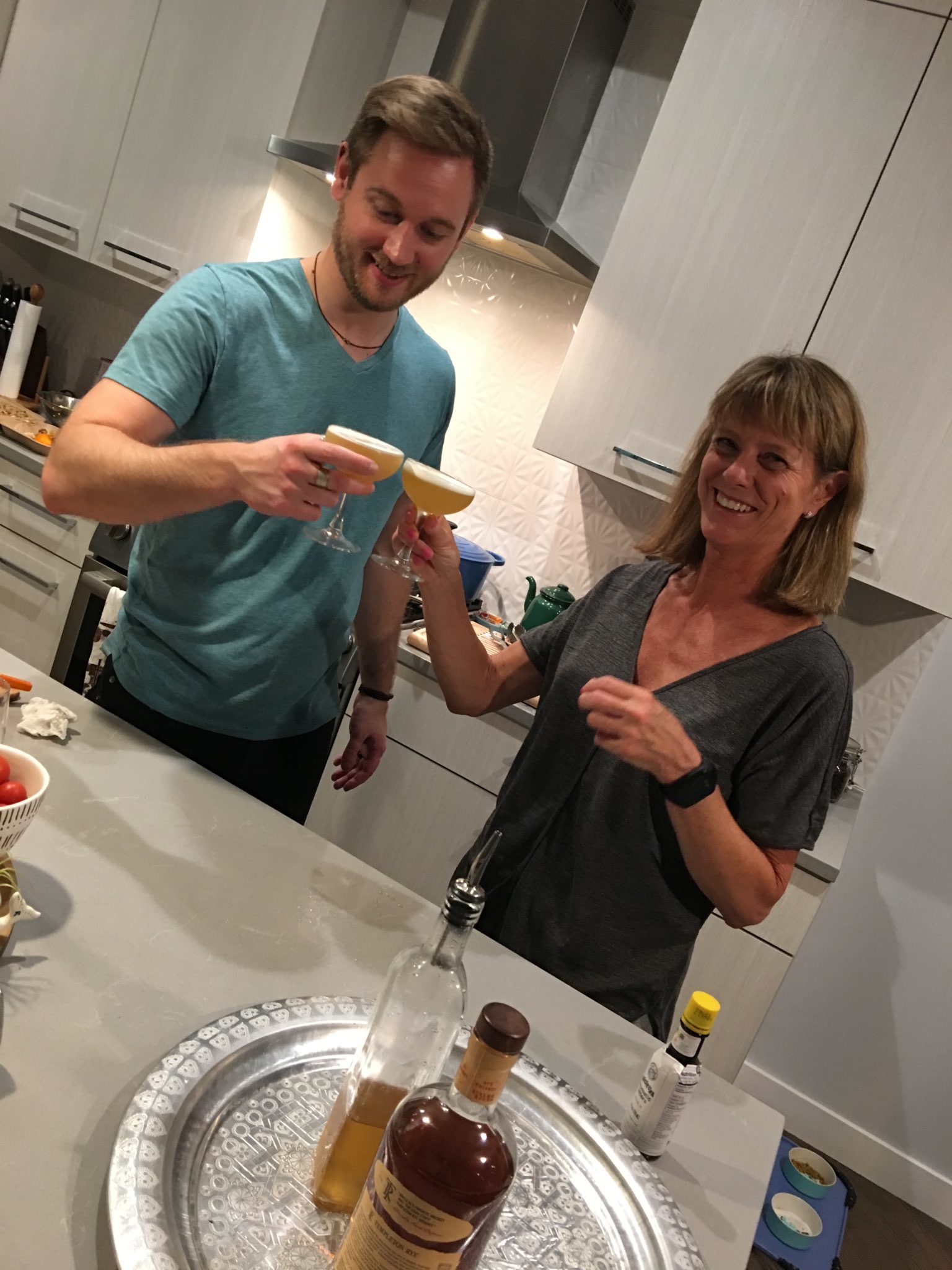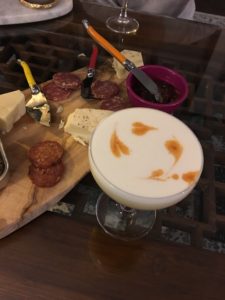 CLASSIC WHISKEY SOUR
Ingredients
Whiskey Sour
Ice

¾

oz

fresh lemon juice

1.5 tbsp

½

oz

simple syrup

1 tbsp (recipe below)

2

oz

bourbon or rye

4 tbsp

1

egg white

use one egg white for single or double recipe

Angostura Bitters
Simple Syrup
¾

cup

sugar

¾

cup

cold water
Instructions
Whiskey Sour
Fill a cocktail shaker half full with ice.

Add all of the remaining ingredients, except the Bitters.

Shake vigorously

Strain liquid into a short cocktail glass.

Place 4-5 drops of bitters on top of foam in glass. Using a toothpick create hearts or other shapes by drawing the toothpick through the bitter.
Simple Syrup
Combine sugar and water in a saucepan

Heat over medium heat until sugar has dissolved.

Cool and store in the refrigerator for 3-4 weeks