I am obsessed with the American BBQ Showdown on Netflix.   It's weird, I know.  I don't do a lot of bbq, mostly leaving that to my skilled and capable son-in-law.  I love BBQ  but it's always seemed a little one note to me.  However, there's not a lot that's new on TV these days and this show caught my eye.
I'm so glad it did.  I have learned a lot about meat and Southern sides and the vast array of people who love to make it.
Kevin Bludso and Melissa Cookston are the judges and they are good.  Melissa in particular knows how to cook the meat and sides.  She can spot a mistake from a country mile away and then she will go and talk to the contestant about it.  It amazes me that they don't listen more!
There is camaraderie, competition, joking, education, and best of all, the contestants support each other and help each other.
Which leads me to my dinner last night: BBQ Country Style Ribs.
This cut of meat is most often referred to as Country Style Ribs but they aren't really ribs at all.  They are cut from the loin chop just under the shoulder.  They are cut long and are usually arranged in the butcher's tray like standard pork ribs.  But they are meatier with more marbling and have no bone.  Sources say that they are called "ribs" because they have the flavor and consistency of pork ribs.
I decided to put some of my new-found BBQ knowledge to the test and cook me some ribs!
It was raining so I didn't use the grill.  These ribs are oven baked (sorry purists!)
Start with a rub.
Brown sugar, Old Bay, chili powder, cumin and cayenne pepper are mixed together and rubbed all over the ribs.
Spread them in a roasting pan, cover them and set them to cook in a slow oven for 1 ½ -2 hours.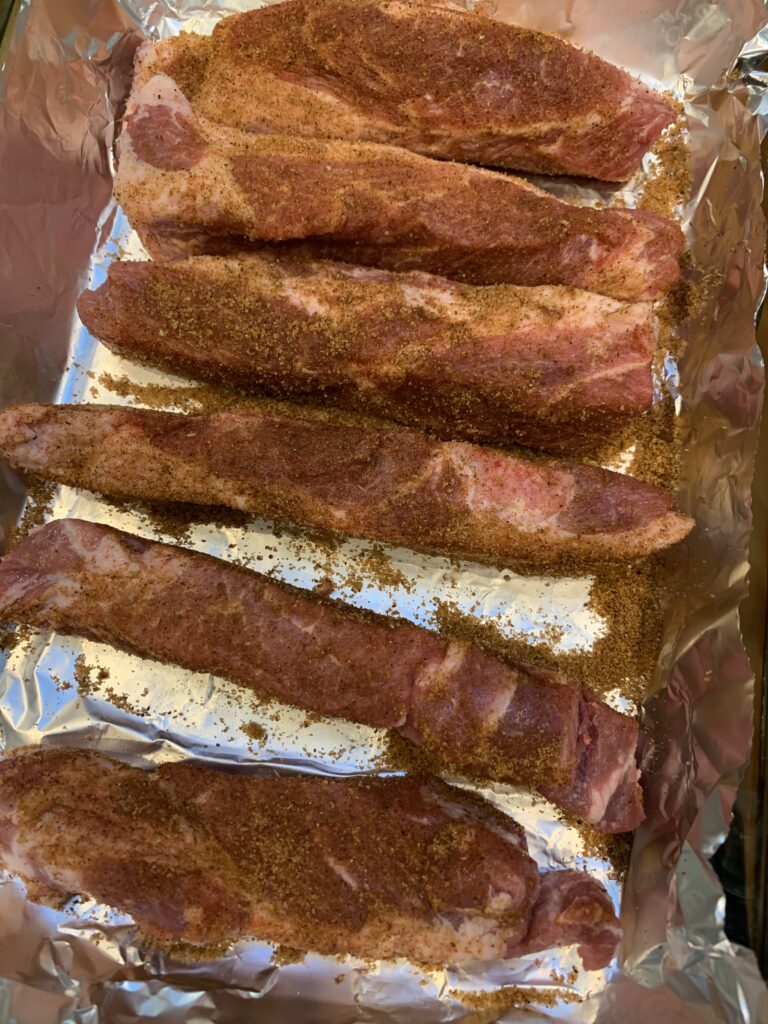 While they are cooking, make your BBQ sauce.  I have great admiration for people who make their BBQ sauce from scratch and if I were cooking for a crowd I might do it too.  In this case there was just me. So I used a short cut!
I doctored up a quality store bought sauce by adding some bourbon and a little liquid smoke.
Once the ribs were almost cooked I drained off the liquid in the pan and brushed the ribs all over with my sauce.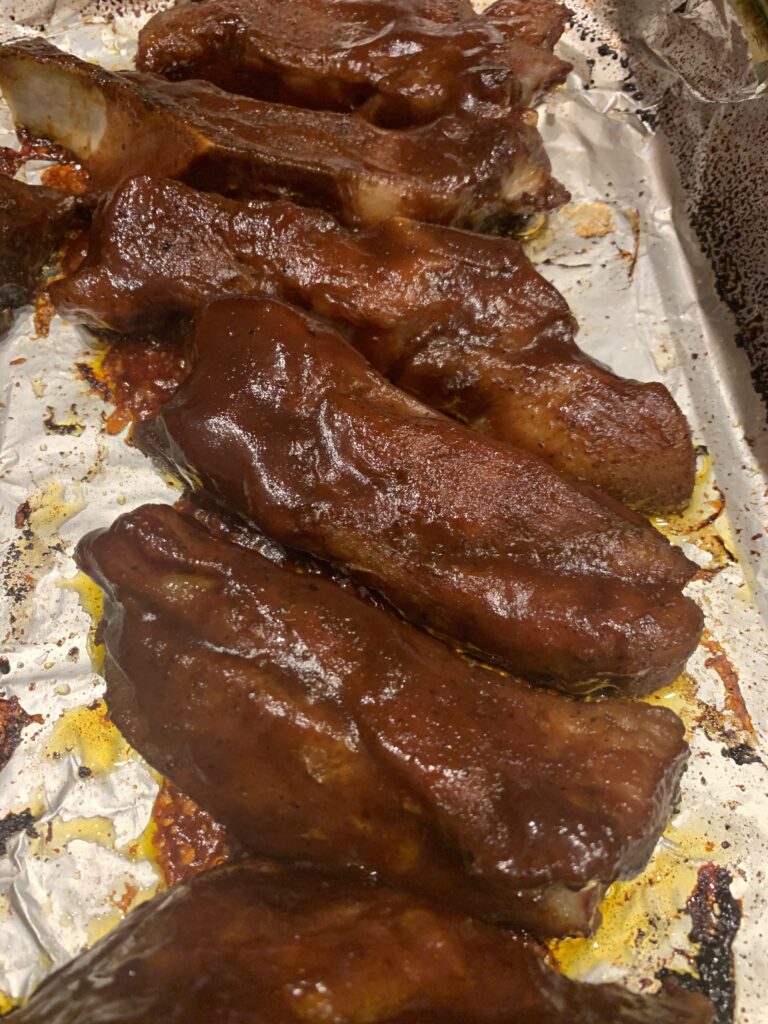 Turn up the oven to a high heat and cook them for 15 minutes.  Flip the ribs, brush with the sauce and cook for another 15 minutes.
And there you have it, tender and moist, bathed in BBQ sauce, country style ribs perfect for a Fall evening!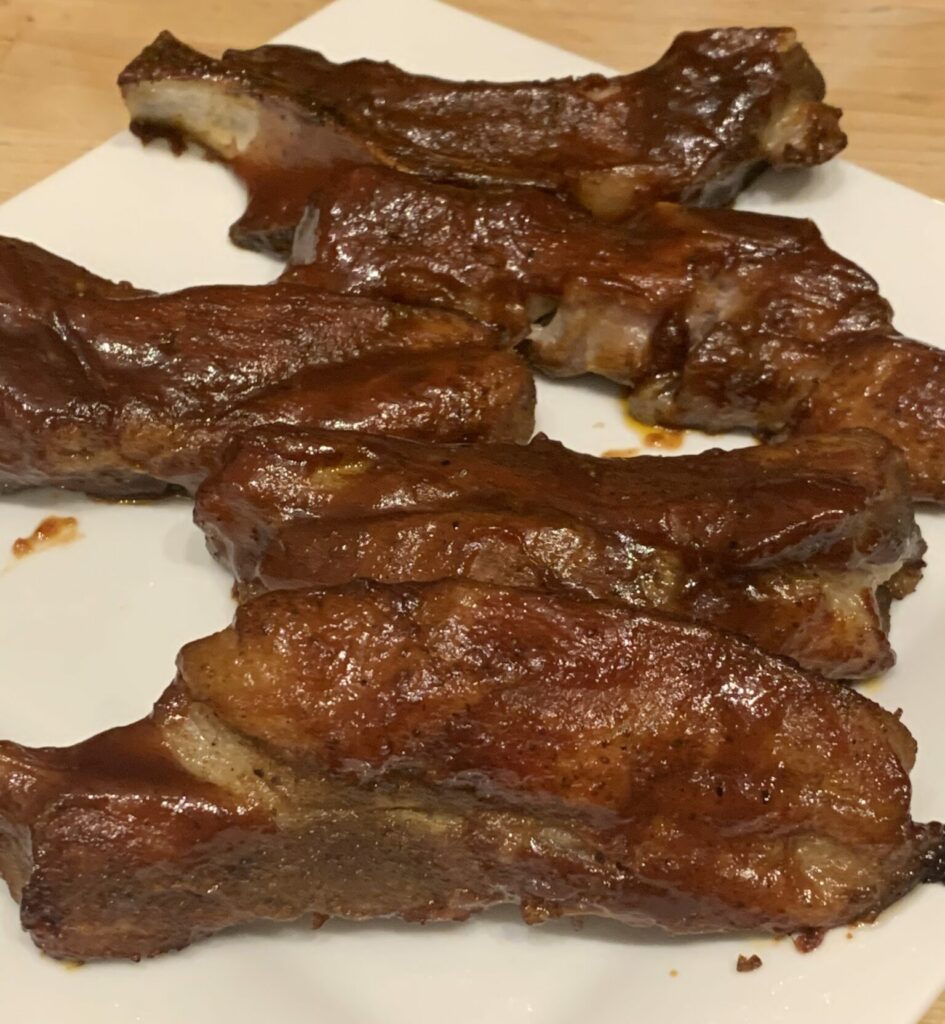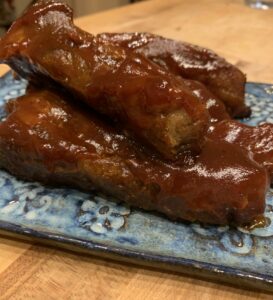 COUNTRY STYLE BBQ PORK RIBS
Cook Time
2
hours
30
minutes
Ingredients
2

lbs

Country Style Pork Ribs

6-8 ribs
For the Dry Rub
¼

c

brown sugar

2

tbsp

Old Bay Seasoning

1

tsp

chili powder

½

tsp

cayenne pepper

½

tsp

cumin

1

tsp

salt
For the BBQ Sauce
1

c

good commercial BBQ sauce

2

tbsp

bourbon

½

tsp

Liquid Smoke
Instructions
Preheat the oven to 325 degrees

Mix the ingredients for the rub together in a small bowl.

Line a rimmed baking pan with foil and place the ribs in the pan. Rub them all over with the Dry Rub. Cover the ribs and bake in the center of the oven for 1 ½-2 hours.

While the ribs are cooking, make the sauce by stirring all of the ingredients together until well mixed.

Remove the ribs from the oven and turn the temperature up to 400 degrees.

Brush sauce all over the ribs.

Bake at 400 degrees for 15 minutes then turn the ribs over, brush them again with the BBQ sauce and bake for a further 15 minutes.
Recipe Notes
Note: This makes more than enough Dry Rub. The extra will keep for up to month in an air tight container at room temperature.